Updated on by Lyric Fergusson
Every parent looks forward to the day their child can sit astride a toy and rock back and forth or propel it around the playroom. There's nothing like the smiles of triumph on a 1-year-old's face when they are first able to rock or push a ride-on toy. Toddlers' first attempts might be awkward, but they soon learn to rock harder and move faster and more confidently around the room or yard with a little helpful assistance from Mom or Dad.

The Best Ride-On Toys for 1-Year-Olds
---
(Best value — $)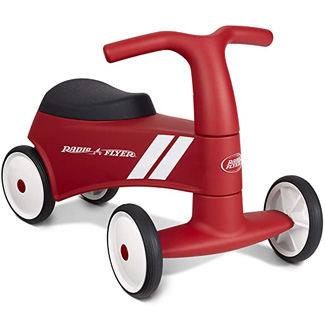 Why it's great: The wheel design with front wheels wider apart than the back ones makes pushing off and kicking back with their feet free and easy for children. The wheels design means toddlers have enough room to get on and off very easily. Toddlers control the direction with working steering, so they develop their muscles and coordination. The under-the-seat storage makes loading and unloading blocks and other small toys tons of fun. The Radio Flyer Scoot is made from sturdy plastics, including rubber-like wheels that don't easily wear out. Children can start riding as soon as they can walk and will continue enjoying this toy until they are ready for peddles.
Keep in mind: A young toddler might need some assistance while learning to steer.
Good for: Toddlers who want to scoot at some speed and learn to steer with working handlebars.
---
(Best quality — $$$)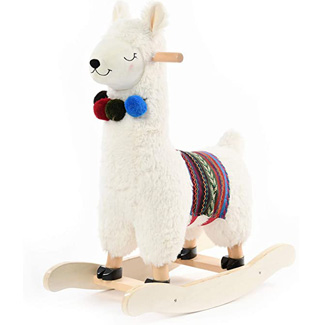 Why it's great: Talk about Cute! This adorable and soft rocking llama is a perfect first rocking toy. The award-winning design and ultra-soft material give your toddler a safe and comfy ride. The expert sewing and durable fabrics mean your baby can kiss, hug, tug, and tear at this toy without damaging it. The adjustable padded saddle blanket comes in a bright pattern from the llama's native Andes Mountains. The sturdily built wooden llama frame is covered with padding and brightly colored, cottony soft fabric. You can easily clean the rocking llama with a wet cloth or sponge. The smooth, rounded rockers will not scratch your floors. They give toddlers from 1-3 years a smooth, gentle ride. Don't be surprised if your toddler pets the llama or tries to feed it graham crackers.
Keep in mind: Some assembly is required. It should take about 15 minutes with a screwdriver.
Good for: babies who want a llama to pet and love while they rock
---
(Most versatile — $$)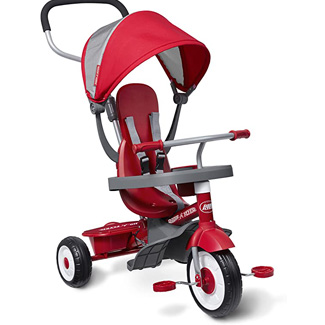 Why it's great: This product's claim to fame is its versatility. Your child will enjoy it for a long time. It changes and adapts as your child grows from 9 months to 5 years. It starts as a trike for a 9-month old child, during which time, Mom or Dad can steer. For a child between 18-24 months, it's a toddler-steer trike they push with their feet. For a 2-3-year-old, it's a learn-to-ride trike, and finally, a 4-5-year-old rides it as a regular peddle tricycle.
The radio flyer 4-in-1 is great for indoors or out. It comes with durable, high-density tires and a removable/adjustable UV protective canopy. Also removable are the wrap-around tray, seat belt, foot and headrest, and, of course, the parent steering/pushing handle.
Keep in mind: While not terribly loud, in the first stage, the trike does make a clicking sound when you push it if your toddlers have their feet on the peddles.
Good for: Children as young as 9-months and as old as 5-years.
---
(Best sound effects — $$)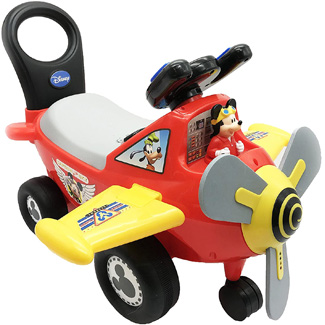 Why it's great: This toy features Mickey Mouse marching music, sound effects, and a light show. Toddlers cruise around, pretend to fly, listening to gear shifting, and engine revving sounds plus realistic takeoff and landing sounds as they ride the plane. It can sound like your toddler is really flying this ride-on plane. The little Mickey Mouse pilot flying along with your child dances to the music. The propeller gives a fun light show as it spins with the music.
The ride-on plane comes assembled except for the handle at the back, so it's pretty much ready to go right out of the box. Toddlers love the sounds, lights, and dancing Mickey Mouse.
Keep in mind: This current version of the Mickey Mouse plane does not have the storage compartment the previous versions did.
Good for: Children as young as 8 months who love fun lights and sounds.
---
(Best family heirloom — $$$)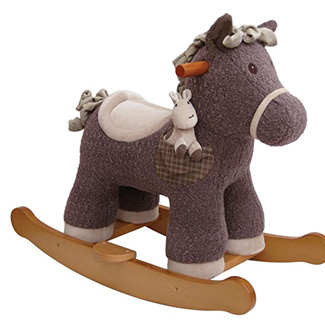 Why it's great: Huggable Bobble rocking horse comes with a tiny, lovable, plush, ride-along toy, Pip, who fits in a pocket on the horse's flank. Babies love to explore the many textured materials on the horse like the crinkled suede-like mane and tail, smooth leatherette saddle, and snuggly soft body fabric. The removable footrests help the youngest toddler enjoy rocking. Once you remove the footrests, longer-legged children use the floor for their feet as they gallop along.
The sturdy construction, excellent craftsmanship, and durable fabric make this a toy you might hand down when your toddler outgrows it.
Keep in mind: The horse is on the small side, so a child will outgrow it before age 3. 20.5″ tall x 25.2″ long x 14″ wide.
Good for: Young toddlers who want to have a little friend rock along with them.
---
(Cutest value buy — $)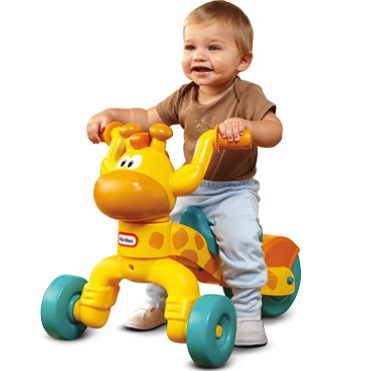 Why it's great: Toddlers improve their coordination on this little giraffe ride and scoot toy. The extra-large back wheels add stability, and the adjustable seat shifts as your toddler grows. You will have fun doing the simple assembly and decorating the giraffe with its spot stickers. Being lower to the ground than other ride-on toys makes it easier for shorter tots to push along. The easy-to-reach butterfly handlebars teach a child to steer, which will prepare them for more advanced riding toys.
Keep in mind: It comes unassembled, and you need to make sure the seat clicks fully into place before your child rides it.
Good for: Children who want the pushing and steering action.
---
(Most economical — $)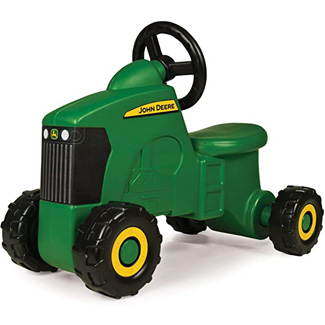 Why it's great: Future farmers love plowing the fields or riding around the living room. The tractor toy has a wide wheelbase for stability. You can assemble this realistic toy tractor quickly, and its uncomplicated design makes it easy for a child to push along. A young rider can easily maneuver without going too fast. Toddler's in love with tractors will love it.
Keep in mind: The tractor is on the small side. While it's listed for 18 months to 3 years, a one-year-old would enjoy it, and a 3-year old might be too big.
Good for: Toddlers in love with tractors.
---
FAQs about ride-on toys for 1-year-olds
---
1. How young can a child play on a ride-on toy?
Toddlers can begin riding or rocking at about age 1, but some toys are safe for children as young as 9 months. The most important consideration is your child's physical development. Once a toddler can sit up and balance well, some riding toys for young children might be appropriate with supervision. Pay attention to age recommendations from the manufacturer, however. Toys that require a child to push with feet need a child to be able to walk unaided. It would be best if you supervised closely until your child is comfortable getting safely off the toy.
---
2. Why should toddlers play on rocking toys?
Remember rocking your babies in a rocking chair to calm them? Rocking back and forth is always soothing for a child, and rocking horses or giraffes or llamas also develop children's imagination. Rocking toys help toddlers with balance and coordination while they have hours of fun. Toddlers also improve their spatial awareness as they move back and forth.
---
3. Why should toddlers have ride-on toys?
Scooting a trike around the yard or playroom encourages physical activity, improves muscle strength, and develops balance and coordination. Pushing a ride-on toy around uses different muscles than other play. Toddlers expand their sense of space and employ their imaginations as they pretend to ride cars or tractors or motorcycles. Scooting also prepares a child for riding a tricycle and later a bicycle.
---
4. Are ride-on toys safe?
Read descriptions and recommendations from the manufacturer and know your child's capabilities before purchasing a rocking or ride-on toy. Ensure your child can sit up independently without leaning to one side or the other before putting him or her on a ride-on toy. For young toddlers, make sure they have a place to rest their feet if you are pushing them around or rocking them. Once a child can walk and climb a couple of steps, they can handle getting on and off most ride-on toys without help. Before that, supervise closely.
---
5. When should a child move from a ride-on, push trike to a tricycle?
Most toddlers can move on to a tricycle at about age 3. Pushing peddles takes some strength and coordination they won't have before that. The most important thing to keep in mind is that on a tricycle, your child will be able to travel faster and further than on toys they push with their feet on the ground. Make sure you have a large, enough safe space for your child to use. Big wheeled tricycles that are low to the ground keep spills to a minimum.
---
6. What should I look for in a rocking horse?
Consider how high the toy's seat is from the ground compared to your toddler's size. Make sure there are footrests for children too short to reach the floor. Footrests that can be removed or are not in the way are best for when your toddler progresses to rocking with feet on the floor. Make sure rockers are sturdy and far enough apart to prevent tipping. Toddlers are messy, so make sure the toy is washable.
Conclusion
---
As soon as babies become toddlers (and sometimes before), they want to get moving. Learning to move on a rocking toy or scooting ride-on trike builds muscle and improves coordination. Their spatial awareness and imagination also develop while they ride or rock. Nothing beats the smiles and giggles from a toddler's first rocking or riding toy. Rocking toys can soothe a child just like you rocking them in a chair did. To prepare for more advanced, peddled rides, children first need to push themselves around astride a trike. They need to push before they peddle.
Before choosing a ride-on toy for your child, consider what your toddler can presently do and how long your toddler will be able to enjoy the toy. Children outgrow some toys after less than a year because they get too tall or want to move more freely than the toy will allow. Also, think about how much help a toddler might need when first trying the toy. Some toys take less adult involvement and supervision.