Updated on by Lyric Fergusson
With the pandemic keeping many people at home, home routers are more critical than ever. If you can't remember when you purchased your router, it may be time for a router upgrade to meet additional bandwidth demands. When looking for a router that meets all of your household's internet needs, you'll be happy to know that you can find excellent options for under $100.
Here are the 7 best routers under $100.
Best Router Under $100
---
(Most secure)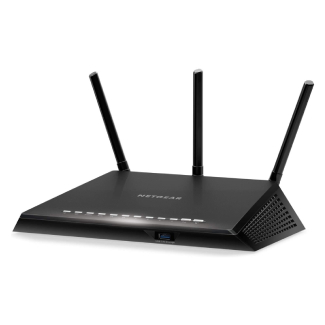 Why it's great: With the Netgear Nighthawk, Netgear Armor protects your network and connected devices from internet threats.
You will have peace of mind knowing you have the best in class anti-virus, anti-malware, and data protection for all your smart devices, smartphones, and computers. The router also supports WPA2 wireless security protocols. In addition, this router supports up to 25 devices and covers up to 1,500 square feet.
Keep in mind: You will want to download the Nighthawk App to set-up and manage your settings.
Good for: Professionals working at home.
---
(Fastest data transfer)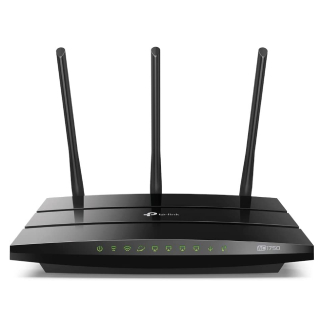 Why it's great: This router takes the cake for fastest data transfer at 1750 Megabits per second, this means smooth gaming and streaming.
This router supports up to 2,500 square feet and over 25 devices. If you have a large family, this browser is the best way to avoid internet slow-downs. This router also pairs well with the TP-Link OneMesh WiFi extender.
Keep in mind: You can use Alexa to manage this router.
Good for: Gamers and households with more than 4 people using WiFi.
---
(Best parental controls)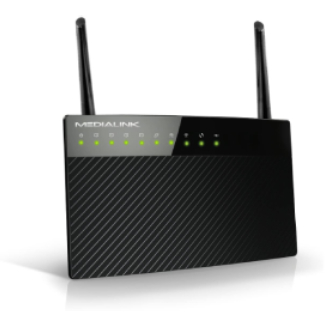 Why it's great: If your kids are staying online too late at night, you can quickly and securely restrict their internet access to only the times you want with the Medialink AC1200.
This router covers up to 2,000 square feet and supports 20 devices. You can also purchase two routers to easily cover over 3,500 square feet. This router also works with any modem.
Keep in mind: This device can also pair with any range extender.
Good for: Parents who want to monitor when their kids are online.
---
(Best coverage)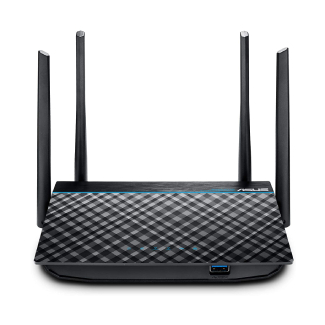 Why it's great: If your home has those corners where WiFi suddenly cuts out, this is the perfect device for you. It easily covers 3,000 square feet and supports over 20 devices at a time.
For a powerful router to keep up with the current bandwidth demands. The ASUS RT-ACRH13 router packs speed, range, and security most families need by delivering the perfect mix of performance and features for every home.
Keep in mind: Download the ASUS Router APP to manage your router remotely.
Good for: Large homes with many WiFi consumers.
---
(Most ethernet ports)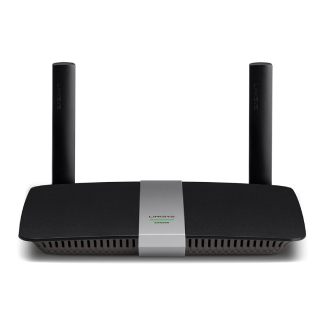 Why it's great: Four Gigabit Ethernet ports provide high-speed connectivity to wired devices, while a USB 3.0 port lets you transfer huge files without the wait.
The Linksys AC1200 WiFi Router is made for the well-connected home. It allows you to stream videos, play online games, and surf simultaneously on multiple devices. Dual bands and two external antennas provide a stable, reliable signal without dead spots.
Keep in mind: You will want to watch their helpful video tutorial for an efficient set-up.
Good for: Those who prefer an ethernet connection to wireless.
---
(Best value)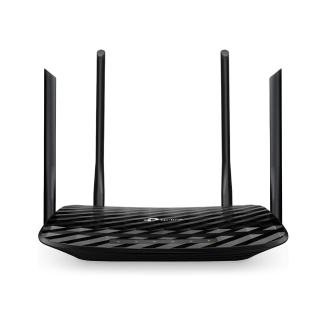 Why it's great: In terms of bang for your buck, this router is hard to top. This dual-band router upgrades to 1200 Mbps high-speed internet, reducing buffering and lag when streaming movies or playing games.
Set up this device in minutes with the Tether app, which allows for parental controls and remote network management.
Keep in mind: This router comes with a 2-year warranty and 24/7 technical support.
Good for: Price-sensitive WiFi consumers.
---
(Most devices supported)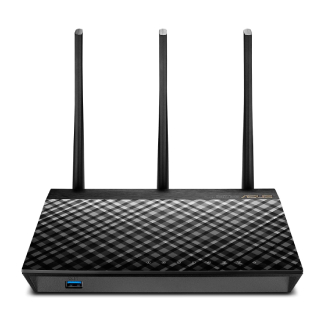 Why it's great: If you live in a household with many people, WiFi bandwidth is the last problem you want to deal with. This router is the best-in-class for large families.
This router effortlessly supports 3,000 square feet and over 30 devices. With the ASUS Router APP, you can set up your router within minutes, manage your WiFi connectivity at home, or check-in remotely through the cloud.
Keep in mind: This router has parental controls that Alexa can help you manage.
Good for: Large families, especially with kids in virtual school.
---
FAQs about routers
---
1. What is an internet router?
A router is a networking device that forwards data packets between computer networks. Routers perform the traffic directing functions on the internet. Data sent through the internet, such as a web page or email, is in the form of data packets.
A router is connected to two or more data lines from different IP networks. When a data packet comes in on one of the lines, the router reads the network address information in the packet header to determine the ultimate destination. Using the information in its routing table or routing policy directs the packet to the next network on its journey.
The most familiar type of IP routers is home and small office routers that forward IP packets between the home computers and the internet. More sophisticated routers, such as enterprise routers, connect large business or ISP networks to the powerful core routers that forward data at high speed along the Internet backbone's optical fiber lines.
---
2. Should I buy my own internet router?
Many internet service providers offer clients the option to rent a router as part of their package. While buying a modem and router will increase your upfront costs, this will lower your monthly internet bill. Most tech experts suggest buying separate devices, but a combo unit will accomplish your goals if you're trying to keep things simple. Either way, you'll save money in the long run by buying your own router.
---
3. When should you upgrade your router?
Technology evolves quickly. As soon as you buy a device, there's a newer, better model on the market. First, figure out what your current router can and cannot do by visiting the vendor's website and reading through its specifications. A good rule of thumb is that if a router has served you for more than three years, it may be time to replace it, regardless of how well it seems to perform. There's nothing wrong with buying a new router, especially at these prices. As long as your reason for upgrading will give you better results than you had with the last device, go for it.
---
4. Will a better router increase my internet speed?
That depends; if your new router is a single band, your WiFi needs may still outweigh its capabilities. If the router's location is far from your device and you receive a degraded signal, a new router won't increase speed. Consider adding a WiFi range extender to keep all your devices well serviced by your router. If your original internet signal is low from the modem level or the internet service provider, a new router will not help.
However, if the modem and ISP feed you with a good signal and you still have a slow connection, your router is likely to blame. In this case, a new router can go a long way in improving your internet speed and reliability.
---
5. Is purchasing a 'budget' router worth it?
Many routers eschew many of the features that you'll find on more expensive models to meet a lower price point. On the hardware end, you will not find any sub-$100 routers equipped with more than four LAN ports, nor will you find features like speedy multi-gig (2.5Gb) LAN ports. Budget routers also typically use non-removable external antennas, which means they can't be replaced with more powerful high-gain antennas to boost performance and extend the router's signal range.
Budget routers are managed using a web console or a mobile app, much like the more expensive versions, but they'll likely lack some advanced settings. That'll likely include support for bandwidth allocation or QoS (Quality of Service), dedicated online gaming presets, VPN connectivity, and sometimes support for DD-WRT.
Additionally, budget-class routers rarely offer the robust parental controls with age-related presets that filter out things like social media, gambling, shopping, and violent or adult content that you'll find on many mid-range and high-end routers. However, you can still use basic access scheduling, and URL filtering features to help you control when your kids go online and which sites they can visit. Alternatively, you can purchase a parental control program that suits your family's needs.
Are these advanced features necessary to you? If so, consider a more expensive router. For most consumers, routers under $100 are more than enough to meet their family's needs.
---
Conclusion
---
This list of high-quality, cost-effective routers under $100 can improve your internet experience and save you money in the long-run. After considering your household WiFi needs, you can quickly identify the best router for you.
Now that you have picked the most suitable wireless router for your home or office network, the next best thing is to decide where in your home it would serve you best. Consider placing it in an open and central location in your house. Power it up and use your mobile phone to test how well the signal is distributed around the house.
You may also like our other product reviews…
2 in 1 Laptops Under $300 | 3D Printers Under $300 | Acoustic-Electric Guitars Under $500 | AV Receivers Under $500 | Binoculars under $100 | Binoculars Under $200 | Binoculars Under $300 | Bookshelf Speakers Under $200 | Bookshelf Speakers Under $500 | Bookshelf Speakers Under $1000 | Bluetooth Speakers Under $200 | Beginner Record Players | Cameras Under $200 | Ceiling Speakers | Computer Speakers Under $50 | Computer Speakers Under $100 | Digital Cameras Under $1000 | Gaming Chairs Under $100 | Gaming Keyboards Under $50 | Gaming Keyboards Under $100 | Gaming Mouse Devices Under $50 | Graphics Cards Under $100 | Guitars Under $500 | Headphones Under $200 | Headphones under $300 | Headphones under $500 |