Updated on by Lyric Fergusson
Shower seats can be life savers when it comes to the notoriously slippery bathtub, preventing dangerous falls for those who are not able to shower or bathe on their own. For those needing assistance, these handy additions help reduce such risks tremendously, keeping everyone involved in the bathing process safer and calmer. Even for those who don't need as much assistance, the chairs can still relieve stress, make the showering more enjoyable, and take less precious time. Below are the top 7 shower seats that will make you (or your loved one) a nice addition to the bathroom.
Best Shower Chairs for the Elderly
---
(Best value — $)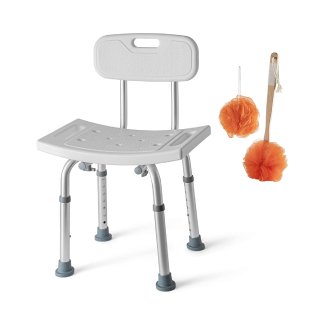 Why it's great: One of the biggest issues with bathing is not being able to reach those inconvenient places like your back or your legs without bending, luckily, this seat comes equipped with not just one, but two cleaning sponges, with one on the end of a handle for distance cleaning. Even though you have to assemble this seat, it takes only a few minutes to put together and doesn't require any tools or complex mechanisms. It has handles built into the sides of the seat for convenient portability, and in addition to being able to support up to 350 lbs, the seat itself is made of antibacterial plastic, meaning that you never have to worry about it becoming a breeding ground for germs! The adjustable seat ranges from 13 to 19 inches off the floor. Each of the aluminum legs come equipped with non-slip suction cup feet to keep it firmly planted in place as you shower.
Keep in mind: The suction feet won't adhere to non-flat surfaces (such as small tiles).
Good for: Individuals who can't lower themselves into a bath basin.
---
(Most portable — $)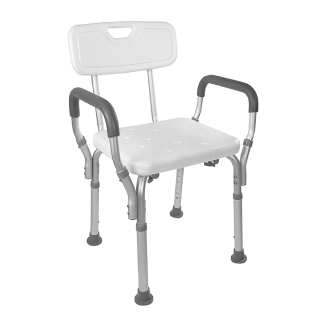 Why it's great: Do you travel a lot and find yourself in new locations often? Luckily this seat can accommodate you! This lightweight chair is perfect for travel, weighing just 6 Lbs or 8 Lbs with the detachable back. Additionally, it can extend and retract its legs, allowing for the seat height to be adjusted at leisure from anywhere between 16 inches and 21 inches off the ground for better comfort while sitting. If you need more than 21 inches, then there are separate leg extensions available for purchase. Also helping with comfort is the ergonomically contoured seat base, keeping your back and tailbone from getting sore while sitting. Lastly, the padded armrests give some additional comfort. If you're looking for a chair that can be on-the-go with you, this is a great option.
Keep in mind: As the arms are attached to the base, the shape should be considered while packing.
Good for: Travelers.
---
(Most compact — $)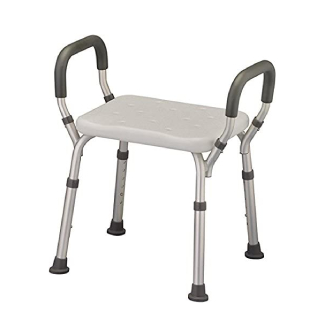 Why it's great: One of the biggest challenges that most people face today in their homes is not having enough space for things. This is especially true in the bathroom, often the smallest room in the house. Luckily this shower seat was designed with this in mind, being only 21 inches tall and 19 inches wide. When the legs aren't extended and the removable padded arms are unattached, it's a nice space saver. The legs can stretch between 15 and 20 inches to better suit a larger range of heights while staying firmly stuck in place with the four suction cup feet at their ends. Being able to hold up to 300 Lbs of weight while only weighing 5.6 lbs, it is also a great option for those who can't lift very heavy items.
Keep in mind: It's best to apply even pressure to both handles when sitting or leaning on the chair.
Good for: Those with limited spa.
---
(Highest reliability — $$$)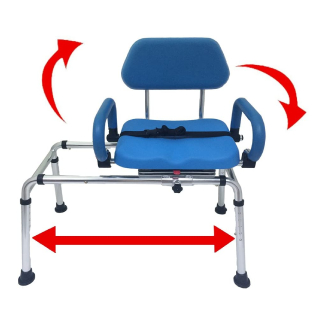 Why it's great: As you get older, vision can start to be an issue. This shower seat has the option of a vibrant blue color that makes it easy for anyone to see the padded seat, arms, and back. However, if you prefer something more subtle, it also comes in light greyish white. This seat differs from most others in that it includes a seatbelt, and you can strap yourself in outside of the tub/shower if need be. Then you can slide over into the shower with a small lever. The armrests are also able to pivot upward allowing for better seat access. By pulling a second lever, you can swivel around to your preferred angle. The sliding rails will allow for 12 inches of horizontal travel and the legs can be extended from 14 inches to 18.5 inches. Additional separate extensions are available for purchase as well. This chair can support an impressive 350 L\lbs and doesn't require any tools for assembly, which is a really nice feature. You can often find these shower chairs in hospitals and nursing homes, making it one of the most reliable options that even health care workers prefer for patients.
Keep in mind: The padding may become slick to the touch, so the seat belt is highly suggested.
Good for: Those who are visually impaired and/or have trouble entering the bath itself.
---
(Sturdiest design — $)
Why it's great: One of the most vexing parts of getting any new piece of furniture is putting it together. Fortunately, this transfer bench has a video on its' Amazon page detailing exact step by step instructions with narration and visuals! It outlines how to operate the removable back and extendable legs, which can be made to vary in length from between 17.5 and 22.5 inches. It has an extra-large seat, which spans a variable distance between 18.5 inches and 19.5 inches and is meant for sitting both inside and outside of the bath. This shower chair can hold up to an impressive 400 lbs and has a handlebar for extra support and assistance while getting in and out of the tub. And with safety in mind, two suction feet on the outside of the tub give the seat extra stability while in use.
Keep in mind: The detachable back needs to be put on in a specific way to make it stable.
Good for: larger people who want to independently take a bath or shower.
---
(Most versatile — $$)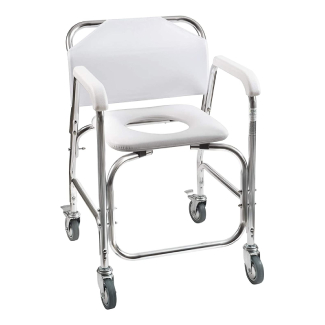 Why it's great: Getting around inside your home can be a challenge if you have limited mobility. It's nice when a product can accomplish many things at once, as this special chair does. This chair boasts an impressive set of lockable 4-inch rust-resistant wheels, allowing for the ability to move around without needing to get up from the seat. The soft cushioned seat has a hole in the center for use over a commode, which is a feature most shower chairs don't have. The vinyl back for support is quite comfortable and can be used both in the shower setting or out of it. It's the ideal option for moving around the bathroom while remaining relaxed in a sitting position. You (or your loved one) can have peace of mind while in the bathroom, knowing that shifting from the toilet to the shower won't be the hassle it once was.
Keep in mind: If the intended use is for the bathtub, the chair will need to be lifted up and out of it every time it needs to be used elsewhere.
Good for: People who are unable to transfer positions often.
---
(Most adjustable — $)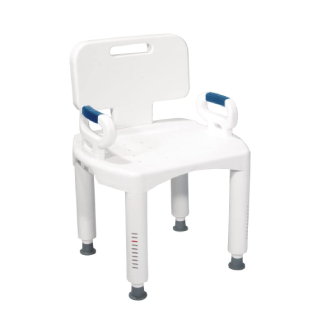 Why it's great: If you struggle with getting the seat height you feel most comfortable with (for me, I'm constantly adjusting the car's driver seat!), you don't have to look far when it comes to shower chairs. This one by Drive Medical will fit your needs well, with its unique threaded leg adjustment system that gives it the ability for half-inch increments of height variability. The chairs' body is entirely made of plastic so no matter what it's put through it will never rust; the plastic body also affords it a low weight of only 8 Lbs with all extremities, and even less without the removable arms and back. The lightweight as well as the armrest that doubles as a handle make this shower chair very portable. This seat can support up to 350 Lbs and has slip-resistant handles for added safety. The seat base of this chair is designed with many holes in it to prevent water from uncomfortably pooling around you. Overall, it's ideal for those in need of a specific height of seat on their chair, and who like the lightweight design.
Keep in mind: It's best on a flat surface that doesn't have small tiles or uneven flooring.
Good for: Folks who want a perfect seat height for ultimate comfort.
---
FAQs about shower chairs for the elderly
---
1. When do I know if I need a shower chair?
Oftentimes it will be suggested by your doctor or caretaker when it comes time, however, you may feel ready for one before that point. It is a good idea to bring up at your next doctor's visit.
---
2. Will I need to make any renovations to accommodate my shower chair?
No, the use of a shower chair is generally to avoid costly renovations to your bathroom.
---
3. Are shower chairs portable?
Most are, yes. They are not fixed features. This is particularly helpful when two people are sharing the same bathroom.
---
4. Will my insurance cover my shower chair?
Many insurance companies do cover the cost of shower chairs, but of course it is best to double-check with your provider.
---
5. Do I need to clean my shower chair? If so, how do I do so?
Yes, it is good practice to clean the seat, back, and armrests of your shower chair to prevent dirt and bacteria build-up. Normal cleaning supplies that you use to clean the bathtub work on most shower chairs. Allow your chair to fully dry between uses, if possible, to eliminate possible mold growth.
---
6. Are shower chairs hard to assemble?
While it varies from chair to chair, most shower chairs are designed to be easy and quick to assemble without the need for tools. Instruction booklets and videos can help you put the chair together without much effort required.
---
Conclusion
---
There are many different choices to pick from when deciding which shower chair is right for you or your loved one. It all just comes down to what features you're looking for and which chairs can best provide that for you. From seat height to comfort, to security and stability; and whether it's for accommodating an injury, disability, or something else, shower chairs are an important part of the bathing experience. They help by keeping everyone involved safe from slips and falls and helping to bring comfort back into the bathing routine. The seven best choices above have many different features to fit whatever needs you have or that you may need in the future.
You may also like our other product reviews…
Air Purifiers for Smoke Under $100 | American Standard Toilets | Aquarium Test Strips | Dining Room Sets Under $200 | Dryer Vent Hoses for Tight Spaces | Farmhouse Sinks | Portable Closets | Sectional Sofas Under $500 | Steam Mops for Laminate Floors | Undermount Kitchen Sinks | Vacuums Under $100 |