Updated on by Lyric Fergusson
If you suffer from aches and pains, a heating pad can really do wonders and offer some relief. It can also promote relaxation and help to release some tension in problem areas. Having a small heating pad that you can apply directly to your troubled spot can make all the difference.
There are a lot of heating pads on the market these days. Finding the right one will vary depending on where you have the most pain, and what other types of functions you may need. That's why I've compiled a list of the seven best small heating pads for you.
Best Small Heating Pads
---
(Best for knees — $$)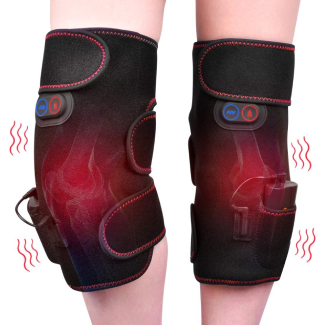 Why it's great: You can buy this as a single or in a double pack. It's made specifically to help with your knees and has velcro straps to attach it in place. You can even walk around while wearing them and they'll stay in place. The heat will help soothe your aches and this particular heating pad also comes with vibration capabilities. The vibration acts as a massager and, along with the heat, helps to relieve tension and reduce inflammation. This is made from carbon fiber and neoprene, which is softer than most heating materials, for added comfort.
Keep in mind: This product can really only be used for your knees, or possibly legs, but won't work for any of the rest of your body.
Good for: People with arthritis in their knees or any other knee pain and issues.
---
(Best for travel — $$$)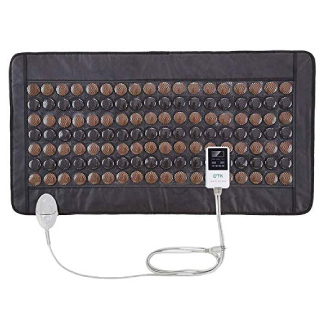 Why it's great: This is a cushioned heating pad that you can lay on to ease back pain. It's large enough to cover your whole back at once. The Far Infrared used in this heating pad can penetrate further into your tissue for ultimate relief. This pad also has tourmaline stones, which produce negative ions that promote more oxygenation and pain relief. You can use this heating pad on any part of your body and it even comes with a travel bag for easy portability. There are multiple temperature options and timers, so you can control and customize them to your specific needs.
Keep in mind: The tourmaline stones do feel slightly lumpy, but it still feels smooth and comfortable overall.
Good for: People that need a heating pad for everyday use, including travel.
---
(Best budget friendly — $)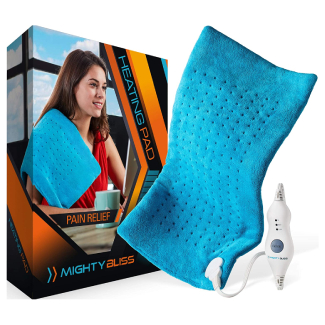 Why it's great: This is a good size heating pad that can be used for any part of the body. It's a great option for those on a budget. It heats up super fast and helps relieve aches and pains and promotes relaxation. The smaller size makes it easier to move around and use on different parts of your body. Plus, the cover is made of a micro plush fiber that's very soft and comfortable against your skin. Two things that make this one really special are that it is machine washable and you can dampen it for moist heat.
Keep in mind: You need to make sure you follow all the directions for moist heat and before putting it in the washer.
Good for: People looking for a smaller heating pad that's affordable.
---
(Best for neck and shoulders — $$$)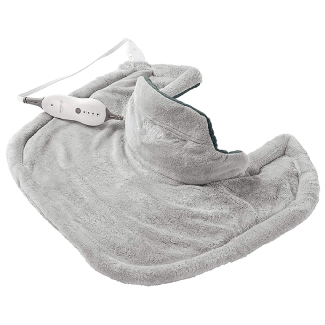 Why it's great: This one is specifically tailored to fit around your neck and shoulders. It is contoured perfectly to supply adequate heat to the back of your neck and to stay on. It is weighted on the ends for a snug fit and has a magnetic closure to keep it in place. It has 4 different heat settings and a timer, so you can customize it to your needs. Plus, the cord is extra-long, so you can sit comfortably without worrying about pulling out the plug. The micro-mink fabric and padding make this heating pad comfortable and soft on your skin.
Keep in mind: This is another one that can really only be used for the targeted area, which in this case is the neck and shoulders.
Good for: People that carry a lot of tension in their neck and shoulders.
---
(Best wearable — $$)
Why it's great: This heating pad is made to wrap around your shoulders and cover your back. It snaps closed in the front and has a belt you can tie around your waist to help keep it in place. You can stand up and move around while wearing this one, as far as the cord permits. This pad covers your entire back, shoulders, and neck all at once, so you get a lot of coverage and pain relief. Plus, you can drape it over your front or legs to help soothe those areas as well. It's made of soft flannel material that's comfortable against your skin and it's machine washable.
Keep in mind: You need to take out the power pad and follow the instructions for washing this one.
Good for: People with a lot of problem areas and those that don't want to have to lay down on the heating pad for it to work.
---
(Best area focused — $$$)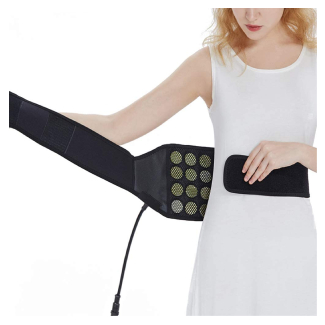 Why it's great: This is a smaller heating pad that has a strap to attach it. It works perfectly on localized areas of pain. You can hook it so that it covers your back, stomach, shoulder, or whatever body part you want. The Far Infrared penetrates deeper into your tissue for maximum relief. Like the bigger heating pad from the company, this one also uses tourmaline stones to increase negative ions, which gives you a mood boost on top of your relaxation and comfort.
Keep in mind: This only covers a small area, but it works perfectly to target problem areas.
Good for: People that want something that they can attach onto specific areas.
---
(Best for stress — $$$)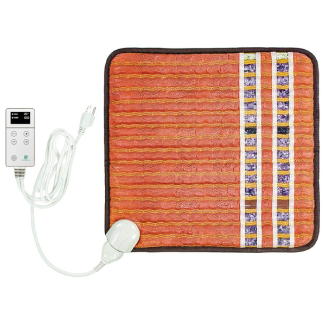 Why it's great: This is a large mat that comes in a bunch of size options. Even the smallest option is big enough to cover your entire back. This heating pad combines Far Infrared, negative ions, and stone therapy to give you the maximum amount of comfort and relief. It incorporates smaller pieces of tourmaline, amethyst, and obsidian into the design of the mat. These are great for removing toxins, removing negativity, and reducing stress and tension. Adding these in with the infrared heat creates a more balanced and relaxing experience.
Keep in mind: This one does take about 20 minutes to warm up, so be prepared to wait if you don't remember to turn it on in advance.
Good for: People that have a lot of tension from stress.
---
FAQs about small heating pads
---
1. What are the benefits of using a heating pad?
If you're looking for a heating pad, you probably already know that there are benefits to using one. Heat brings in more oxygen and nutrients, which in turn can reduce inflammation. It can also help to increase circulation and repair damage. All of these things can reduce aches and pains in the problem area. Heat also helps to relax muscles and decreases tension in your body.
---
2. How often should you use a heating pad?
This is really up to you and the temperature you're using. For high heat, you really only want to use it for 15-20 minutes to avoid accidentally burning yourself. If you use a very low heat setting, you can sleep on your heating pad. Most have timers that will turn them off or sensors that will turn them off if they're in danger of overheating.
---
3. How do I clean a heating pad?
This will depend on the heating pad. Some come with covers that you can easily remove and wash. Others are safe to machine wash, as long as you remove the cords or power pads. But, some have to be spot cleaned by hand. Check the labels or box before you purchase to see what is recommended.
---
4. How long do heating pads take to warm up?
This varies by brand, size, and type of heating pad. Smaller heating pads can heat up in a manner of minutes. Others can take up to 20-30 minutes to fully heat. On average, a small heating pad like the majority in this article will reach its full desired heat in at least 9 minutes.
---
5. What are the safety concerns with a heating pad?
There are a few things you should be aware of if you're using a heating pad. The first is that you shouldn't place the heating pad directly on your skin unless it says that it's safe to do so. This will prevent burns. You also shouldn't use a heating pad on damaged or cracked skin. Inspect your heating pad regularly for cracked or broken electric cords. Also, while most modern heating pads will turn off before they overheat, there is a small risk of fire if they were to do so.
---
Conclusion
---
A small heating pad can be a great solution for anyone that's looking to relieve some tension or aches and pains. Finding the right one to suit your needs can be difficult if you don't know what to look for. Hopefully, this article has helped you define what features are the most important to you.
You can choose a heating pad for a specific area or a general use heating pad. You can also choose the types of materials and heat that your pad produces. Keep in mind what kind of relief you're looking for and where you need the help most. If you do that, you'll have no trouble picking the right small heating pad for your needs.
You may also like our other product reviews…
Acupressure Mats | Back Stretchers | Facial Machines | Grounding Stones | Handheld LED Light Therapy Devices | Infrared Heat Lamps | Infrared Heating Pads | Inversion Tables | Massage Chairs Under $1000 | Negative Ion Bracelets | Outdoor Saunas | Portable Saunas | TENS Units | Vibration Plates |