Updated on by Asher Fergusson
When smartwatches first started hitting the market, many tech admirers balked at the thought. Why would I need a smart device on my wrist when my smart phone is already so compact and handy? However, since the introduction of the smartwatch, it has become clear to consumers that there are many advantages.
While there are smartwatches available in a variety of price ranges, we have compiled a list below of the best smartwatch purchases for under $50, so that you can decide which conveniences are important to you, which device compatibility you require, and what you long for in the ease of a smartwatch.
Do you just want some gentle reminders to enforce a healthier lifestyle? Are you looking to have access to your notifications and alerts at the flick of a wrist no matter where you are? Read below to start helping you decide on the smartwatch best suited to fit your needs.
Best Smartwatches Under $50
---
(Most versatile)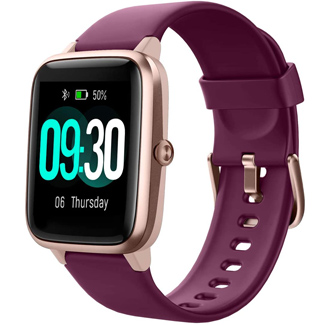 Why it's great: This smartwatch from Willful comes in really beautiful color variations and is designed to work with both iOS and Android, so long as you have the more updated versions. With most smartwatches, you can receive notifications from your phone in the way of texts, emails, or calls, but with this one, you can even see alerts from Facebook, Instagram, Twitter, and more – all at your choice and discretion within their app. This device helps to track and monitor your fitness with 9 sports modes, a heart rate monitor, and a sleep tracker. It's also waterproof and reimagined with longer-lasting battery life.
Keep in mind: The title on the listing has this advertised to just women, but it seems to be compatible with any person's lifestyle. If you love it, don't let that stop you!
Good for: Those who love a Fitbit smartwatch, but want even more – like notifications from your social media. Now, you never have to miss a single thing.
---
(Best waterproof)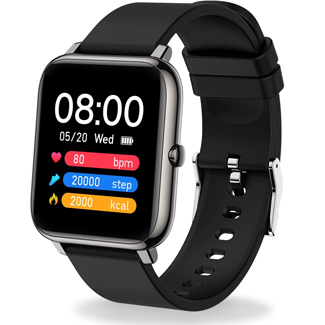 Why it's great: This smartwatch from MuGo has a waterproof design that is perfect for swimming or any other kind of fitness. Complete with 8 Sports Modes (run, walk, basketball, bike, football, badminton, rope skipping, swimming), this smartwatch measures your heart rate, sleep patterns, etc. on a full color, touch screen display. You can receive numerous notifications, even from your social media accounts. Another great feature is the ability to control your camera from your wrist. You'll have the ability to prop up your phone, walk away, and snap the picture, with you in the frame for once!
Keep in mind: While this device doesn't support responding to text messages or answering calls, it will allow you to end incoming calls right from your wrist!
Good for: Swimmers and fitness fanatics looking for a device that works with them in their daily activities.
---
(Most comprehensive)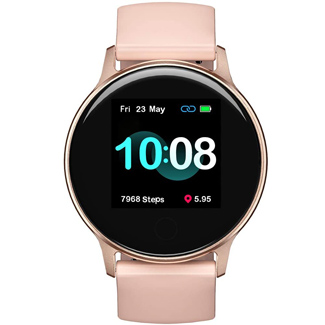 Why it's great: This smartwatch from UMIDIGI connects to both iPhones and Androids for accessibility to most tech users. You can personalize your watch face with whatever image you choose! The fitness tracker is one for the books, with 14 Sport Modes, a 24/7 heart rate monitor and waterproof design. This device has sleep monitoring, menstrual cycle calculations, call and SMS notifications, remote control of music and camera, weather reports, sedentary reminders, call rejection ability, alarm clocks, stopwatches, and more.
Keep in mind: The waterproof design is said to be for up to 50 meters in depth, but perfect for continuous wear, even when hand washing.
Good for: A fan of fitness who is also looking for convenience and a sleek, attractive design.
---
(Best for fitness)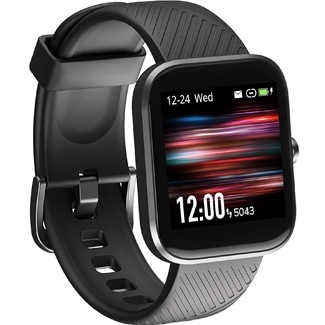 Why it's great: This smartwatch from Virmee is unique in that it doesn't just have 24/7 heart rate monitoring, but actually monitors your blood oxygen level, too. Complete with sleep tracking and a stress status feature, this device is the perfect addition to any daily routine. There are 18 Sports Modes, including swim, and all are easily synced and tracked on both the smartwatch and the app on your phone. Of course, this device enables you to have your notifications sent directly to your wrist and even allows you to dismiss calls without hunting for your phone. The new design has 3 different styles of bands, new faces, and an ability to customize your watch face with an image of your choice.
Keep in mind: This connects with both Android and iOS, but make sure you are using the most up to date versions of it to ensure the device works as designed.
Good for: Users who want to better know their bodies and work toward an all-around healthier lifestyle.
---
(Most traditional)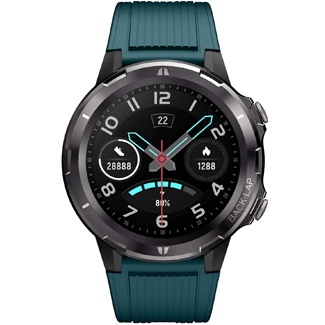 Why it's great: This smartwatch is unique because it has a traditional watch face design. Most smartwatches are completely digital, but with this one, you'll get the analog clock on top of the regular features. Even so, it's completely touch screen. You can also choose from 4 different displays if you prefer something else. It also has 12 sports modes, is completely waterproof, tracks heart rate, and has sleep monitoring. Plus, you'll get all the normal functions, such as a timer, alarm, stopwatch, weather notifications, and smart notifications from email or social media. You can also choose between the standard black band or the forest green.
Keep in mind: The light turns on with movement at night, which could end up waking you if you're using this for sleep tracking.
Good for: Someone that wants the features of a smartwatch, but likes the looks of a traditional watch.
---
(Best budget option)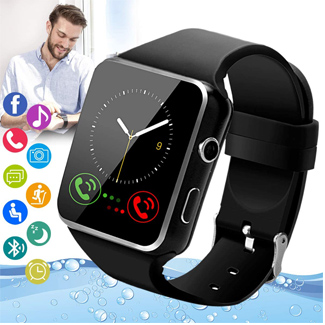 Why it's great: This smartwatch from Amokeoo allows you many conveniences directly from your wrist: set alarms, receive and answer calls and messages, play music with a Bluetooth connection, etc. This device also monitors your sleep patterns, and activity patterns, sending you gentle reminders when you have been sedentary for a certain amount of time. Never lose your phone or watch again: This device has two-way anti-lost technology so that your phone can find your watch and your watch can find your phone. One of the more unique features of this smartwatch is that you can choose to put in a SIM card, which allows it to act as its own device/phone. This might be a safe path to choose if you have a tech-savvy little one or, perhaps, if you know an elderly person who wants to stay connected with a bit more ease.
Keep in mind: This is not designed to replace your smartphone, but to bring further convenience by having your notifications and reminders closer. Many reviewers seemed to be expecting more and were dissatisfied.
Good for: Elderly individuals and kids who want to be connected, but in a safe way. It's also great for those who are just looking for a small extension of their smartphone, with the ease of having it closer to your person at all times.
---
(Best battery life)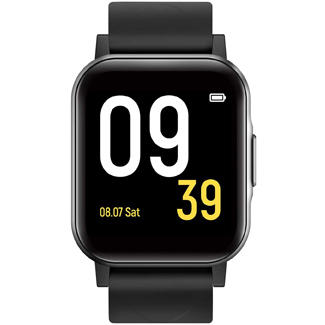 Why it's great: With normal, everyday use, this watch can last up to 10 days before it needs a charge! That's pretty impressive and much more convenient for those that want to use the sleep tracker, so they're not having to charge it every night. Plus, this watch has all the features you'd expect from a smartwatch, including 12 sport modes, a calorie counter, a step counter, and a heart rate tracker. It's fully touchscreen and will keep you connected by displaying notifications for email, texts, and social media. It's also waterproof, so you can sweat, shower, and even swim without having to take it off.
Keep in mind: Your only option is the standard black band, they don't have any other colors.
Good for: Anyone that doesn't want to have to charge their watch very often.
---
(Most customizable)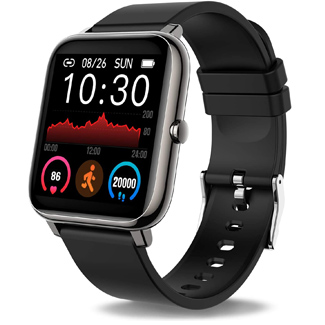 Why it's great: This watch is slim and light, making it easy to wear all day long. It logs steps, calories, heart rate, and all the other usual measurements you'd expect from a smartwatch. It also has sleep monitoring, if you're interested in tracking that too. While you can only order a black or pink band for it, the pins are standard, which means you can order other brands of bands and they'll likely fit it. Plus, it comes with multiple choices for the watch face and you can download and install many more options if it doesn't have one you like. It's simple and easy to use, it's waterproof, and it has 8 sport modes. It also connects to your phone and notifies you of texts, emails, and social media.
Keep in mind: It doesn't have as many sport modes as some of the others and doesn't have anything for strength/lifting.
Good for: Someone that likes to customize their watch face, so it's unique to their style.
---
(Most band options)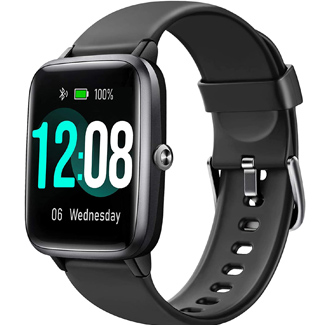 Why it's great: With 10 days of battery life, this device is one of the longest lasting. Letsfit also designed this watch to receive all of your notifications from text to calls and social media. While many of the other devices on our list have sports modes, this device includes GPS connectivity with its 9 different activity modes. So you can track your long run or bike ride and see just how far you've come and gone! It also has the most color options for the band, including blue, green, purple, and pink!
Keep in mind: The app is designed by non-native English speakers, so many users report that this makes the app a bit more confusing to navigate. However, most of them also reported that this was not a deal-breaker and that the device itself did not have any issues.
Good for: People of all ages who are looking to accurately monitor their daily activities.
---
(Best quality)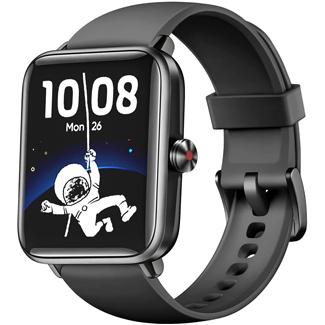 Why it's great: This watch is great because it comes with two different watch bands: one for smaller wrists and one for bigger wrists. The bands are very comfortable, making the watch easy to wear all the time. It's completely waterproof and lasts up to 7 full days of normal use. This watch has the most sport modes, with 14 total, making it the perfect fitness sidekick. Of course, it also has all the fitness features, such as step counter, calorie counter, heart rate tracking, and sleep monitoring. It even tracks your blood oxygen levels, which only a few on the list do. The touchscreen is easy to navigate and you can choose from multiple watch faces. You can even use one of your own pictures as the background if you prefer.
Keep in mind: The manual doesn't cover what all the symbols for the notifications mean, so you'll have to figure that out on your own through use.
Good for: Anyone that wants a great quality smartwatch at an affordable price.
---
(Highest ratings)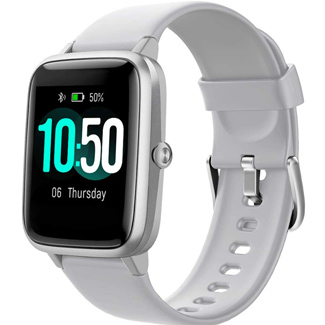 Why it's great: While this smartwatch does have the conveniences of text/call alerts, sleep monitoring, and alarm-setting, it is definitely designed with fitness in mind. This smartwatch has 9 Sports Modes including running, treadmill, fitness, riding, trekking, yoga, walking, hiking, and dynamic cycling. It monitors your heart rate, calorie burn, distance, steps, as well as the duration of your activity. It even has a deep breathing guide for meditation and relaxation throughout the day. You can choose from multiple band colors too, so you're sure to find one that you like.
Keep in mind: The app is a little clunky to use, but it's still manageable and does everything it should.
Good for: iOS and Android users who are looking for a fitness tracker that doubles as a smartwatch, sending you alerts throughout the day.
---
FAQs about Smartwatches
---
1. Do smartwatches require a data plan?
A smartwatch is an accessory to other smart devices, meaning that it is designed to work with your smartphone. You would connect to your device via Bluetooth or Wi-Fi, so you would not need a separate data or service plan.
---
2. What are the included features of a smartwatch?
The included features of a smartwatch would truly depend on the smartwatch in question. However, many of them allow you to view notifications from your device directly on your wrist, including messages, calls, and alerts. Most smartwatches also track your daily activities or fitness and can even log your location via GPS (if you wanted to track a run, for example). With some smartwatches, you may even be able to access Google assistants, Siri, etc. right from the smart accessory.
---
3. Are there pros and cons to buying a smartwatch?
Of course. As with any purchase, there are pros and cons. The most common pro to buying a smartwatch is that they tend to help promote a healthier lifestyle by gently reminding you to get moving throughout the day. Also, it is great to have your notifications at the flick of a wrist so that you never miss a call or you never run toward a ringing phone for a call that you wanted to miss!
As for cons, many smartwatches don't have the battery life that customers long for, the screen size is much tinier than your phone, and your smartphone usually has to be in close range.
---
4. Can a smartwatch make phone calls and send texts?
Many smartwatches are designed to do just that. However, those features are usually reserved for smartwatches in a higher price range.
---
5. Can I leave my phone at home and still have the use of my smartwatch?
If the smartwatch is designed to connect directly to your data plan using a 4G connection, yes. But most of the time your phone will need to be within a closer range.
---
6. Will a smartwatch require me to download an app?
Yes, most are designed to help monitor and track your various activities, so an app download is essential to getting all the right information to you. However, with most smart devices, you can decide what is tracked, which notifications are received, etc. And many of the above listings will work hand-in-hand with other apps that you may already be utilizing, such as the Apple Health app.
---
Conclusion
---
Adding a smartwatch to your daily routine can truly help you on your journey to leading a healthier and more active lifestyle. With sports modes, heart monitoring, activity tracking, alert notifications, etc., each of the above smartwatches offers a little something different and special to your daily life. Many are beautifully designed to be not just functional, but sleek and attractive. Many are modifiable to fit your needs. And many feature varying functionality in incredible price ranges. All you have to do is read through and decide which features are right for you.
You may also like our other product reviews…
Calf Compression Sleeves | Camping Towels | Compact Home Gyms | Cooling Towel | Diving Watches Under $500 | Electric Bikes Under $1000 | Elliptical Machines Under $500 | Football Towels | Heavy Bag Gloves | Hiking Towels | Hybrid Bikes Under $500 | Sports Towels | Tennis Towels | Treadmills Under $500 | Treadmills Under $1000 | Weighted Vests | Weightlifting Belts |