Updated on by Lyric Fergusson
Soundbars are a powerful way to enhance your viewing and listening experience. No matter what types of TV shows and movies you enjoy, soundbars offer high quality sound in an all-in-one model, without requiring tons of space or the major expenses of a full home theater system.
However, with hundreds of soundbars on the market, choosing one can be overwhelming. To help make it easy for you to find the perfect soundbar for your home, here are 7 of the best soundbars, making it easy to find one you'll love.
Best Soundbars Under $300
---
(The most popular for first time speaker owners)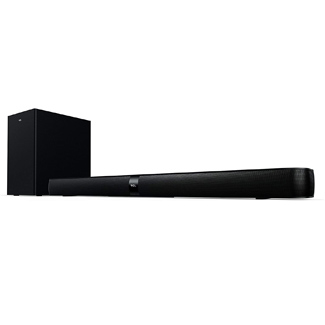 Why it's great: This minimalistically designed soundbar has a number of special sound modes, like movies, music, and news, to optimize performance based on what you're listening to. It has eight dedicated, powerful audio components that allow the soundbar to replicate a complete spectrum of sounds with pristine accuracy. Audio cables and a wall mounting kit are included, making it easy and quick to set up. You'll be able to enhance your TV and movie experience, but you'll also be able to effortlessly stream music and content from your mobile devices using Bluetooth. With flexible placement options, powerfully pristine sound, and distortion-free sound at any volume, you're going to love the experience of listening with this soundbar.
Keep in mind: This soundbar requires an HDMI ARC connection, which is different from a regular HDMI connection. Make sure that your TV has the proper settings enabled to use this type of connection.
Good for: At-home viewers looking to upgrade beyond just device sound.
---
(The most compact)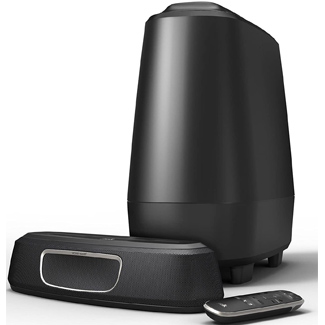 Why it's great: This soundbar packs powerful, clear sound into a tiny size—it's only a little more than a foot long, making this bar essential if you're working with space limitations! Although it's a small system, it produces immersive surround sound that feels multidimensional. Even better, it includes voice adjust technology, which allows you to control voice levels, maximize the clarity of the sound, and minimize sound delays and issues.
This speaker also has a number of specific modes for movies, sports, and music, delivering balanced sound for an amazing listening experience. You can wirelessly stream music from your phone or other devices using Google Cast, and you can use your favorite music streaming platforms like Spotify and Pandora for stress-free listening.
Keep in mind: This soundbar comes with all of the HDMI and optical cables you need, which is incredibly helpful. However, you will need to download the Google Home app on your Android or Apple iOS devices (both will work, but you'll need the Google app to set things up).
Good for: The apartment owner working with limited space.
---
(Most reliable)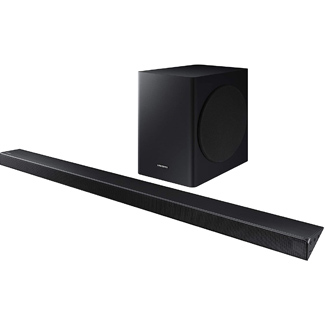 Why it's great: This soundbar has so many rave reviews and for good reason—it's known for being incredibly easy to set up. It is perfect for experiencing dialogue during your TV shows and movies as clearly as possible so that you never miss a word. If you want to create that cinematic experience at home, look no further! With wireless subwoofers, you'll be able to feel thunder and sounds with responsive frequencies. This soundbar also comes with smart sound technology, meaning that it automatically analyzes content and optimizes the sound so you have the best possible experience. If you are into gaming, you'll feel your victories more than ever with game mode, a special setting that boosts sound effects in video games. This soundbar is also super clean: experience wireless connectivity using Bluetooth to stream your favorite music from any device.
Keep in mind: For full feature integration, you'll need an HDMI cord which is not included. Make sure to purchase one in addition to the soundbar for the best results.
Good for: Anyone who wants to avoid stressful and complicated technology setups.
---
(Most popular basic speaker)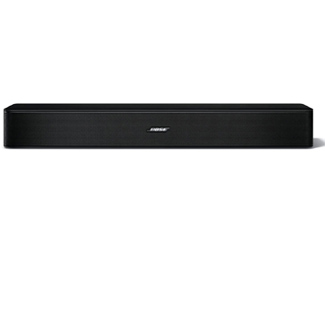 Why it's great: This single soundbar will provide much better sound quality than your TV without the expense or space requirements of a home theater sound system. It has an excellent dialogue mode to help you hear every word and detail. Bluetooth connectivity makes it easy to connect your devices to the soundbar and stream your favorite music. As a bonus, it only requires one connection to your TV and comes with a universal remote which will control your TV, bass, Bluetooth connections, and more.
Keep in mind: Unlike the other soundbar options, this one does not include a subwoofer, so do not expect a cinematic experience with rumbling bass. However, it does boost sound quality and has several options while being affordable.
Good for: A sleek look with convenient features.
---
(Most popular Bluetooth speaker)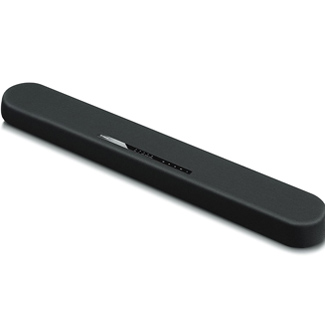 Why it's great: This sleek, one-bar soundbar features built-in subwoofers to create a deep bass experience even in the slim bar. It boosts dialogue clarity for a clear voice listening experience. With bluetooth connection up to 33 feet away, you'll be able to play music from other rooms using your devices. That bluetooth streaming allows you to switch between different devices with ease. This soundbar has an easy, simplified setup with either an HDMI, optical, or AUX connection.
Keep in mind: The range of sound will not match the level of other soundbars, but it does provide nice sound quality and a sleek, compact look.
Good for: Music and sound-lovers with small budgets.
---
(Most popular wireless speakers)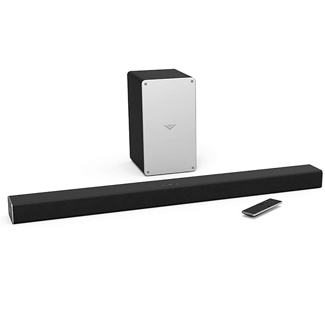 Why it's great: Are you ready to enjoy room-filling, crystal clear sound, with almost no sound distortion? This soundbar includes a wireless subwoofer to add thumping bass to any room in your home. It has a built-in bluetooth capability so that you can stream music from your mobile devices, and it has a simple button layout so that you'll never be overwhelmed.
Keep in mind: You can actually control the volume of this speaker using your TV remote!
Good for: Sound quality and bass experience without high costs.
---
(Most affordable)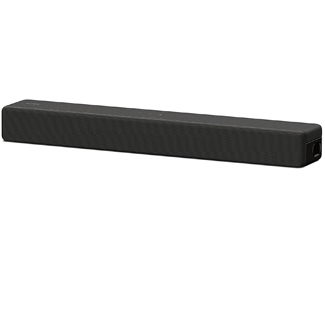 Why it's great: This soundbar will bring the theater experience to your home, without an extensive home theater system! With built-in subwoofers, you'll experience the bass the way it's meant to be. It has a low-profile, sleek design that won't obstruct the view of your TV in any way.
It also has Bluetooth connections but comes with a remote control, batteries, and all of the cables and connectors you're going to need. The voice enhancement feature will strengthen your listening experience, making it the ideal speaker for listening to TV shows with muffled conversations. Best of all, it's easy to set up with your TV, so don't worry about the stress of complicated tech setups.
Keep in mind: This soundbar has been known to cause a glitch that turns the TV on by itself when you are not watching.
Good for: Those who want sound improvements without distracting equipment around the room.
---
FAQs about Soundbars
---
1. What makes a good soundbar?
Look for soundbars that have Bluetooth, HDMI ARC, USB and Wi-Fi connections. With bluetooth and HDMI ARC, you'll be able to connect the soundbar to both your TV and your phone or other devices for the best TV, movie, and music listening experiences. Since your soundbar will need to connect to your TV, make sure it's not obstructive to your room aesthetics, either.
---
2. Are soundbars worth it?
Soundbars provide much better sound quality than is possible within your devices or TV themselves. Especially for watching movies, TV shows with muffled dialogue, and streaming music, soundbars offer the opportunity for better sound experiences. They are more affordable and take up less space than full home theater systems.
---
3. How is a soundbar different from a home theater system?
If you're worried about quality, a home theater system is the best for audio quality. However, price and space requirements make a soundbar a better bet.
---
4. Are soundbars better than regular speakers?
Soundbars are more streamlined than having multiple speakers. Additionally, a system of speakers may cost more than a single soundbar which is optimized for all of your devices.
---
5. What is the difference between different soundbar numbers, like 2.1 and 3.1?
The number before the decimal, like 2 in 2.1 or 5 in 5.1, refers to the number of speakers within the soundbar. Thus, a 2.1 soundbar has two speakers: a left and a right, along with a possible subwoofer.
Conclusion
---
Although soundbars do not provide the extreme theater audio experience of a full home theater system, they offer improved sound quality, dialogue, and music experiences. Depending on the soundbar you choose, you could create a much better auditory experience in your home without the expense of home theaters or multiple speakers. Plus, soundbars are sleek and streamlined, meaning you won't have bulky speaker equipment distracting from your room's look.
You may also like our other product reviews…
2 in 1 Laptops Under $300 | 3D Printers Under $300 | Acoustic-Electric Guitars Under $500 | AV Receivers Under $500 | Binoculars under $100 | Binoculars Under $200 | Binoculars Under $300 | Bookshelf Speakers Under $200 | Bookshelf Speakers Under $500 | Bookshelf Speakers Under $1000 | Bluetooth Speakers Under $200 | Beginner Record Players | Cameras Under $200 | Ceiling Speakers | Computer Speakers Under $50 | Computer Speakers Under $100 | Digital Cameras Under $1000 | Gaming Chairs Under $100 | Gaming Keyboards Under $50 | Gaming Keyboards Under $100 | Gaming Mouse Devices Under $50 | Graphics Cards Under $100 | Guitars Under $500 | Headphones Under $200 | Headphones under $300 | Headphones under $500 |