Updated on by Lyric Fergusson
The main reason anyone invests in a collection of vinyl is for the quality of sound. There just isn't anything like it. But what you hear is only as good as the speakers that deliver the unique elements of a record, unmatched by the technology of digital music. Without being an expert on sound products, it can be tough to navigate the huge selection of speakers available. Here are 7 of the best options for every budget.

Best Speakers for Vinyl
---
(Best starter set — $)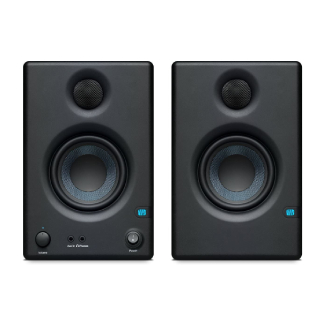 Why it's great: It's difficult to find speakers at such a great price that have acoustic tuning as these do. The Presonus Eris studio-quality speakers offer the most sound accuracy for this price range, which is a priority for those seeking a product that's suited to vinyl. They are a fantastic option for those first starting out with their record collection.
Keep in mind: These are near-field monitor speakers, meaning they are intended for use relatively close by. They are perfect if your record player setup is next to your couch, or very near wherever you plan to listen.
Good for: Small spaces, those who are new to vinyl and want relative quality at a lower cost.
---
(Best value — $$)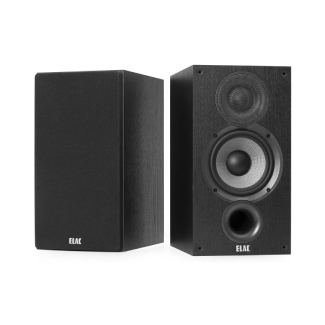 Why it's great: These Elac speakers offer a bright clarity of sound, while still boasting rich bass balanced with mid-range tones. Despite the compact size, they're adequate for listening anywhere in a standard-sized room.
It's not often necessary to adjust the sound settings each time you change the record because they are so reliably consistent.
Keep in mind: The brighter sound on these might be a turnoff for those looking for a warmer quality, but it does allow you to hear more details in the recording.
Good for: Anyone wanting to spend some money for a product that's tried and true without breaking the bank.
---
(Most genre versatility — $$)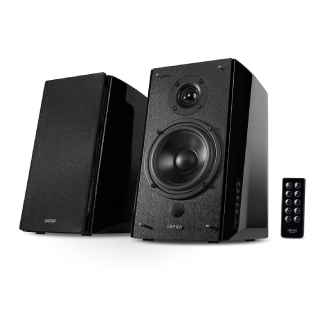 Why it's great: This sleek pair of speakers feature excellent separation, so vocals and every instrument can be heard distinctly. The volume and clarity are pretty good, so you'll be able to listen from a different nearby room or throughout a small apartment.
All genres of music seem to sound great on these versatile speakers. A remote control allows for easy volume control and switching between modes.
Keep in mind: For some people, the bass sounds a bit heavy. If that's what you're looking for, all the better. But sticking with classic mode using the remote control does seem to tone it down.
Good for: Those who enjoy a wide variety of musical genres and are looking for speakers that are up to the task.
---
(Best investment — $$$$)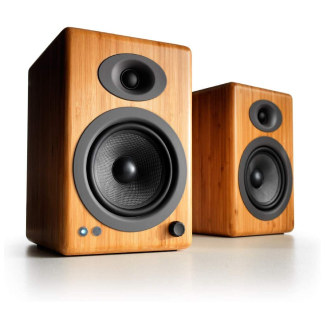 Why it's great: If you're looking for the gold standard of speakers, look no further than the Audioengine A5 Plus. The attractive, vintage-inspired cabinets are crafted by hand and house built-in power amplifiers that pack a punch.
This is also the best option if you want speakers that are compatible with wireless turntables without compromising on sound or reliable connectivity.
For larger rooms and spaces, you won't regret investing in the highest quality of sound from a distance.
Keep in mind: These speakers are powerful and resonant, which is something to be aware of if you share walls with neighbors.
Good for: Larger rooms and spaces that require more power, clarity, and sound reach. Turntables with wireless capability.
---
(Most budget-friendly — $)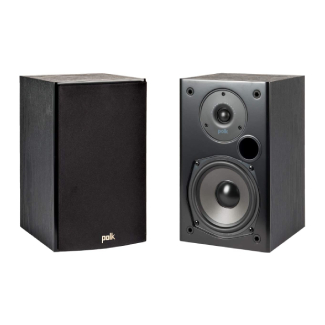 Why it's great: Vinyl enthusiasts who aren't wanting to make a hefty initial investment will still find that an enjoyable, quality experience is still possible with the Polk Audio T15 speakers.
Thousands of positive reviews praise the clarity and performance relative to the highly affordable price. Bass has a natural sound and the balance is the best you can get for a bargain.
Keep in mind: For larger rooms, you may also need a subwoofer for these to work well.
Good for: Small spaces and those looking for the best quality available on a budget.
---
(Best sound range — $$$)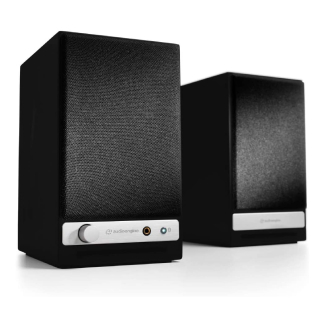 Why it's great: Want to play a record but still be able to hear it if you leave the room? Have a large, open concept space that calls for a powerful speaker offering sound quality at a distance? The Audioengine HD3 is for you.
An impressive 100-foot range won't disappoint, regardless of the compact size. Vintage lovers will enjoy the updated throwback style and they're available in 4 colors or wood finishes.
Keep in mind: These, like many high-quality speakers, require a bit of breaking in before the optimal sound is achieved. But it's totally worth it.
Good for: Large spaces and multiple rooms, playing records at parties and gatherings, people with hearing loss who need more output or a high-quality headphone experience.
---
(Best wireless compatibility — $$$)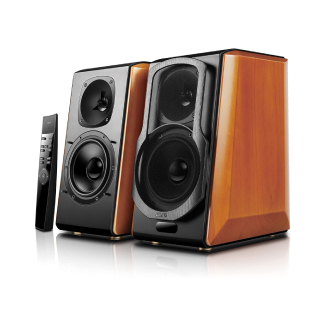 Why it's great: Perfect for wireless turntables, there will be no loss in sound quality with the Edifier S2000pro. The included remote control allows you to alternate between 4 EQ modes to suit the record of your choice and adjust volume without leaving your sofa. They have a rich, balanced sound and even the loudest setting typically doesn't cause distortion.
Keep in mind: The only way to switch EQ modes is to use the remote control, so you won't want to lose it.
Good for: Wireless turntables, larger spaces, and convenient sound control from wherever you are with the remote.
---
FAQs about speakers for vinyl
---
1. Why is a speaker important when listening to vinyl?
The entire purpose of listening to music in vinyl format is to enjoy the warm sonic tone and accuracy of the recording as it was intended to be heard, without the compromises made for digital versions.
Speakers are crucial. Your turntable is the mechanism that interprets the record, but speakers are the means by which you'll hear it. It's important to invest in speakers that properly balance every frequency so you get the most out of the experience.
Listening to vinyl usually means you intend to listen to the whole album from front to back. This is one of the reasons it's so great. It also means that you won't want to be annoyed by unbalanced frequencies, like too much bass that overwhelms the other instruments or high frequencies that feel like hearing nails on a chalkboard after a few songs.
---
2. How does the price of speakers influence quality?
You can be confident that every set of speakers on this list is highly-rated, regardless of price.
However, it is also true that price tends to correlate with better results when it comes to products that deliver various levels of sound quality and volume. Whether it's the option to adjust EQ levels, precision-tuned cabinets, or the level of power for output, a higher price tag likely means more features.
Don't be afraid of the more affordable options, though. If you're just starting or working with a tighter budget, you can upgrade later and enjoy quality sound with fewer advanced features for now.
---
3. How can I be sure which speakers are right for me?
Without trying the product yourself, it can definitely be intimidating to make a choice. It's always a great idea to read up on the manufacturer information and browse the buyer reviews to find answers to your questions.
Amazon is a great place to buy because you can also post a question that someone with experience (or even the manufacturer) can answer.
Also, check to make sure your turntable is compatible with any speakers you're considering. Look at the type of inputs and shop for the right kind of cables, if needed.
---
4. Which speaker product reviews are relevant?
Speakers are versatile, and not all of the reviews will be relevant to the specific purpose of listening to vinyl.
Many consumers are using them to amplify the sound of their TV, others might be mixing music. Various intentions for a product have different considerations when rating satisfaction.
Pay attention to reviews that assess the speakers' performance in relation to listening to music, and specifically to vinyl.
The good news is that audiophiles are usually very detailed in what they write about products they've tried, so there's plenty of great information from many consumers who have also researched their options and ultimately decided to purchase a certain set of speakers.
---
5. What if I'm concerned about the product lasting, or defects?
An added perk of buying a quality set of speakers from a trusted manufacturer is that many of them offer product guarantees or warranties.
Some guarantee your satisfaction and provide exceptional customer service if you encounter a problem. Others will replace the speakers if you discover a defect within a certain period of time.
The product description will include information about a manufacturer's quality guarantees so you can be confident when you make a purchase. If the company requires that you register your purchase in order for the guarantee or warranty to be valid, be sure to do so immediately upon receipt of the speakers.
---
Conclusion
---
If you have become interested in vinyl, you clearly care about how music sounds. There is something remarkable about records that can't be replicated in digital format.
So don't compromise when it comes to the speakers you select for your setup. No matter what your budget or needs may be, there's something for you on this comprehensive list.
Buy with confidence knowing that each set of speakers here has been vetted by music lovers who care deeply about quality and sonic accuracy.
You may also like our other product reviews…
2 in 1 Laptops Under $300 | 3D Printers Under $300 | Acoustic-Electric Guitars Under $500 | AV Receivers Under $500 | Binoculars under $100 | Binoculars Under $200 | Binoculars Under $300 | Bookshelf Speakers Under $200 | Bookshelf Speakers Under $500 | Bookshelf Speakers Under $1000 | Bluetooth Speakers Under $200 | Beginner Record Players | Cameras Under $200 | Ceiling Speakers | Computer Speakers Under $50 | Computer Speakers Under $100 | Digital Cameras Under $1000 | Gaming Chairs Under $100 | Gaming Keyboards Under $50 | Gaming Keyboards Under $100 | Gaming Mouse Devices Under $50 | Graphics Cards Under $100 | Guitars Under $500 | Headphones Under $200 | Headphones under $300 | Headphones under $500 |