Updated on by Lyric Fergusson
Chances are your baby already has a few stuffed animals in their bedroom, perched on a shelf or tucked into the corner of their crib, just waiting to be loved and hugged. While baby's can't sleep with stuffed friends in their cribs until they're closer to a year old, that doesn't mean you can't find them the perfect huggable, super soft stuffed animal now. Here are some of the cutest, cuddliest, and safest stuffed animals we could find that baby is sure to love.
Best Stuffed Animals for Baby to Sleep with
---
(Best huggable teddy — $)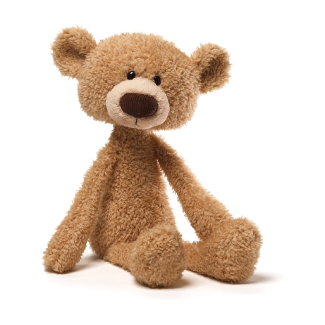 Why it's great: There's a reason their 80's tagline was "Gotta have a Gund," (and sorry to any children of the 80's who now have the song stuck in their head). Gund makes some of the softest stuffed animals we can think of, and their Toothpick stuffed animal line is absolutely adorable. Their skinny necks make them perfectly huggable for little arms to carry them around.
Keep in mind: Only surface washable, so no trips to the washing machine for this little bear.
Good for: Ages 1 and up
---
(Best gender neutral colors — $)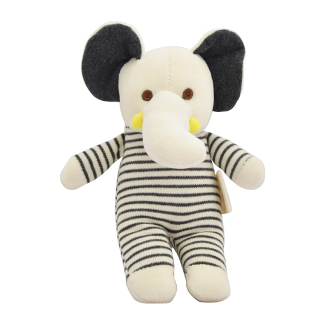 Why it's great: This cute little elephant is made from terry cloth, and boasts hypoallergenic, natural dye construction. The color palette is an adorable gender neutral, and this elephant can go for a bath in the washing machine if needed. He's the perfect size for play and snuggles alike.
Keep in mind: The outside is organic cotton but it still does contain a polyester filling, so keep in mind if you were looking for an all organic option.
Good for: Gender neutral baby gift.
---
(Best plush blanket and friend — $)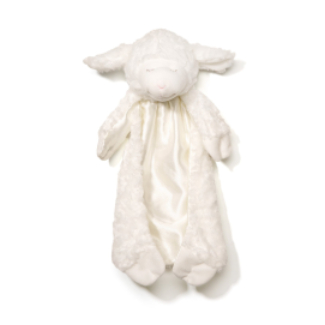 Why it's great: What is not to love about this sleepy little lamb? Huggybuddy's are perfect for even the littlest babies because they combine the best of two soothing worlds: stuffed animal and super soft blanket. They feature a satin blanket lining along with a super soft stuffed animal head, making these super squishable, cuddly, and over all adorable.
Keep in mind: Even though this is baby approved for play, infants still should not sleep with this.
Good for: Zero months and up!
---
(Best alternative texture — $)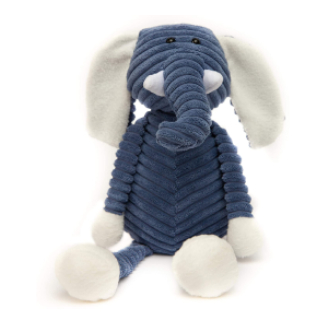 Why it's great: The durable construction of this corduroy like elephant make him super unique. His oversized features and tusks are super fun, but he remains soft and cuddly. We love that he can go right in the washing machine as well, especially since he is the perfect size for some awesome adventures.
Keep in mind: This elephant has plastic eyes; make sure baby is supervised when playing especially when teething.
Good for: Babies over a year or who have passed the teething stage
---
(Best lightweight adventure friend — $)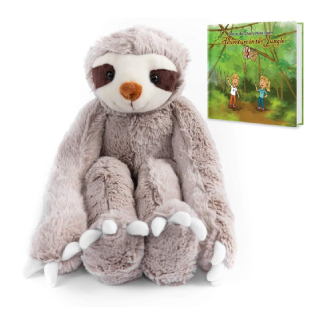 Why it's great: This sloth may be super lightweight (only 5 ounces) but he is super long (21 inches) and ready to hang around for a good time. The super long arms feature Velcro at the hands to hang on to your little one, or a doorknob, or a baby carriage, whatever the case may be! This sloth is super cuddly and ready for adventure. Sourced from natural and organic materials, we love that this sloth is super easy to clean as well – just place them in a pillowcase in with your wash, and lay flat (or hang up!) until fully dry.
Keep in mind: This sloth has plastic eyes, so make sure teething mouths are kept away from giving extreme face kisses.
Good for: Babies to toddlers
---
(Best green product — $)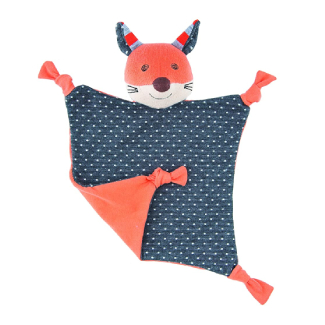 Why it's great: Who could resist the super sweet smile of this fox? We certainly can't. This little fox blankie is made from organic materials, including the filler which is corn fiber. Even better, this product is hypoallergenic. Blankies are great for young babies to hold and love, especially the knotted corners which are perfect for teething on or carrying. This fox is also a champion having won Dr. Toy's Best Green Product Award among other accolades. Check out this blankie and coordinating products for your little love.
Keep in mind: The head of the fox does have a rattle which may bother some babies for sleeping.
Good for: All ages!
---
(Best underwater organic friend — $)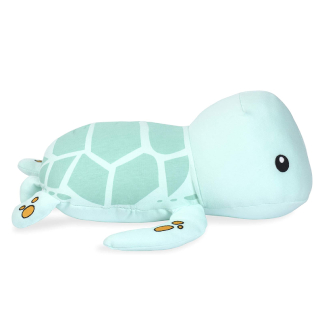 Why it's great: This sea turtle would fit swimmingly in the arms of any babe, and is safe for all ages because of its organic materials and corn fiber filling. We love that this turtle is ethically made and all natural, making it a great choice for your future little swimmer. Beyond just a commitment to making a safe and non-toxic product, the company also donates a portion of proceeds to World Vision's clean drinking water initiative.
Keep in mind: There are two sizes for this sea turtle, so make sure you choose the one that is right for you
Good for: Because it's nontoxic and organic, it's a great choice for babies of all ages.
---
(Best fantasy adventure friend — $$)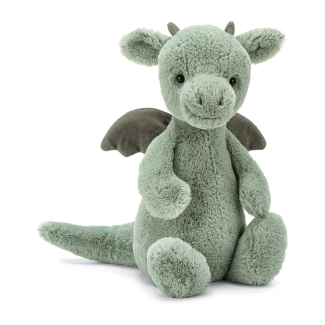 Why it's great: Jellycat stuffed friends come in a huge variety of sizes, shapes, and colors, but one thing that does not vary is how incredibly soft they are, and adorable as well. Whether your little prince or princes is ready to fight the dragon or just tame it, it's the perfect size and softness for sleepy time adventures.
Keep in mind: Jellycat notes that they should be spot cleaned only.
Good for: Cuddles and adventures for any age.
---
(Best Whimsical Design — $$)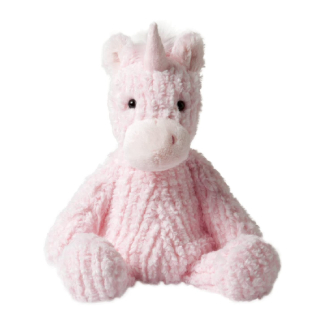 Why it's great: You may already know Manhattan Toy Company from their multitude of educational toys for little ones, but did you know they made stuffed animals as well? They thoughtfully choose fabrics and create animals with shapes that will be little one friendly, and when they describe this little unicorn as "softer than a cloud" they mean it. Made of super soft fleece material, this unicorn is sure to prance into the arms (and heart) of any baby. They also make a super cute companion board book (purchased separately for $9.99) making this a wonderful gift option as well.
Keep in mind: This unicorn has a super awesome mane, which some people prefer to avoid for babies (although still completely safe)
Good for: Great for gifting, but this little unicorn may be too soft for you to let go of.
---
(Best family owned company — $$)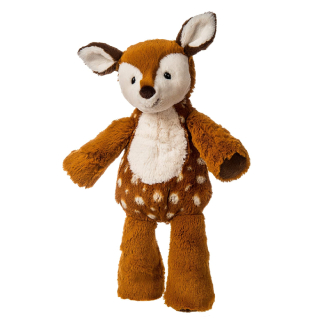 Why it's great: This family owned company has been making wonderful toys since 1933, so they know what they're doing when they make super soft stuffed animals. There are tons of friends to choose from, and we particularly love this little fawn with its brown body and white spots. Mary Meyer stuffed animals are baby friendly and super soft. Even better, we love a stuffed friend that can go for a ride in the washing machine to get squeaky clean and ready for their next adventure.
Keep in mind: These stuffed friends should be washed on the cold setting
Good for: Perfect size for a new walker
---
(Best stuffed set — $$)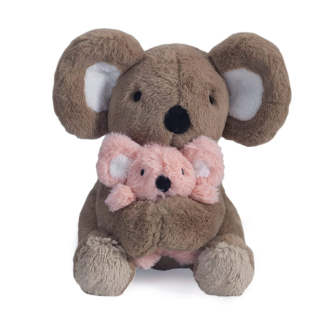 Why it's great: What is sweeter than watching a mommy bond with their baby? Watching a mommy koala cuddle her little one, just like these sweet and soft stuffed koalas from Lambs & Ivy. The koala mama has Velcro on her hands so she can hug her baby, but they do fully separate so you get two stuffed friends to play with and love. You probably Lambs & Ivy best from their coordinating nursery décor lines. We like them because of their commitment to baby safety, as well as a culturally diverse workforce that is over 50% female. What's not to love about a product from a company that cares about its customers and its workers?
Keep in mind: Baby koala is a little bit tiny so make sure you don't lose your stuffed friend.
Good for: Babies of all ages due to the stitched on details.
---
FAQs about stuffed animals for baby to sleep with
---
1. How do I choose the stuffed animal that is right for my baby?
If you're buying for your own little one, there are plenty of stuffed friends to match any nursery décor or theme. You may want to take that into consideration when purchasing their first stuffed friend. As they get older, you may want to pick a stuffed friend that matches their developmental milestones (crinkly friends to stimulate their senses, friends that can be carried for new walkers).
---
2. When can my baby sleep with a stuffed animal?
Whether it is a lovey, blankie, or stuffed animal it is recommended to hold off until 12 months before they spend any time in the crib during sleep time unsupervised.
---
3. Does my baby need a stuffed animal?
The relationship between your baby and their stuffed animals will change over time. When they're little, the softness, crinkles, and colors will stimulate baby's senses. As they get older, baby may turn to stuffed animals for comfort and reassurance. Even older, babies and toddlers will simulate taking care of stuffed animals (brushing, dressing, and feeding) which is another developmental milestone.
---
4. How do I know if the stuffed animal is safe?
People love to give soft, fuzzy stuffed animals to babies because they're just so darn cute. Make sure any stuffed animals are age-appropriate before you let them play with them. Sewn-on or hard plastic eyes and decorations can be dangerous for grasping hands and teething mouths. There are many hypoallergenic stuffed animals on the market, so keep an eye out for organic materials and fillers which can help reduce allergens. You may want to hold off on letting your baby sleep with a stuffed animal until you know that the materials don't bother your little one.
---
5. How many stuffed animals does my baby need?
Hundreds! On a serious note, if your baby shows a preference for one stuffed animal or lovey you may want to consider getting an identical backup if possible. As babies get older one particular stuffed animal may become the "go to" comforter and companion, getting dragged with you all over from the doctor's office to the grocery store to adventures in the backyard. Stuffed animals can get dirty but also get lost, so having a backup can avoid the trauma of the stuffed animal going missing
---
Conclusion
---
Whether you're decorating the nursery or looking for the perfect baby shower gift, there are tons of stuffed animals out there looking to be loved. Keep an eye out for whether the stuffed animal can be washed (huge benefit) and whether it is made from organic materials, which is ideal for new babies. Stuffed animals provide a huge benefit in terms of learning to self soothe and imaginative play, so don't be afraid to choose more than one new friend for your baby to love.
You may also like our other product reviews…
Baby Onesies | Baby Probiotics | Baby Rattles | Baby Socks That Stay On | Baby Utensils | Baby Walkers | Baby Washcloths | Bath Towels | Bathtubs | Bibs | Blankets | Blenders to Make Baby Food | Booties | Bottle Brushes | Bottle Drying Racks | Bubble Bath Soap | Carriers for Petite Moms | Coconut Oils for Babies | Cribs for Twins | Floor Seats | Foam Play Mats | Glass Baby Bottles | Hair Brushes | Hampers | Hats | Headbands | Hooded Towels | Interactive Baby Dolls | Long-range Baby Monitors | Loungers |