Updated on by Lyric Fergusson
If you are a true tea lover, you probably have your favorite blend—whether it be the fragrant blooms of chamomile or the energizing earthiness of green tea. Infuser teapots allow you to properly steep your favorite tea without the muss and fuss, not to mention the messy tea bags.
Here are my recommendations for infuser teapots.
The Best Teapots with Infusers
---
(Best natural design — $)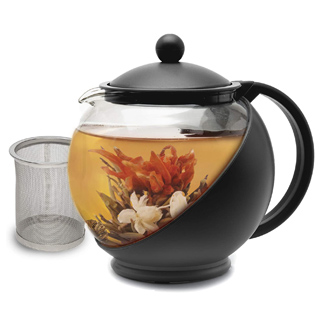 Why it's great: There is something incredibly chic and charming about the modern design of this teapot. It's "Half Moon" moniker is well-deserved—this teapot somehow balances the modern and the natural in a perfect. The shape and design of the teapot evokes a chic modern look that would look right at home in a New York penthouse, while the florals peeping out of the glass components offer just the right dose of earthiness.
The borosilicate glass allows you to monitor your tea as it steeps, helping ensure the ideal color and steep time. And with a capacity of approximately 5 cups, it's perfect for your next tea party.
Keep in mind: As is the case with many teapots, you cannot place this teapot directly on your stove or any other heat source.
Good for: Adding a touch of earthiness to ultra-chic, modern spaces.
---
(Best splash of color — $$)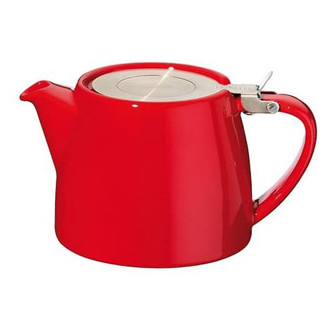 Why it's great: This ceramic teapot has retro appeal and comes in a variety of colors that practically jump right off of a Technicolor screen. The teapot is not only simple in design, but simple to use. It's sturdy enough to have come right out of your great-grandmother's kitchen (in a good way).
Another bonus is that with an 18 oz. capacity, it's easy to store and won't take up a lot of room on your counter or in your cabinet storage. These teapots are even designed to stack on top of each other to save space.
Keep in mind: This teapot is theoretically dishwasher safe. The lid isn't removable, however, so configuring it inside your top rack might be a bit of a challenge.
Good for: Adding a dash of classic color and retro-chic to your kitchen.
---
(Best glass teapot — $$)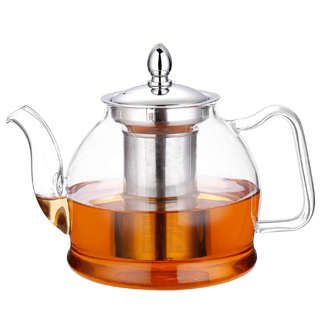 Why it's great: There's something about windows and open spaces that naturally draws us in, and this teapot is no different. With its beautiful curved lines and transparent construction, it will blend in with just about any space. Hand-crafted and carefully constructed, you truly get a sense of the care put into this piece.
The teapot boasts a generous 1-liter capacity, so you should be able to make at least 4 cups of tea using it. Another bonus is that, unlike many other teapots, you can place it directly on your stove to heat your water.
Keep in mind: This teapot is made from borosilicate glass, which makes it fairly resistant to breaking. But remember, it is still glass. It can crack or shatter if mishandled.
Good for: Enjoying the natural colors of steeping tea leaves with an unobstructed view.
---
(Most decorative teapot — $$$)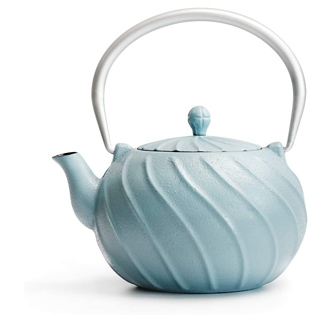 Why it's great: Not only is this teapot absolutely gorgeous, but it is made from cast iron. Many tea drinkers adore cast iron for the unique flavor enhancement it offers to their morning brew.
As is true with cooking, cast iron requires a bit more of a commitment—you can't just throw this teapot in the dishwasher. Even dish soap might be a bad idea—simple water might be enough to do the trick. But the extra work is often worth it. For many, cast iron teapots simply make a superior cup of tea.
Keep in mind: Preparing tea in a cast iron teapots takes longer to do—but the amazing flavor is well worth the wait.
Good for: Tea lovers who want to indulge in a truly gourmet experience.
---
(Simple to use design — $$)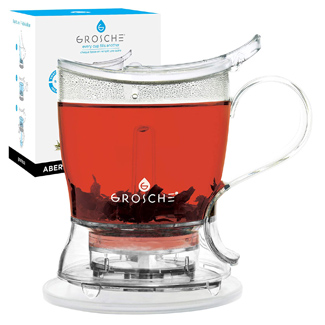 Why it's great: This teapot offers all the joys that come with watching your tea leaves steep to the perfect color, without the pitfalls that can come with a glass teapot. This little teapot is simple to use, and with BPA plastic it is less likely to break—in fact, it is just about shatterproof.
This teapot is a great option for brewing iced tea, and note the convenient way you simply place the entire unit over your teacup or coffee mug to dispense its contents.
Keep in mind: This teapot comes in several sizes, so make sure you get the size that works best for you. The 500ml teapot is quite small with an approximately 2 cup capacity.
Good for: Brewing iced tea.
---
(Best for japanese-style tea service — $$)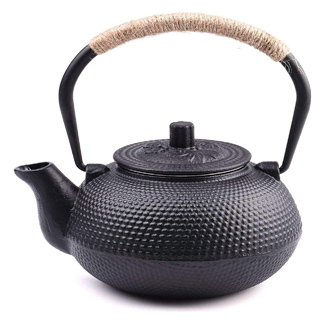 Why it's great: For many people, tea drinking is equal parts ceremony, taste, and health. If the ceremony of drinking tea is important to you, then you can't go wrong with this teapot. It celebrates the cultural history of Japan's cast iron teapots, which dates back to the 16th century. While the cast iron design can accommodate all sorts of teas, this might be just about the perfect set for your matcha cravings—in perfect keeping with its cultural heritage.
Keep in mind: There are many fakes of this teapot on the market. Make sure you buy from an authentic seller.
Good for: Tea lovers who love the culinary history of tea, particularly when it comes to Japanese culture
---
(Best stainless steel teapot — $)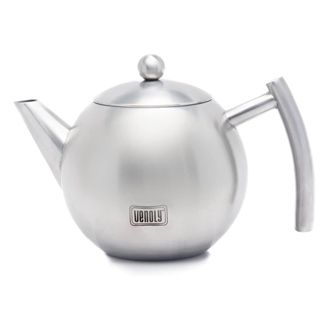 Why it's great: If you want to coordinate with your stainless steel appliances, or if you want to add something shiny and new to your kitchen décor, you can't go wrong with this teapot. Its mirror finish will add the perfect polish to any space, and even better, it is heat resistant so you don't have to worry about all that metal causing accidental burns. Plus, its dishwasher safe.
Keep in mind: This teapot can't be placed directly on the stovetop.
Good for: A cute starter teapot that is easy on the pocketbook.
---
FAQs about infuser teapots
---
1. What is the difference between a tea kettle and a teapot?
Generally speaking, a tea kettle is used for heating the water you will use to steep the tea leaves. A teapot is used for steeping the actual tea and is not typically the source of heat. You can, however, find infuser teapots that serve the function of both tea kettle and teapot quite well. If it is important to you to have one teapot serve as both the water heater and the tea steeper, watch for one that is stovetop safe and built to specifically do so.
---
2. What size teapot should I get?
What capacity you'll need in a teapot is based on individual taste. For many people, having a larger capacity teapot to entertain guests is of top importance. For others, having a smaller teapot perfectly sized for one or two cups is sufficient. Keep in mind that while a larger teapot might be tempting, you still have to store it somewhere!
---
3. Why are loose tea leaves more expensive than tea bags?
There is something luxurious and indulgent about tea leaves that don't come stored inside a pre-packaged tea bag. But there are other benefits as well—loose leaf teas tend to have the ability to be steeped more than once. So in the long run, they can save you money on top of being more flavorful. Infuser teapots offer a simple, beautiful way to enjoy them.
---
4. How long does water stay hot in a teapot?
Depending on which teapot material you choose, your tea may stay hot as long as up to 8 or 9 hours. But if you are interested in keeping your teapot warm, you can use a teapot warmer or "cozy". They are adorably crafted, often knit, and keep your teapot exactly what they claim—cozy!
---
5. What is the safest teapot material?
The safest way to steep your tea leaves is to ensure the teapot is not made from toxic materials. Borosilicate glasses contain no glaze and are considered one of the safest options. Stainless steel is also a good option. When choosing an enameled teapot, it is wise to be extra attentive to how the teapot was made to avoid potentially hazardous material seeping into your food, such as lead or cadmium.
---
6. Are cast iron teapots safe?
Cast iron teapots are popular for their longevity—they can be passed down for generations, after all, and are nearly indestructible. But there are things to be mindful of—ensure your teapot is free of toxic materials. Also, if it is an enameled teapot, it might not be suitable for use on a direct heat source. Finally, any cast iron teapot is subject to rust—you shouldn't leave water sitting inside the teapot for long amounts of time.
Conclusion
---
The tradition of tea is both meditative and soothing, and there is nothing quite like a cup of your favorite chai to calm your frazzled nerves and help you relax. Adding a teapot to your ritual will make your tradition easier, and more beautiful.
The tradition of a well-made cup of tea is sure to become truly steeped into your heart and soul.
You may also like our other product reviews…
Air Fryers Under $100 | Blenders for Green Smoothies | Blenders Under $100 | Chef Knives Under $100 | Coffee Makers with a Grinder | Commercial Shaved Ice Machines | Crepe Pans | Espresso Machines Under $100 | Espresso Machines Under $200 | Espresso Machines Under $500 | Juicers Under $100 | Knife Sets Under $200 | Omelette Pans | Onion Choppers | Pizza Peels | Silicone Baking Mats | Silicone Cooking Utensils | Toaster Ovens Under $100 |