Updated on by Lyric Fergusson
Activity tables are a great way for your little one to stay occupied and stimulated all at once without you needing to be hands-on. There are so many options for different styles of activity tables and each of them have different toys and fun objects on them to entertain your toddler. Activity tables are also a fun way to help your little one hone their fine motor skills and dexterity while they play!

Best Toddler & Baby Activity Tables
---
(Best budget table — $)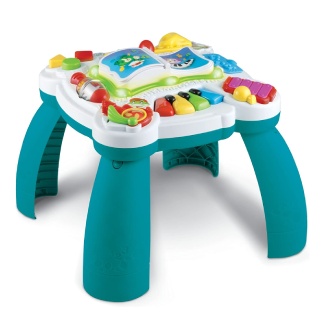 Why it's great: This is a table that I personally have purchased for my son and he loves it. It is inexpensive but it doesn't feel cheap and it has enough activity on it that he doesn't get bored too quickly. The little buttons and pages on the tabletop are great for encouraging dexterity and the piano plays music when the keys are pressed which teaches cause and effect to young toddlers. This table is small enough that it won't take up a ton of room for play or storage and it is lightweight and easy to move around.
Keep in mind: Because it's so lightweight, if a young toddler were to use it for stability it would slide, so you'll want to make sure it's on carpet or against a wall.
Good for: Kids ages one to three
---
(Best for fine motor development — $)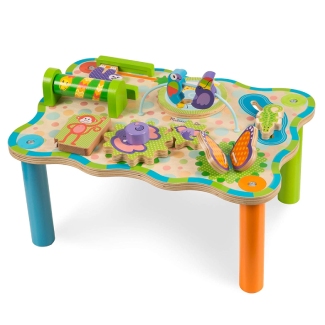 Why it's great: This simple, beautiful little table from Melissa and Doug is a great one to start on. It's nice and quiet (yay!) because it has no flashing lights or music, but will still keep your little one engaged for extended periods of time. It has 8 different hands-on activities to help build important developmental skills, including fine motor skills and hand-eye coordination as your tot turns, rolls, flips, spins, slides the chunky wooden pieces.
Keep in mind: The table is small and so may be best for younger tots.
Good for: Ages 12months and up.
---
(Best for creative play — $$)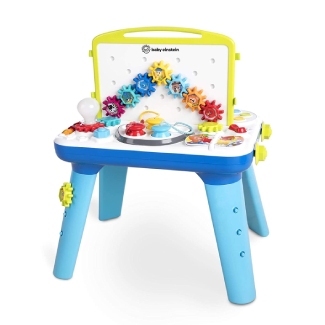 Why it's great: This table fosters imaginative play in your little one. The whiteboard lets them color and be artistic while the gears, buttons, and other moveable items on the table surface will let them practice their fine motor skills. The whiteboard can be removed as well as the legs so you can make this table work for multiple ages from toddler to preschooler. This is a great table for multiple kids to play with at once because it has the partition in the middle and there are enough activity options to keep them busy without fights.
Keep in mind: Because the gears are removable, little ones can pull them off and lose them easily.
Good for: Kids ages one to four.
---
(Most eco-friendly — $$)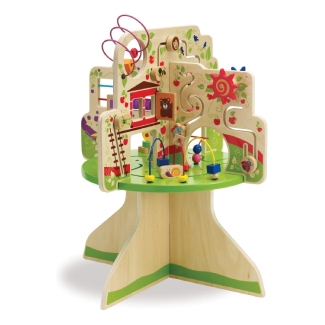 Why it's great: This is so cute! It's also a worthy investment for your tot as well as a great educational tool. It's awesome for moms and dads who lean more towards the Montessori or Waldorf principals of wood-based toys that don't have flashing lights etc. Manhattan Toys is a wonderful and trusted brand and their Tree Top Adventure Table uses non-toxic water-based paints and comes complete with gliders, springy flaps, spinning dials, bead runs, and shape recognition to make sure your little one is developing their fine motor skills.
Keep in mind: If your little one isn't standing yet, it might not be the best bet. It can tip over if it is used primarily to balance.
Good for: Ages 12months and up.
---
(Best for older toddlers — $$$)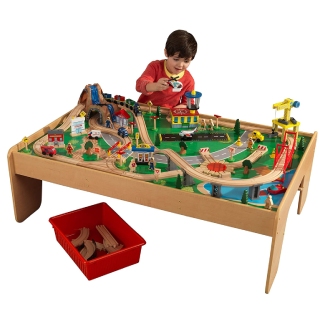 Why it's great: We love this table because it's one that will grow with your little one. The train set is fun for all ages and will stay entertaining long after the toddler years which makes this table more of an investment. The storage bins included with this table make cleanup easy and your little one can pull out the toys as they need them. This table is sturdy and well made so you won't have to worry about rough and tumble toddlers tearing it apart.
Keep in mind: Parents have complained that assembly takes quite a while due to all the little pieces.
Good for: Kids ages two to ten
---
(Best for young toddlers — $)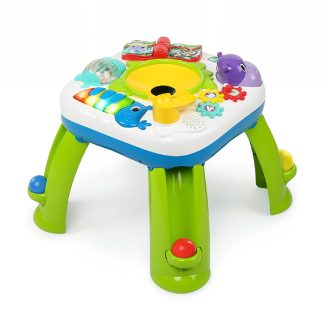 Why it's great: This Bright Starts table is perfect for little ones who are just starting out with fine motor skills and dexterity. Not only are the activities simple enough not to frustrate a young toddler, but you can take off the legs of the table so that the top can sit on the floor. This makes it much easier for a one to one-and-a-half-year-olds to use because they will not have to hold themselves up when playing while they are still getting the hang of standing. As they get older, you can put the legs back on and let them explore the table all over again.
Keep in mind: Because of how lightweight this table is, it will slide if your little one leans their weight on it. So, if you have a toddler who is using the table for support while playing, you may have to set it up alongside a wall or in a carpeted room.
Good for: Kids ages one to three.
---
(Most functional — $$)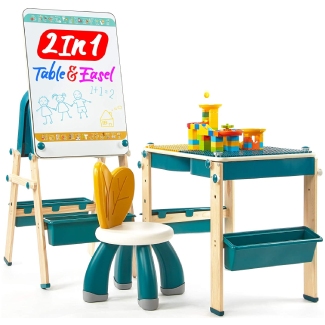 Why it's great: This very reasonably priced table comes with so many things your toddler will love! A functional desk with a removable top that transforms into a drawing desk or an easel, a cute ergonomically correct chair, bins for Duplo or Leggos, and an amazing Leggo base to play with those block on. My son and daughter love their table because they can create a whole Duplo world on a very steady surface. Then, the kiddos can switch to drawing seamlessly with little help from mom and dad. This is an awesome, affordable choice. Watch the video on the Amazon listing and be amazed at what this table can do — I highly recommend it!
Keep in mind: The desk transforms into an easel, they are not two separate items.
Good for: Budding artists and builders.
---
(Best for craft projects — $$$)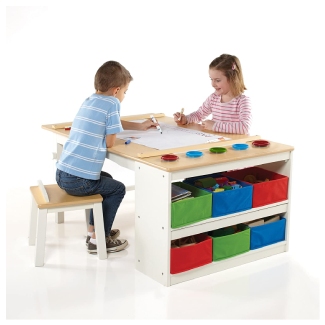 Why it's great: This Arts and Crafts Center is a good way to keep your toddler engaged and their things organized. As many of us are homeschooling these days, this activity table proves to be a multi-functional win. It's certified to be safe and sustainable and comes with a five-year warranty. It also comes with an easy to use paper dispenser and the table itself wipes clean easily for stress-free fun.
Keep in mind:Some parents say that the assembly took them a while.
Good for: Taller tots, or those 3+
---
(Best for whole family fun — $)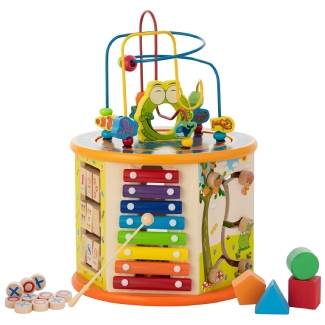 Why it's great: Although not a "table" per se this very affordable wooden activity cube is so cool because it comes with the ability to play actual activities — like tic-tac-toe, or musical instruments! It's a fun one for older siblings to join in and play with your toddler, or give you some focused activity time with baby teaching them how to play the various games. This said, your little one will find it engaging and entertaining for self-play time. I think this activity table is a win-win.
Keep in mind: It's not an actual "table" although it will provide your kiddo with many of the functions of an "activity table." Also, the smaller tic-tack-toe pieces should be used with parental supervision.
Good for: Tots and their siblings.
---
(Most interactive — $$)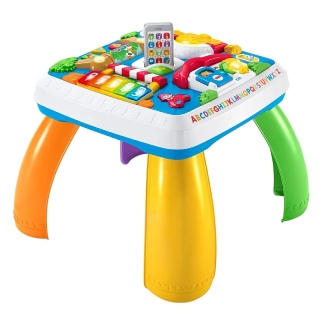 Why it's great: Kids love to play with things that they shouldn't, including smartphones and light switches, which makes this table perfect! There is a kid-safe smartphone and light switch that your little one can play with along with other buttons and keys that they will love pressing and exploring. The legs of the table can be removed for younger toddlers so that they can sit on the floor while they play instead of having to hold themselves up. As a bonus, this toy can switch from English to Spanish if you want to introduce other languages early in life
Keep in mind: Because of all the crevices, many parents have found this table difficult to clean if it gets messy.
Good for: Kids ages one to three.
---
(Most multi functional — $$$)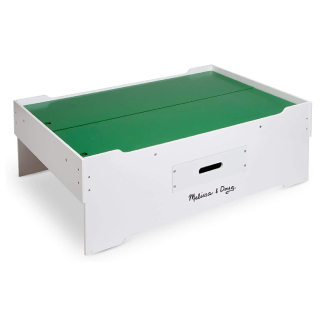 Why it's great: This table is a great multi-functional option and something that will grow along with your little one. The surface is large and low enough that kids can sit or kneel on the floor while using it, so there's no need for a young toddler to try to prop themselves up the entire time. The large drawer built into the side makes cleanup easy and lets your little one resume their activity without much help from you. Because of the simple and uncomplicated design, this table can last your child for years as they switch out their activities for more mature ones.
Keep in mind: Some parents have complained that assembly is difficult because of misaligned holes, but that it was a good quality, sturdy table once fully assembled.
Good for: Kids ages one to ten.
---
(Most musical — $$)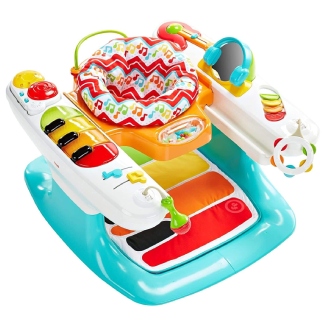 Why it's great: This is a slightly different take on an activity table but does the trick. Your toddler will go crazy for this, and end up spending hours playing the piano with his/her feet and hands. It's really interactive and my son adores his. If your babe still isn't sturdy on their feet they can sit in the little moving seat. If they are an accomplished stander then take off the seat and let them move about the play-station unassisted. Honestly, it is one of the most played with items in our home.
Keep in mind: It allows your little one to make music, so if you are sensitive to noise, this might not be the best addition to your playroom.
Good for: Tots of all ages.
---
(Best simple table — $$$)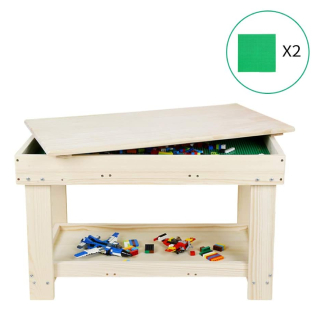 Why it's great: This table is simple but not boring. The Lego mat is great for little ones to build on and when they are done playing, they can cover up their creations with the tabletop until they're ready to do it all over again. While they aren't playing Legos, they can enjoy using the tabletop to do arts and crafts or anything else that they can come up with. If you remove the Lego mats, you can use this table to create a sensory table as well, which makes it perfect for toddlerhood and beyond. The table folds away flat so it is easy to store in smaller areas and pull out when needed.
Keep in mind: Some parents said that the table is smaller than they anticipated, so keep an eye on the measurements!
Good for: Kids ages two to ten
FAQs about Activity Tables
---
1. What age are activity tables for?
Activity tables are mainly used for toddlers of about one to three years old but there are many options these days for older children as well. Depending on what kind of table you choose to purchase, it can last your child until they are ten or possibly even older!
---
2. Are activity tables good for babies?
Not only are activity tables a wonderful way to keep your baby's attention and foster independent play, but they can also help them to practice their fine motor skills and dexterity. Activity tables are a wonderful way to entertain your little one so that you can get some time to take care of your tasks or simply take a load off after a long day.
---
3. Which activity table is best for babies?
That depends on what your needs are as well as how long you want the table to last your little one. If you're looking for something inexpensive for the young toddler years, the LeapFrog or Bright Starts table would be perfect. If you're looking for something that will last for years, the YouHi, KidKraft, or Melissa and Doug tables might be the perfect fit. You'll just need to decide exactly what you're looking for and choose from there.
Conclusion
---
Activity tables are a wonderful way to encourage independent play with your little one as well as stimulate their minds through play. We love our activity table and still play with it daily as my little one has grown into a preschooler. But with all the different options available these days, it can be difficult to decide which table is the best for your family and your little one. Once you know what you want in an activity table, it's easier to make a final decision and this list may be the place to start figuring out exactly what you want!
You may also like our other reviews…
Sleds | Roller Skates | Baseball Gloves | Easels | Rock Climbing Walls | Boy's Snowsuits | Trampolines | Karaoke | Safety Harnesses | Workbenches | Beds | Toothbrushes | Rocking Horses | Scissors | Bath Tubs | Sandals | Paints | Plates | Coloring Books | Skateboards | Slides | Climbing toys | Puzzles | Wagons | Scooters | Lunch boxes | Block sets | Racing tracks | Bikes | Guitars | Busy boards | Drum sets | Tool sets | Pianos | Pillows | Cameras | Headphones | Remote control cars | Swings | Golf clubs | Push cars |