Updated on by Lyric Fergusson
With toddlers, keeping mischievous hands busy is a parent's first priority. One of the best ways to keep little ones entertained and get their creative juices flowing is by giving them art supplies. There are many ways for burgeoning young artists to express themselves, including paint, markers, and crayons, but there are always new supplies and sets coming out.
This year, it's even more important to keep kids happy at home, and what better way to do that than with some fun, age-appropriate art supplies? Here are some products to keep your tiny Van Gogh on track to becoming an art prodigy!
Best Toddler Art Supplies
---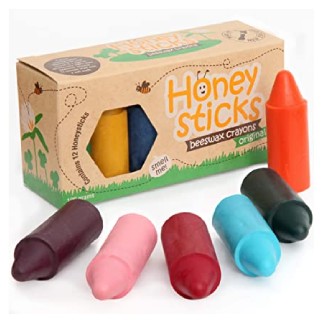 Why it's great: We all know kids like to put everything in their mouths, and crayons are no exception. Don't worry if your petite Picasso decides to give the red crayon a lick because these all-natural crayons are completely non-toxic. They're just the right size for little hands to grip with a wider design than traditional crayons.
The best thing about Honeysticks is that they are durable, unlike some crayons that tend to break easily, breaking kids' hearts along with them. Honeysticks are fat, thick crayons that are easy to hold and hold up to rough coloring.
Keep in mind: There are only 12 colors here, so kids who enjoy using a wider color palette may need supplementation with other crayon brands.
Good for: Parents who enjoy using all-natural products and kids who have a hard time gripping skinny crayons!
---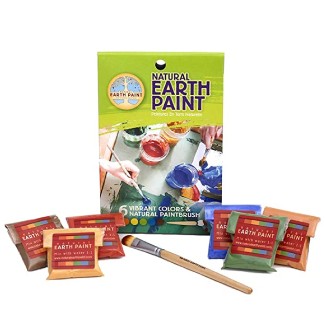 Why it's great: These versatile paints can go from tempera paint to watercolors with just the addition of more water, reducing the need for two types of paints. Thick and creamy, Petite Children's paints have a big color payoff and they are natural and non-toxic. Made of pigments like corn starch, these paints ensure a stress-free experience for parents.
Another perk of these paints is that, unlike traditional watercolors, they can paint on numerous surfaces, so if your kiddo wants to paint a face on a rock, these will work! Kids aren't limited to paper with these creative paints.
Keep in mind: These paints come as powders so you have to mix what you need. Make sure you don't make more paint because it only stays good for up to two weeks!
Good for: Kids who love using paint to decorate everything from plastic to wood to rocks and parents who love earth-friendly products.
---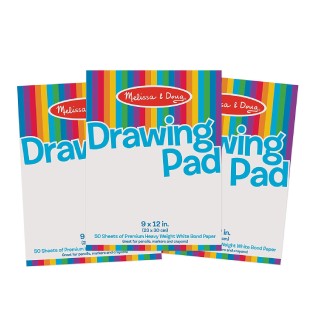 Why it's great: Melissa & Doug is a brand most parents are familiar with, and that's because of their high-quality toys. They also make these super cool drawing pads that are geared towards toddlers. Once kids finish their creation, the easy-tear pages mean less destroyed artwork.
There are 150 pages to draw on in each pad, and the premium heavyweight paper is perfect for pencils, crayons, paint, or markers. Your kid's creation shouldn't bleed through the paper, making this a great pad to have on hand.
Keep in mind: This paper may not go through a printer with success, so if you need computer paper, opt for traditional printer paper.
Good for: Kids who love to draw at home or on the go.
---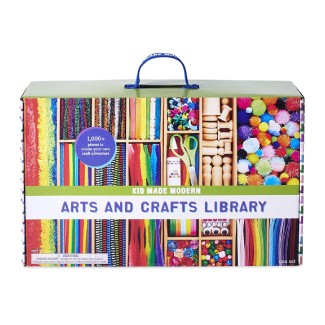 Why it's great: This gigantic crafts kit has over 1,000 different materials to keep kids engaged and create their own masterpieces. There are so many things to enjoy here that even finicky kids will have hours of fun with this kit.
When they're done, bundle everything back in the box where it goes and use the handle to tote it! The kit is portable and perfect for kids with overactive imaginations.
Keep in mind: Some small pieces are present in this kit, which means a parent may need to keep an eye on child crafters when it's in use.
Good for: Kids who love variety and get bored easily but love to create with their hands.
---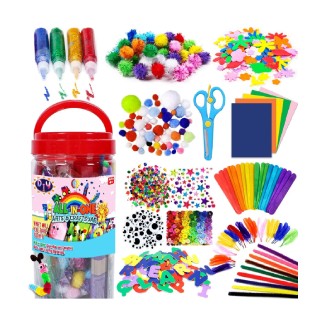 Why it's great: This gigantic jar of art supplies should keep little crafters busy for days! Packed with pom poms, feathers, googly eyes, colored paper, scissors, and a wealth of other fun crafting tools, this kit has it all.
Pop everything back in the jar when you're done and make cleaning up a breeze. They've even included glitter glue with this jar. Kids will love making their crafting visions a reality.
Keep in mind: Once again, small pieces mean parental supervision, so sit down with your kid and get to crafting!
Good for: Kids who like putting together their own creations.
---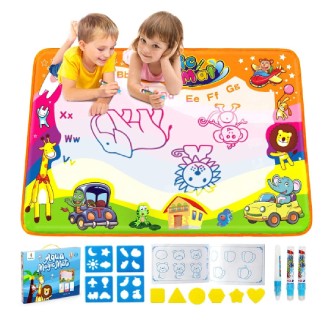 Why it's great: Hate the mess that markers and crayons make? Does your little artist prefer the walls as his medium instead of paper? Then the oversized Betheaces Water Drawing Mat is for you.
Kids use a water pen to "draw" on this mat, keeping their creations safely on the mat. They can doodle for hours and enjoy this reusable mat without the hassle of paper everywhere and markers and crayons marking up your table or walls. This set comes with stencils and stamps, too, making it even more fun.
Keep in mind: It comes with two water pens so you may need more if you have a larger group of kiddos drawing.
Good for: Parents with kids who enjoy drawing on everything but paper.
---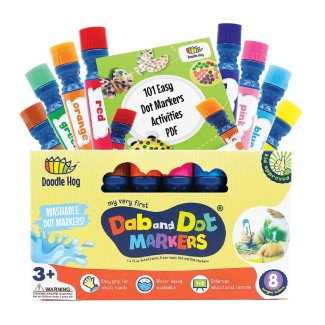 Why it's great: These versatile markers let kids draw the old-fashioned way or make cool, colored "dots" on their artwork. The colors are vibrant and saturated, and these non-toxic markers are washable, too.
They're ergonomic so they're easy for little hands to grip, and they won't dry out super-fast like regular markers when you leave the cap off. Also, the markers dry fast so your kiddo won't transfer colors all over their bodies or clothes!
Keep in mind: They may not hold up to "rough" artists.
Good for: Kids who love 'dabbing' and 'dotting' methods but can't get traditional markers to do the job!
View on Amazon.com ➜

---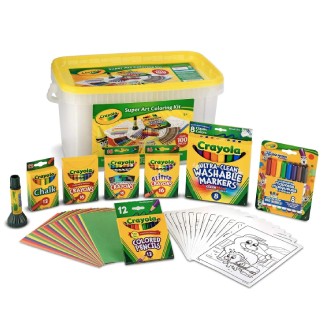 Why it's great: This tub of crayons is like a "greatest hits" of Crayola's best products for kids. This set includes regular crayons, glitter crayons, colored pencils, markers, and chalk for coloring variety. It also comes with paper!
Keep little artists drawing with included blank pages and premade coloring sheets. When art time is through, pack everything up for neat storage in the handy included tub!
Keep in mind: Once kids go through the paper that's included, have extra pages on hand so they can keep the fun going.
Good for: Kids who like using different types of art supplies to color and draw.
---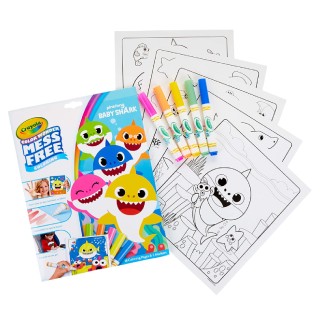 Why it's great: Color Wonder products only work on the included Color Wonder paper, so if you have littles that like drawing on other surfaces, this is a great product. It comes with five markers and 18 coloring pages featuring beloved Baby Shark.
Kids will like being able to color wherever they like without Mom worrying about a marker mess. Parents will love the washable markers and included folder that everything packs up nicely in. Perfect for travel, too!
Keep in mind: Five colors may not be enough for kids who like color variety, but you can buy Color Wonder markers in other shades to supplement.
Good for: Little ones who get really messy with markers.
---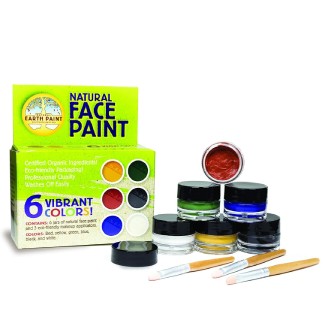 Why it's great: Kids love painting their faces, but sometimes it's a messy task to accomplish at home. Plus, paints may not scrub off as promised or could cause a reaction. Natural Earth paints are made from all-natural compounds so they're good for tender skin and they wash off easily.
They're hypoallergenic, high-quality paints that don't contain any artificial ingredients so they're super-safe for young skin. They wash off easily with just water!
Keep in mind: Since these use natural materials, colors may not be as bright as regular paint shades.
Good for: Kids with sensitive skin and parents who prefer all-natural materials.
---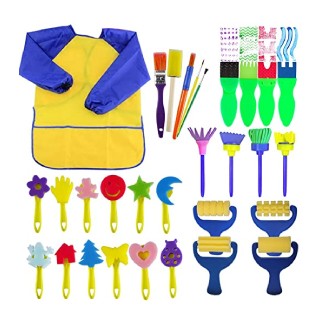 Why it's great: Not only can kids enjoy painting and stamping with these paint sponges but they can also learn about shapes and animals while they paint. Ergonomically designed paint sponges, rollers, and brushes are attached to handles so kids can play without getting too messy.
This variety of tools takes the boredom out of painting with a brush and lets kids get really creative. It even comes with an apron. This set is geared towards toddlers so you know they can easily use them. There are 29 different tools altogether.
Keep in mind: You may need to buy some paint trays to make it easier for toddlers to dip the sponges into the paint.
Good for: Kids who absolutely love painting.
---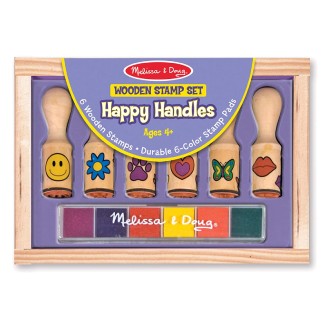 Why it's great: Kids love creating artwork, and stamps are just plain fun. Unlike traditional ink pads that may stick to skin, this Melissa & Doug set is aimed at kids so it's washable ink made for kids 4 and under. This set comes with six different stampers and a colorful ink pad.
Help kids develop fine motor skills without ink-smeared hands – the handles make it simple for kids to stamp their hearts out and avoid a mess. They can decorate drawings, envelopes, painted masterpieces, and anything they like.
Keep in mind: When using different colors of stamps, the ink can get mixed. You may want to help your child clean off stamps in between uses.
Good for: Stamp-happy little ones who love to create!
---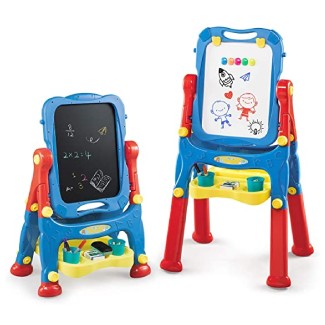 Why it's great: An easel is something that can grow with kids and can be used for several years. The NextX easel adjusts to the perfect height for your kid. Not only that, but it's double-sided so your child can use the chalkboard side or the dry erase side, adding more versatility to this fun toy.
The plastic easel is durable and easy to clean, and there's storage space for your child's art supplies. Keep kids entertained for hours with magnets, markers, and chalk!
Keep in mind: Make sure you have space for this easel, as it's not super-small.
Good for: Toddlers who are developing a love of drawing.
---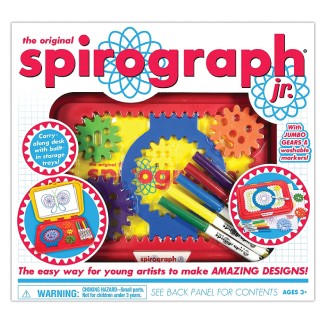 Why it's great: The Spirograph has been around for decades, and it's easy to see why. This drawing toy is still so much fun to play with for kids 3 and up. Kids can make super cool, creative drawings with these funny-shaped gears, and they're fun to play with!
The art station that comes with the gears makes it simple for smaller kids to hold the gears in place to create neat works of art, everything goes into the storage case for cleanup.
Keep in mind: Refill paper for the art station may be hard to come by, but you can print refills from the company website at home.
Good for: Littles who love trying new things and are fascinated with creativity.
---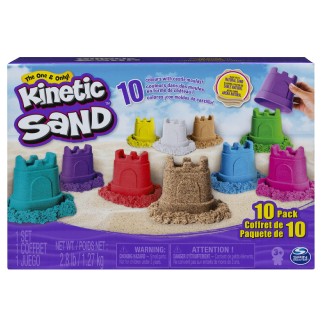 Why it's great: Kinetic sand allows kids to build their own creations. This fun-to-use, squishy sand comes in different colors and it sticks together easily so kids can mold it into different shapes. This kit comes with molds and sand.
The sand is made from natural components so you don't have to worry about your child playing with it. It's also free of wheat, gluten, and casein!
Keep in mind: This could get messy so you may want to put down a tablecloth underneath your child while they play.
Good for: Kids who love Play-Doh and modeling clay.
---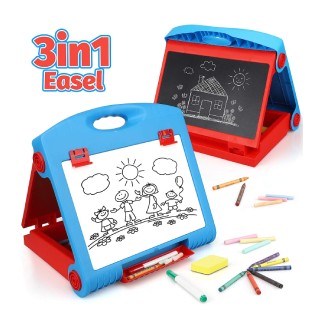 Why it's great: For parents who don't have space for a full-sized easel, this is a really fun alternative. Kids can color with crayons, chalk, or markers with this small easel, and two kids can play at once!
The case stores everything they need, and this easel has versatility because you can use the small clips to hold paper so kids can use regular paper and markers/crayons instead of just chalk and dry erase markers.
Keep in mind: The supplies that come with it may need to be replenished if they're played with frequently.
Good for: Young writers and creators of all ages.
---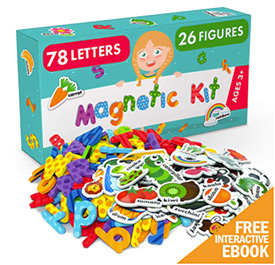 Why it's great: Kids get bored while you're cooking dinner, so keep them entertained with magnets. These magnets are educational and can be used to teach numbers and letters, and they're the perfect size for small hands.
Eco-friendly, non-toxic, and brightly colored, the strong magnetic backing means they always stick the first time, and the variety of shapes and sizes keeps kids entertained in the kitchen! You can also use them with any magnetic surface.
Keep in mind: If your kid likes to eat everything, these magnets may not hold up to frequent toddler licks.
Good for: Kids who need entertainment in the kitchen and love playing with your existing magnets.
---
FAQs about toddler art supplies
---
1. What ages are art supplies for?
Most of these supplies are great for kids 2 and up, and some kids never grow out of the love of creating art.
---
2. Is it easy to clean up after an art session with toddlers?
These items are all washable, and they should be simple to clean. However, it's always best to protect your kid's clothes when they are painting just to be safe.
---
3. Does artwork have any educational value?
Yes! Fostering creativity is a big deal at this age, and drawing also gives kids a chance to practice letters, numbers, and later, writing.
---
Conclusion
---
When you have a toddler, keeping them engaged is sometimes tricky. However, art supplies are almost always a hit with kids of all ages, especially toddlers. Choose the right supplies based on your child's age and interests. Consider how much use your child can get out of something such as an easel, which offers years of fun for little artists.
For kids that are just beginning to show an interest in drawing and coloring, it's a great idea to encourage this because art lets your child's imagination flow and allows them to express themselves as they desire. Also, your refrigerator is looking a little plain – it could use some cute toddler artwork!
You may also like our other reviews…
Sleds | Roller Skates | Baseball Gloves | Easels | Rock Climbing Walls | Boy's Snowsuits | Trampolines | Karaoke | Safety Harnesses | Workbenches | Beds | Toothbrushes | Rocking Horses | Scissors | Bath Tubs | Sandals | Paints | Plates | Coloring Books | Skateboards | Slides | Climbing toys | Puzzles | Wagons | Scooters | Lunch boxes | Block sets | Racing tracks | Bikes | Guitars | Busy boards | Drum sets | Tool sets | Pianos | Pillows | Cameras | Headphones | Remote control cars | Swings | Golf clubs | Push cars |