Updated on by Lyric Fergusson
Let's face it – everyone loves a ball pit. You know you'd in there with your kids if the other parents weren't watching. But with a public ball pit, you never know what's lurking under the layer of plastic balls. Fortunately, there's a fix for that!
Now you and your kids can have fun in your own ball pit. You choose when to clean them, so there are no unwelcome surprises while you're flopping around! The ball pits we're looking at today are great for toddlers and kids – but there's no reason you can't get in there with them!

The Best Toddler & Kid Ball Pits
---
(Best value — $)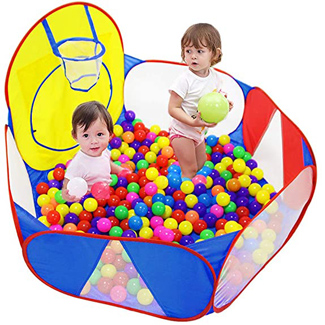 Why it's great: Eocolz's pop-up ball pit is a perfect mobile play area for up to three toddlers (up to age 4). The basketball hoop helps them practice motor skills and the door underneath allows you to expand the ball pit with other tunnels and structures.
The walls are super high on this ball pit, which means you can add as many balls as you want. It'll take a few hundred to fill it up to capacity, but you'll also want to give your little one room to play. The best part? Plastic balls won't be rolling all over the house. The walls are high enough to keep them contained and still let your child play.
This ball pit is affordable, easy to set up, and can be used indoors or outdoors. You can take it with you on a camping trip, to the beach, or use it in your living room. It folds down quickly for easy transport. Your kids will love flopping around in this generously sized ball pit.
Keep in mind: This ball pit doesn't come with balls. You will need to buy them separately. This gives you the freedom to buy as many balls as you want and choose your favorite style and colors.
Also, you can choose to buy these balls that are non-toxic, instead of the regular balls that normally are included.
Good for: Up to three toddlers shooting hoops together.
---
(Most fashionable — $$$)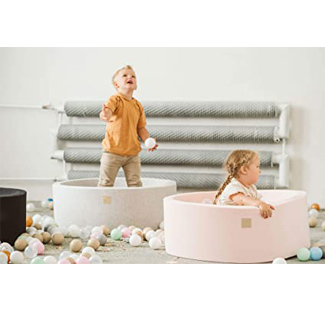 Why it's great: This ball pit is made of foam and comes in either pink or grey. It is more stylish than a regular ball pit and will fit in perfectly with most nursery furniture. It is small enough that it will easily fit in a nursery or playroom. The soft structure will protect your child from getting hurt and is short enough that your child will be able to climb in and out by themselves. It also includes 200 balls and when you choose the color of the pit, you can also choose from an assortment of colored balls. The best part is that the cover unzips and is completely removable. It's safe to go in the washing machine making cleanup a breeze.
Keep in mind: The foam ball pit is compressed when it's shipped, so you'll need to wait about 48 hours for it to return to it's proper shape before you use it.
Good for: Families that want a ball pit that looks nice and fits in with the decor.
---
(Most imaginative — $$)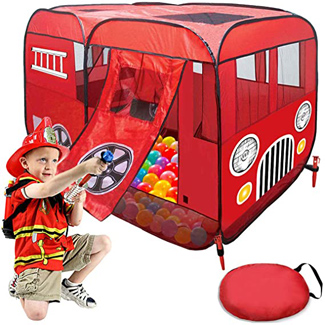 Why it's great: This is a fire truck shaped tent that can also be used as a ball pit. Your child will love playing pretend and using their imagination in this tent. The sides are high enough to keep the balls from rolling out and there's a door for your child to get in and out. The whole thing folds up easily into a little case that you can take with you anywhere you go. The inside of the fire truck is big enough to fit multiple children, which encourages sharing and cooperative play. You can even fit a crib topper inside this tent and turn it into a fun naptime area. This tent can be used indoors or outdoors. It has loops on the bottom four corners so you can stake it to the ground and keep it from blowing away.
Keep in mind: You'll need to purchase the balls separately, as they're not included with the tent. Also, if you want to use this outside, you'll need to purchase stakes to secure it to the ground.
Good for: Children that love fire trucks and playing pretend.
---
(Best for little girls — $)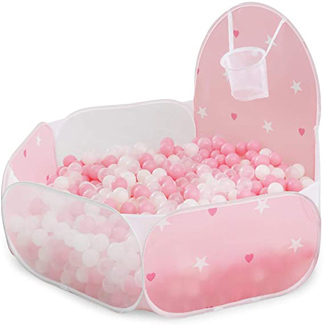 Why it's great: This is a fun and girlish take on a simple ball pit. It has cute stars and hearts decorating the bright pink and white panels. It also comes with a basketball hoop, so your child has somewhere to throw the balls. Your child will learn balance, hand-eye coordination, and fine and gross motor skills. This ball pit is a great size for young children and can fit two children with room to play. It completely folds up and comes with a little, matching carrying case.
Keep in mind: This one doesn't come with any balls, so you'll need to purchase those separately. You'll want to get 200-300 balls to fill this pit.
Good for: Children ages 3 months and up that want a pretty, pink ball pit.
---
(Best for babies and toddlers — $$)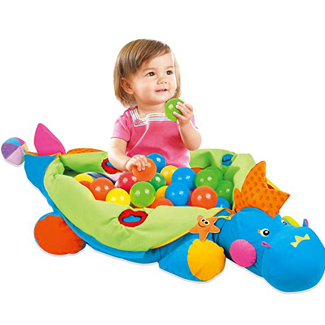 Why it's great: This is an adorable little dinosaur ball pit. The dinosaur is brightly colored and soft and huggable. The spines and cheeks of the dinosaur crinkle and make noise. The body has four holes that your child can practice pushing balls through. This is great for hand-eye coordination and gross motor skills. It comes with 20 balls and the body can be zipped up for storage. Your child can also play with the dinosaur as a big stuffed toy when it's zipped and closed. It also comes with a mesh storage bag, which is great for storing the balls when your child wants to play with the dinosaur. The dinosaur cover can also go in the washing machine, making it super easy to keep clean.
Keep in mind: This is smaller and will likely only fit your child up to 3 years old.
Good for: Babies and toddlers that like dinosaurs. Families that want to try out a ball pit, before buying a bigger one.
---
(Largest ball pit — $$$)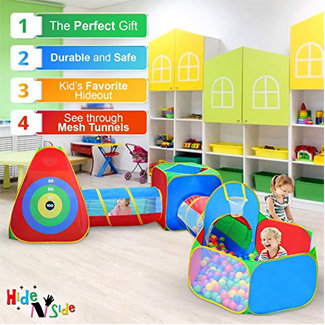 Why it's great: This ball pit is huge! There are five individual pieces you can use together or separately, including /2 tunnels, a ball pit, a crawling cube, and an activity tent. All of your kids (ages 1-6) can play together and never be bored!
The activity tent has a target on the side, and the playset comes with four dart balls. On the other side, there are holes to keep your kids busy passing balls back and forth. Throughout all five pieces, the mesh is transparent and breathable. You can see your kids no matter where they are, and it will never get too warm inside.
The bright and colorful design appeals to kids of all ages. Your whole family can have fun with this Hide N Side Ball Pit, Tent, and Tunnels set.
Keep in mind: As with any ball pit or outdoor play area that has tunnels, there seems to be an issue with the tunnels staying connected. Roughhousing or energetic play can dislodge the tunnels. Thankfully, it's easy to put them back on.
Good for: Big families with lots of space in the backyard.
---
(Best for multiple kids — $$$)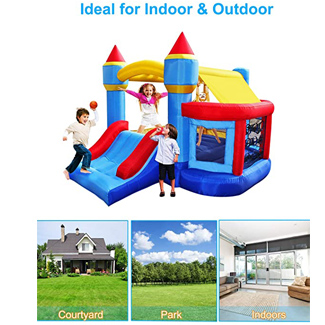 Why it's great: This ball pit is attached to a bounce house and slide and will provide your child with endless amounts of entertainment. The ball pit area is also bouncy and has a basketball hoop that your child can use to dunk their balls. It also has 9 little nets on the side of the pit that can catch balls and allows your child to learn to aim and create their own games.This will teach your child balance, hand-eye coordination, and strengthen their motor skills. On top of that, they can play in the bigger bounce area and enjoy the slide. This is big enough that multiple children can all play together. The whole thing is inflatable and it comes with an air pump to blow it up. This is a perfect toy for the backyard, birthday parties, and the park.
Keep in mind: It only comes with 20 balls, so you may want to buy more to fill it up. Also, when deflated it does fold up into a small package, but it can be pretty heavy to tote around.
Good for: Multiple children ages 3-8 years old that like to bounce, slide, and throw balls.
---
(Best multifunctional ball pit — $$)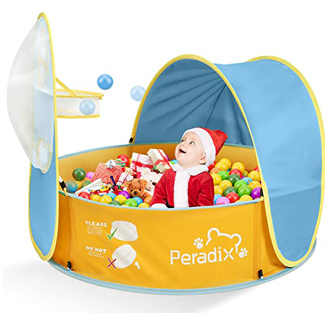 Why it's great: This ball pit and paddling pool is extremely easy to use, and that's one of its main draws. You won't have to inflate anything, and all of the pieces attach with Velcro. Unlike some of the other non-inflatable ball pits we've seen, this one is waterproof and durable enough to double as a pool.
It's on the smaller side as well, so it's perfect for your younger children. Help your six-month-old burn off some extra energy throwing balls around or splashing in up to three inches of water with their siblings! The sunshade keeps them safe and cool while they play, and the attached basketball hoop adds some extra fun to their ball pit time.
Your dogs can jump in as well, as this pool and ball pit is durable enough for pet use. You'll probably want to clean it out regularly if Fido gets in with muddy paws. When your kids are done, the ball pit folds down into a small package so you can tuck it away for next time.
Keep in mind: While this pool and ball pit is great for pets too, energetic dogs or pups that are prone to scratching may damage the material. Keep that in mind before inviting your larger dog to play too.
Good for: Babies, younger toddlers, and pets to play together!
---
(Best small inflatable — $$)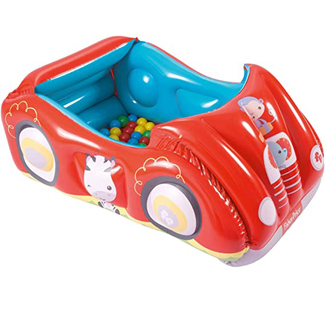 Why it's great: This ball pit inflates and turns into a cute, red race car with fun characters decorating the front and sides. The sides slope down, so your child will easily be able to climb in and out on their own. You can also set a younger toddler inside and use it as a safe place for them to play while you're getting things done around the house. The car is nice and small and is light enough that it can be moved from room to room, so you can always keep an eye on your child. It comes with 25 colorful balls that will promote grip strength, fine motor skills, and hand-eye coordination.
Keep in mind: This inflatable doesn't come with any kind of air pump, so you'll have to blow it up yourself or buy a pump.
Good for: Younger toddlers that love cars.
---
(Coolest concept — $$$)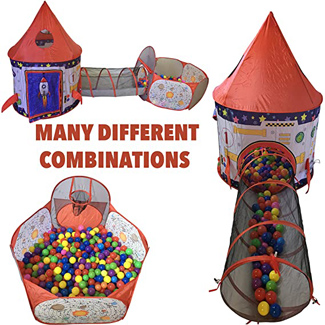 Why it's great: This ball pit and play area has three separate pieces: a tunnel, a larger ball pit area, and a spaceship tent. You can use them together or separately to create different play experiences. You can use all of it outside and bring the ball pit or the spaceship inside to continue to play separately!
The multiple structures included mean that you can use more balls in the ball pit, as they will likely travel down the tunnel and into the spaceship while your kiddo is playing. The more balls the better!
It's also educational! There are diagrams of the planets and stars all over this spaceship and ball pit, and your curious kids will love to point them out. The durable material makes it fun to play anywhere. It can stand up to energetic play.
Keep in mind: The company boasts that this rocket ship ball pit is approved by NASA, but that seems unlikely – no documentation proves that it is. Your toddler can still have fun with their spaceship regardless!
Good for: Aspiring astronauts who can't wait to blast off at playtime.
---
(Best play tent — $)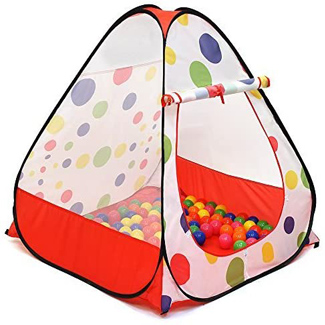 Why it's great: This ball pit is simple and easy to use. It acts as a ball pit or as a tent, so your child can have their own, private area for play. The door rolls up and hooks at the top, so you can keep an eye on your child if you prefer. The front opening is high enough to keep the balls inside, while still being low enough that your child can easily step over it. The tent has colorful circles that decorate the sides, just like the balls decorating the floor. The fabric is durable and is easy to wipe clean. It also folds up nicely and has a case for storage. This is quick and easy to put up or take down and can travel with you wherever you go.
Keep in mind: This is another one that doesn't come with balls, so you'll need to purchase those separately. You'll need 200-300 to really fill up the bottom.
Good for: Families that want a portable ball pit that can double as a private area for the children to play.
Below are the Ball Pit Balls we recommend
---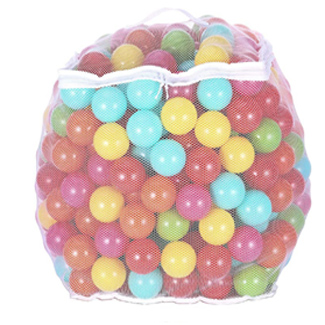 Why they're great: These balls are a great option to fill your ball pit. They are non-toxic, BPA free, and completely safe for your child to play with and use. The balls are great quality and crush proof. They are designed to withstand 100 lbs of weight, so you don't have to worry about your child destroying them. This pack comes with an assortment of bright colors and you can choose the size set you want. The smallest pack holds 200 balls and the largest comes with 1000.
---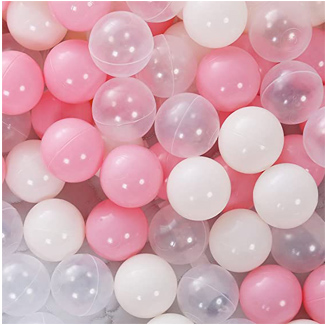 Why they're great: This is a much more affordable set that is still non-toxic, BPA free, and completely safe for your child to use. It comes in a pack of 100, but you can buy multiple packs if you need more. These are just slightly smaller than the other pack, but the sizing difference is negligible. They are also very sturdy and won't be easily crushed by your child. With this set you'll get white and clear balls and you can choose either pink or blue as the third color.
FAQs about toddler & kid ball pits
---
1. Are ball pits safe for babies?
Small home ball pits can be safe for babies with supervision. Experts recommend that babies be at least six months old to use even a shallow ball pit at home. Supervision is key to making sure your child is safe in any ball pit, even at your home.
---
2. What plastic balls do I buy for a ball pit?
You can choose to purchase any balls for your at-home ball pit. Most ball pits will come with a small selection of playground balls as well. When you want to add more balls to your toddlers ball pit, choose soft plastic playground balls – the smaller the better, generally. Stores use a few different names for the types of balls you need – plastic balls, pit balls, playground balls, and more. It's also a good idea to buy BPA free and Phthalate free balls. From personal experience, balls with these labels don't have a strong plastic smell as others might.
---
3. What age are ball pits for?
Experts recommend that children under the age of 10 months don't use public ball pits. Public ball pits are deeper, used by a large volume of kids, and you don't know when they are cleaned. However, your home ball pits are more flexible. They are smaller, use fewer balls, and you can control how often they get sanitized. For this reason, children as small as six months can generally use your at-home ball pits with supervision.
---
4. How many balls do I need to fill a ball pit?
In general, you should purchase enough balls so that you can't see the bottom of the ball pit. How many this takes depends on the size of the ball pit. Most manufacturers sell ball pit balls in multiples of 100, up to 1,000 balls at a time. Make sure that you buy more than you think you'll need because your kids are sure to throw them around and lose them under furniture as they play.
---
5. What size are ball pit balls?
Ball pits are more fun with smaller balls. You can choose any size for your at-home ball pit, but smaller balls create the 'ball pit effect' that larger ones sometimes won't. Aim to buy soft plastic balls that are around 2.3 inches in diameter.
---
6. How often should ball pits be cleaned?
A small ball pit you set up at home is quite different from a large public ball pit. The good news is that your home ball pit does not need to be cleaned as often. It is generally recommended that you clean and sanitize the ball pit balls after 2 or 3 uses. The ball pit itself can be thoroughly cleaned every 3 to 6 months or as needed.
---
Conclusion
---
A ball pit can be a unique and well-loved addition to your child's playroom or backyard playground. Besides the normal bumps and bruises that come with physical playtime, your child isn't in any harm while playing in a ball pit. As long as they are supervised correctly, your kids can have hours of fun flopping around in the ball pit and throwing the soft plastic balls around.
Consider your child's personality when you're thinking of what type of ball pit to get them. If you think they'd enjoy crawling through tunnels and tents while playing, a ball pit that comes with multiple pieces would be best. If they want to be surrounded by ball pit balls and wallow around, choose a larger ball pit with taller sides.
When you choose a ball pit that best fits your child's personality, they're more likely to use it. Something so simple can inspire hours of fun!
You may also like our other reviews…
Sleds | Roller Skates | Baseball Gloves | Easels | Rock Climbing Walls | Boy's Snowsuits | Trampolines | Karaoke | Safety Harnesses | Workbenches | Beds | Toothbrushes | Rocking Horses | Scissors | Bath Tubs | Sandals | Paints | Plates | Coloring Books | Skateboards | Slides | Climbing toys | Puzzles | Wagons | Scooters | Lunch boxes | Block sets | Racing tracks | Bikes | Guitars | Busy boards | Drum sets | Tool sets | Pianos | Pillows | Cameras | Headphones | Remote control cars | Swings | Golf clubs | Push cars |