Updated on by Lyric Fergusson
Whether your child is starting T-Ball or you just want to spend some quality time playing catch at the park, getting your child a baseball glove is like a rite of passage. The amount of joy and accomplishment they feel when they make that first catch is priceless. And it doesn't hurt that they will undoubtedly spend a lot of time chasing after the balls that they miss, expending all that extra energy that toddlers seem to have.
Picking out the right glove for your child's age and abilities can be tricky, so here's a list of my 11 favorites made just for toddlers.
Best Toddler Baseball Gloves for All Ages
---
(Most options — $)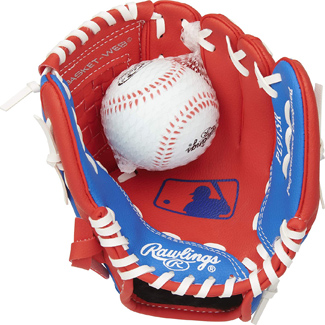 Why it's great: With by far the most options available, your child is sure to be happy with this glove. You can choose the right or left hand version, which size will fit your child, and different color options. With bright, fun colors and contrasting accents it's easy to find one your toddler will love. It is lightweight and flexible and has a deep pocket, so your child can easily make their catch. The soft inner lining makes it very comfortable too.
Keep in mind: Only some of the color options come with a ball, so make sure to double check which one you're getting.
Good for: Beginner toddlers who also love to express their personality.
---
(Best quality — $$$)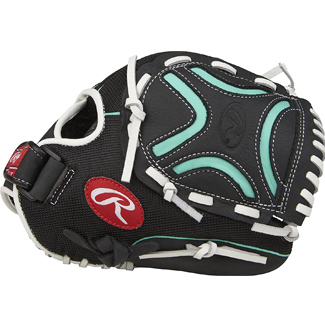 Why it's great: This glove is top-notch quality. It's made from leather and high quality materials that are built to last. The palm is padded for a softer impact, so your child won't get hurt catching those fastballs. Plus, it comes almost completely broken in, so it's ready to go as soon as you get it. The strap adjusts for a better fit on their wrist and the X design will have your child looking and feeling like a ball player.
Keep in mind: This one is a softball glove and made for girls, so the wrist opening is narrower than what you'd find on a baseball glove.
Good for: Toddlers and youth that want a great quality glove.
---
(Most durable — $$$)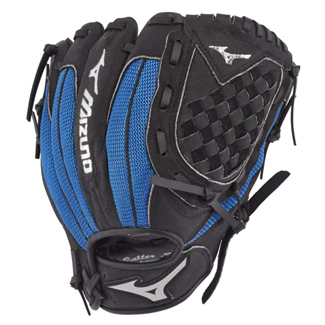 Why it's great: This glove should last your child a very long time. It is made of pigskin leather that can handle anything you throw at it – literally! The palm liner is soft and feels comfortable on small hands. Plus, the PowerClose technology teaches young children how to catch the right way and makes squeezing the glove closed much easier. It's perfect for little hands that haven't built up a ton of strength yet. The back has mesh, which allows some air and breathability. And, the lining disperses perspiration as well.
Keep in mind: This does need a little bit of breaking in to get the full PowerClose effect.
Good for: Serious ballplayers that want a glove that will last.
---
(Easiest to use — $$)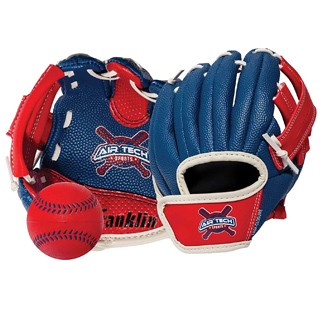 Why it's great: At 8.5", this glove is great for young toddlers ages 2-4. The Air Tech series is super lightweight and comfortable. It flexes easily and will allow your child to catch and play as long as they like. It also has an adjustable wristband, so it will fit your toddler's hand properly. You can choose from two different fun color schemes, making it a good choice for a boy or a girl. It comes with a foam ball for indoor or outdoor play.
Keep in mind: This glove can only be worn on the left hand.
Good for: Younger toddlers with beginner motor skills.
---
(Most fun — $$)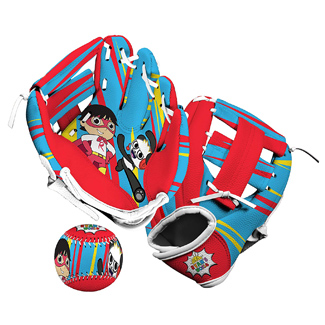 Why it's great: This glove is made of synthetic leather and is lightweight and breathable. The fun colors and characters make this an adorable glove. Even if your child is not familiar with Ryan's World, they'll love the superhero character and his sidekick. It's already broken in and ready to use. Plus, it comes with a matching ball. And, the ball is a soft foam, so you don't have to worry about your younger toddler getting hurt.
Keep in mind: This is meant for tee ball and may not be a good choice for older toddlers who are ready for baseball.
Good for: Younger toddlers who love bright, fun colors and characters.
---
(Most durable — $$)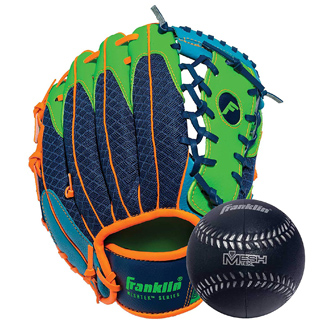 Why it's great: Not only is this glove the least expensive, it also has both left and right hand versions, as well as multiple color options, making it the best value toddler glove. A foam ball is included for indoor or outdoor play. The meshtek design makes it lightweight and breathable for long lasting comfort. The mesh also makes it very easy for toddlers to squeeze and manipulate, giving them the flexibility they need to catch the ball.
Keep in mind: The wristband is not adjustable on this one, so you'll need to make sure it's the right fit.
Good for: 3-5 year olds with little experience, but better coordination.
---
(Best set — $$$)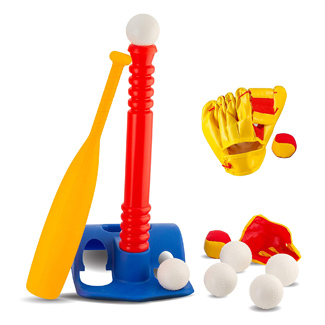 Why it's great: This is an entire t-ball set! It comes with a stand, bat, 6 hard balls, 1 softball, and glove. It folds or hangs for easy storage and has a handle, so you can easily take it to the park. Made of hard plastic, this set is very durable and will last for years. Also, the height of the stand is adjustable, so it grows with your child! Your toddler can practice batting, catching, or pitching with this set, giving them more variety and keeping them happy and occupied longer.
Keep in mind: The glove is one size and not adjustable. It is great for learning at home, but not suitable for playing t-ball on a team.
Good for: High energy toddlers that like playing a lot of different activities.
---
(Best first glove — $)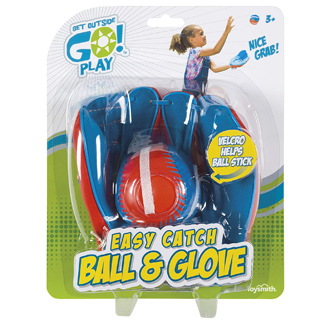 Why it's great: While this glove only comes in one color combo, the bright red and blue are perfect for either gender. The velcro strips on the ball and the glove give your toddler the extra help they need when they're first learning how to catch, building their confidence and squashing the frustration most toddlers feel when they're always missing the ball. It is a smaller glove and comfortably fits 2-4 year olds.
Keep in mind: The velcro ball is a little hard and not great for indoor play.
Good for: Young toddlers who need some extra assistance in catching.
---
(Most flexible — $$$)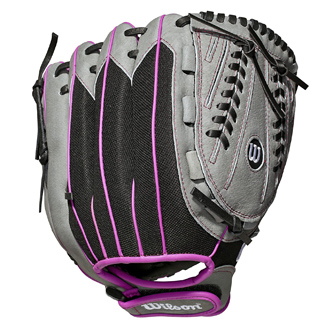 Why it's great: Wilson is another brand that's well known for their athletic gear. This glove is made from synthetic leather and is soft and comfortable to use. It is made for fastpitch use and the webbing and pocket are great for any position your child plays. The mesh backing allows more airflow, so your toddler's hand won't get too hot and sweaty. Plus, once it's broken in, it flexes easily and allows your child to make their catch!
Keep in mind: This one comes pretty stiff and needs a lot of breaking in before use, but once it's broken in, it's amazing.
Good for: Toddlers that need a flexible glove to make their catch.
---
(Most comfortable — $)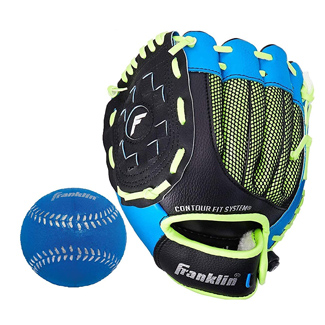 Why it's great: Made of mesh and synthetic leather, this glove is soft and lightweight, making it perfect for small hands. The contour fit makes it very comfortable and it also has a glove pocket that makes it easier for beginners to catch a ball. A foam ball is included for indoor or outdoor play. With both left and right hand versions and three different color options, this glove is perfect for any toddler!
Keep in mind: It is 9.0", making it a better fit for 3-5 year olds, especially since the wristband is not adjustable.
Good for: Slightly older toddlers who have some gross motor skill control, but are still learning how to catch.
---
(Most realistic — $$)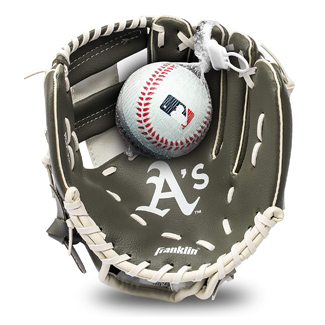 Why it's great: This one is fun because it looks like a genuine major league baseball glove. Your child can choose their favorite baseball team's logo, which will make them look and feel like a real player. It is soft and lightweight, so your child will be able to wear it for longer periods of time comfortably. It also comes with a foam ball, so you can safely play indoors or outdoors. It is 9.5", which makes it the perfect size for kids who are starting T-ball.
Keep in mind: This is on the bigger size and will likely be a better fit for 4-5 year olds.
Good for: Older toddlers in the 4-5 year old range and first time t-ball players.
---
FAQs about toddler baseball gloves
---
1. What are the benefits a toddler gets from using a baseball glove?
The benefits of letting your child play with a glove are numerous. Besides having a ton of fun, they will be working on their gross motor skills and hand-eye coordination. Not to mention they'll be getting exercise and, if you put them on a t-ball team, they'll learn the importance of teamwork and cooperation.
---
2. What's the earliest age a toddler can use a glove?
This will depend on the individual child, but some are made for as young as 18 months. However, they likely won't develop the skills to really use it until they're at least 3 years old. At 18 months it will be more about letting them get the feel of it and learn what it is for. By age 3 they have developed the motor skills needed and will be working on their coordination.
---
3. What are the key features to consider when buying a glove?
Think about what kind of use you want to get out of the glove. Will you be teaching your child to catch for the very first time? If so, gloves that have a good pocket or velcro will help your child excel. Or does your child have some experience and need a glove that teaches them how to grip properly? What kind of clasp will fit your child best or be the most comfortable for them? Most gloves are made to be worn on the left hand, so be sure to look at that if you have a left-hander who will need a glove that works on the right hand.
---
4. What kind of glove material is the best for a toddler?
From vinyl, mesh, synthetic leather, or real leather, the types of materials that gloves are made from can vary a lot. Any would be fine for a toddler, the materials that work best are going to be the lighter weight, breathable types. Buying real leather for a child that's just learning probably isn't necessary and can make it harder for a toddler to maneuver because it needs to be broken in. Buying one that is already flexible is the best way to go.
---
5. What size glove will my toddler need?
This will depend on your child's hand size. Some gloves have adjustable velcro closures that will give your child a good fit while they are growing. Others are one size fits all. 9.5" is likely going to be the biggest that will fit a 4 to 5-year-old. Find a smaller one for younger children or smaller hands.
---
6. What are some safety tips when using a glove?
As with any kind of toy, adult supervision is always recommended. Don't adjust the straps too tight or you could hurt your child's hand. Make sure your child is looking and ready to catch before you throw the ball to avoid hitting them and consider using a foam or other softball to start.
---
Conclusion
---
Getting a baseball glove can make spending quality time with your child easy and fun for both of you. You can easily pick the right one for your child by considering their skill level and how they will spend most of their time using it.
Are they just starting out and need to learn how to use the glove? Are you just playing catch for fun? Or is your child starting T-ball and playing on a team? Find the glove that best fits the activity and watch as your child masters the game of catch!
You may also like our other reviews…
Skateboards | Motorcycles | Purses | Train Sets | Ball Pits | Laptops | Gyms | Booster Seats for Tables | Baby Dolls That Look Real | Art Supplies | Drawing Boards & Tables | Alarm Clocks | Indoor Playgrounds | Board Games | Music toys | Activity tables | Tricycles | Backpacks | Step stools | Slides | Climbing toys | Puzzles | Wagons | Scooters | Lunch boxes | Block sets | Racing tracks | Bikes | Guitars | Busy boards | Drum sets | Tool sets | Pianos | Pillows | Cameras | Headphones | Remote control cars | Swings | Golf clubs | Push cars |