Updated on by Lyric Fergusson
Ireceived our babies' bathtub at our first baby shower we had for our little boy, so I never thought much about ever researching them until I realized ours wasn't practical. We lived in a little one bedroom apartment, with no extra space (baby clothes, toys, and bouncers took up all the space!) so saving space was huge for us. Once I got to looking and saw all the options, I began thinking what would I want for my baby? Comfort, style, portability? What all mattered to me and would I be able to find it all in one baby bathtub? Lucky enough I did and I found the best 11 bathtubs for you all to check out!
Best Toddler Bathtubs
---
(Feature packed — $$)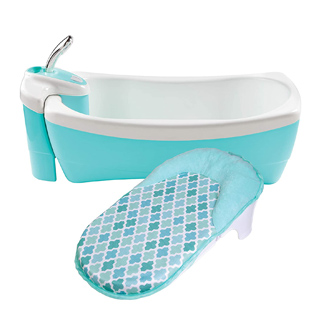 Why it's great: Lil luxury is exactly what this bathtub is. Designed to mimic a real tub, this tub has its own rinse spa, which is removable! When used for a newborn it keeps them supported with a plush bolster that can be used in the tub itself, a sink, or your normal bathtub. Once ready for the toddler the motorized water jets will keep your toddler amazed while it creates bubbles and vibrations. The rinse spa is a fun feature for your toddler to pretend they are doing it all by themselves with a good size handle for them to be able to use.
Keep in mind: The rinse spout will need four D batteries to function that are not included.
Good for: Babies and toddlers that love bubbles and other features.
---
(Travel friendly — $)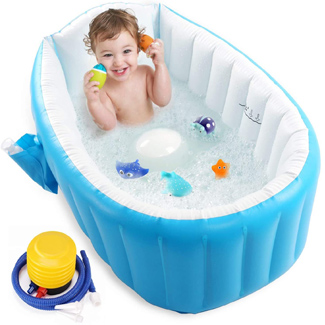 Why it's great: The portability with this inflatable infant bathtub makes it great for the busy families, or ones who like being able to just go. Going on vacation, work trip, or grandparents house? This baby bathtub includes a free air pump so no additional purchases are needed. It has a side pocket attached to the tub which comes in handy for toys, baby shampoo, or soap. This company offers 100% money back guarantee and 1 year warranty.
Keep in mind: With it being an inflatable tub, there is a chance for it to pop or have a tiny hole causing leaks. Be sure to avoid any contact with sharp objects or toys when in use.
Good for: Families that need a portable tub.
---
(Most innovative — $$)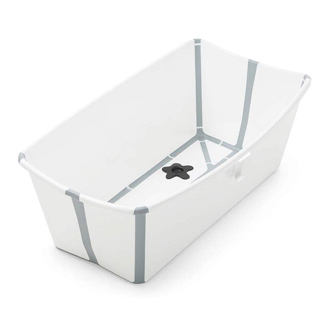 Why it's great: This bathtub is a great, award winning, space saver that is not inflatable. It folds completely flat when not in use. It also includes a non-slip base and drain plug for easy draining. The plug also changes color with the temperature, which allows you to know and make sure it is still a comfortable temperature for your child.
Keep in mind: Even with a non-slip base, it is still slippery and children should not be left alone.
Good for: Families that want a tub that's easy to store when not in use.
---
(Most adorable — $)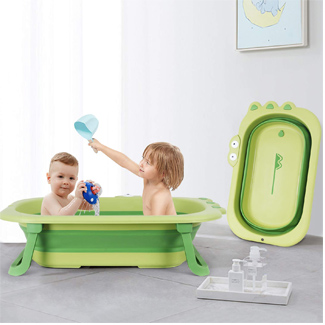 Why it's great: This is a cute little tub that's green and has eyes that make it look like an alligator. It's the perfect size for babies and toddlers and it folds up almost flat for easy storage. It's made of environmentally friendly materials and is flexible and durable. The bottom has non-slip strips and a pyramid structured base to keep the tub from moving across the floor.
Keep in mind: The inside of the tub is a little slippery, so it's better for toddlers that can sit steadily. And you may want to help them get in and out to avoid any slips.
Good for: Toddlers that want a fun bath tub that they love getting in.
---
(Best quality — $$$)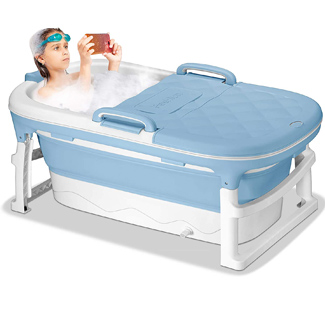 Why it's great: This tub is a great size and will work for your child into their teenage years. It comes with a cover that you can put on to help keep the water warm while your child plays in it. It also has a neck pillow for older kids that like to lay back and soak. There are handles on both sides that will help your child get in and out safely. Plus, it folds down for easy storage when not in use. And it has a side drain to make emptying it out pretty easy.
Keep in mind: It comes in two different sizes, so make sure you get the smaller one if you're planning to use it for your toddler.
Good for: Older toddlers or families that want a bathtub that will last as their child grows.
---
(Best for young toddlers — $$)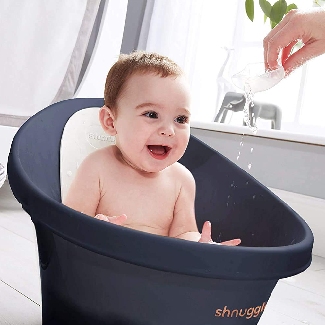 Why it's great: This is cute and small, which makes it perfect for babies and young toddlers. It has a butt bump, to keep your child in place, and a cushioned backrest for your child's ultimate comfort. The back of the tub comes up higher to help support your child too. It's lightweight, even when filled with water, making it easy to use in any room of the house.
Keep in mind: This one is only suitable for newborns up to 12 months, so it's better for young toddlers.
Good for: Infants and young toddlers that need a smaller tub with more support.
---
(Best for multiple kids — $$$)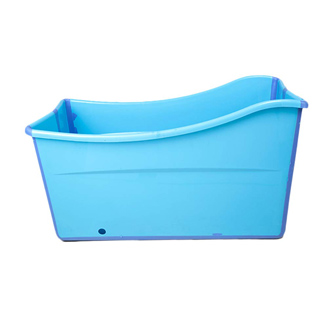 Why it's great: This is another tub that folds up almost flat for easy storage. But, it's also a little larger than most of the other options, which makes it your best bet if you want to bathe more than one child at a time. It comes with a drain plug, which makes it easy to drain when you're done, rather than trying to dump it out. Plus, it comes in two different sizes or color options, so you can get the one that's right for your family.
Keep in mind: The sides on this one do come up a little higher than others, so make sure to keep the water level low enough for your child.
Good for: Families that need a bigger tub for multiple children.
---
(Best Inflatable — $)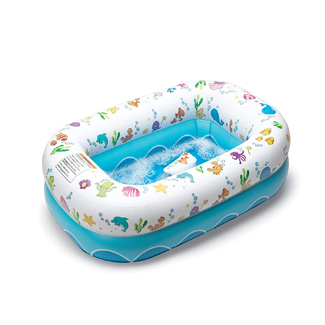 Why it's great: This is an inflatable tub that fits inside a normal bathtub. The smaller size and padded sides make it perfect for toddlers that slip and slide too much in a regular tub. It even has a little saddle horn to keep your child sitting upright. It has a drain plug, which makes it easy to empty out, and can be deflated for storage when not in use.
Keep in mind: It has 3 separate valves for inflating and doesn't come with a pump. You'll either need to buy one or you can blow it up yourself.
Good for: Families that need a smaller, inflatable tub for their toddler.
---
(Best value — $)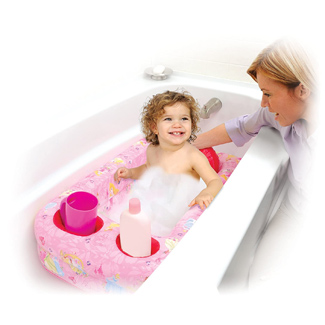 Why it's great: This inflatable tub is available in three different designs: disney princess, disney nemo, or disney minnie mouse! They all have a non slip textured surface so if your child stands up they are less likely to slip. It has two big compartments to put soap, shampoo, or a cup for use for washing located on the front and a blown up backrest for your child!
Keep in mind: Most parents said they did not realize there was not a pump included and that there are many different spots to blow up this tub.
Good for: Toddlers that love Disney and need a smaller tub.
---
(Budget friendly — $)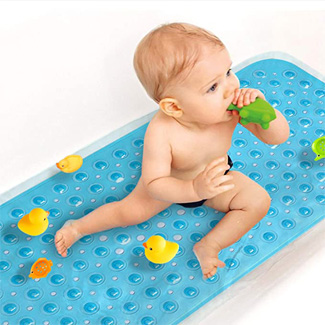 Why it's great: Already past the newborn stage and looking for something SIMPLE to keep your toddler safe in the tub, get the Sheepping baby bath mat! You can keep it clean by throwing it in the washer on cold with gentle detergent and air dry! With 200 suction cups, it will help keep your toddler from slipping if they try to stand up and move in the tub. This is something that you will not constantly have to remove or dump water out of. Parents have even loved having it as well as it helps their flooring not slippery from soap and shaving creams.
Keep in mind: Some have had trouble with getting the mat to suction to their bathtub correctly, but this company does come with a 10 year, no questions asked warranty!!
Good for: Families that want to use their regular tub, but don't want their child to slip.
---
(Best for the whole family — $$)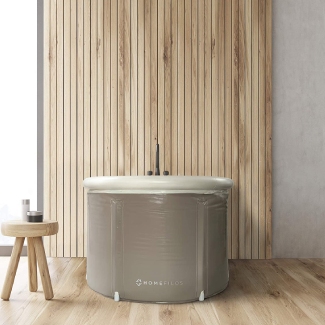 Why it's great: This is a nice, big tub that the whole family can use. While it's not made specifically for toddlers, they can easily use it, as long as you don't fill the water as high. It has a drain plug and even comes with a drain hose, so you can quickly empty it out when you're done. It also comes with an air pump to inflate it faster, and a storage bag to keep it in when it's deflated. It even comes with bathtub liners, which help prevent leaking and make it easier to keep clean.
Keep in mind: Because this is meant for adults, the sides come up higher and it may be harder to reach and wash your child.
Good for: Older toddlers and the rest of the family that need a bathtub.
---
FAQ's about toddler bathtubs
---
1. Do I need to get a baby bathtub and a toddler one?
It completely depends on what works for you and your home. Some parents have to have both because they only have stand up showers where they live. Others are only looking for a baby bath because they plan to put their toddler in their bathtub.
---
2. What should I clean my baby bathtub with?
This is different for each tub, most companies will include cleaning instructions with their products. Most recommend gentle soap and wipe down. Harsh chemicals should always be avoided as they can act as an irritant on baby's' skin.
---
3. When can I start bathing my baby?
You can start bathing your baby once their umbilical cord has fallen off.
---
4. What temperature should my babies bath water be?
Babies have super sensitive skin, you want their water to be lukewarm to prevent skin burns and/or overall fear of the bath. Remember, it should be an enjoyable experience for you and baby as well!
---
5. Should I bathe my baby in the morning or at night?
There is no wrong answer! Find a schedule that works best for you and your baby. If you are a working household that experiences hectic mornings, it may be best to bath your baby at night so that you and them can relax with some quality time before bed. If you find it easier to bathe your baby in the mornings because you have other household duties to handle at night that works as well! Our biggest recommendation is to find a time that is consistent and doesn't turn into a "job." Remember, it's a time to wind down and bond with your child!
---
6. How often should I bathe my baby?
You should bathe your child at least 2-3 times a week.
Conclusion
---
With as many options that are available for a suitable baby tub, it's a great idea to assess your wants and needs with features, price range, etc. For parents wanting a tub with no extra bells and whistles, one of the more budget-friendly models is perfectly suited for a pleasurable bath time with baby. On the contrary, if you're looking for feature-packed tubs the more expensive options on the list will more than fit the mold for bath time fun! Make sure to pick out a tub that allows you to enjoy bath time with your child instead of dreading it, our babies are only babies for a short amount of time, and little moments with them, even as simple as a bath, create long-lasting memories to cherish for a lifetime!
You may also like our other reviews…
Skateboards | Motorcycles | Purses | Train Sets | Ball Pits | Laptops | Gyms | Booster Seats for Tables | Baby Dolls That Look Real | Art Supplies | Drawing Boards & Tables | Alarm Clocks | Indoor Playgrounds | Board Games | Music toys | Activity tables | Tricycles | Backpacks | Step stools | Slides | Climbing toys | Puzzles | Wagons | Scooters | Lunch boxes | Block sets | Racing tracks | Bikes | Guitars | Busy boards | Drum sets | Tool sets | Pianos | Pillows | Cameras | Headphones | Remote control cars | Swings | Golf clubs | Push cars |