Updated on by Lyric Fergusson
Moving your toddler from a crib to a bed is a huge step. It can be sad for some parents when they realize their child is no longer a baby. It can also be scary for your child to move to an unfamiliar bed. You can make this a smooth, easy, and even exciting transition for both of you if you take the time to find the bed that is right for your child.
To help you accomplish this, I've compiled a list of the top 11 beds just for toddlers. Read on to find the one that's right for you and your child.

Best Toddler Beds for Girls & Boys
---
(Most simple — $$)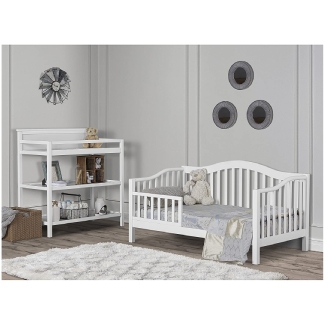 Why it's great: This toddler bed makes the transition from crib to bed easier. It is low to the ground, so your toddler can easily climb in and out themselves. It also looks very similar to most cribs, which will make your child feel more comfortable. But it's also not far off from a twin bed. Plus, it has a guardrail to keep your child from rolling out. It comes in a variety of different colors, so you're sure to find one that matches the room or your toddler's favorite color. It is simple and classic, giving you everything you'll need at a great price.
Keep in mind: Assembly can be a bit difficult when it comes to the wooden slats that support the mattress, but once it's together it's a great bed.
Good for: Families that want a simple toddler bed to transition their child closer to a regular bed.
---
(Most fun — $$$)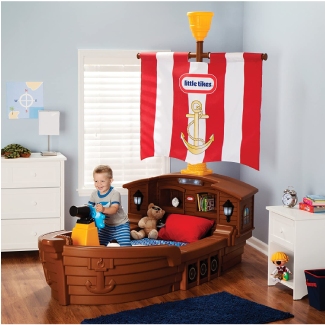 Why it's great: If your child loves pirates, they'll love this amazing toddler bed. It's shaped just like a pirate ship, complete with the mast and steering wheel! It's made of sturdy, durable plastic and the mattress is recessed in the frame, so you won't have to worry about your child falling out of it. It has a storage compartment for toys under the wheel and it also has shelves for books or toys at the back. The little lights on the sides of the headboard actually work and make great nightlights for young toddlers.
Keep in mind: It's easy to put together, but the box it comes in is very large and could be difficult to get inside.
Good for: Toddlers who love everything to do with pirates.
---
(Best for multiple kids — $$$)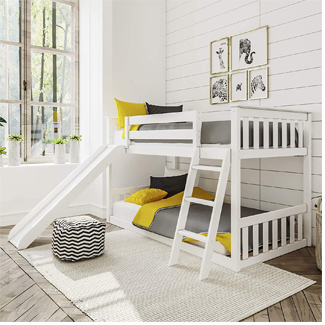 Why it's great: This fun bunk bed has room for two! Whether you have multiple children or your child has friends that like to sleepover, you'll have plenty of room with this bed. When your toddler first transitions to a bed, you can put them on the bottom bunk to get used to it and then move them up to the top when they're ready. The top bunk has a slide to get down, so not only will your little one get to avoid trying to climb down a ladder, but they'll also be having fun!
Keep in mind: Both the ladder and slide stick out from the side of the bed, so you'll need to make sure you have plenty of space in the room.
Good for: Multiple children or toddlers who want a top bunk, but might not be ready yet.
---
(Best quality — $$$)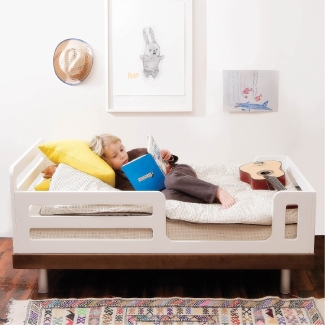 Why it's great: This toddler bed is made of solid birch wood and has non-toxic and eco-friendly finishes. It's sturdy and durable and built to last. It's low to ground, which makes it easy for young children to climb in and out themselves. The wood frame comes up high around the top half of the bed, creating a guardrail and safe space for your toddler. You can also purchase matching furniture, such as a dresser, hutch, or toy storage.
Keep in mind: This one is a little pricier, but the quality and design make it worth the cost.
Good for: Parents that want the best quality toddler bed for their child.
---
(Most modern — $$)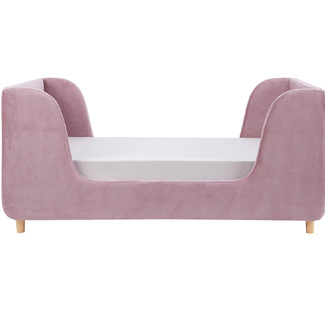 Why it's great: The toddler bed has a unique, modern design that fits in with any decor. It's low to the ground, making it easy for youngsters to climb in and out. The sides are soft to the touch and the headboard and footboard are exactly the same, which means you can orient the bed any direction you like. It's sturdy and can hold up to 250 pounds, so it'll last as long as your child fits in it. It also comes in other colors such as a pebble grey and a cream/almond color.
Keep in mind: This one is a little more difficult to put together, but looks great once it's up.
Good for: Parents looking for a more modern style toddler bed.
---
(Best for travel — $)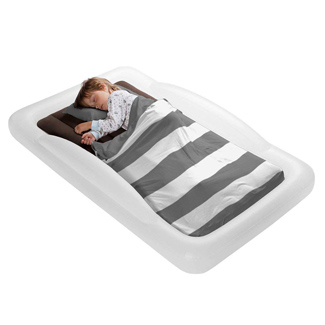 Why it's great: You can take this bed anywhere! It's a portable air mattress made just the right size for your toddler. If your child doesn't like to sleep alone, you can set this up on your bedroom floor or in a siblings room, until they're ready to sleep on their own. If you're going on vacation, or even having a sleepover at Grandma's, this bed will easily travel With you, so your toddler always has a comfy place to sleep. It even has security rails on the sides to keep your child from rolling off. Unlike most air mattresses, this one has a tuck-in feature, making it easy to secure sheets and blankets to the bed for a secure and comfortable night of sleep.
Keep in mind: It is an air mattress, so you'll need to keep it inflated. Luckily, it comes with its own pump.
Good for: Toddlers who travel a lot or aren't quite ready to sleep by themselves.
---
(Most customizable — $$)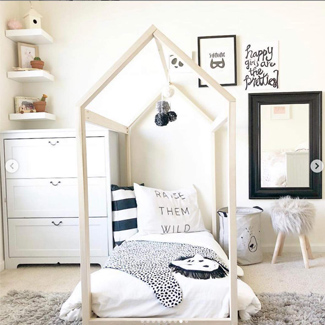 Why it's great: This cute toddler frame looks like a little house. It's made of premium poplar wood and easy to paint any color you'd like. Or you can leave the plain wood, if you like that look. You also have the option to purchase all kinds of add ons to make this bed unique, such as a picket fence, chimney, or rails. You also get to choose the height of the house, so it's very customizable to your preferences. Plus, it sights right on the floor, so you don't have to worry about your toddler rolling off.
Keep in mind: This does come in pieces that you'll need to assemble, and it may be a bit of a challenge, but it's well worth it once it's together.
Good for: Parent's that want a customized toddler bed frame.
---
(Best longevity — $$)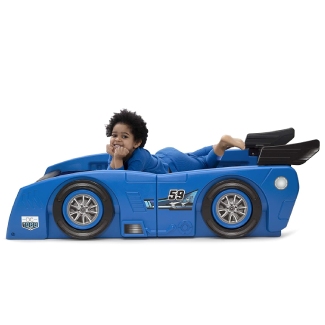 Why it's great: This cute race car bed comes in three different color options, so you're sure to find one that your child likes. The best part about this bed is that it expands as your child gets older. It starts out toddler sized, for young children just learning to use a bed, and then it can be converted to a twin size bed once your child is ready for something bigger. Everything is included for the expansion, so you're not stuck looking for the conversion kits at the last minute. The cute decals, wheels, and spoiler make this tons of fun for little race car fanatics.
Keep in mind: Neither the toddler or twin mattress comes with this bed. It's just the frame.
Good for: Parents that don't want to buy a toddler bed, just to turn around and buy a twin bed in a year or two.
---
(Most comfortable — $$)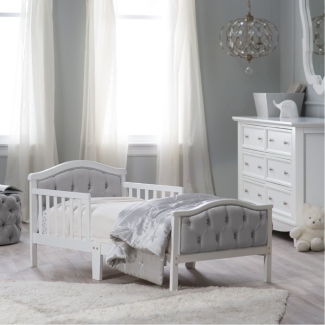 Why it's great: This is a very simple and classic toddler bed, but with the added benefit of the gray padding on the headboard and footboard. The padding is micro-fiber and extra soft. Not only does this add extra comfort for your child, it also makes the whole bed look nicer. The frame is solid wood and sturdy. Plus, it's low enough that your child can easily climb in and out. It's quick and easy to put together and will look great in any toddler bedroom.
Keep in mind: The screws are visible when the bed is put together and they're solid gold, which doesn't match well with the rest of the bed. But, it's not that big of a deal.
Good for: Families with rambunctious toddlers that are more likely to bang their head on the headboard.
---
(Most convenient — $)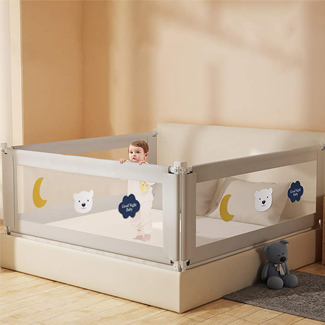 Why it's great: This is not actually a toddler bed, but rather it's guard rails that can attach to any size bed and turn it into a safe sleeping space for your child. Rather than buying a toddler bed, then a twin bed, then a full or queen size as your child gets older, you can just buy the biggest you want and then add on these rails to keep your toddler from rolling out. It's also great for travel, since these are quick and easy to attach and detach from any bed.
Keep in mind: These come up high enough to corral rowdy toddlers, but that means that your child won't be able to get in and out on their own.
Good for: Parents that want a more convenient option to a toddler bed.
---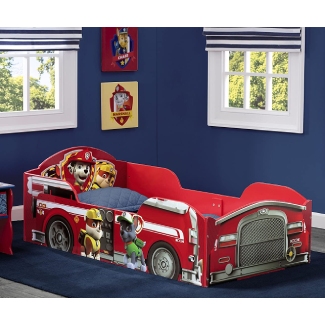 Why it's great: Delta Children makes a lot of options for kids' beds and this one is one of their best choices. It is made of solid, sturdy wood that won't crack or break. The elevated sides act as guardrails and keep your toddler safe. The Paw Patrol design makes it look like your child is climbing in a firetruck to join the team on an adventure! Your toddler will have no problem going to sleep in this bed surrounded by all their favorite pups.
Keep in mind: The headboard and sides are hard, so it's easier for children to bump their head if they roll around a lot.
Good for: Toddlers who are a little more adventurous and like bright colors and patterns.
---
FAQs about beds for toddlers
---
1. When should I move my toddler to a bed?
This will largely depend on your child. As soon as your toddler can climb out of the crib, it's no longer safe to have them in one. This can be anywhere from 12 months to 3 years depending on your child. If your child reaches 3 feet in height before 3 years, you'll definitely need to move them out to give them more space.
---
2. What size bed is best for my toddler?
The younger the child, the more likely you'll want to start with a toddler bed instead of going directly to a twin. After being enclosed in a crib, putting your child in a big bed can seem scary. Your child will feel more secure with less extra space surrounding them. If your toddler is more adventurous and on the older side, they'll likely want or need the little bit of extra space that the twin size provides.
---
3. Is it ok to get a loft or bunk bed for my toddler?
Most loft or bunk beds have a guardrail to prevent your child from rolling out while they're asleep. However, if you have a more adventurous child, they may think it's fun to try to jump out. Ladders aren't always the easiest for toddlers either. A bed with a staircase or a slide can make it easier for your child to navigate. There is no right or wrong answer. Ultimately, the choice is yours.
---
4. What features should I look for in a bed?
There are a few different things to consider when looking for a bed. As mentioned above, picking the right size is probably the most important. After that, it's all about knowing what your child will like. Simple and classic, or covered in characters or style. One that is easy to take on travel or one that takes up the least amount of space. The most important thing is to find one that makes your child feel comfortable.
---
5. What other safety concerns are there?
As long as you follow all the directions to make sure you've got the bed put together correctly, there shouldn't be too many safety issues. Not only do the bunk or loft beds have guardrails, but most regular toddler beds do also too. It is still a good idea to keep extra toys and blankets out of their beds to decrease the risk of suffocation.
---
Conclusion
When your child is ready for a bed, make the transition smoothly by doing a little thinking ahead of time. Consider how much space there is in their room and what other features you may need.
Will your child feel safer close to the ground in a regular bed or would they find it fun and exciting to have a loft? Would they be more comfortable in something with a simple design or would they like seeing their favorite characters around them? Do you want them to have something both functional and fun?
You can also include your child in the process. It might ease some of the anxiety and tension they're feeling if they get to help pick out their own bed. Pick out a few options that you like first and then let them make the final decision. This way, you'll all be happy with your choice.
You may also like our other reviews…
Skateboards | Motorcycles | Purses | Train Sets | Ball Pits | Laptops | Gyms | Booster Seats for Tables | Baby Dolls That Look Real | Art Supplies | Drawing Boards & Tables | Alarm Clocks | Indoor Playgrounds | Board Games | Music toys | Activity tables | Tricycles | Backpacks | Step stools | Slides | Climbing toys | Puzzles | Wagons | Scooters | Lunch boxes | Block sets | Racing tracks | Bikes | Guitars | Busy boards | Drum sets | Tool sets | Pianos | Pillows | Cameras | Headphones | Remote control cars | Swings | Golf clubs | Push cars |