Updated on March 2, 2021 by Lyric Fergusson
As your baby grows into a toddler, engaging in imaginary play will become regular entertainment. A dollhouse will help them stimulate the imagination which is an important part of their growth and development. Not only will your toddler love playing with a dollhouse, but parents will be sure to get a few laughs from the storylines they come up with.
When searching for the best dollhouse for your toddler you won't be short of options. You can find mini-mansions to barn houses. So, here are 7 of the best dollhouses on the market.

Best Toddler Dollhouses
---
(Most portable — $)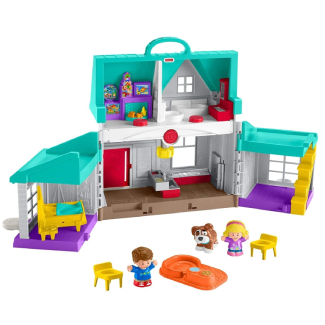 Why it's great: All parents love an easy-to-travel toy! This is a smaller style dollhouse that won't take up too much space. It opens 360 degrees for playtime and then folds up for easy clean-up and storage. It also has a handle at the top making it easy to bring with them to grandma's house.
Another great characteristic of this dollhouse is it's interactive. There are buttons in the kitchen, bathroom, and playroom. When pushed they will hear sounds, phrases, songs, and can even turn the light on. The best part is that this dollhouse comes with everything needed to start playing immediately. The dolls are included and even better, so are the batteries!
Keep in mind: This is great for toddler ages 1-2 years but not enough interaction for an older age group.
---
(Most realistic — $$$)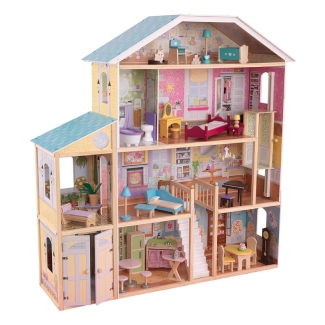 Why it's great: This lifelike dollhouse has everything you can find in a real house. It has four levels, 8 rooms, and even an elevator. (Okay, so not everything is lifelike.) Since it's made of wood you can be confident that it's sturdy and durable. It also comes with 34 furniture pieces and fun accessories that can be moved around. One of the best parts about this dollhouse is it fits any doll 12" or less so no need to buy specific dolls. They can use their Barbie doll, their Disney doll, or any other fashion doll they already love.
Since this dollhouse is so realistic I think your toddler will find it fun to play with for many years. It should last them at least until the age of 7 and possibly older.
Keep in mind: It is 4 ½ feet tall and 4 feet wide so make sure you have space for its size. It also comes with some smaller pieces so it's not recommended for children under the age of 3.
---
(Best for age group 2-4 years — $$)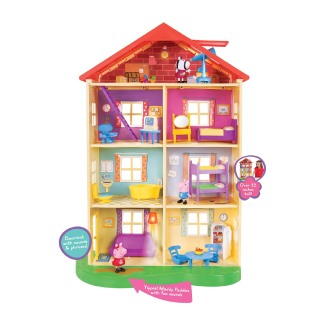 Why it's great: If your toddler loves Peppa Pig then this is the dollhouse for them! It comes with Peppa Pig, George, and Zoe zebra along with 13 furniture pieces for its 7 rooms. You can also purchase additional accessories and figures to customize the house. For example, the Goodnight Peppa bedroom set which includes a lamp that lights up and glow in the dark pajamas.
This house offers some great interactive features which will help hold your little one's attention. When Peppa Pig walks into the living room the light will come on. The doormat at the front door also plays songs and will say phrases from the show. When George and Zoe play in the mud, the "muddy puddle" song will play. Also, don't forget to see what's going on in the neighborhood using the telescope in the attic.
Keep in mind: There is an on/off switch on the back of the house to activate the songs, sounds, and phrases. Purchase "Little Rooms" add-ons to add more interactive features.
---
(Best 1st dollhouse — $)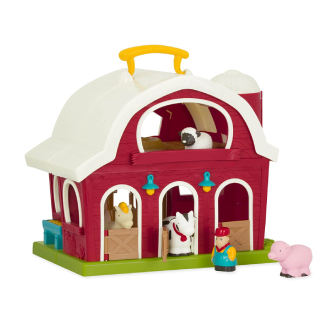 Why it's great: Let your toddler explore the farm with this barn style dollhouse. It comes fully equipped with the cutest of farm animals like a cow, horse, sheep, pig, and one busy farmer. The best part about this toy is it's great for more than one child to play with. It easily opens up to access the inside and outside of the barn and also opens large enough for two kids to play with it. So if you have twins or siblings close in age they can play together without fighting for space.
It does have a handle at the top to transport, but there isn't a lock feature for the barn doors for the animals to stay in place.
Keep in mind: There are no sounds or interactive features for the barn. This would be great for ages as early as 12 months.
---
(Most interactive — $$$)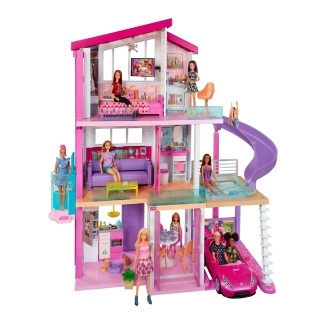 Why it's great: The Barbie dollhouse is truly unique and comes with all the bells and whistles. With 3 stories of fun it stands at 3 feet tall with 8 rooms including a home office, a working elevator, and a pool with a two-story slide. It has 70 accessories and a click into place feature so furniture doesn't move or fall over as your child plays.
This has all the interactive tools you can imagine. The tea kettle whistles, the frying pan sizzles, the toilet flushes, the oven light comes on and a timer will tick. Some of the furniture has multiple functions. The fireplace can be a bookshelf for the home office, the couch becomes bunk beds, and the fridge becomes a food stand with the oven as a BBQ for outdoor fun.
This dollhouse will provide your toddler with limitless imagination. If they can dream it, indoor or outdoor, this house can make that dream possible.
Keep in mind: Barbie Dolls are not included. Other accessories can be purchased as well.
---
(Most affordable — $)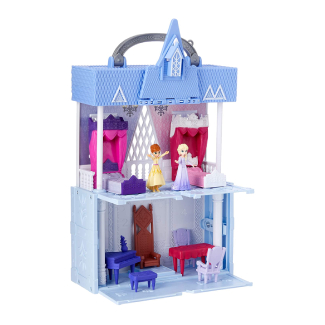 Why it's great: Disney's Frozen themed dollhouse is compact, priced well, and has a handle for easy portability. It comes with Anna and Elsa along with a piano, dining table, and beds for the Arendelle princesses. This is part of the "Pop Adventures Collection" so the castle collapses with the toys inside for easy clean-up and storage. If your little one has a soft spot for Olaf you can purchase smaller pop adventures for all the warm hugs they can handle.
Keep in mind: The Anna and Else dolls are fragile and break easily. If your toddler plays rough with their toys this might not work for them.
---
(Most durable — $)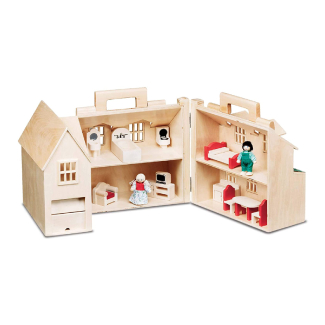 Why it's great: The highly recommended brand of Melissa and Doug is known for their toys that will ignite your child's imagination and creativity. Their dollhouse and furniture are made of wood making it sturdy and durable.
An interesting feature of this house is it isn't painted. This allows you to put your personal touches on the appearance of the dollhouse. You can paint the interior to match their room and paint the exterior to match your home. The creative ideas to customize the look and colors of this house are endless.
Keep in mind: No assembly required. Complete imagination required. No buttons, sounds, or music. There are no other accessories available.
---
FAQs about dollhouses
---
1. Should I buy a dollhouse for a boy?
Yes! Playing with a dollhouse is great for any toddler's imagination, creativity, and establishment of routine. It's an important part of their social development. Your child will love playing with a dollhouse and acting out what your family does at home. Make breakfast, brush their teeth, play, bedtime, and cleaning up.
---
2. At what age should I buy a dollhouse for my toddler?
Dollhouses can become entertaining as early as 12 months and there are age-appropriate options. Like all toys, as they get older and develop they will naturally outgrow certain things. Once they hit the age of 3 most dollhouses that are available for this age group will be something they play with for several years.
---
3. Are dollhouses safe for my toddler to play with?
I would just keep your toddler's age in mind when choosing a dollhouse. If your toddler is 2 years old, maybe don't get one that is too tall with multiple levels. They will inevitably use the floors to stand themselves up. You want to be sure that it isn't something that would fall on them. Find a smaller option that is equal to their height or one that they can play with while seated.
---
4. What are the most important things I should consider when choosing a dollhouse?
You definitely want to consider your child's age so you are picking something age-appropriate. I would also consider the size of the dollhouse. Take a look at the measurements to be sure you aren't choosing something too big.
---
5. How much should I spend on a dollhouse?
If your toddler is between the ages of 1 and 2 I would try to be on the lower end of the price range. It is likely they will outgrow it. If your toddler is 3 or older I would spend a little bit more because the designs for that age group provide years of play.
---
Conclusion
---
There are so many positives to imaginary and creative activities for your toddler. Playing with a dollhouse is a great way to help them develop those skills. They will enjoy role-playing with you or their siblings. Whichever dollhouse you bring home, you are sure to have a happy kid. All you need to do is listen to your toddler pretend to be mom and dad. You'll find yourself asking, do I really sound like that?