Updated on January 13, 2021 by Lyric Fergusson
Drawing is such a fun part of childhood, and also such an important part of child development! When young children draw, they are using their imagination. They are also working on fine-motor skills and hand-eye coordination, as well as gaining confidence as they draw that picture to proudly show you. For a child, drawing is super important!
For mess-free drawing fun, here are my 11 favorite drawing boards and tables for toddlers:

Best Drawing Boards & Tables for All Ages
---
(Best first drawing board — $)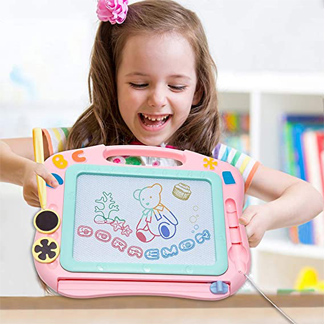 Why it's great: This magnetic drawing board is perfect for your little one! Not only can your child create masterpieces on this board without a mess, but the board reveals colors as the picture is drawn. It comes with two circular magnet stamps, as well as a stylus to draw more detailed pictures. There are even numbers written across the top to help your child learn to write them. This is such a cute board for your tiny tot!
Keep in mind: It is on the small side, which is great for little hands!
Good for: A toddler just starting to learn how to draw.
---
(Easiest to use — $)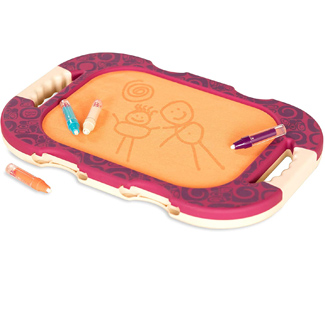 Why it's great: This board comes with four pens that you fill with water. Your child will have loads of fun drawing pictures on this board and watching as their art disappears before their eyes. The board is double sided, so there's no need to wait for the first picture to disappear before creating something new. Plus, the board has a storage slot for each of the pens and easy to grip handles, so your child can take this with them wherever they go.
Keep in mind: You can't wipe off the pictures or make them disappear any faster. They will disappear as the water dries.
Good for: Young toddlers that are just learning to draw.
---
(Best set — $$$)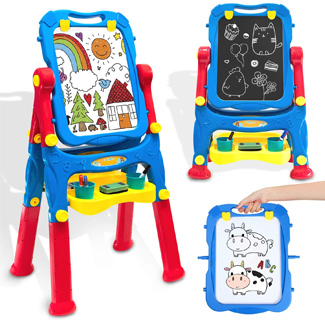 Why it's great: This is a big easel with a tray for storing all your child's art supplies. Plus, the board detaches from the easel to become a smaller, portable drawing board. It's double sided, with one side chalk and the other a white board. The white board is also magnetic for extra fun. The board even has a handle at the top to make it easy to tote around. On top of that, this board comes with dry erase markers, chalk, an eraser, and magnetics, so your child will have everything they need to get started.
Keep in mind: Even with just the board, this is pretty big. Make sure you have the space in your house for it.
Good for: Children who like to draw in a variety of ways.
---
(Best value — $)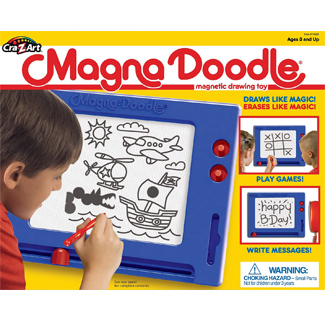 Why it's great: This is the drawing board that started it all! It comes with a stylus and two circular magnet stamps. It allows for hours of drawing and writing fun. Then just move the button along the bottom to erase and start all over again. Your child will love watching their designs come to life on this magnetic board.
Keep in mind: This is a larger board. It says it is good for travel, but it is better to be shared- say, for a game of tic tac toe.
Good for: Toddlers learning to write letters or draw shapes.
---
(Most creative — $$)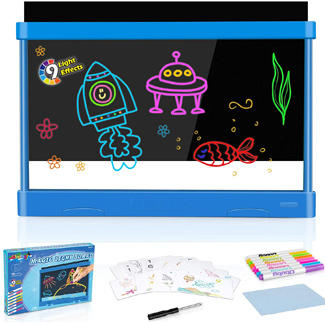 Why it's great: This board allows your child to draw and color to their heart's content. It also comes with markers and stencils, so your toddler can trace the designs when they're first learning to draw. Then, your child can flip on the lights and watch their creations glow. With 6 different colors and a black background sheet that can be inserted and makes the colors pop, this board is the most creative on the market. It also comes with different frame colors, so you can choose the one you like the best.
Keep in mind: The LED screen needs batteries, which are not included, so you'll need to purchase those separately.
Good for: Toddlers who love bright colors and lights.
---
(Most accessories — $)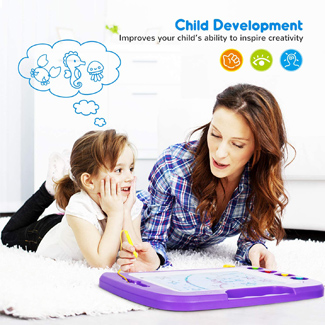 Why it's great: Ok, this one is great because it comes with FOUR stamps, which are circle-, square-, triangle-, and hexagon-shaped. It also has an ergonomic design that is easy to grip. Plus, it has an easy-to-hold handle at the top. The SGILE Magnetic Drawing Board is a larger board, which would be good for sharing and playing a game. It also has the alphabet written around the frame of the screen.
Keep in mind: The back is not closed, but it does not affect the quality of the product.
Good for: A child who is right- or left-handed, since the string is a good length to use in either hand.
---
(Most portable — $)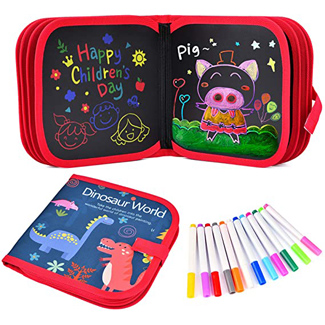 Why it's great: This is a small little booklet drawing board, with plenty of pages for your child to create their art. It comes with 12 markers and folds up small and compact, making it easy for your child to carry it with them wherever they go. The markers are watercolor and you can easily erase the pages with a wet paper towel, giving your child endless fun. It comes in multiple different designs and the whole booklet is washable.
Keep in mind: The pouch that holds the markers doesn't zip closed, so they could fall out if the book is held upside down.
Good for: Toddlers that like to draw while in the car or on the go.
---
(Most unique — $$)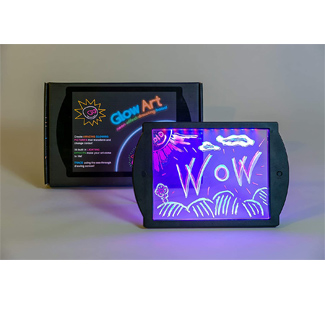 Why it's great: This is a new and different design for a drawing board. The drawing screen is see through and has 36 different light options. It comes with fluorescent markers that glow brightly when the lights are shining. It wipes off easily for endless hours of creations. It also has a stand, so your toddler can display their artwork proudly when they're finished.
Keep in mind: This is recommended for older kids, but there's no reason a younger child couldn't use this.
Good for: Kids who want something unique and different for their artwork.
---
(Most options — $$)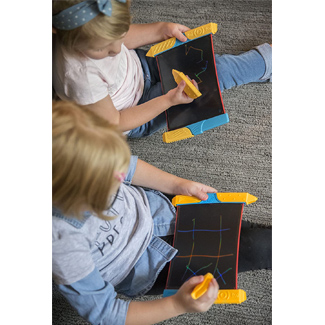 Why it's great: This writing tablet comes with 4 styluses that clip on and off of the sides of the board. Each one has a different texture or tip to allow your child to explore and discover what they like the best. It also shows various colors as your child draws and writes, making it more exciting and fun for them. It's easy to erase with just a push of a button to let your toddler start all over again.
Keep in mind: The Boogie Board LCD Writing Tablet is best used in a well-lit space.
Good for: A sensory-seeking toddler.
---
(Most educational — $)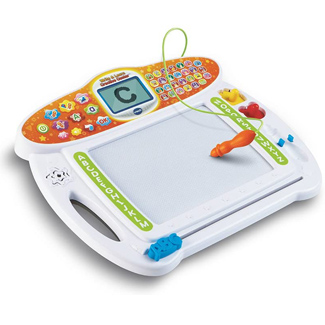 Why it's great: This magnetic board is terrific for a toddler starting to learn letters. It comes with stamps AND stencils. It plays music, which toddlers love! It can also help teach young children how to write the letters in their names. This is a very engaging drawing board and provides your child with hours of fun.
Keep in mind: This will spell your child's name, but you must set this up when you first start it up. Also, it requires 2AA batteries.
Good for: More advanced toddlers, who are ready to learn letters.
---
(Best for multiple kids — $)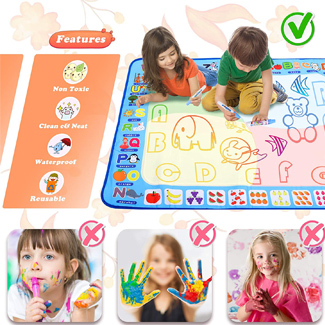 Why it's great: This is a nice big mat that's big enough for two kids to draw together. It comes with tons of accessories like water pens, stencils, and shapes to trace. It's all done with water pens that don't leave a mess, all you have to do is wipe off the water when they're done. The mat is surrounded by the alphabet and has pictures that your toddler can count. With plenty to do, this drawing mat encourages imagination and cooperative play.
Keep in mind: Your child/ren may get wet while playing with this mat, especially if they're crawling on it while they're drawing.
Good for: Multiple children to play and draw together.
---
FAQs about drawing boards & tables
---
1. Why let a toddler use a drawing board?
A drawing board provides an easy way for young children to use their creativity and imagination. It is a great place for them to practice drawing shapes and writing letters.
---
2. What's the earliest age a toddler can begin using a drawing board?
While all children are different, you can introduce your child to a drawing board as young as 18 months. It is recommended to supervise children with the magnetic stamps and stylus pen, before age 3. Depending on the child, too, sometimes they need supervision after age 3. These can be wonderful learning tools, though.
---
3. How long does an LCD drawing board battery normally last?
An LCD drawing board battery can last 6 months or longer. Fortunately, when the battery finally does give out, you can replace it yourself.
---
4. How do I encourage my child, who doesn't like drawing?
Try giving one of these drawing boards to your child. Draw with your child. You can challenge your child with the drawings, or tell a story to your child to help them get started. Make it fun and playful – children cannot resist learning when they don't even realize it is happening!
---
5. What are the key features to consider when buying a drawing board for a toddler?
Take into account how old your toddler is and what features might intrigue them. Do you want a board where the writing changes color as your child draws? Do you want your child to only use a stylus, or do you think the stamps would appeal to your child, as well? Is your child learning how to scribble (which is an important pre-writing skill) or are they ready to start writing their name? Consider some of these questions before you purchase so that your child will get the most out of the board you choose.
---
Conclusion
---
Drawing boards can be fun AND great learning tools for your child! They help promote creativity, imagination, hand-eye coordination, and fine-motor skills.
Remember to consider the age of your toddler and how the board is set up. While a board doesn't need to sing or talk, older toddlers will benefit from the letter practice and guidance it would provide. Younger toddlers will benefit from a board that they can use to draw on and excitedly show you! You can then have them tell you a story about their picture.
Once you decide on the perfect board, all that is left is the excitement and learning that awaits your little one!
You may also like our other reviews…
Sleds | Roller Skates | Baseball Gloves | Easels | Rock Climbing Walls | Boy's Snowsuits | Trampolines | Karaoke | Safety Harnesses | Workbenches | Beds | Toothbrushes | Rocking Horses | Scissors | Bath Tubs | Sandals | Paints | Plates | Coloring Books | Skateboards | Slides | Climbing toys | Puzzles | Wagons | Scooters | Lunch boxes | Block sets | Racing tracks | Bikes | Guitars | Busy boards | Drum sets | Tool sets | Pianos | Pillows | Cameras | Headphones | Remote control cars | Swings | Golf clubs | Push cars |