Updated on by Lyric Fergusson
Easels are a staple you will find in most playrooms of families with children ages two and older. The reason being is it's a versatile toy. Not only do most easels come with both a magnetic dry erase board and a chalk board, they typically come with a paper roll for added fun. Use it for imagination play, home schooling, or art projects.
Moms and pediatricians agree easels encourage fine motor skills, expression, and imaginative ideas. If you are planning on watching your little Rembrandt create and play, here are my top eleven easel recommendations.

Best Toddler Easels for All Ages
---
(Best budget & portable option — $)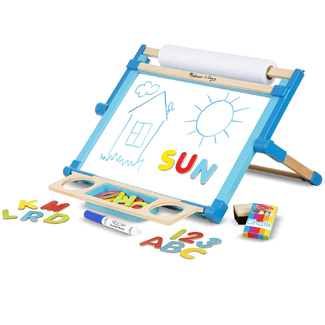 Why it's great: This portable table top easel is a handy toy for families with compact space or families on the go. The dual-sided easel features a magnetic dry erase facet and a chalkboard facet. For a compact toy, it has endless possibilities with five colored chalk sticks, a 50-foot-long paper roll, 36 letter and number magnets, and an art supply tray. The versatility of this easel combined with the quality manufacturing Melissa & Doug is famous for makes this easel the kind of toy that will last from your first kid to your last.
Keep in mind: Those little accessories, (that will end up between your couch cushions and under your furniture) are also a choking hazard. Make sure to supervise your child if they're using those.
Good for: Kids ages 3 and up that need a portable easel.
---
(Best value — $$$)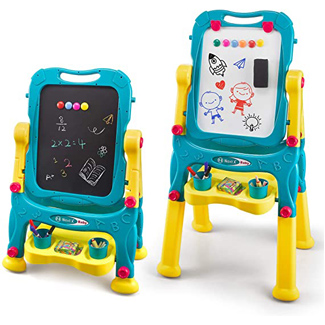 Why it's great: I rank this product as my top recommendation. As you read on you will notice that I have blatant favoritism towards anything made of natural products. It's rare that I sing praises for a plastic product, but here we are. When you find something that's simple, easy to assemble, and works with no frustration- you need to hop on that deal.
This adjustable easel has all the standard features of a dual-sided easel. Aside from being the only easel on my list made of plastic, it is also the only easel that swings from one surface to another. It's also very easy to put together.
I know these may not seem like super exciting features, but children's toys should have simplistic designs. If it's too hard for a 30-something parent with a master's degree I'm not expecting my toddler to get far with it.
Keep in mind: It comes with extra legs, so it can grow with your child, but there's no storage space for them when they're not in use. You'll have to find a place to keep them.
Good for: Families with children ages 3 and up that want a simple and easy to use easel.
---
(Longest life span — $$)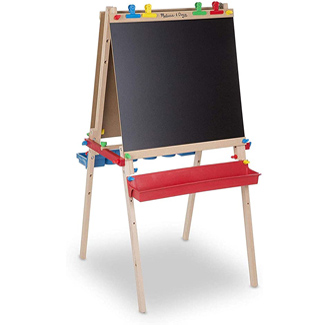 Why it's great: In the world of easels, Melissa & Doug's Deluxe Easel sets the bar high. It has all the standard features, adjustable height, a paper roll, chalkboard or white board, handy storage, and paint compartments- it has it all.
I know I'm not the only mom who asks, "Is this toddler proof?" when shopping. I envision my toddler throwing his trucks at it, and try to guess if this product will survive his meltdowns.
That is why I put this product high on my list. I'm a big believer in investing in products made of real materials, (bonus points if it's made in the USA, but sadly this was made in China). This easel is made of pinewood and metal bolts. Some accessories are plastic, but that is to be expected.
Keep in mind: The Melissa & Doug Deluxe Easel is known for its complicated assembly, but if you're patient and handy you can manage.
Good for: Families that want an easel that will last.
---
(Most versatile — $$)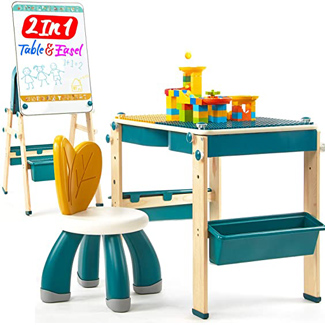 Why it's great: This easel is by far the most creative and versatile. The wooden legs are nice and sturdy and the easel itself is a magnetic white board, so your child can draw to their heart's content. You can also attach paper for painting. It has two little bins to hold all your child's art supplies.
When your child gets tired of drawing, the easel folds down into a table. The top of the table has two different sides. One is just a normal tabletop and the other has a building brick panel. This easel also comes with a building brick marble run set, so your child can design their own marble run. It has two storage compartments under the table as well, to hold all the bricks. On top of all that, this one comes with a chair that's the perfect height for the table.
Keep in mind: You'll need to take the bricks out of the storage compartments when you convert this to an easel or they'll fall out.
Good for: Kids ages 1 and up that like to draw and build.
---
(Best for multiple children — $$$)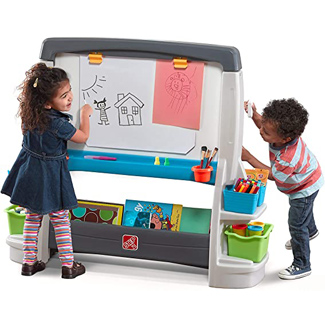 Why it's great: This jumbo board has enough space for two kids to draw and create on the same side. Plus, two more can be working on the back. Which means this easel can be used by four children at a time! It has the standard white board on one side and chalkboard on the other. Plus, there are 2 clips at the top of the white board, which means you can clip on paper in case they want to paint or want their artwork to be permanent. It also has lots of extra storage space below the easel. And it comes with large bins that fit on each side, so your children can keep all their different art supplies organized.
Keep in mind: This one is definitely bigger than the other options, so make sure you have enough space for it.
Good for: Large families that want an easel that multiple kids can use at the same time.
---
(Most unique — $$)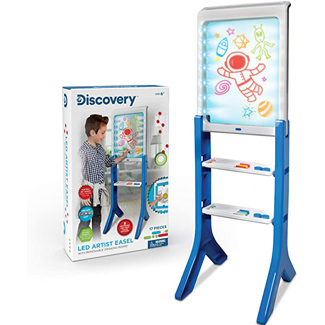 Why it's great: This easel has a very unique design. The drawing board is LED and glows in the dark. It can also be completely removed from the stand, so it can be used on their lap or a table and they can take it wherever they go. The fluorescent markers that come with this easel show up bright and glowing. There's even 8 different light settings, so your child can create different looks with the same design. It also comes with magnets, so you can mount regular paper to the easel if they want to draw or paint normally. It has two shelves, so your toddler can keep their art supplies separated and organized.
Keep in mind: The board is translucent, so unless you're using the magnets and paper, only one child can really use it at a time.
Good for: Families that want a unique and different art experience.
---
(Best basic option — $$)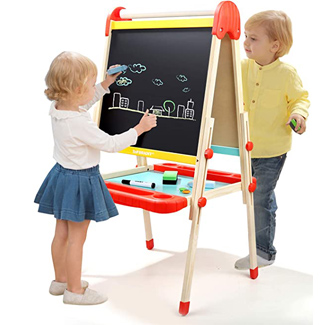 Why it's great: Sometimes less really is more. This simple easel comes with all the standard features; chalkboard side, magnetic dry erase board, a tray, and the option to adjust height. Constructed of real wood, this is a durable purchase that even the most DIY-challenged parents can assemble.
Before I was married, my "tool kit" was a Prada shoe box with crazy glue and Allen keys from Ikea. Simplicity and longevity? I will gladly spend a few extra dollars for something I can assemble in less than 30 minutes.
Keep in mind: The craft paper that comes with this one comes on a reel that attaches to the top, so it can only be used on one side at a time.
Good for: Families that want an easel that's simple and easy to use.
---
(Most stylish — $$)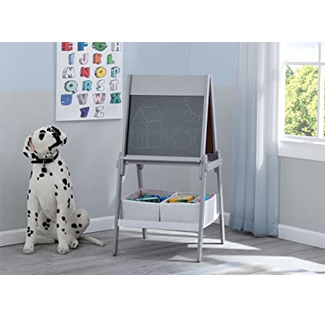 Why it's great: The number one requested paint color at this time is grey. If you're looking for an easel that will match your decor, then look no further. This light grey easel also comes in a dark brown or white finish.
This no-frills easel does not come with much though. It does come with magnets and you can store those and your other accessories in one of the two included storage bins. Paint, color, or draw in chalk on either side of the dual-sided easel. It also comes with a roll of paper for added fun. Constructed from real wood this easel will last, making it worth every cent if you're buying this for your first child.
Keep in mind: This easel does not fold up when not in use, so make sure you have enough space for it.
Good for: Families that want an easel that fits in with their decor.
---
(Most adorable — $$)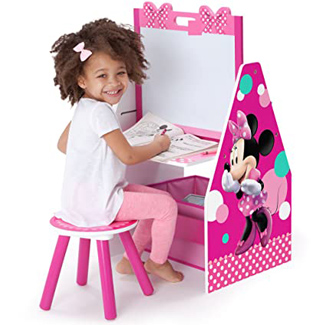 Why it's great: The Delta Children Kids Easel and Play Station is more of a desk with an easel than an easel with additional features. This sit and play station is adorably pink and has Disney princesses displayed prominently on the sides and bins. It also comes in different styles in case you do not have a princess fanatic at home. It is made of solid wood and medium-density fiberboard, so it's pretty sturdy.
Keep in mind: Unlike other easels, this product does not have an adjustable height feature. It can convert into a bookshelf but unlike a transformer, you will have to take it apart to put it back together.
Good for: Little girls that want a multi-functional and adorable easel.
---
(Best outdoor easel — $$)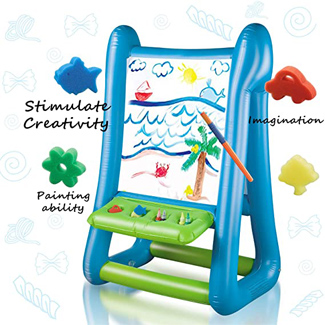 Why it's great: This is a blow up easel that is perfect for painting and creating outdoors. It's made of heavy duty durable vinyl, which means your child won't be able to poke holes or pop it easily. It comes with a pump, so it inflates quickly and you can deflate it for easy storage. It's easy to wipe down or even hose off when your child is done playing with it. This easel has little cup holders to keep all their art supplies in while they're using it. It also comes with 4 sponge stamps to help them create fun designs.
Keep in mind: This one really only works with paint. You could try dry erase markers, but it's easier to clean off the paint.
Good for: Families that want an easy to clean, outdoor easel.
---
(Best for small spaces — $$)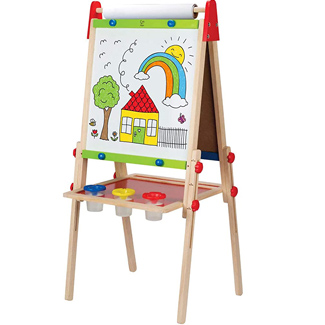 Why it's great: This compact easel is great for a smaller space. It comes with all the bells and whistles, three paint pots, a tray for more workspace, a paper roll, dual faceted chalkboard, and a magnetic dry erase board. I give it bonus points for growing with my kids, as I'm a sucker for anything my kids can play with for more than a season. Its height adjusts from 37.5″ to 43.5″.
Keep in mind: The compartment for the paper roll is too small to fit standard easel paper rolls. Similar easels fit an 18" paper roll. Finding a 15" in paper roll to refill the existing one could be challenging.
Good for: Families that want an easel, but don't have a lot of space.
FAQs about toddler easels
---
1. Should I buy an easel?
Whenever I'm about to buy a toy that takes up a considerable amount of space or is over $40 I factor in a few things. At this price point will this get handed down from my first child to my next? Is my child going to play with it? Is it safe?
There isn't a one size fits all answer but if you're not sure it's worth the expense buy the tabletop easel by Melissa & Doug or something small and cheap to test the waters. Generally speaking, yes, I think this should be in all homes. Especially now, with so many people sheltering in place, it's a staple for a reason.
---
2. Is my child old enough for an easel?
I would recommend easels for children over three years old. There are little choke-able pieces with most easels. Depending on your child's energy levels painting on an easel can quickly go from a fun calming art project to a catastrophe of shredded paper, and paint-splattered walls.
---
3. Are easels educational?
Yes! Easels hit so many targets. They encourage hand-eye coordination, fine motor skills, color mixing, creative independence- the list goes on. If anything it will keep them busy for enough time for you to get something done. It's the cheapest babysitter I ever had.
An easel is a staple in any household of little ones for good reason.
The importance of drawing on a vertical surface has benefits that are often overlooked. Drawing on an easel encourages core strength, sensory, and assists with spatial awareness.
I hope my in-depth look at these popular easels helps you find the best match for your little artist.
Conclusion
Giving your little one the the ability to paint and explore their creativity is the gift that keeps giving. We seen it over and over with our kids that when they paint they get excited to explore the world more and seeing their enjoyment is priceless. Enjoy helping bringing in the next generation of artists! 🙂
You may also like our other reviews…
Skateboards | Motorcycles | Purses | Train Sets | Ball Pits | Laptops | Gyms | Booster Seats for Tables | Baby Dolls That Look Real | Art Supplies | Drawing Boards & Tables | Alarm Clocks | Indoor Playgrounds | Board Games | Music toys | Activity tables | Tricycles | Backpacks | Step stools | Slides | Climbing toys | Puzzles | Wagons | Scooters | Lunch boxes | Block sets | Racing tracks | Bikes | Guitars | Busy boards | Drum sets | Tool sets | Pianos | Pillows | Cameras | Headphones | Remote control cars | Swings | Golf clubs | Push cars |