Updated on by Lyric Fergusson
There's only so much energy that can be let off with puzzles, board-games, and coloring. Toddler gyms, like playsets, towers, and swings are great for kids who are constantly on the move. Plus, it might bring some nostalgia back to when you were a kid… and might even push you as far as playing along with them!
From bounce-houses to imaginative indoor activities, here are the 11 best toddler gyms for your kiddos:

Best Toddler Jungle Gyms for All Ages
---
(Parents' choice award-winning — $$)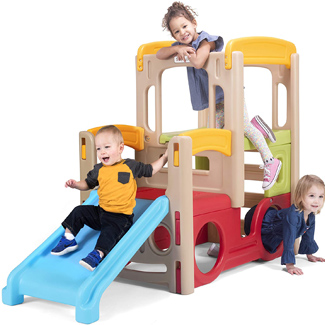 Why it's great: This Toddler gym can be set up both indoor and outdoor.
The Simplay3 Adventure Climber was the winner of the 2019 Parents' Choice Award and has a multitude of fun different crawl spaces and climbing sections for your curious kid. If you're planning on keeping it outside, the material is weather and UV resistant; otherwise, keeping it inside makes it a perfect indoor solution for cold and rainy days.
Keep in mind: You may want to charge up a screwdriver for setting this up; assembly is a bit tricky.
Good for: Toddlers who love to climb!
---
(Most versatile — $$$)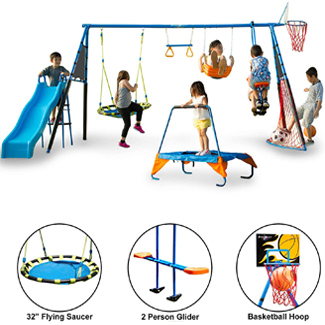 Why it's great: This is a great set for more active children. It has plenty of different activities to keep your toddler engaged and entertained for hours. It has four different types of swings, including a two seater for multiple kids. It also has a basketball hoop and soccer net, plus, a trampoline and slide. Since, the trampoline is separate from the rest, it can be moved inside when outdoor play isn't an option. It even comes with a basketball and soccer ball, so you're all ready to go once you get it set up.
Keep in mind: While each seat can hold up to 80 lbs, you may want to buy anchors to secure it into the ground for added safety.
Good for: Active children that need multiple avenues for expending their energy.
---
(Best activity to use with a ball pit — $)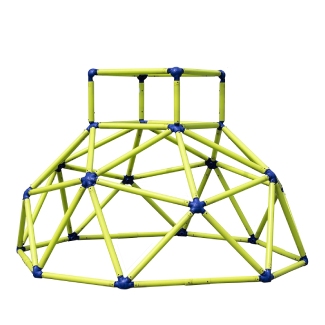 Why it's great: This set-up is for kids who are a bit older and want to experiment with different ways they can maneuver more challenging climbing activities.
This tower is great for kids six and under. If you choose to keep it outdoors, it has the capability of being able to withstand weathering. If you want to keep it inside, it's small enough to be set up in a large basement or playroom. There are a ton of ways you can add additional elements to this already exciting game, like draping a blanket over it to make it a fort, adding a ball pit to the bottom of it as a nice landing zone, or even placing it in your pool.
Keep in mind: Assembly is performed by connecting interlocking plastic tubes, which are a bit tricky not to pinch your fingers with. Keep your directions, as assembly could take up to two hours.
Good for: Slightly older toddlers with gross motor skills developed for strategic foot and hand placement.
---
(Best climber — $$)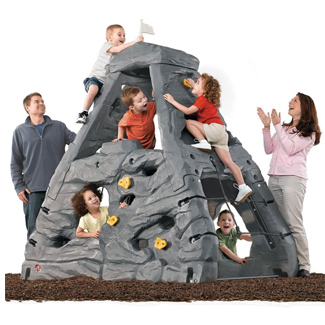 Why it's great: This is a bigger climbing structure than what normally comes with a jungle gym. It allows your child to really experiment and increase their climbing skills. It helps improve their fine and gross motor skills, along with their hand-eye coordination as they navigate their way to the top. The inside can be used as a fort or playhouse and there's even a small platform in the middle where they can sit and look out. With rock climbing handholds and nets, your toddler will have a variety of options to get to the top.
Keep in mind: This is pretty tall and younger toddlers may need more supervision while they're climbing.
Good for: Children that are ready for a more challenging climber.
---
(Best for small spaces — $)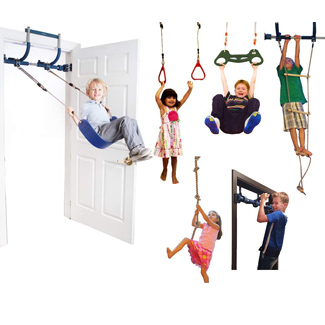 Why it's great: This is a unit that installs in a regular doorway and has a bunch of different attachments that your child can use to play indoors. It has a regular swing, trapeze, rings, rope climb, and rope ladder. This is a great option for getting out your child's energy when outdoor play isn't an option or if you don't have a backyard. It also doesn't take up much space, as it just fits in the doorway with one attachment at a time.
Keep in mind: You'll need to make sure to follow all the installation instructions and get it secured properly before use.
Good for: Families that don't have a lot of space, but want some physical activity for their kids.
---
(Best eco-friendly — $$)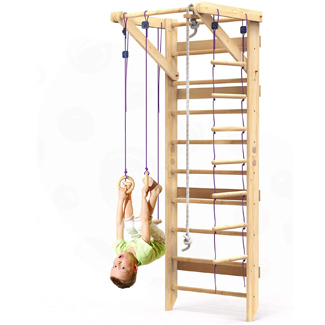 Why it's great: This setup is made of all natural wood and non-toxic paints, making it the most eco-friendly and safe for your child. It attaches easily to a wall and comes with everything to install it. It's strong and durable and can hold up to 286 lbs, which means your whole family can use it! It has a wall climb, rope ladder, trapeze, rings, pull up bar, and a rope for climbing or swinging. With so many options, this is a great choice for keeping active toddlers busy.
Keep in mind: This does have to be attached to a wall, so make sure you have the space and measure your area before you get it.
Good for: Families that want an eco-friendly and indoor setup.
---
(Most inventive — $$$)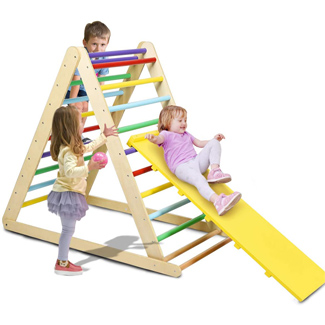 Why it's great: The Pikler triangle is a popular choice for families with young children. It allows them to climb and explore, which increases their problem solving and hand-eye coordination. It also comes with a slide that can be used as a climber too. The wooden slide has pegs that attach to the triangle, so your child can choose how steep or high they want their slide to be. This means that it's great for kids of all ages, since you can easily adjust for comfort level. The triangle also folds up flat for easy storage.
Keep in mind: This one comes with colorful rungs and slide, but you can choose the all natural option if you prefer. It also has other attachments, like an arch that you can purchase separately.
Good for: Kids of all ages that like to slide and use their imagination.
---
(Most modifiable — $$)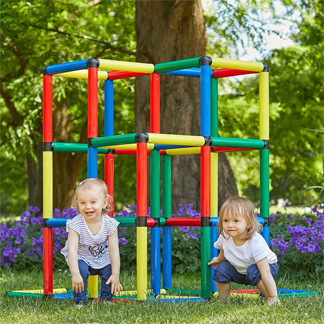 Why it's great: This is the perfect option for kids who like variety and creating their own structures. This comes with 236 parts that allow your child to build and design whatever structure they like. The attachments make it strong and sturdy, so once your toddler is done building, they can scale the sides or climb all over it. With limitless possibilities, this is a great set for improving imagination and problem solving. It's also compatible with other Quadro sets, so you can add on pieces for bigger designs and/or attach a slide or other fun accessories.
Keep in mind: You will likely need to supervise your child, especially during construction, to make sure each piece is secure before they climb on it.
Good for: Creative kids that want to build their own playground.
---
(Most cushioned — $)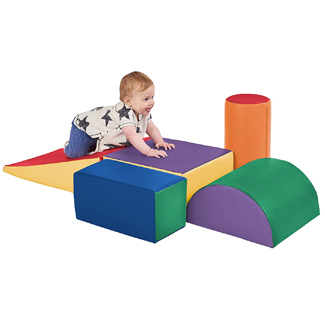 Why it's great: These are similar to what gymnastics classes use for teaching jumps, rolls, and other acrobatic skills. Introducing your child to athletic capabilities and the equipment used will help them be more familiar if gymnastics classes are in the near future.
These soft and colorful foam shapes are great for kids ages nine months to three years. As long as you have a place to store them, they're super low-maintenance: just take them out and they're ready for climbing! This playset comes as a set of five super-durable vegan leather play shapes, with both rounded and flat surfaces on each piece.
Keep in mind: Although the bottom is supposed to be non-stick, the pieces still tend to move. This means especially if you are using them on a wood floor, they'll probably migrate. Grab some velcro to secure the bottoms more firmly to the ground.
Good for: Babies and toddlers who love crawling, or older toddlers who want to set up their own at-home play gym.
---
(Most spacious — $$$$)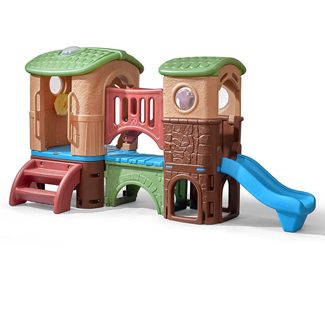 Why it's great: This is a pretty big structure with plenty of room for multiple kids to play together or separately. It has two slides and lots of crawlways and walkways for kids to explore. The main house has a steering wheel to spin and the steps are short and easy for young toddlers to climb. This clubhouse encourages imagination and cooperative play.
Keep in mind: This is pretty large, so make sure you have the space for it before you buy it.
Good for: Families with multiple kids who want something that will allow them to play together.
---
(Most adventurous — $$$$)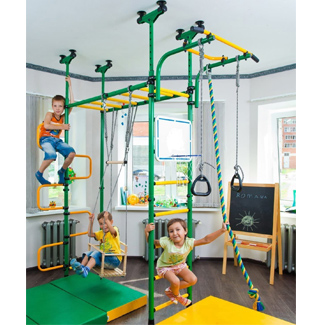 Why it's great: This is a more advanced and adventurous playset that's perfect for children with lots of energy and physical strength. It has multiple climbing sections, monkey bars, swings, ropes, and more for young gymnasts to practice and build their confidence and motor skills. Best of all, it can hold up to 200 lbs, so your child can use this for years to come!
Keep in mind: You may want to buy some safety mats to put under it. It doesn't come with any, even though the picture shows them. It also doesn't come with the swing shown. That has been replaced with a trapeze.
Good for: More adventurous children that like to stay active.
---
FAQs about toddler gyms
---
1. How helpful are toddler gyms for my kid?
Activities that encourage movements like crawling, jumping, climbing, and rolling are great in helping your child develop their gross motor skills. Research suggests that physical activity may play a more important role in a child's development than we once thought. Toddler gyms and other activities involving lots of movement can also play a role in helping your child sleep better by getting their energy out for the day.
---
2. How safe are toddler gyms?
Toddler gyms are crafted with kids in mind. With that being said, it's always suggested that these activities are conducted with parent-supervision, and to use your gut when determining whether or not your child is ready for a specific game or activity.
---
3. How do I know if my kid is ready for a toddler gym?
Many times a habitual action such as your toddler's affinity for climbing on top of couches is an indicator that they may benefit from a toddler gym. You can always play with or be available to them for help if you feel they need it before they begin playing on their own.
---
4. Should I have an outdoor or indoor toddler gym?
Depending on your resources and maintenance ability, it's up to you! Outdoor games are great for encouraging play when weather permits and may even allow for neighbors and friends to enjoy the equipment too without getting the house dirty. Likewise, indoor gyms are great for rainy days, snowstorms, and for when mommy or daddy needs to get things done inside. The more ability your kid has to move, the better, but make what you can work, and don't feel pressure to take on anything you can't handle.
Conclusion
---
There is no doubt that toddler gyms will develop your little one physically, spatially, mentally and emotionally. They are empowered to utilize their own bodies to solve problems and use their muscles in unique and unusual ways. We highly recommend them!
You may also like our other reviews…
Sleds | Roller Skates | Baseball Gloves | Easels | Rock Climbing Walls | Boy's Snowsuits | Trampolines | Karaoke | Safety Harnesses | Workbenches | Beds | Toothbrushes | Rocking Horses | Scissors | Bath Tubs | Sandals | Paints | Plates | Coloring Books | Skateboards | Slides | Climbing toys | Puzzles | Wagons | Scooters | Lunch boxes | Block sets | Racing tracks | Bikes | Guitars | Busy boards | Drum sets | Tool sets | Pianos | Pillows | Cameras | Headphones | Remote control cars | Swings | Golf clubs | Push cars |