Updated on by Lyric Fergusson
Creating space for your toddler to explore, roam and play indoors is essential. Different factors like weather, time of day, or other children to consider can make it challenging to always get to a nearby park. Taking the time to find the right indoor equipment for your children is important. We've come up with a list of the 11 Best Toddler Indoor Playgrounds that will provide lasting joy and learning for your little one.
Best indoor playgrounds for All Ages
---
(Most entertaining — $$$)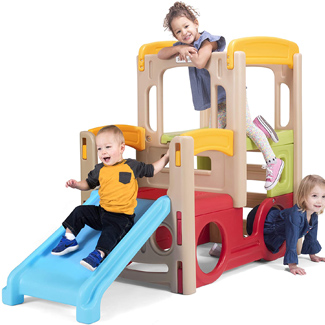 Why it's great: Winner of 2019 Parents Choice Award, this climber features many great things! It has an easy climbing two tier platform, many fun portals to climb through and a secret hideaway fort with a steering wheel and dashboard. It is very durable and sturdy which should provide optimal playtime. With it's bright colors and fun appearance, this playground is also weather and UV resistant proving that it can outlast the test of time.
Keep in mind: Assembly can be cumbersome and tedious. We would suggest having an electric screwdriver and a hammer on hand for any moments that you might get stuck in the assembly process.
Good for: Families with multiple children that want a playground that can be used indoors or outdoors.
---
(Most modifiable — $$$)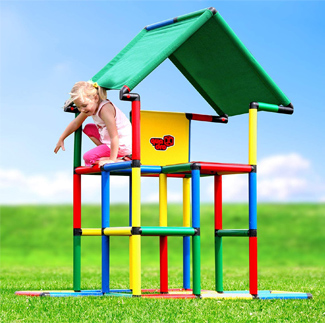 Why it's great: This playground set comes with poles and attachments that allow your child to design, build, and create whatever type of structure, tunnel, or climbing tower that they want. It encourages imagination and creativity and enhances your child's problem-solving skills. This is a nice big set with plenty of pieces to build many different structures, but you can also purchase additional pieces or sets from Quadro. They even have slide attachments. With endless options and the ability to change the size of the structure, it will provide your child with hours of indoor or outdoor play.
Keep in mind: Supervision is recommended for new builders. You'll especially want to make sure the connections are secure before your child starts climbing on it.
Good for: Creative kids that want to design and build their own playground.
---
(Most versatile — $$$)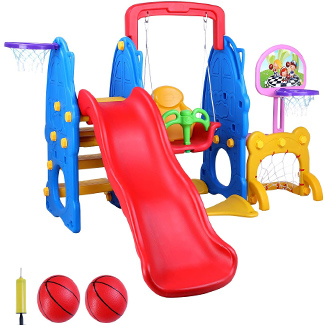 Why it's great: This one is great for kids that like a variety of different options for play. It has a swing and slide for the usual playground toys. Plus, it has two basketball hoops and a soccer goal. Your child will love staying active indoors with this set. It comes with two balls and a pump to blow them up, so you're all ready to go once it's set up. And it's built solid and sturdy, so it'll last until your child passes the weight limits.
Keep in mind: This one is a little wide, so make sure you have the space in your playroom or bedroom.
Good for: Toddlers that need a little variety in their play.
---
(Most imaginative — $$$)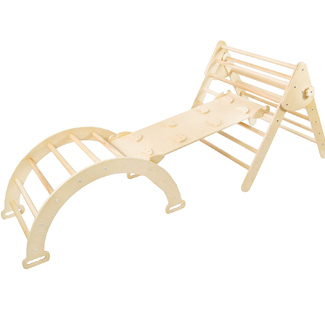 Why it's great: This set really helps to build your child's imagination. It comes with the Pikler triangle, rock wall, and arch. Each can be used separately or put together in different ways for more versatility. The rock wall is smooth on the back and can also be used as a slide. It can attach to any rung, which means you can easily change the slope to make it more or less challenging, depending on what your child needs. This set is made of all-natural wood and is strong and sturdy. The triangle also folds up for more convenient storage.
Keep in mind: You'll want to make sure the rock wall is hooked properly so it doesn't slip. Supervision is recommended.
Good for: Cooperative play and problem solving.
---
(Best for younger toddlers — $$)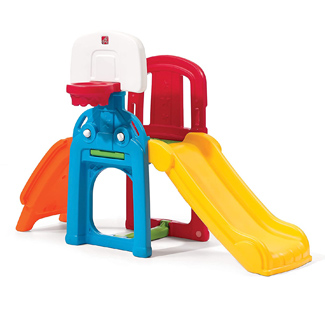 Why it's great: This spacious climber has many creative ways for your toddler to play! Little athletes can take turns shooting hoops with the ball that's included, climb onto the platform using the ladder, and play a game of kickball or soccer too. When children aren't climbing all over it, it makes for an amazing hideaway fort where they can rest and play.
Keep in mind: It can take a little while for assembly, so make sure you set realistic expectations to your toddler as you start setting it up.
Good for: Younger toddlers that need to get a little energy out indoors.
---
(Best interaction — $)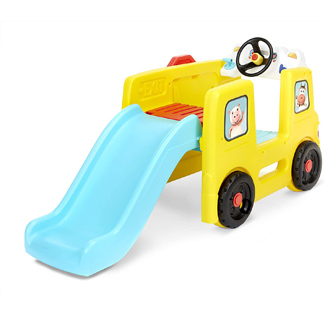 Why it's great: This fun, indoor toddler playground is known from the wildly popular preschool learning video series, Little Baby Bum. This awesome gym allows toddlers to climb, slide, and use their imaginations as they play. The dashboard makes sounds, features ignitions, and has gears that can be played with too! How fun is that? Also, it plays 'Wheels On The Bus" from the steering wheel giving a greater chance for interactive play. Another great feature is that it's water-resistant, so while it's great for the indoors, it can also be used outdoors too! Very versatile!
Keep in mind: Some parents have noted that it can be difficult to assemble and that having a second person ready to help in the tricky moments might be necessary.
Good for: Younger toddlers that like interactive play.
---
(Best beginner climber — $)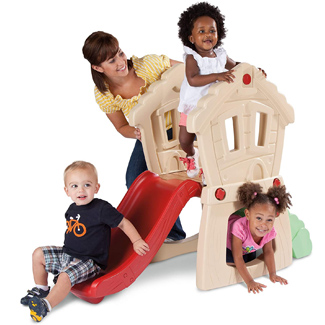 Why it's great: This is another great slide for beginners! It features an easy climbing rock wall that your toddler will find adventurous and more fun than the standard stairs. With room to crawl underneath the playground as a 'hideout' feature, this indoor playground provides several different ways for children to play. Kids need opportunities to explore different ways of doing things, which is why this indoor playground is awesome. The rock wall is a neat feature to help kids navigate climbing independently.
Keep in mind: This is another indoor playground that has a weight limit; this one is 45 lbs. It advises that a maximum of two kids should be on the structure at a time. Some assembly is required once it arrives as well. Some parents have noted that the slide can be a little slippery, so after you assemble it, make sure to watch your toddler as they get the hang of the speed of the slide.
Good for: Beginning climbers and younger children.
---
(Most low maintenance — $$)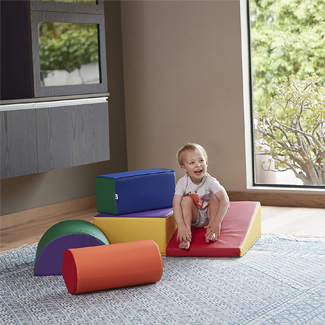 Why it's great: Toddlers need to have a safe play to explore and climb. The SoftZone Climb and Crawl Activity Play Set allows safe and active play. Created out of soft low maintenance vegan leather, this is a fantastic option for your toddler! The pieces of this playset can be moved around to meet the desires or needs of your child, giving room to crawl, climb, and develop motor skills. Not only that, but it features a non-slip bottom that keeps each piece in place while your child explores.
No assembly is needed with this purchase! It's completely ready straight out of the box. This particular playset comes with 5 pieces, but more pieces can be added on as you see fit. That's really cool!
Keep in mind: The sections don't have a way to stick together. You could add velcro yourself, but you'd have to purchase and attach that separately.
Good for: Kids of all ages that like obstacle courses or just need something softer to climb.
---
(Best for safety — $$)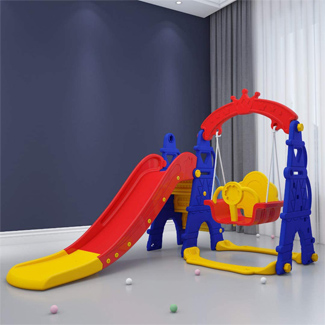 Why it's great: This indoor playset is built solid and sturdy. The base of the swing is wide to give it extra stability and to keep your child safe. Plus, the slope of the slide decreases towards the bottom to keep your toddler from flying off the end. The stairs to the slide are easy for younger children to climb and there's no gap between the steps for them to fall through. Your child will have a blast playing on this set and you'll be relieved to know that they're as safe as can be.
Keep in mind: This is made for younger toddlers and your child could outgrow it faster than some of the other options.
Good for: Young toddlers that need an extra safe playset.
---
(Most adventurous – $$$$)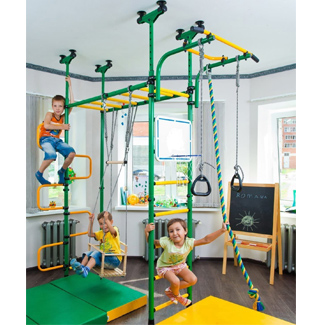 Why it's great: This is a fantastic set for expending energy indoors. Your child will love climbing all over this indoor gym. With swings, monkey bars, ladders, and ropes, your child will be getting a workout! All the different options provide your child with hours of fun. Plus, it's big enough that multiple children can play at once. This set will help build physical strength, problem solving, and creative play.
Keep in mind: You'll need to make sure you have enough space for this and you might want to buy some safety mats to put under it as it shows in the picture.
Good for: More adventurous children that love to climb.
---
(Best space saver — $$)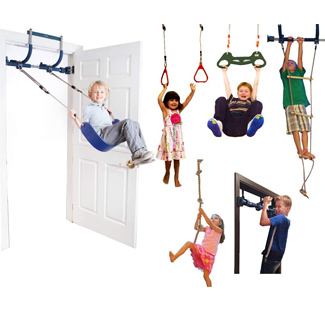 Why it's great: This set allows your child to swing and climb indoors. And, it barely takes up any space at all. It comes with a door attachment that hooks on the inside of a doorframe. It has a swing, rings, rope ladder, and handles for more physically fit children that like to do pull ups. All the different options allow your child to expend some of their energy without having to go outside. It's not very hard to install and it's easy to switch out the attachments.
Keep in mind: You won't be able to close the door with the attachment installed. Make sure to follow the directions so the structure is secure.
Good for: Families that don't have much indoor space, but need something to keep their children active inside.
---
---
FAQs about indoor playgrounds
---
1. How does an indoor playground help a child's development?
An indoor playground can help a child's development for a variety of reasons. Indoor play is important for developing imaginations and boosting creativity. Whether they're imagining forts, castles, or spaceships, indoor playgrounds serve a powerful purpose in helping your child develop. It can help a child develop needed motor skills physically, can help them learn to conquer fears, and can also bolster the skill of sharing. There are many great ways that an indoor playground can help a child's development on multiple levels.
---
2. What are the benefits of having an indoor playground?
Playing outside is extremely beneficial for children throughout the course of their lives, but sometimes the weather just isn't on your side. Also, it's not always possible to get outside during every waking moment of the day. Having an indoor playground creates many more and different opportunities for your toddler to continue exploring and playing. Whether you have other kids who nap or you can't get outside due to the weather, having many things to keep your toddler active and engaged inside is essential.
---
3. How can I keep my kids safe while playing on an indoor playground?
It's important to understand the specific needs that your individual child has while playing on an indoor playground. Make sure to always supervise your child and take measures needed to keep them safe. Keep any indoor playground on a firm, even surface to help give them a secure place to play. Make sure that if the playground needs to be secured to the ground, that it is.
---
4. Are there any negatives to owning an indoor playground?
The positives far outweigh the negatives. But things to consider would be the price of the equipment, as some indoor slides can cost more than others. Once you purchase it though, you have it for the long run with no added expenses. So it's worth it! Adult supervision is also recommended on a lot of indoor playgrounds so that's something to consider as well.
---
5. What kind of materials are indoor playgrounds mostly made up of?
Most indoor playgrounds feature materials that are suitable for children to play on. Depending on the playground, materials can vary from plastic and strong vinyl to soft foam and mesh. Each structure is created differently, so make sure to check carefully what materials make up the playground that you're interested in to ensure that it's the best fit for your child.
---
Conclusion
---
Indoor Playgrounds for toddlers is a great idea. Finding creative ways to allow your toddler to continue to explore their surroundings while remaining indoors can be helpful to you as the parent. It's also important to help grow their imagination and to encourage trying new things during their independent playing. Overall, an indoor playground should enhance the life of the child in very significant ways, all while encouraging a lot of fun!
You may also like our other reviews…
Sleds | Roller Skates | Baseball Gloves | Easels | Rock Climbing Walls | Boy's Snowsuits | Trampolines | Karaoke | Safety Harnesses | Workbenches | Beds | Toothbrushes | Rocking Horses | Scissors | Bath Tubs | Sandals | Paints | Plates | Coloring Books | Skateboards | Slides | Climbing toys | Puzzles | Wagons | Scooters | Lunch boxes | Block sets | Racing tracks | Bikes | Guitars | Busy boards | Drum sets | Tool sets | Pianos | Pillows | Cameras | Headphones | Remote control cars | Swings | Golf clubs | Push cars |