Updated on by Lyric Fergusson
H ave you ever had to hunt down your hairbrush in a hurry – only to find your toddler has been using it as a microphone for their latest performance? Children LOVE to sing – and for good reason! Singing is an amazing way to inspire creativity and create lasting memories. If you have a child who loves to put on shows or is constantly asking you to "WATCH ME!" you could very well have a born performer on your hands.
Here are 11 better alternatives than your brush, a spatula, or wooden spoon for your little rockstar!

Best Toddler Karaoke Machines for All Ages
---
(Best value — $)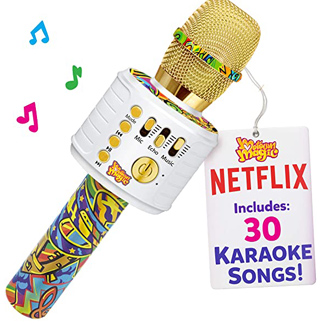 Why it's great: This super colorful and fun play microphone will inspire your little ones to use their imagination. It comes with 30 classic Motown songs to enjoy, but can also use Bluetooth to connect to your phone or other music sources. It has 4 voice effects your little rockstar can play around with and it's rechargeable. The battery life is pretty impressive too, coming in at 8 hours, while only taking 2 hours to charge completely.
All of the controls for this toy are located right on the microphone and that makes it easy for younger kids to master how to use it and enjoy it. It's also easy for kids to move around when they're playing with this because there are no cords to worry about tripping over.
Keep in mind: The songs that are preloaded on this are featured in the Netflix show Motown Magic.
Good for: Toddlers and children who enjoy Motown music.
---
(Best for duets — $$$)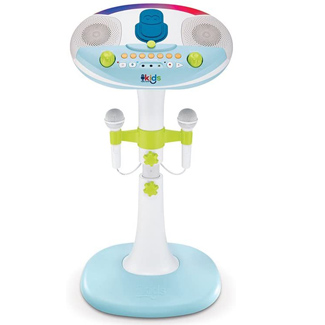 Why it's great: This one has a stand with adjustable height, so it can grow with your child. Plus, you can remove the karaoke system from the stand to make it completely portable or to have it in your child's lap. It comes with two microphones and the cords are long enough that both children will have plenty of room to move around while singing.
This system features 6 different voice changing functions that'll give your child some variety. You can plug in or set up bluetooth for your iPad or any other device you want to use, giving your child unlimited song options. Plus, your child can record themselves singing and play it back for extra fun.
Keep in mind: While on the stand, the karaoke machine charges, but if you're going to use it on it's own, it takes batteries. The batteries are not included, so you'll need to purchase those separately.
Good for: Families with multiple children that like to sing together.
---
(Most realistic — $)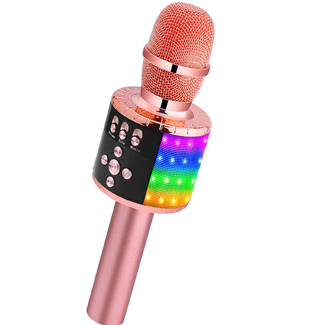 Why it's great: Here is another fun, wireless option that's not just a microphone, but a portable speaker and a recorder. It has fun LED lights that grow brighter when the volume increases and will pulse with the beat of the music to make your children's performances a ton of fun. It connects to any Bluetooth music source and has a quick charging battery.
The head of this microphone is made of a durable aluminum alloy, which makes the sound quality a little more consistent than you might find in other models designed for children. It's also available in several different colors so I'm sure you could find one that matches your kid's personality!
Keep in mind: This one doesn't come with any songs preloaded, so you'll need to connect it to a Bluetooth source if you want to sing along with something.
Good for: Older kids who want to practice singing, or very young ones that would be happy just hearing their own voices.
---
(Best set — $$)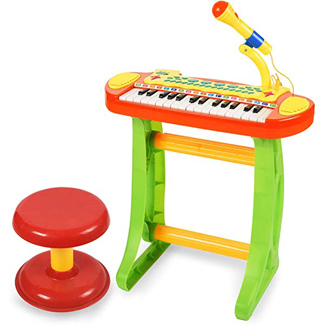 Why it's great: This is the perfect set for an aspiring musician and singer. Not only do you get the microphone for your child to sing along to tunes, but you'll also get a piano to play. And a stool that's the perfect height. The piano is programmed with 15 demo songs and 8 different dance rhythms. Even if your child can't play anything yet, they'll still have music to listen to. And, the keys light up along with the demos, teaching your child how to play as they listen.
This also features a recording and playback function, so your child can listen to the music they make. The keyboard can be removed from the stand too for portable play. The microphone will let your child sing to their heart's content, whether or not they feel like playing along. You can even plug in headphones, so your child can have all the fun they want and won't disturb the rest of the household.
Keep in mind: This is made for younger toddlers, so it may be a little small for older children.
Good for: Young toddlers that want to experiment with singing and instruments.
---
(Best first karaoke machine — $)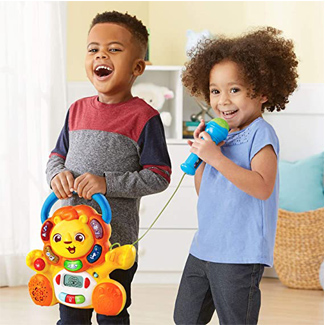 Why it's great: This karaoke machine is shaped like an adorable lion and has a very easy to use microphone attached. It comes with 30 classic kids songs that everyone will know the words to. Plus, it has voice changing effects that include high and low pitch, robot, and echo. Younger toddlers will love playing the interactive games that are included, which helps to introduce letters, numbers, and animals.
The songs that are included on this machine are easy ones like Wheels on the Bus and The Alphabet Song. You can choose to have the words playing while your child is singing, or just the melody.
Keep in mind: This one is not rechargeable and requires 3 AA batteries.
Good for: Younger toddlers that will enjoy the flashing lights and knowing all of the words to the songs
---
(Most unique — $)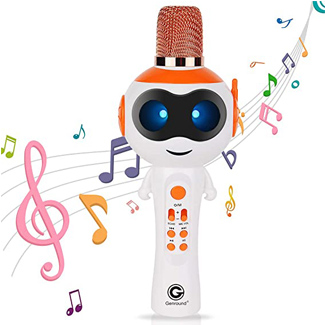 Why it's great: This microphone comes in a super cute robot shape. The eyes light up and change color and you can even change the voice function to sound like a robot yourself. It has other voice modes too, so you can sound like the opposite gender or electo-acoustic if you want. The stereo speakers are all around the head and give your child high quality sound.
Not only is this microphone extremely portable, it is compatible with so many different devices. It has Bluetooth capability, an audio jack, or a slot for a TF card, so you're sure to have something that works. With all those options, your child will be able to enjoy listening and singing to all their favorite songs. Plus, they can record themselves too!
Keep in mind: You need to have something, like your phone, plugged in when recording. The recording will be stored on the phone or device, not the microphone.
Good for: Children who love singing and robots.
---
(Most adorable — $)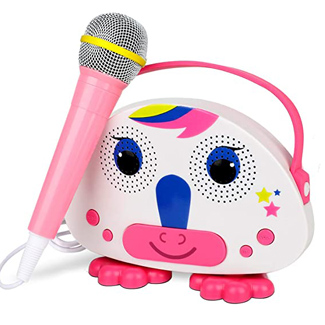 Why it's great: This karaoke machine is brightly colored and adorable. The speakers are the eyes of the character and the pretty pinks and blues will delight any little girl. The mouth opens to reveal the ports for the audio cable, USB cord, or TF card. Besides these options, it is also Bluetooth compatible.
It is small and portable, with an easy carry handle, so your child can take this with them wherever they go. There's a voice fader control too, which means that the machine will lower the volume of the words in a song for your child's voice to be heard better, just like a real karaoke machine does.
Keep in mind: This one doesn't have an option to record. It's just for singing in the moment.
Good for: Little girls who want a portable karaoke machine
---
(Most fun — $$)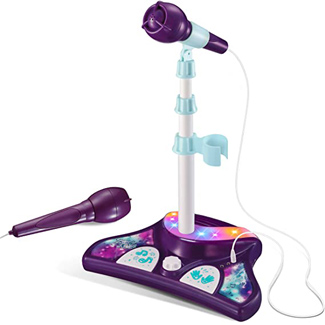 Why it's great: This karaoke machine comes with two microphones. One is on an adjustable stand and the other is on a cable that can move around. If the second mic isn't needed, the mic stand can be removed. It then acts as a portable speaker with one mic attached. It comes with an AUX cable that enables it to be connected to other devices for unlimited song options.
It's easy to put on a full concert with foot pedals that add a background rhythm or applause as well as flashing LED lights. It even has a handle, so your child can easily hold onto it while they dance and sing.
Keep in mind: Needs 4 AA batteries that are included, but you'll want to make sure you have more on hand. Comes with songs, but no words.
Good for: Siblings or friends that love to perform together!
---
(Most versatile — $$)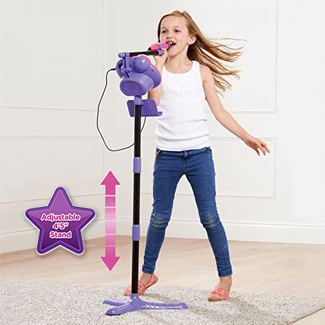 Why it's great: This system has an adjustable stand with a fun control panel, which has a digital display and a tray that holds lyrics. You can plug an MP3 player or your cell phone into it to access a wide variety of music, or listen to the 8 songs built in, with animations that play on the digital display.
You can record up to 5 minutes with this microphone and add different vocal effects to make playtime silly and fun. Six musical memory games are included in this model that can help inspire creativity and memory skills. With so many different options, your child will be busy for hours!
Keep in mind: This VTech also needs a never-ending supply of batteries, unless you choose to purchase a DC power adapter that can be plugged in separately.
Good for: The stand-alone base makes this one great for children who love to sing while also playing an instrument!
---
(Easiest to use — $$)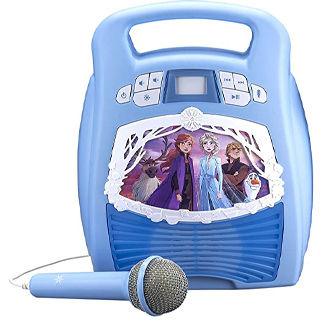 Why it's great: This karaoke machine features the cast of Frozen 2 on the front and will make your child feel like they're part of the cast. It is bluetooth enabled and can connect to your device in order to wirelessly play music that your child can sing along to. It can also store 100s of songs on the internal storage that is included with this machine. It has LED lights along the front panel that illuminate with the rhythm of the music playing, which gives your child a fun atmosphere in which they can perform.
It comes with a rechargeable battery and the display will let you know how much power you have left. It's nice and lightweight, making it easy for your child to carry around and it has a hook for the microphone to store it when not in use.
Keep in mind: Contrary to what you might think about this machine, it actually doesn't come with any Frozen II songs loaded onto it.
Good for: Frozen fans that love to pretend to be Anna and Elsa.
---
(Best sounding — $$$)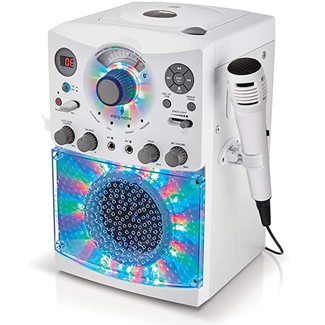 Why it's great: This machine packs a powerful sound with a high quality speaker. It not only has Bluetooth and USB connectivity, but a CD player as well so you can introduce your little ones to what life was like before MP3. It comes with 54 multi-colored disco lights to create the right ambience for a singing party! It also has the ability to plug into your TV to see scrolling lyrics (if playing a CD-G, which is a CD with lyrics just for Karaoke machines).
This machine plugs into the wall, so no need to keep recharging or replacing batteries. And it has a recording function, so your child can save their musical adventures to listen to later.
Keep in mind: There is only one microphone included, so it might be worth picking up a second one if you have more than one child.
Good for: Older toddlers or even older children who are a little more serious about singing and sound quality.
FAQs about toddler karaoke machines
---
1. What are the benefits of letting toddlers play with karaoke machines?
Singing is a deeply beneficial activity for children in many different ways. Physically, it requires deep breathing which has been shown to strengthen the lungs. Cognitively, it helps your little one's brain focus on a few different things at once like rhythm, pitch, and words. Emotionally, singing helps improve self-confidence and boost happiness. You really can't go wrong by getting a mic into your kid's hands!
---
2. Would a karaoke machine be fun for a kid who doesn't speak that much?
Yes! Even if your child isn't fully speaking yet, they will enjoy babbling into the microphone and using the effects that some of the machines come with to change their voice. For younger toddlers, the models that come with interactive games will pique their curiosity and provide a lot of entertainment.
---
3. What is the most important feature to look at on a karaoke machine?
Well, you'll want to think about what will be most important to your child and their age. A two-year-old is going to be much more impressed by flashing lights and pre-recorded songs they know the words to, while older children will want to "sound good," so they would want a quality microphone and vocal effects.
---
4. What are some safety tips for using karaoke machines?
Keep in mind that these machines have electronic components inside them, and your children are going to be putting them right next to their mouths. Some younger toddlers who are still getting a little slobbery or are teething might not be ready for their own microphone. Of course, as with all electronic or battery-operated toys, always ensure the battery compartment is not accessible and that the batteries inside are fresh and not corroded.
Conclusion
---
Karaoke machines are amazing toys for your children. They inspire creativity and create opportunities for your little ones to express themselves in a unique and fun way. Aside from learning the words to pre-recorded songs, many children will start to think about how music, sound, and words work together to write their own songs.
When picking out a machine for your family, think about one your child can "grow into." Having several different settings or options may seem overwhelming at first, but if singing or performing is something your child really enjoys, they will benefit from the added versatility.
Finally, remember that while your children love to get new toys, especially loud ones with a lot of lights, you're still their favorite person to play with. Sing with them. Teach them the words to your favorite songs. Put on a show together. Your little rockstar will adore this special time spent with you, rocking out!
You may also like our other reviews…
Skateboards | Motorcycles | Purses | Train Sets | Ball Pits | Laptops | Gyms | Booster Seats for Tables | Baby Dolls That Look Real | Art Supplies | Drawing Boards & Tables | Alarm Clocks | Indoor Playgrounds | Board Games | Music toys | Activity tables | Tricycles | Backpacks | Step stools | Slides | Climbing toys | Puzzles | Wagons | Scooters | Lunch boxes | Block sets | Racing tracks | Bikes | Guitars | Busy boards | Drum sets | Tool sets | Pianos | Pillows | Cameras | Headphones | Remote control cars | Swings | Golf clubs | Push cars |