Updated on by Lyric Fergusson
Toddlers love mimicking what their parents and older siblings do, making a kid-sized laptop fun for little ones who like to copy Mom and Dad while they work or check email. But for parents, toddler laptops offer a fun and stimulating way for kids to learn.
Laptops combine the fun of using a "computer" with learning modules that can help these littles learn shapes, colors, numbers, and words. It keeps them busy and helps them learn. It's a win-win! Before you know it, you'll be teaching them to shop online like a pro.

Best Toddler Laptop Computers for All Ages
---
(Best value — $)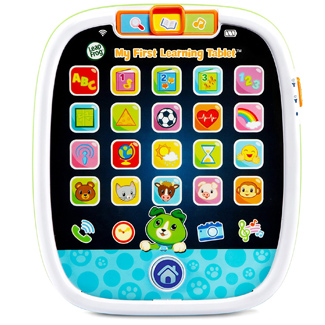 Why it's great: This low-price LeapFrog tablet is absolutely packed with fun things for your kiddo to do. It's best for toddlers who are mastering hand-eye coordination, since they have to press the app icons for games to appear. Each app brings up something new, and the icons along the bottom mimic adult tablets with a pretend phone, camera, and music player. Toddlers can compose their own songs with a music-making app and learn colors, numbers, and shapes.
This is a fairly comprehensive toy that covers the bases. It even lights up to interest kids even more! What can't this toy do? If your kiddo drops it on the kitchen floor, no worries! The LeapFrog is super durable and can handle what you toss at it (well, don't throw it out a window, but you understand!) Kids will love role-playing with this tablet and exploring all the different games and learning modules. They can learn words in other languages, listen to the weather, and count along. It's a great option for kids that like pushing buttons! Another plus: it turns itself off if your child stops playing for 45 seconds – no wasted power!
Keep in mind: It's battery-powered, so make sure you have extra cells on hand to power it back up when it conks out!
Good for: Kids who like to treat their toys like they're disposable and like to hit the keys like it's going out of style!
---
(Most grown-up — $)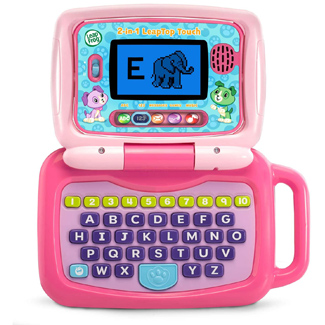 Why it's great: This cool LeapFrog laptop lets kids mimic your machine by switching it from a "tablet" to a "laptop." A super cool feature that gives this machine more bang for the buck, it's like two toys in one for a great price. The tablet mode has a touchscreen, and a keyboard is used with the computer mode. There are five different learning modes with a number of activities, and just like you, your toddler can learn to send an email!
This LeapFrog computer is also customizable. You can input your little one's name and teach him or her how to spell it along with learning numbers, colors, and music. The oversized screen makes it easy to see what's going on, and the handle means kids can take this along on car rides.
Keep in mind: It doesn't run on batteries, so when it's dead, it's dead! If your kiddo really loves it, you may want to keep a spare on hand.
Good for: Perfect for toddlers who are adept enough to switch modes and enjoy all the features this toy offers
---
(Most content available — $$$)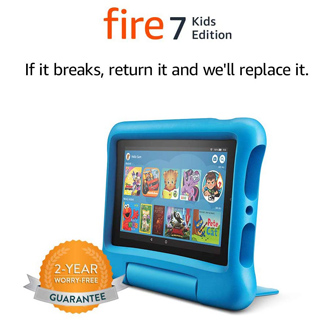 Why it's great: Just like a tablet for grown-ups, the Fire offers a comprehensive range of activities for kids of all ages. One of the great things about the Fire is that it can grow with your kids. These work for toddler ages all the way up to elementary-age kids. Imagine unlimited access to 20,000 games, books, and videos that can not only keep kiddos entertaining but help them learn. They'll never get bored! Parental controls allow you to filter content for younger ones as necessary.
Storage is expandable, but the Fire 7 comes with 16 GB of internal storage for all your child's content. The battery runs for seven hours, so you may only need to charge up once a day. Kids can plug in their headphones to watch, listen, and play, making the Fire 7 totally portable. No more boring doctor waiting rooms or car rides! Older kids can play, too. The sturdy case means if they drop it, you won't have an anxiety attack.
Yes, it's an investment, but if taken care of, the Fire can last for years! And you can't beat the flexibility of the different types of content. Consider it a small price to pay for taking a hot bath or watching your DVDr'd shows while your kid plays! (or keeping car fights between siblings at bay!)
Keep in mind: Although the Fire 7 comes with one year of free access to Amazon FreeTime's service, which provides the content your kid will love. After the free trial, you'll have to pay the subscription fee of $2.99 through your Amazon account so your child can continue to enjoy the service.
Good for: Kids who get bored easily and need changing content to keep them engaged.
---
(Most realistic keyboard — $)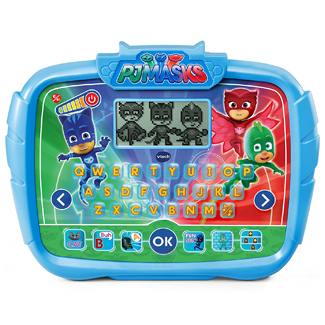 Why it's great: This one is both educational and tons of fun. It has 6 different activities that will help your child save the day, just like their favorite PJ Mask super heroes! They'll learn letters, vocabulary, phonics, and rhyming words. Plus, the keyboard is laid out just like a real QWERTY keyboard, so your child can start to learn typing skills.
The LCD screen shows the characters or the words and pictures that will take your child through the activity. It also features the real voices of Ghecko, Catboy, and Owlette, so your child will be immersed in the experience. The games are very interactive and will keep your child entertained and learning for hours.
Keep in mind: There is no external volume control and the preset is pretty loud. However, there is a button that will let you lower the volume. You may need to read the instructions to figure out how to do it.
Good for: Kids who love PJ Masks and want to save the day with their favorite characters.
---
(Best for girls — $)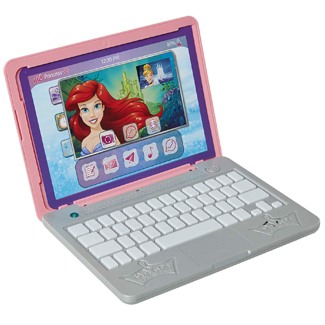 Why it's great: This laptop has a gorgeous pink cover with a big P for princess. The screen features Ariel on one side and what looks like apps and programs on the other side. There's a power button to turn it on and an indicator light on the left side. When it's on the buttons all make clicking sounds, just as if your child was actually typing on a keyboard. It also makes computer sounds and has musical fanfare that your child will love. This laptop promotes pretend play and will let your child use their imagination.
Keep in mind: The pictures on the screen don't change. You can take it out and flip to the other side for a different picture.
Good for: Little girls that want to pretend they're using a real laptop.
---
(Best for keeping kids engaged — $)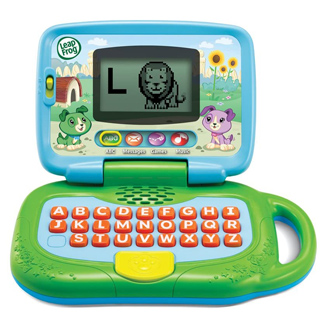 Why it's great: This laptop seems geared towards younger toddlers with its animated, oversized screen, big keys, and chunky handle. The LeapTop offers five different learning categories: music, animals, computer literacy, letters, and pretend play. Kiddos can also send pretend emails on this laptop, listen to 16 jammin' melodies, and learn how to spell their name. This is quite similar to the LeapFrog 2-in-1 without the convertible option.
Trivia games are fun to play, and the animal animations on the screen give toddlers something fun to look at while they play. Like other laptops, it has a carrying handle to make it portable. This laptop is a great way to keep even small kids engaged, and it's user-friendly enough for the littlest toddlers to use, but fun enough for 4 and 5-year-olds to enjoy as well. Perfect for car rides and independent playtime, the LeapFrog LeapTop is super affordable and great paired with other LeapFrog toys, such as the Chat and Count Smartphone.
Keep in mind: There's not a USB port on this laptop to plug in headphones, so make sure you are careful about where your kiddo brings this toy – it may not be best for somewhere that's meant for silence! However, it's not loud enough to drive you nuts, either, thank goodness!
Good for: Keeping antsy kids occupied for big chunks of time.
---
(Most educational — $$)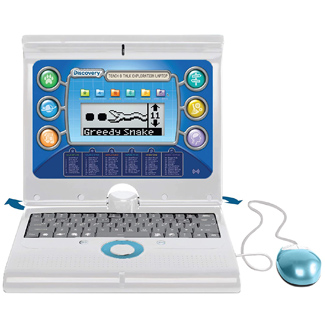 Why it's great: This laptop looks and almost acts like a real laptop. It even comes with a mouse. The keyboard is standard QWERTY, and the mouse has two buttons to click. It comes with over 60 different activities, so your child will have plenty to explore and keep them occupied. The laptop screen also pivots from side to side, so it can be turned for others to see.
Your child will learn math, spelling, music, geography, and much more with this laptop. Each game and activity will challenge your child and help them to understand new concepts. Plus, they'll be learning real typing skills and how to navigate a computer screen.
Another great thing about this laptop is that it comes with a charger, so you won't have to worry about having enough batteries around to keep it running.
Keep in mind: This is geared towards slightly older children at 6+, but it can easily be used by younger children with some adult help.
Good for: Kids that want a real laptop experience and love to learn.
---
(Best for babies — $)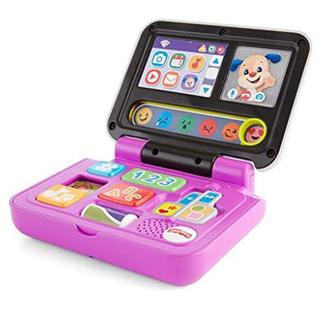 Why it's great: This toy is meant for younger toddlers and babies starting at around 6 months. There are different buttons your baby can press, including a slider, flipper, and a roller along with oversized keys that do different things. It lights up when music plays, engaging the senses of little ones, and makes 40 different sounds that include songs, words, colors, letters, and numbers, providing a well-rounded educational tool for young techies.
This interactive toy is great for little kids who want to play with Mom or Dad's laptop – this lets them pretend they're whackin' away at the keys, too! (without the repair bill!) There's a lot to do here, keeping little hands busy while they learn. This is a great and affordable toy to add to your arsenal of infant toys and perfect for shopping trips or the car to keep a twitchy infant engaged.
Keep in mind: Older kids may get bored with this simplistic toy, so it's likely only gonna be interesting to kids up to 1 or 2, so if you don't get it while they're this young, it may not be worth the cost.
Good for: Babies who keep trying to push the buttons on the "adult" computer!
---
(Most simplistic — $)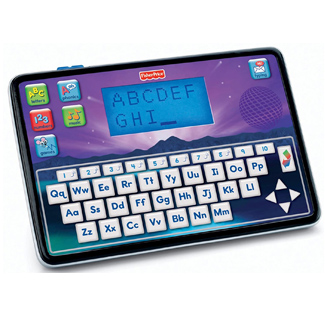 Why it's great: This tablet is simple and easy for children to use and navigate. It has a standard keyboard, which will help them develop their typing skills while they play. It also has a stand that flips out, making it easy to use on the table or your toddler's lap. The screen shows animation and also changes colors to keep your child interested longer.
There are 6 different activities that all help your child learn and grow while having fun. Your child will learn letters, phonics, numbers, and even learn to count to 10 in both English and Spanish. They'll also get to learn about music and will learn how to navigate a maze.
Keep in mind: This one runs on 4 batteries, so you'll want to make sure to stock up.
Good for: Kids who are still learning the basics, like letters and numbers.
---
(Most musical — $$)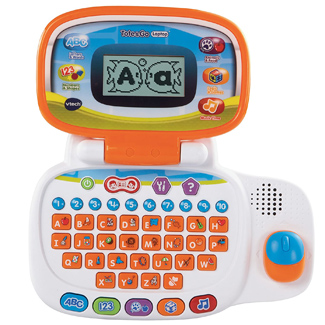 Why it's great: The VTech Tote and Go battery-operated laptop comes in several colors, including bright orange, yellow, or pink. It's jam-packed with activities for kids around 3 or 4 years old to enjoy, and even older siblings may want their turn, too. The mouse attached simulates a real computer experience, so this is a good way for littles to start learning how to use one!
It's not just for learning, though there are 20 different activities that teach kids everything from numbers to logic, and the progressive nature lets them "level up" to more difficult games as they go. Kids can jam out to 30 different tunes including rock and country sounds! Kids love music, so this is a fun component of this toy. It's also super portable, with a carrying handle that kids will love using to tote their laptop around with them.
Keep in mind: The LCD screen isn't backlit, but it does have a contrast adjustment feature. Make sure your kiddo sits in a well-lighted area to use the VTech laptop!
Good for: Kids of all ages who especially love music.
---
(Best for imaginative play — $)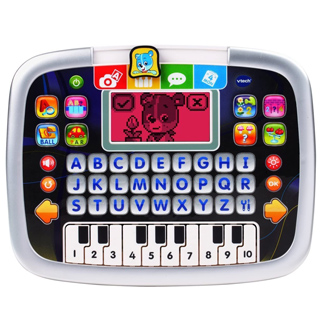 Why it's great: Kids 2 to 5 can stretch their imaginations with this colorful tablet. The LCD screen changes colors, and it has lots of buttons to push, including app keys, an actual keyboard with separate keys, and letter buttons. There's even a pretend camera. Busting with games and activities, this portable tablet is interactive and educational, teaching kids letters, numbers, words, and simple math. They can play along to music or compose their own tunes (great for a kid who loves music and sounds!) as well as play 12 different activities.
It's durable, has an automatic shut-off, and has a volume control adjustment (hooray!). This top-selling toy has a lot to offer, and the fact that it has a wide age range means this toy can be used for years as your child develops. The positive nature of the game means you kid won't be disappointed if the answer is wrong – it's very encouraging!
Keep in mind: It doesn't have a handle, so keep an eye on it when you take it around with you. It's definitely portable, but you may not want an unwieldy 3-year-old carrying it to the car.
Good for: Kids who get attached to their toys and may want to use the same one for a handful of years.
FAQs about toddler laptop computers
---
1. Do laptops for toddlers have audio ports?
Most laptops for this age don't include ports for headphones. If you need a laptop or device for a kid that requires headphones so they can play while you work and keep things quieter, the Fire 7 is probably your best bet.
---
2. After kids complete all the activities, can you download more?
The Fire is the only app that has consistently new or changing activities. For most toddler laptops, what you see is what you get. Toddlers adore repetition, so it's not likely they'll get bored too easy, but if you have an older toddler that you think requires more options, opt for a laptop with more learning modules and games.
---
3. What ages are best for using toy laptops and tablets?
Kids around 2 and 3 are the perfect age for many of these toys, unless otherwise specified (like the Fisher-Price toy meant for 6 months and up). Even older kids love tinkering around on these toy computers!
---
4. Can you change the language on a toy laptop?
Most often, no. If you need a Spanish-speaking toy to teach your child to be bilingual, you'll need to search for one that's specifically geared to Spanish speakers. Most toy laptops are only in English.
---
5. Are there educational benefits to a toy laptop or tablet?
Absolutely! Games, songs, and apps on these laptops and tablets were developed by professionals to ensure comprehensive learning. Many of them allow children to speak along or respond back to help them learn letters, numbers, and colors. Learning games make it all fun!
---
Conclusion
---
Toddler laptops are a lot of fun for kids of all ages. When you're looking for one, consider your budget. There are many under $30 and even $20 that are perfect for kids, but if you're looking to make more of an investment, consider something a bit pricier with a wider range of options.
Think about your kiddo's hand-eye coordination – some laptops are difficult for 2-year-olds but may be perfect for 4-year-olds. Simple games and bigger buttons are best for young toddlers. If you want to keep a kid visually engaged, choose a toy with more lights and buttons.
Kids that love music will enjoy laptops that offer more musical options, such as listening to preset songs or creating their own jams. Little ones want to mimic older people in their lives, and since you don't want them banging around on your MacBook, getting them their own tech is a great, age-appropriate solution!
You may also like our other reviews…
Sleds | Roller Skates | Baseball Gloves | Easels | Rock Climbing Walls | Boy's Snowsuits | Trampolines | Karaoke | Safety Harnesses | Workbenches | Beds | Toothbrushes | Rocking Horses | Scissors | Bath Tubs | Sandals | Paints | Plates | Coloring Books | Skateboards | Slides | Climbing toys | Puzzles | Wagons | Scooters | Lunch boxes | Block sets | Racing tracks | Bikes | Guitars | Busy boards | Drum sets | Tool sets | Pianos | Pillows | Cameras | Headphones | Remote control cars | Swings | Golf clubs | Push cars |