Music is one of the most powerful tools of self-expression in the world. It's no wonder kids are drawn to all sorts of tones and sounds. Fostering a child's love of music is easy as getting them a really cool microphone! We've compiled the seven (7) best microphone options for your toddler below to get them started on their musical journey.

Best Toddler Microphones
---
(Best battery free microphone — $)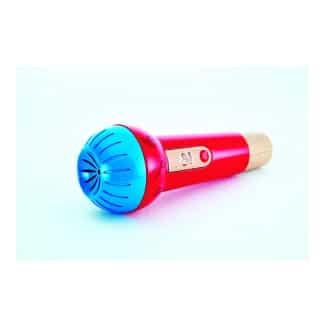 Why it's great: Got an artist in the making at home? Then the Hape Mighty Echo Microphone is the perfect product for your child! It sports no batteries so that the fun can last all day. Made of high-quality plastic and with strict safety regulations in mind, this product makes the perfect play partner for children that have a tendency to chow down on their toys. The Hape Mighty will echo back the voices of your child, so they can sing and listen back to their own voice for hours without the fear of batteries running out!
This microphone comes in several attractive colors with musical notes printed on them, which is sure to hold your toddler's attention. It is a handy development tool as it helps encourage speech and helps develop a musical talent from a very early age. It has a non-toxic finish and is made of child-safe materials. The Hape microphone adheres to high-quality safety standards to ensure many years of use
Keep in mind: This product does not amplify one's voice; it only echoes it back. It does not come with instructions as there is no setup necessary. Just put it close to your mouth and speak!
Good for: The seller recommends this product for anyone over the age of 12 months.
---
(Best microphone recorder — $)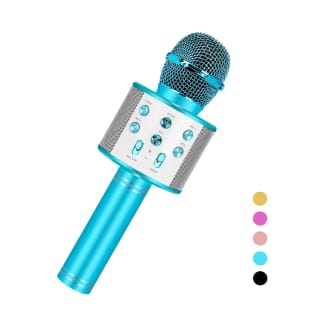 Why it's great: Like recording songs as you sing? Enjoy singing in different voices? Well, then look no further! Niskite's Handheld Karaoke Microphone lets your little one do all that and much more. This microphone allows you to play and record any song you want. Just simply connect your phone to this device and play any song you want from any app. It boasts a professional audio processor and tuning system, a three-layered high destiny noise reduction system, and it creates a stunning KTV live-sound environment with fantastic echo reverberation.
Not only that, but it also allows the users to change their voice using five different kinds of effects. This battery-powered microphone could be the source of several hours of fun for both your kids and you.
Niskite designed this microphone with safety in mind. It is made from a copper alloy, which makes it extremely drop resistant, and it also uses UL-certified batteries that ensure safety of use for children. This microphone is also certified to meet US Official CPC toy safety standards. It can be connected both via USB connection and Bluetooth.
Keep in mind: It needs to be connected to a device to play and record. It requires batteries and is very lightweight.
Good for: Young children ranging from 3-10 years old. Makes a good birthday or Christmas present. Great gift for karaoke fanatics.
---
(Best themed microphone — $)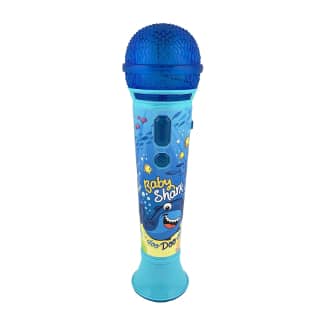 Why it's great: Hop right on the baby shark hype train with this baby shark singalong microphone! Is your child just as obsessed with baby shark as most babies are? If yes, then this microphone will light up your toddler's sparkling eyes.
Don't underestimate this product as just another toy, though. This is also a full-fledged battery-powered microphone is designed with young baby shark fans in mind. It's covered with baby shark graphics and designs with a light-weighted finish.
This microphone sports two buttons: one plays the baby shark song, and the other turns on the microphone. It's also capable of connecting to your phone or other devices using an aux cord. Not only that, but it also has a wide array of lighting systems to excite your toddler. Overall, this device is easy to use, attractive to look at, lightweight, and toddler-friendly.
Keep in mind: This singalong microphone only plays the baby shark song, so it will not play anything else unless it is connected to a device.
Good for: It will make an excellent gift for baby shark fans of any age. However, the seller recommends this product for children that are 3 years of age or older.
---
(Best karaoke microphone — $$)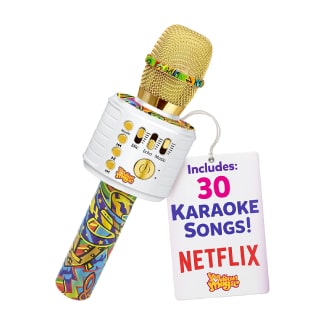 Why it's great: Tired of connecting your mic to your phone? The Bluetooth Karaoke Microphone from Move2Play offers 30 built-in songs to choose and sing from. It includes artists such as Stevie Wonder, Jackson 5, and Marvin Gaye, and features Motown tracks such as "Superstition," "ABC," and "My Girl." However, if you choose to connect your phone, you can use it to play any song you want.
This mic also works as a Bluetooth speaker. Not only that, but it also allows you to change your voice with four different effects: high-pitch, low-pitch, chipmunk, and eco control. It also has a lithium-ion battery with over 8 hours of battery backup.
Keep in mind: This product is more fragile compared to other products on the list and needs to be used more carefully. Kids absolutely love this toy so prepare yourself for daily domestic concerts if you purchase this it!
Good for: Seller recommends it for children from the age of 4 to 14, but it is user-friendly and fun for all members of the family.
---
(Best bluetooth microphone — $$$)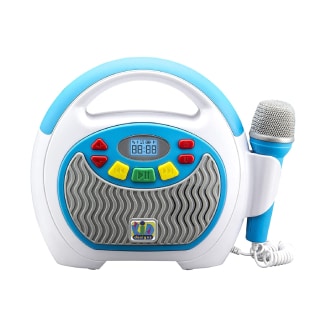 Why it's great: Need a more serious microphone with a large song storage capacity? The eKids KIDdesigns Bluetooth Sing Along Mic is the perfect choice for your toddler. It comes equipped with a full-fledged microphone and 1 GB of memory to store songs in. This product includes 24 built-in songs from Mother Goose Club and unlimited audio. Not only that, but it also has Bluetooth capabilities enabling it to function as a Bluetooth speaker and stream wirelessly. With 1 GB of storage, store any songs you want and play them anytime you want.
This has a real wired microphone that allows your little one to feel like a rockstar when they sing. The lightweight, portable size also allows you to carry it anywhere you want. This device also has a headphone port so you can connect your headphones and listen to music without bothering anyone.
Keep in mind: This product is larger in comparison to others on this list.
Good for: Children over the age of 3 and under the age of 11.
---
(Best microphone with stand — $$$)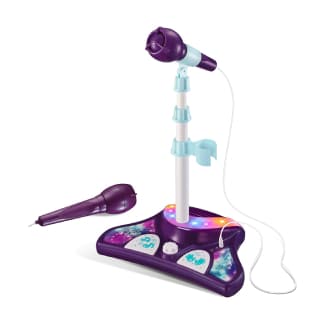 Why it's great: The LP Kids Karaoke Machine boasts two microphones for both your child and their musical guests. Not only that, but there is also a built-in portable speaker with a pair of microphones and an adjustable stand that allows for singing while dancing. Connect the microphones to any device via an aux cord and play any song you want!
There are also flashing lights and built-in tunes for maximizing your child's confidence while they perform.
Keep in mind: This toy has several parts and may take more time to assemble and disassemble compared to the other toys in this group.
Good for: Families with two children, kids who love singing, 3-year-olds and up.
---
(Best all in one microphone — $$)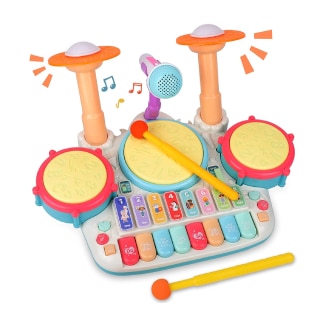 Why it's great: Dreaming of your child becoming a musician? Want him to start at an early age? Then the Rabing Baby 5 in 1 Drum and Piano Set is the ideal choice for your toddler. It will help improve your little one's hand-eye coordination and help them to get a better understanding of musical devices at an early age.
This toy is a five in one musical instrument powerhouse set that includes a Play Beat Drum Set (with play, music, and whack-a-mole modes), a Play Electronic Xylophone (with Glockenspiel and xylophone tones), animal mode (with seven animals sounds), number mode (that cues numbers 1 through 8), and finally, Five Ways to Play Piano Keyboard (featuring piano, solmization, trumpet, and guitar modes, as well color mode).
This microphone also has a smooth and baby-proof design, making it safe for all musically inclined toddlers!
Keep in mind: This toy is slightly more complex and a little harder to use initially, but it will quickly become intuitive.
Good for: Christmas present, holiday gift, or a birthday present for kids over the age of 36 months.
FAQs about Toddler Microphones
---
1. Does using a microphone improve musical skills?
While there has not been any research conducted in relation to this question, playing with music based toys such as the ones on our list can spark or nurture an interest in your toddler, thus helping him or her grow more familiar with the idea of music and how it works.
---
2. Should I get my toddler a microphone?
If your little one is displaying any interest in music or pretending anything from a hairbrush to a toy is a microphone, then the answer is yes. Our list includes a variety of prices and styles to suit just about any kind of budding musically inclined toddler.
---
3. What kind of microphone should I purchase?
Choosing a microphone is as easy as paying attention to what your child likes to do when music is playing. If your child prefers to sing and dance, choose from one of the handheld microphones from our list. If your kiddo likes to stand still and sing, choose the microphone with a stand. If your little one loves instruments and singing, there's one on our list for that, too!
---
4. What are my microphone options?
Our list includes various types of microphone options. There are battery powdered and battery free ones. Our list includes ones purely for amplifying a voice as well as various voice altering options. If your kiddo is obsessed with baby shark, there's a microphone dedicated to that, too! Some offer the options to connect via Bluetooth so you can expand the kinds of songs available. Most of the ones listed above come with various songs your little one will be familiar with already built in. For toddlers who love singing and instruments, the five-in-one makes a great gift. From lightings to 1 GB of memory, you and your child will feel satisfied.
---
5. Should I gift a microphone?
This can be a tricky one because yes, all of these make perfect gifts, but some parents prefer to have minimal toys that cause (or amplify) noise. Be sure to include a gift receipt or ask the parent(s) of the toddler if they're open to a gift like this.
---
Conclusion
It's well known that encouraging arts in young children is beneficial. It doesn't need to mean fancy, expensive music lessons with a world renowed musician, or even attending an elite arts school. Yes, this can certainly help, but sometimes it simply means buying your little one a toy that shows them you're interested in them having fun and expressing themselves. The interest of a parent can make all the difference.
---