Updated on by Lyric Fergusson
As parents, we know that giving our little ones the right tools to get to sleep and stay asleep comfortably is crucial, not just for our sanity, but for their well-being as well. Naps are an important time for toddler mind and body development, so poor quality sleep leaves them impatient, less able to process big emotions, and often sets them up for failure. Below are 7 great choices to create a comfortable napping environment for an amazing fresh start every afternoon.
Best Toddler Nap Mats for Girls and Boys
---
(Best value — $)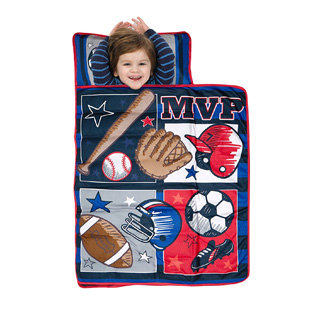 Why it's great: This awesome mat comes in 6 adorable designs: Dinosaurs, Emojis, Rainbows, Forest Friends, Unicorns, and MVP Sports. The shell is made of polyester, and the 100% Coral plush attached blanket is extra long and extra wide to make for the absolute best snuggling possible. The pillow is attached as well, so after use the whole mat can be gently machine washed.
The carrying strap and Velcro fasteners make this product easy to transport and it fits perfectly into a school cubby. It even comes with a nametag on the outside of the roll to ensure that it doesn't get mixed up at daycare or camp. Easy to use and comfortable make a great combination!
Keep in mind: While this mat is the best bang for your buck, it needs to be treated gently and properly cared for to maintain longevity, especially if used daily.
Good for: Great snuggles at a great price.
---
(Easiest to carry — $)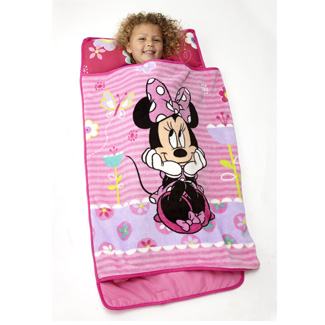 Why it's great: Every kid has a favorite Disney character, and a beloved character can go a long way toward putting them at ease at naptime. These roll-up nap mats come in 11 Disney styles, so whether they're into classic Mickey and Minnie or newer favorites like Toy Story or Frozen, one of these great designs will inspire them to curl up. These are easy to roll and store, with Velcro straps and a built-in handle to easily carry.
The attached blanket is made of a microfiber fleece that can be machine washed in cold water and tumble dried on low. The design and size make it the perfect mat for ages 2-5.
Keep in mind: Not the thickest out there for hard floors. If school or daycare provide gym mats or cots, then this is a great economical, lightweight option!
Good for: Independent kids who are Disney superfans!
---
(Most comfortable — $$$)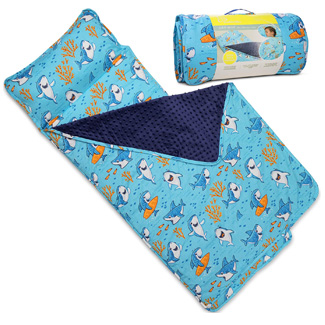 Why it's great: This is the ultimate luxury napping experience. The bottom has a thicker matting than many of the alternatives and the mat itself is longer than most, making this one of the most comfortable products in this style. The blanket interior is made of an amazingly soft minky dot material. The construction is sturdy, and the materials are high quality, for a mat that will pass the test of time.
There are 4 designs to choose from: Sharks, Owls, Princesses, and Dinosaurs. With a carrying handle, Velcro straps, a nametag, and a removable pillow for easier washing, this mat has all the bells and whistles. Expect sweet dreams!
Keep in mind: The removable pillow slides in and out of its case easily, so be sure to remove it before you wash the mat to avoid lumps.
Good for: Older toddlers that need a little extra softness to sleep soundly.
---
(Most fun — $$)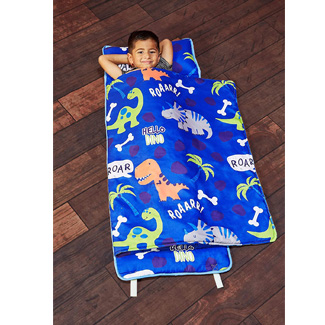 Why it's great: Everyday Kids nap mats are hands down the most fun bunch of designs I've seen. All 14 are bright, colorful, and creative, so this product is sure to get first time nappers excited to use their new big kid sleep mat. They come in dinosaurs, diggers, mermaids, owls, pirates – the list goes on! No matter what their interests, every kid will be able to find something in this set of designs that makes napping a fun experience that they look forward to.
These mats are made by a family-owned business that has your child's best interests at heart. Made of 100% soft brushed microfiber polyester, and safe from any harmful chemicals, the materials are fade-resistant, naturally hypoallergenic, and very comfy. The pillow is removable during washing and, if necessary, easy to replace. As one of the lower-priced options on this list, the designs and quality make this an amazing find.
Keep in mind: Some parents have noted that this mat is small for ages 3-6, so make sure to check out all of the measurements before ordering.
Good for: Creative kids who may be new to napping at school and need some inspiration.
---
(Best school design — $$)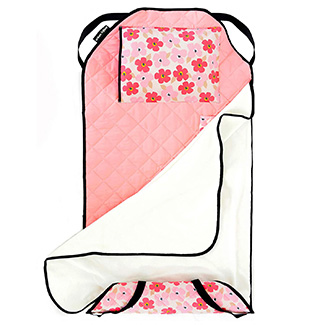 Why it's great: Urban Infant thought of everything! This mat has elastic straps to secure it to the cot or gym mat and is the longest we've seen by at least 2 inches. They redesigned the pillow to be machine washable (no lumps!) and the blanket is now no-pill to ensure that the inevitable weekly washings that come with school/daycare don't affect the quality of comfort. They have a nametag, carrying strap, Velcro fasteners, even a "secret" lovey pocket. That qualifies as the cutest thing ever AND great design. The mats are lead-safe, BPA-free, phthalate-free, and contain no fire-retardant chemicals.
With all of these great features, it's no wonder that this product line was honored in 2017 with the National Parenting Seal of Approval and again in 2018 with the National Parenting Product Award. It is recommended by Working Mother Magazine and Parenting Magazine.
Keep in mind: This mat is mainly intended for use with a cot or gym mat and a child that is fully clothed for school, so the actual mat backing and blanket are not as thick and warm as others on this list.
Good for: Perfect design for toddlers in school/daycare with a nap built into their daily routine.
---
(Most hygienic — $$)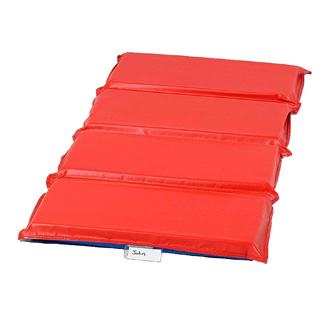 Why it's great: Made with 2 inches of foam cushioning covered with an easy-to-clean vinyl cover, the Angeles Rest Nap Mat is the thickest and most hygienic of all the mats on this list. The vinyl is sealed with radio frequency welding technology to keep the interior completely germ-free. They are waterproof, can be easily wiped down after use, and carry a Greenguard Gold Certification.
The dual-color design allows users to ensure that the same side always touches the floor, and the sleep side can be 100% folded inside to avoid cross-contamination during storage. The mat has corner pockets to keep sheets secure, and, at 24 inches, it is the widest of all the mats we've looked at. Overall, this product offers a comfortable nap experience while making cleaning and hygiene one less thing to worry about in your day!
Keep in mind: Because of the thickness and folding design, this mat is heavier than most at 2.8 lbs. It's not the best option to carry to and from school/daycare on a daily basis. It also doesn't come with bedding, so you'll have to provide any sheets, blankets, and pillows.
Good for: Awesome, germ-free naps at school, where overnight storage is an option.
---
(Best overall — $$)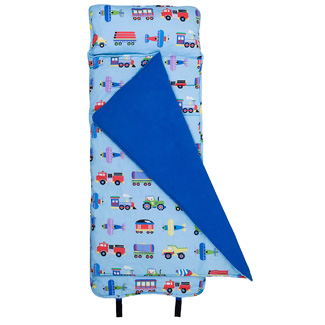 Why it's great: The Wildkin nap mats come in 22 fun designs that can be matched and coordinated with Wildkin lunchboxes, backpacks, and duffel bags! Buy everything in the same pattern to easily keep track of your items at the chaos of pick-up time.
These mats aren't just cute, they are super comfy and easy to use. The shell is made of a cotton and polyester blend with a 100% cotton flannel blanket attached to snuggle into. The pillow can be removed from the mat during washing, so it will remain fluffy for every use. Velcro straps and a handle make this mat easy to take on the go and store.
Environmentally, the Wildkin mats are very conscious of your child's health. They are BPA, PVC, and phthalate-free, and they are naturally flame resistant with no chemical flame retardants ever applied. No wonder their mats were awarded the Mom's Choice Award, a globally recognized program created to be a benchmark for excellence in children's products. Sleep well!
Keep in mind: The natural, untreated materials used in this mat can make it a little more difficult to clean than others on the list. It is not waterproof and is recommended to be machine washed in cold water and hung to dry.
Good for: Best overall performance at a great price: comfy, safe, easy to use, with matching lunchbox and backpack in the same adorable patterns.
---
FAQs about best toddler nap mats for all ages
---
1. Why is nap quality important?
Research has shown time and again that naps can be greatly beneficial to a toddler's development, both physically and cognitively. Even older Preschoolers, who need slightly less overall sleep than younger toddlers, can benefit from short naps or rest periods. Studies have found that napping improves memory, increases energy, and even lowers the risk of childhood obesity. A good nap mat can make the difference between good quality sleep and restless tossing and turning. Even older kids who don't sleep at nap time can benefit from a comfy mat to lay quietly and look at a book. The experience will set the tone for the rest of their day, so do everything you can to make it a great one!
---
2. At what age will my child need a nap mat?
These mats are generally only recommended for children above the age of 2. These mats are not made to keep infants secure and the loose bedding can be a hazard to a baby's breathing. After the age of 2, nap mats are perfect to nonchalantly toss down at home when you see telltale eye rubbing or yawning. Until Kindergarten, when naps are not usually offered as part of the schedule, a nap mat will be part of daily life, so pick the best option for your little one!
---
3. How do I keep a nap mat clean?
That will depend on what they are made of. Waterproof mats will have outer shells made of vinyl, polyurethane, or silicon. These materials can be easily wiped off and sanitized and are great for use in schools and daycares. Mats that are not waterproof can be spot cleaned when necessary using natural products like vinegar and baking soda, but they will need to be washed regularly to avoid germs and dust settling into the fabrics. Look for one that can be easily machine washed and dried with a removable pillow, to increase longevity.
---
4. Will my child fit onto a nap mat?
Nap mats come in all shapes and sizes, just like toddlers! Many manufacturers will include an age range that they deem appropriate for their mat's size, but you need to look at the overall dimensions yourself. A huge percentage of negative reviews for every single mat are related to the mat being too small, no matter how big the mat was. So be sure to think about how tall your child is now and how fast they are likely to grow in the next year and choose a mat that they can grow into.
---
5. How do I know if a mat is comfortable?
Comfort is certainly a subjective experience, so keep your child's personal preferences and needs in mind. My husband can fall asleep at any time on any surface, while my toddler requires complete darkness, silence, and four pillows positioned exactly so. But, when looking to buy a nap mat, comfort is going to come down to the thickness of the fill and the softness of the materials. Some schools/daycares provide cots to go under your child's nap mat, so you're better off focusing on the softness of the blanket and pillow. If your child is on a mat on the floor, the thickness of the mat and pillow will be especially important, along with the warmth of the blanket.
Conclusion
---
There are a lot of factors to consider when trying to find the perfect nap mat for your child: portability, comfort, design, ease of use, quality of materials. Every family, even every child within that family, will have unique needs when it comes to napping.
The most important thing is that your child uses the product. Napping is a key component of their healthy sleep cycle, and quality sleep ensures healthy minds and bodies. My son would have tried to nap on a bale of hay if it had a dinosaur on it, but that doesn't mean he would actually have fallen asleep. Whether at home, at school, or on a trip to grandma's, choose the mat that will help them want to participate in naptime feeling safe and comfortable. The reviews above offer some of the best choices out there to get the ball rolling.
Sleep tight!