Updated on by Lyric Fergusson
Meals with toddlers can be challenging! Toddlers are often messy, picky, and not very coordinated. We know that the right plate can completely change mealtime from challenging to a fun and productive experience. There are so many brands and styles to choose from, so we are letting you know about our favorites! Since toddlers are known to enjoy throwing things, our list includes only non-breakable plates. As you have enough on your plate already, they are all dishwasher safe as well. We included several eco-friendly plates including one made out of recycled milk jugs! Plus, our list has plates with features that encourage healthy and hopefully less-messy eating.

Best Toddler Plates for Girls and Boys
---
(Most eco-friendly — $$)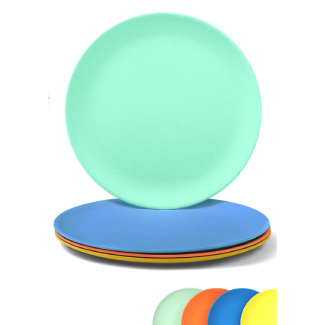 Why it's great: This company prides itself on providing a safe product that is non-toxic, BPA, Melamine, and PVC free, as well as being the only "Microwave Safe Bamboo Dinnerware on the Market." They are also eco-friendly: made of bamboo and cornstarch fibers. Plus, a portion of the proceeds from these are donated to environmental causes. The plates come in bright colors and are easy to stack and store.
Keep in mind: These plates do not have a rim or separated sections.
Good for: Older toddlers that still need durable dishes, but are ready for more "grown-up" plates.
---
(Most durable — $$)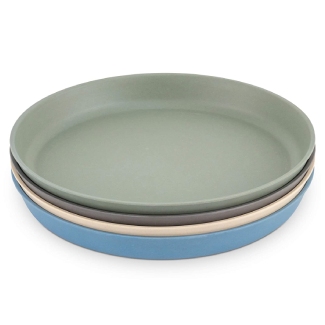 Why it's great: If you are looking for safe and eco-friendly, the Weesprout plates are a great pick! These bamboo plates are non-toxic, BPA, Phthalates, PVC, lead, cadmium, and mercury-free. The colors are pretty and the plates are touted to be durable and chip resistant. Customers who do experience chips can contact the manufacturer for replacements because of the lifetime warranty. The plates are stackable and dishwasher safe for easy storage and care.
Keep in mind: These plates are not microwave-safe and do not have dividers.
Good for: Eco-conscious parents looking for durable plates.
---
(Most stylish — $)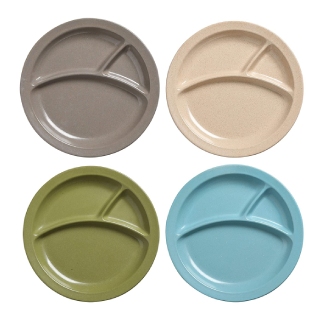 Why it's great: These beautiful and stylish plates are eco-friendly and dishwasher safe. Plus, they're BPA, PVC, and phthalates-free. They are durable, light-weight, and easy to stack and store. The three different sized sections make it easy to separate and portion your toddlers food. We especially love the stylish look of these plates. They also have matching cups and silverware that you can purchase!
Keep in mind: Microwaving the plates may cause accelerated wear and tear.
Good for: Everyday toddler meals and families looking for beautiful looking plates.
---
(Most unique — $$$)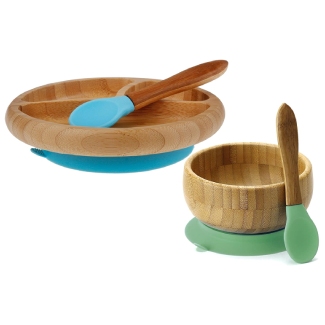 Why it's great: This set comes with a divided plate, a bowl, and two training spoons. The spoons help teach your child to feed themselves and are easy for babies and toddlers to grip. The silicone bases on the plate and bowl suction to the table and keep them in place, so you don't have to worry about them sliding or getting knocked off. The plate has three divided sections for easy portion control and both the bowl and plate are made of high quality bamboo for added durability.
Keep in mind: These are not dishwasher or microwave safe.
Good for: Toddlers that need plates and bowls that stay in place.
---
(Best recycled set — $)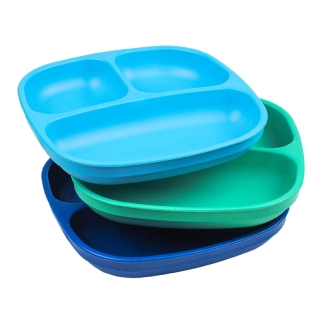 Why it's great: This family-owned and operated company makes plates in America out of recycled milk jugs, doing their part to help our environment. The recycled HDPE is BPA, Phthalate, PVC, and Melamine free, and the plates are 100% recyclable. They are also dishwasher, microwave, and freezer-safe. These plates are indestructible protecting them from falls and throws to the ground. The three deep divided sections will keep food separated and make it easier for little hands to scoop up food. Plates come in multiple colors and 25 different color combinations. We love the endless combinations!
Keep in mind: They may stain, especially with red sauces. Look for stain removal instructions. One smart parent suggested purchasing the red colored plate for pasta and pizza meals.
Good for: Toddlers who are rough with their plates and like food kept separated.
---
(Best deep wall — $)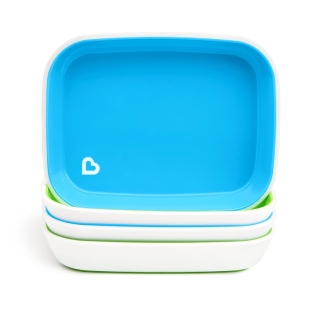 Why it's great: The walls of these plates are so deep it is almost like a bowl. We also love the no-slip bottom! LThese work perfectly for any meal and can also be used as a snack tray. They come in bright colors, stack well, and are dishwasher and microwave safe. Also, check out the Munchkin Splash set that includes a divided plate and bowls if you prefer those!
Keep in mind: With the deep walls, they will take up a bit of space in your kitchen cabinets.
Good for: The deep walls make them great for meals on the road. We recommend them for picnics, road trips, and other travel.
---
(Most portable — $$)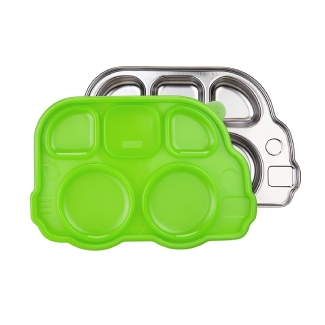 Why it's great: This plate has 5 divided sections for fussier toddlers who like all their foods separated. It also makes it much easier to use portion control for snacks and treats. Not only is this plate made of high quality stainless steel, it's also nontoxic, BPA free, Phthalate free, PVC free and lead free! Plus, it comes in an adorable bus shape and comes with a lid to keep your food safe on the go. It's perfect for picnics, play dates, or preschool. You can also purchase matching cups and bowls!
Keep in mind: This is dishwasher safe, but it's recommended that you hand wash the lid for longevity.
Good for: Toddlers that need to take their food on the go.
---
(Best budget option — $)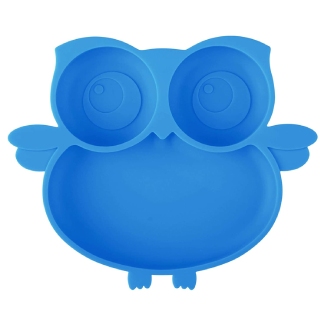 Why it's great: This adorable owl plate has many great features. The strong suction on the bottom keeps it in place on your table, high chair, or when out to eat. There are three divided spaces that are all fairly deep, making it perfect for the foods your toddler loves like yogurt, dipping sauces, and snacks. The deep rims also make it easier for little hands to scoop up food. Made of 100% food-grade silicone, it is lead, phthalate, PVC, and BPA free, as well as dishwasher, microwave, and oven safe. They can even be used in the freezer for food storage.
Keep in mind: The suction can be difficult to use on certain surfaces, but there are some tips provided by the manufacturer that help.
Good for: Young toddlers who like to throw their plates or easily knock them over, as well as kiddos who prefer foods to be separated.
---
(Best portion control — $)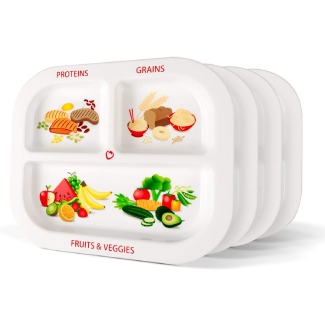 Why it's great: Not only do these plates have 3 divided sections, they are labeled and sized for the perfect portions of each type of food. This will help keep your toddler healthy and teach them about the different types of food. These are made of sturdy plastic and are free from BPA, phthalates, PVC, and melamine. They're also dishwasher and microwave safe. They even have plates correctly portioned for adults if you want to try them out yourself!
Keep in mind: This comes in a set of 4 or a single plate, so make sure you've chosen the right amount that you want.
Good for: Parents that want to teach their toddlers about healthy foods and correct portions.
---
(Most adorable — $$)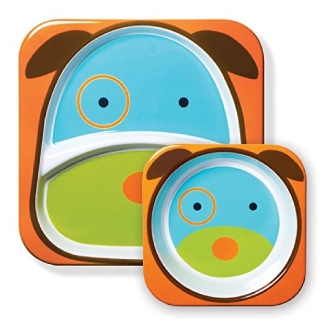 Why it's great: This comes with a divided plate and bowl in a cute animal design. You can choose from an adorable dog, butterfly, or fox. They both have deep walls, making it easier for your child to learn to scoop up their food. These are made of durable melamine and are completely safe and non-toxic. They're also top rack dishwasher safe for easy cleaning. Skip Hop is a great brand and makes all kinds of adorable baby items, so you'll be able to find plenty of items to match!
Keep in mind: These are not microwavable and the plate is only divided into two, rather large sections.
Good for: Toddlers that love animals and like themed plates.
---
(Most educational — $)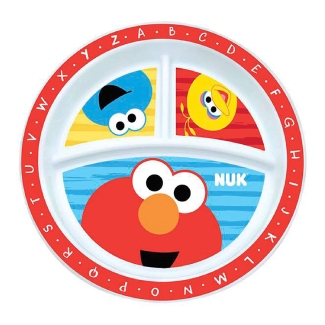 Why it's great: If you have an Elmo loving toddler, this plate will make mealtime lots of fun! It has three divided sections to easily keep food separated. Plus, it has deep walls for easy scooping of food. The letters on the rim of the plate make it great for learning as well. It is BPA free and dishwasher safe. At less than eight inches in diameter, these are smaller plates and good for younger toddlers and to use for meals or snacks.
Keep in mind: It only comes with a single plate, so you will need to order more to make a set.
Good for: Toddlers that love Sesame Street and learning their letters.
---
FAQs about toddler plates
---
1. Why research the best plates?
Your toddler spends a lot of time eating and what they eat on is important. Keeping their food from touching dishes with toxins and harmful chemicals helps them stay safe and healthy. Feeding a toddler presents many challenges and durable, well-designed plates can help avoid broken dishes and encourage healthy eating habits.
---
2. What ages will these plates be good for?
Toddlers who are just beginning to feed themselves will benefit most from plates with deep walls and dividers. As they get older you can move to flatter plates without dividers. Children who are sensitive about different foods touching each other can continue to benefit from divider plates.
---
3. What features should I consider?
How will you clean and use the plate? Do you need it to be dishwasher and microwave safe? Would it be helpful to have plates that can go in the oven or freezer?
How important is it to have a plate that stays put on the table or high chair? Consider plates with suction or no-slip bottoms.
Are you looking for plates with dividers? We recommend having some of each. Plates with dividers are helpful for picky eaters and keeping foods from mixing. Sandwiches, slices of pizza, and larger items typically fit better on flat plates without dividers.
Do you want plates that match your decor or in your child's favorite colors?
Do you need plates for snack time, meals, or both?
---
4. Safety
Look to see if plates are BPA, Phthalate, PVC, and Melamine free. Also, search for reviews about plates that easily break or crack. Is the company responsive about replacing plates that are damaged?
---
5. How can I make mealtime more enjoyable?
Creating an enjoyable mealtime with a toddler takes a lot of patience as well as trial and error! Toddlers often prefer to snack on a variety of food rather than eating large meals. Encourage them to try lots of different food types, textures, and colors. Select foods that they can eat with their hands or are easy to scoop up with a spoon or fork. Avoid forcing your child to eat foods they do not like or to finish foods if they are not hungry. Instead, encourage them to try at least a bite. Did you know that it sometimes takes trying something Provide choices and when possible let them select what to eat? Involving them in growing, preparing, and cooking food is a great way to encourage healthy eating. Create routines that help make mealtime predictable. This may include eating around the same time each night, having them help set the table, saying a prayer, giving thanks, or asking them to bring their plate to the sink. Model and even exaggerate how much you love eating healthy foods. Most importantly make mealtime a fun and bonding experience by eating with your child, having conversations, and engaging with them.
---
Conclusion
---
Selecting a set of safe, durable, and toddler-friendly plates can be a useful tool in making mealtime a cleaner and more enjoyable experience. Your child will look forward to mealtime on their favorite new plate! When you are all set up with plates that you and your little one love, you can focus on spending time with your child, introducing them to new healthy food choices, and having fun mealtime conversations.
You may also like our other reviews…
Skateboards | Motorcycles | Purses | Train Sets | Ball Pits | Laptops | Gyms | Booster Seats for Tables | Baby Dolls That Look Real | Art Supplies | Drawing Boards & Tables | Alarm Clocks | Indoor Playgrounds | Board Games | Music toys | Activity tables | Tricycles | Backpacks | Step stools | Slides | Climbing toys | Puzzles | Wagons | Scooters | Lunch boxes | Block sets | Racing tracks | Bikes | Guitars | Busy boards | Drum sets | Tool sets | Pianos | Pillows | Cameras | Headphones | Remote control cars | Swings | Golf clubs | Push cars |