As all parents learn over time, the only cure for a rambunctious toddler is to get outside in the fresh air. There is something about being out in the open that helps little ones better regulate their emotions and burn off excess energy. However, the weather isn't always in parents' favor. Luckily, there are numerous options of toddler rain jackets that will allow you and your children to spend time outdoors, rain of shine. From cute cartoon characters to bright, fun prints, your little ones will be eager to wear jackets that cater to their particular interests. Designed for various types of inclement weather, opt for a raincoat with a fleece lining if in colder climates, or a more breathable jacket if you anticipate being caught in a summer shower or two.
Toddler raincoats are built to protect even the most exuberant of little ones from both rain and mud. Many jackets include oversized hoods to protect your toddlers' hair and faces, and come in various lengths to cover shirts and bottoms. In super rainy locations, a full-body rain suit might be your best option to fully protect your child from the elements. A toddler raincoat allows your little one to safely spend time outdoors while letting parents breathe easy that their washer and dryer won't be put to the test of various mud stains. These toddler raincoat options work for little ones of all sizes and promise to not let a little rain stop you and your family from a fun outing.

Best Toddler Raincoats
---
(Best boy option — $$)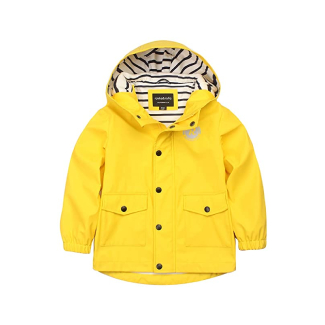 Why it's great: With a lightweight softshell textile that is waterproof and windproof, the Rokka&Rolla Waterproof and Hooded Lined Raincoat is designed for wet, cold climates. An adjustable hood and strategically placed ventilation makes this toddler rain coat both functional and comfortable.
Keep in mind: The reflective detailing on the back is larger than some users expected.
Good for: Parents looking for a toddler raincoat targeting boys.
---
(Best girl option — $)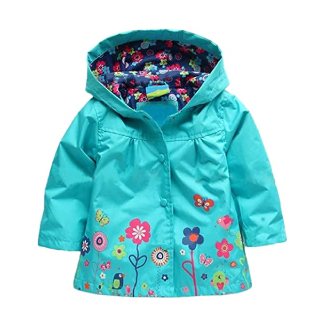 Why it's great: The sweet, floral interior compliments the bright, waterproof exterior of the Arshiner Girl Waterproof Hooded Raincoat. Made from high quality cotton and polyester, the raincoat is lightweight and easy to pack and carry on unpredictable weather days.
Keep in mind: The raincoat runs big in terms of sleeve length, so be sure to order accordingly depending on your child's dimensions.
Good for: Parents looking for a toddler raincoat targeting girls.
---
(Best budget option — $)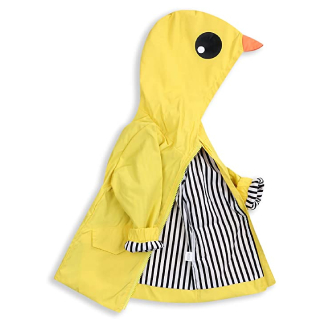 Why it's great: The fun cartoon character details of the YOUNGER TREE Toddler Cartoon Raincoat are sure to have you toddler eager to sport this adorable, lightweight raincoat. Totally machine-washable, this jacket has a soft inner lining and a waterproof exterior that keeps children dry.
Keep in mind: This raincoat is on the thinner side and therefore ideal for warmer, wet climates rather than chilly regions.
Good for: Parents looking for a raincoat while on a budget.
---
(Best for all seasons — $$)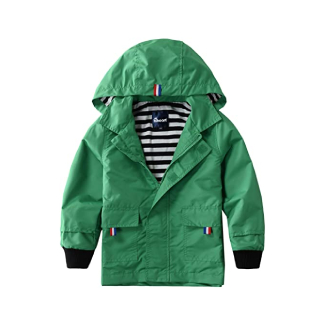 Why it's great: With both zipper and velcro closures, the Hiheart Waterproof Hooded & Cotton Lined Raincoat offers full-coverage protection. The water-resistant and breathable fabric is created for inclement weather during any season.
Keep in mind: The raincoat runs large, so be sure to follow the sizing guide to determine which fit is best for your toddler.
Good for: Families living in regions with all four seasons and need a raincoat year round.
---
(Best full body coat style — $)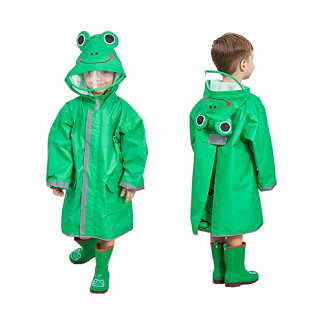 Why it's great: Eco-friendly and made with a high density fabric, the toddler raincoat offers complete coverage with an oversized hood and length that falls at the knees. The zipper and buttons double closure keep clothes dry, and the reflective details ensure your little one can be seen on dreary days.
Keep in mind: The oversized fit of this raincoat allows most children to also wear a backpack underneath the jacket to keep dry. Keep this in mind if looking for a more fitted style.
Good for: Parents looking for full-body protection from the elements.
---
(Highest quality — $$$)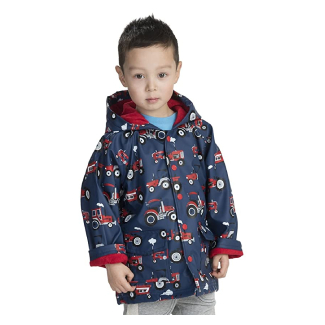 Why it's great: With an exterior shell made from 100% polyurethane, the Hatley Boys' Printed Raincoat is waterproof and PVC-free. The snap closures are easy for little fingers to work independently, and the sweet prints will leave your toddler wanting to wear this raincoat every day.
Keep in mind: The longer sleeves provide ample coverage, but may need to be rolled up for children with a shorter arm length.
Good for: Parents looking to invest in a raincoat that is sure to stand the test of time.
---
(Best overall protection — $$)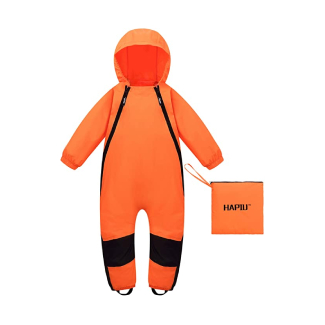 Why it's great: This breathable and completely waterproof rain suit provides the most protection against rain and mud. The reinforced nylon knees and seat areas as well as sealed seams keep clothes clean and dry. Plus, the dual front zipper makes it easy to slip the rainsuit on and off.
Keep in mind: The rainsuit is very large to fit comfortably over clothes or another jacket for warmth.
Good for: Parents looking to keep their toddlers' clothes clean and dry in extra wet and muddy conditions.
FAQs about Toddler Raincoats
---
1. What should I look for in a rain jacket?
When looking to purchase a rain jacket, take note of the type of climate you most likely will be using the rain oat. If you live in a colder region, choose a toddler raincoat that includes a warm lining, such as fleece. If in a warmer area, a raincoat with breathable layers and ventilation is key. You'll also want to check the care instructions of the raincoat of your choosing, such as if you prefer hand washing or machine-washable.
---
2. What style rain jacket should I get for my toddler?
The style raincoat you choose for your toddler is dependent on what activities they participate in. If you're looking for a raincoat for the casual outing or walk, an oversized jacket with ample coverage may be best. If your child is always on the go, a more athletic, fitted type of jacket may be best to protect them from rain while not inhibiting their movement.
---
3. How do I care for a toddler raincoat?
Be sure to check the particular brand of raincoat for explicit care instruction as some washers and dryers may impact the weather proofing of certain materials. Many raincoats can be spot-treated with a microfiber cloth. Others are best cleaned in the washer and either hung to dry or put in the dryer.
---
4. Which size rain coat should I get for my toddler?
Depending on which brand of rain coat you choose for your little one, use their particular sizing chart to measure your child. This will allow you to get the best fit for your toddler, ensuring that the raincoat is both comfortable and functional. If in between sizes, opt for the larger size to ensure the raincoat will fit over sweaters or sweatshirts if the weather is wet and cold.
---
5. Why should I purchase a toddler raincoat in addition to a winter coat?
Although you may already own a winter coat for your little one, a toddler raincoat is an essential item for all seasons. A water-resistant coat allows your child to comfortably spend time outdoors in wet weather both in summer, winter, and the time between. Designed with key ventilation and layering, a raincoat is far more comfortable in many circumstances than a bulky winter coat, which is designed for snowy conditions rather than rain. A toddler raincoat in addition to a winter coat are both important items needed in your child's closet.
---
Conclusion
A toddler rain coat so the best way to ensure your little one can get outside in nearly every type of weather condition. Spending time outdoors, whether in rain or sunshine, is proven to positively impact kids and adults overall well-being. Even if the weather where you live is unfavorable, a toddler rain coat allows your child to experience the elements safely and comfortably. Knowing your children's bodies and clothing are protected from rain and puddles, parents can spend more time focusing on enjoying quality time with their kids. This selection of toddler rain coats are tailored to the myriad of interests and styles for individual kids, guaranteeing your toddler will look forward to sporting his or her new weather gear.