Updated on by Lyric Fergusson
Safety Harnesses for toddlers are useful in many situations, particularly when traveling with young children. Parents with multiples, children with special needs or larger families may find comfort in having a harness for their toddlers in order to keep them nearby and safe. When traveling to dangerous locations like the Grand Canyon that has no safety guards, a harness can truly be a life saver. They can also be helpful in ensuring your child doesn't get lost in crowded airports, train stations, amusement parks or cities. There are many harness options available to suit your needs.

The Best Toddler Safety Harnesses
---
(Best budget option — $)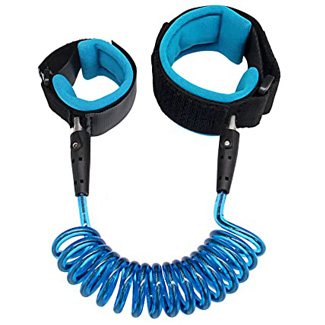 Why it's great: This tether attaches wrist to wrist allowing parents and their children to walk side by side. It is both durable and soft for comfort. The coil prevents the tether from getting knotted or wrapped around you or your child. Helpful for children who do not like to hold your hand when crossing the street or in busy places.
Keep in mind: Your child will need to be able to walk solidly on their own.
Good for: Older toddlers who are sturdy on their feet.
---
(Most fun — $$)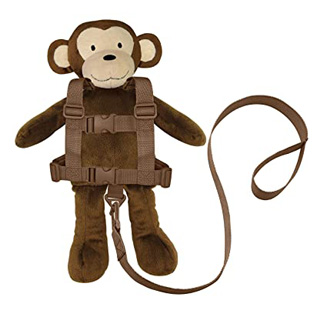 Why it's great: Your child will love carrying their new monkey friend on their back. Plus, this harness is also a small backpack. The backpack opens and closes with velcro making it easy for your toddler to access. The safety tether detaches easily so your little one can travel with their monkey backpack with or without the leash attachment. Machine washable. Check out the Lion as well!
Keep in mind: The pocket in the animal is small so it will not be sufficient as a backpack to store anything substantial. The strap is on the bottom of the animal and pulling too hard may cause your child to tip forward and fall.
Good for: Animal and stuffy loving little ones. Best for shorter outings.
---
(Adorable — $)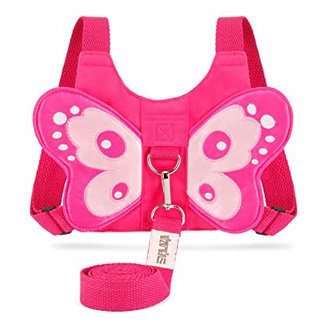 Why it's great: This adorable butterfly will bring lots of positive comments and your little one will feel like they are playing dress-up. It is made with heavy-duty clips and D-rings, making it safer and more reliable. The cotton/polyester fabric makes the shoulder and chest straps comfortable. The tether attaches to the center of the back making it safer for your child. We love that it is small enough that you can remove the tether and the harness can stay on your child while they are in their stroller or car seat offering easy transitions from location to location.
Keep in mind: Not recommended for washing machine care. May cause chaffing on bare skin.
Good for: Toddlers who love to wear pretty costumes.
---
(Best backpack — $$)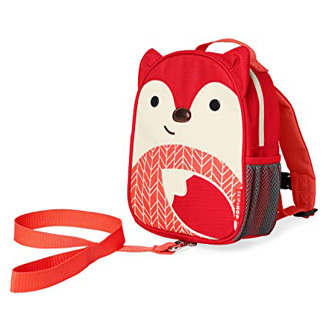 Why it's great: This harness comes in ten adorable patterns including unicorn, owl and bumblebee. The backpack is large enough for a few diaper supplies, snacks, or a couple of toys. The tether is removable turning it into a regular backpack for everyday use. Perfect for outings as well as bringing personal items back and forth from child care or preschool. It has a chest buckle to ensure the backpack will stay on and also comes with a wrist strap as an alternative for keeping your child close and safe.
Keep in mind: The tether attaches at the bottom of the backpack and may cause your child to tip forward and fall if they pull too hard.
Good for: Multi-purpose backpack and parents wanting to try both harness and wrist tethers.
---
(Best hands free) — $$)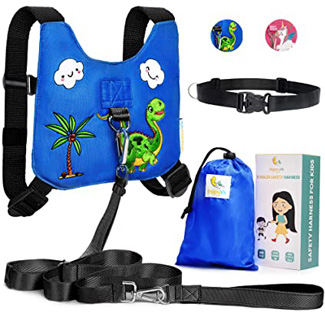 Why it's great: This harness is worn over the shoulders like a backpack that is adjustable, breathable and light-weight. It has a locking buckle so it cannot be easily removed. Available in cute dinosaur or unicorn patterns, the leash is removable. It also comes with a drawstring bag for storage. The best feature of this harness is the waistband for the parent so you can be hands-free while keeping your child safe and close by. The newly designed version has the leash attached to the middle of the harness so you are less likely to topple your child over if they pull too hard.
Keep in mind: There is no backpack with this harness.
Good for: Young toddlers with parents who want to have hands available for carrying items or helping other children.
---
(Best for nighttime — $$)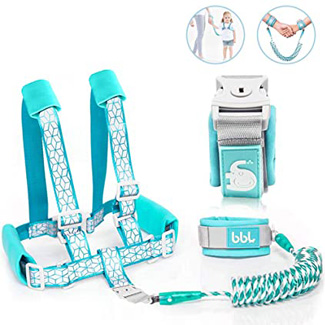 Why it's great: This pretty harness is breathable, has adjustable straps and several great safety features. Your child can move safely without fear of tripping because of the 360°revolving head. It also has a security lock making it difficult for young children to undo themselves. We love the reflective strips that are ideal for nighttime walks, evenings out at amusement parks, or fireworks shows. It also comes the option for a wrist to wrist tether.
Keep in mind: It needs to be washed by hand. It looks like a harness so your toddler may not find it as fun to wear as some of the other designs.
Good for: Parents who have safety concerns top of their list.
---
(Best for multiple uses — $$)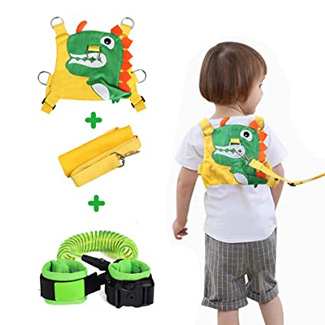 Why it's great: This harness has four different ways it can be used. The two loops on the top can be used to help your beginning walkers stay steady with less strain on your back! The center loop placed for safety can have the leash or coil tether attached. The coil has a wristband for the parent to wear. It also has a wrist to wrist attachment. Other safety features include a locking system. Comes in a cute dinosaur or lion pattern.
Keep in mind: This product does not have a lot of reviews which we prefer but there were too many great features to not include it on our list.
Good for: Young children learning how to walk and parents that want to try out different harness options.
---
FAQs about toddler safety harnesses
---
1. Why should I think about buying a harness?
Harnesses provide safety and boundaries for your newly walking child as they learn how to navigate their world. They are helpful if you live in a busy city where daily walks around the neighborhood present dangerous situations. They are also useful when traveling to new places especially in crowded airports, amusement parks, and cities. Parents with multiples, several children, children with special needs, health issues including being pregnant or special needs of their own may find that a harness helps keep their toddler safe while they juggle taking care of competing needs. If you worry about your toddler running into danger or getting lost, a harness may be a good solution.
---
2. What ages are harnesses good for?
Harnesses are typically not designed for helping your toddler learn how to walk. They should be walking on their own and that is usually when they are most useful. Young children who have just gained the skills of walking and then running on their own often do not want to be restrained from this newfound freedom. They also may be too young to understand how dangerous the world is around them or know to avoid hazards such as busy streets and edges of cliffs. They are spontaneous and can be easily distracted putting them at risk of running or being left behind. Constant vigilance is required at this age and can be exhausting especially when you have competing needs or are traveling to new, unfamiliar destinations. As your child increases their skills and ability to stay close by and listen, you can decrease how often, what occasions, and how long the harness is worn.
Children with special needs may take longer to learn the skills needed to walk safely in different environments and harnesses may be helpful for longer periods of time.
---
3. What features should I consider?
There are several factors to consider when selecting a harness. To begin with, think about how your child may react to the harness. Many find the trade-off of having a bit more freedom than handholding to be worth wearing the harness. Others may be more open to the idea of the harness that doubles as a backpack, is a furry animal on their back, or looks like a cute accessory.
If you believe your child will struggle to get out of the harness, look for ones that have buckles and even safety locks. Would you like the harness to be a backpack as well? Do you need it to have reflective strips for frequent nighttime use?
The good news is that the harnesses on this list are not very expensive so you can try a couple of options out and see what is the best fit for your child. It may be that some work better for short outings and others are better for long vacations.
---
4. How should I introduce my child to wearing a harness?
It can be helpful to have your child participate in selecting the harness. Limit the choices to two or three you think will work well for you and your child and then have them pick their favorite. Let your child open the package and try on the harness in your home. Explain the situations where the harness will be used. Avoid talking about the scary things that can happen and instead explain that they will be able to walk around without holding your hand while staying close by and safe. Ensure that the harness isn't too tight and is comfortable to wear.
---
5. Safety
Keep in mind that harnesses are intended to make keeping your child safe easier but that toddlers still need constant supervision. Harnesses, when not monitored or used improperly, can get tied around a child's neck or cause them to fall. They do not guarantee that a child won't step into a busy road or have access to other dangers. Harnesses with the connection at the bottom tend to tip children over if they pull too hard so you will need to be extra careful, stay close to your child, and warn them about the dangers of pulling hard.
6. Are harnesses a long-term solution?
In general, no. Harnesses can be thought of like training wheels on a bike. There are many skills a child needs to learn to safely navigate the world. As they are learning to walk, harnesses can be used to teach children to stay close to their adult. Traditionally, children are asked to hold hands with their adult. While some children are okay with this option, many feel too restrained and children with sensitivity or autism may have an especially difficult time with hand-holding. Harnesses keep your child close but with some additional freedom and independence. As your child learns where it is safe to walk, as well as how to listen and follow instructions consistently the harness can be used less often and in fewer situations until it isn't needed anymore.
Conclusion
---
Harnesses are a useful purchase to help keep your toddler safe as they are learning how to walk safely in a world that presents many dangers. Look for a harness that you think your child will enjoy wearing and that have the safety and wearing options you are looking for. Remember to provide supervision at all times when your child is in their harness.
You may also like our other reviews…
Skateboards | Motorcycles | Purses | Train Sets | Ball Pits | Laptops | Gyms | Booster Seats for Tables | Baby Dolls That Look Real | Art Supplies | Drawing Boards & Tables | Alarm Clocks | Indoor Playgrounds | Board Games | Music toys | Activity tables | Tricycles | Backpacks | Step stools | Slides | Climbing toys | Puzzles | Wagons | Scooters | Lunch boxes | Block sets | Racing tracks | Bikes | Guitars | Busy boards | Drum sets | Tool sets | Pianos | Pillows | Cameras | Headphones | Remote control cars | Swings | Golf clubs | Push cars |