Updated on by Lyric Fergusson
When looking for tools to help teach your toddler your toddler, scissors may be the last thing you want to equip them with. Thoughts from a horror movie flash through your mind involving your toddler, your furniture, and a large pair of scissors. We get it completely. But, let them cut. Let them learn to explore essential tools they will use for the rest of their life. Giving them a little bit of freedom to learn how to cut safely is very beneficial for them…even at an early age!
That said, we don't recommend using just any pair of scissors. Finding the right fit for your toddler will help them to thrive at home or at school without any fear for mom and dad. Here are our 11 best recommendations for scissors for toddlers.

Best Toddler Scissors for Learning
---
(Best value — $$)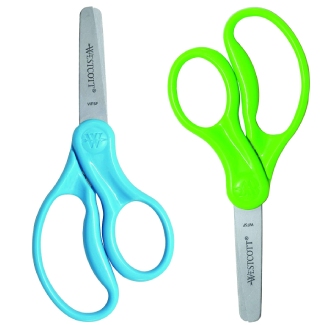 Why it's great: When it comes to brands you can trust, Westcott is one we highly recommend! With over 150 years of producing safe and reliable products, these scissors do not disappoint. These blunt scissors for kids were built specifically for little hands who love to be creative. Whether your child needs scissors for crafts or their days at pre-school, they are comfortable and easy to control for small hands. The package comes with two pairs which simply can't be beaten for the price! This bargain deal is a wonderful way to encourage brain development, safety while cutting, and loads of productive fun!
Keep in mind: The asymmetrical handles allow for either left or right-handed use however, parents have mentioned that there seems to be a slight design preference for right-handed users. If you have a left-handed child, these can still very much be a good option! But, just keep in mind that each child is unique and little hands will vary.
Good for: Parents that want quality, safe scissors at a great price.
---
(Best for beginners — $$)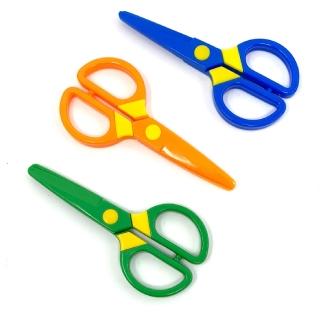 Why it's great: Allow your child's fine motor skills to thrive all while encouraging creativity with these safety scissors! Coming in a pack of three, these scissors feature a round edge and plastic blade which makes them a fantastic option for kids who are just starting to learn how to cut. We want to make sure that those precious fingers are protected while they learn!
They are also created with a durable plastic that is non-toxic and environmentally friendly. You can allow your child to begin using these scissors at an early age, which helps develop fine motor skills all while encouraging creativity. These scissors cut paper easily, but they will not cut hair, clothing, or skin, which is lovely news to every parent out there!
Keep in mind: Although safe and reliable, these scissors are recommended for children ages three and older.
Some parents have mentioned that since there is no metal blade, cutting with them takes a little bit of practice to get the hang of. We think practicing with a plastic edge is a very safe place to start!
Good for: Toddlers just learning to use scissors.
---
(Most educational — $$)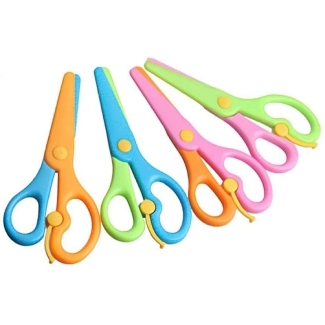 Why it's great: If teaching your child the correct way to use scissors is your goal, then this is a great option. The LovesTown Preschool Training Scissors feature a training lever that opens the blade after each cut. As your toddler cuts and creates, they will safely learn how to open and close the scissors. How neat is that?
Each pair features two different colors making them fun and enjoyable to use. They also have a plastic blade and are very safe for small fingers. They are ideal if you have multiple kids or want to make sure to have a few pairs on hand, as they come in a pack of four. These scissors make cutting easy and educational, which is a win in our book!
Keep in mind: These scissors will help your child with the technique of cutting different types of paper. Make sure to remember that it might appear to be challenging for some children at the beginning of the learning process. These scissors would also be great for cutting Play-Doh if your toddler is new to using scissors. Cutting Play-Doh is fun and can help build confidence in your child before they move on to different materials.
Good for: Toddlers that are learning to use scissors in different ways.
---
(Easiest to use — $)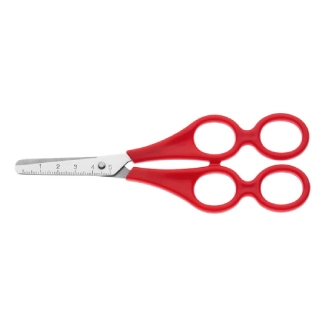 Why it's great: These scissors are great training scissors for toddlers just learning how to cut. The extra holes allow your child to get a better grip and have more control over the scissors. This makes it a lot easier for little hands to maneuver and make the cuts they desire. Plus, these scissors have a centimeter scale on them, which will help to teach your child about length. These can easily be used with either hand, so you don't have to worry if your toddler seems to be left handed. They open and close easily and help toddlers get the feel of cutting. Also, the blunt tip at the end makes these safe for small fingers.
Keep in mind: Once they really get the hand of the movements used to cut, your toddler may want to upgrade to a normal pair of scissors.
Good for: Toddlers that struggle with the normal thumb and finger holes.
---
(Most unique — $$$)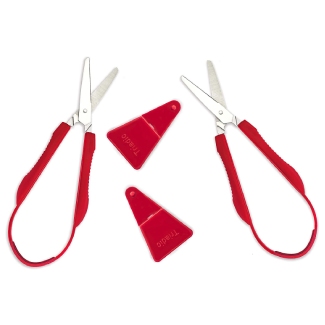 Why it's great: These scissors make cutting easier for any child, but especially for those that are struggling with their fine motor skills. Squeezing the two sides together will allow your child to cut, while also strengthening their grip and fingers. The blades are blunted at the end and they come with a protective cover that you can put on them when they're not in use. These scissors will help your child build their hand strength, while still teaching them the proper movements needed to use scissors.
Keep in mind: The safety guard can be difficult to get on and off and the blades themselves are sharp. It is recommended to supervise your child when they're using these scissors.
Good for: Toddlers that struggle with regular scissors.
---
(Most durable — $)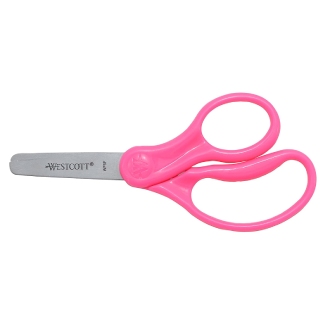 Why it's great: These Westcott Classic Kids Scissors are specifically designed for little hands. They are strong, durable, and feature a metal blade with a blunt edge. They cut easily through paper, fabric, and string, making this option an excellent one for all your crafting needs. This classic choice also carries a 5 year warranty which we think is a really great feature.
If you are looking for good quality at a great price, these scissors might be the way to go. Parents and teachers alike have agreed that they trust the Westcott brand to provide value, products that last, and simple designs for children. We're impressed!
Keep in mind: Although these scissors are available in assorted colors, the color cannot be specified when ordered. Additionally, it has been mentioned that this specific design has been known to be challenging for some left-handed cutters. Helpful advice that was listed in the reviews is to turn the scissors upside down when wanting to use them left-handed. With that little tip, they seem to work great from there!
Good for: Parents that want scissors that will last for years.
---
(Most recommended brand by teachers — $$)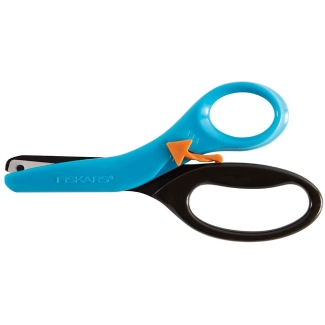 Why it's great: Training toddlers and teaching them essential skills is really important. It can also be stressful as a parent to know if your child is learning these skills correctly. Thankfully, there are options out there to help equip your child with confidence! These Fiskars Preschool Training Scissors have a special training lever that will help your child to open and close the scissors as they learn how to cut. Once they've mastered that skill, you can flip the lever up which allows for a traditional cutting action once your toddler is ready. These scissors go from training scissors to "big kid" scissors with one little flip of a switch!
Keep in mind: Some parents have mentioned that these scissors are a little bit stiff at the beginning. Once you get the hang of how they work and how the training lever functions, they are easy to use. But it might take a few minutes of patience and understanding how they operate before handing them straight over to eagerly awaiting hands.
Good for: Parents that want scissors that will grow with their children.
---
(Best safety features — $$$)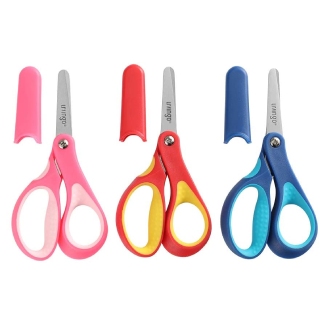 Why it's great: It's always important to teach safety when handling scissors. So why not go above and beyond? Not only are these scissors designed with safety blunt-tipped blades, but it also features a protective sheath as an added benefit. Whenever the scissors are not in use, the protective cover can be used to shield the blade and protect your child from accidentally cutting themselves. This can be a great way to safely teach your child how to walk with scissors, how to hand them to another person, and to put them away properly when done.
Other benefits to mention are that they are extra strong, durable, and feature anti-rust, wear-resistant blades. Many parents have mentioned that these scissors are also shipped with stickers! The stickers will make it fun for your child to decorate the protective sheath and the scissors themselves. Recommended for ages 4 years old and up, these scissors not only help get the job done, but also promote the safest use possible. Also, if you have multiple kids this is a great value as they come in a pack of three.
Keep in mind: These scissors have been known to have a little bit of a sharper blade than some of the others. The age recommendation for this model is 4 and up, so it's important to remember that parent supervision is recommended.
Good for: Parents that want scissors that are extra safe for their children.
---
(Most fun — $)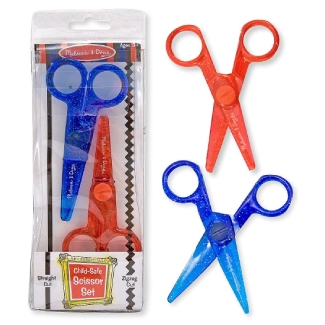 Why it's great: These scissors are the perfect size for small hands and were designed to be used with either hand. They're made of plastic, which means they're blunt enough that they won't cut hair or anything thicker than regular paper. They come in a two pack, but only one pair cuts in a straight line. The other set cuts a zigzag line, which is perfect for more creative toddlers that want to make their own fun designs.
Melissa & Doug is a well-known brand and makes both high-quality products and products that are educational. These scissors match both those as they're highly durable and teach children how to handle scissors.
Keep in mind: The zigzag scissors are a little harder to use and take some extra strength, so they may be better for slightly older toddlers.
Good for: Toddlers that want to make different designs with their scissors.
---
(Best budget friendly — $)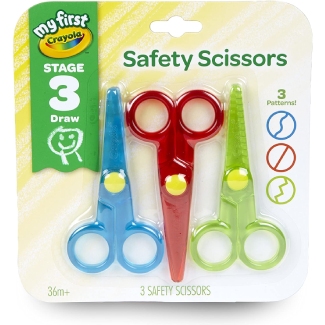 Why it's great: Crayola is known for making products that allow your children to be creative. These scissors do just that. It comes with three pairs that all cut different designs. There is one pair that cuts a straight line, but the other two cut zigzag or wavy lines. These are all made of plastic and perfect for young toddlers just learning how to cut. The scissors are blunt-edged and tipped, so they won't cut hair or skin, making them extra safe for your child. They're also very inexpensive since you get three pairs. These can even be used to cut Play-Doh.
Keep in mind: These are a little harder to use if your child is new to scissors. They'll need to be able to hold the paper still with one hand while using the scissors with the other hand.
Good for: Parents looking for the most affordable scissors.
---
(Best multi-purpose — $)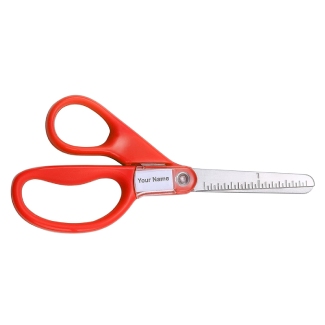 Why it's great: These scissors come in a variety of colors and have a spot for your child to put their name on them. Your toddler will love being able to personalize their very own set of scissors! They also have a small ruler on the side, so your toddler can measure what they're cutting. These are similar to adult scissors, but made to fit small fingers. They also have a rounded tip and angled blades to keep your child safe while using them. The blades are metal and will cut easily through paper, allowing your child to get the feel of cutting. Also, the handle has an ergonomic design, making it extra comfortable for your child to use these. Plus, they're very durable and built to last.
Keep in mind: The blades on these are a little sharper, which is why they're recommended for children 4 years and up.
Good for: Toddlers that want to be able to measure what they cut.
---
FAQ about Toddler Scissors
---
1. At what age should a child be able to use scissors?
Cutting skills can take time to develop and tend to vary depending on the child. While many parents are anxious about letting their children use scissors, children as young as two can begin to learn to cut! More commonly, children that are age three or four generally begin to work on the skills of cutting with scissors. Just remember, the skill usually isn't developed completely until around age six. Giving small children a lot of time, space, and patience to learn this necessary skill is important.
---
2. How should toddlers hold scissors?
It is a great idea to allow your toddler to explore holding the scissors in ways that are comfortable for them. Every small hand is created differently and unique needs may arise. With that said, the most common way to use scissors is to use the thumb, index, and middle fingers as the ones which should be opening and closing the scissors. Then, the ring and little fingers curl up on the side. Be patient with your toddler as they navigate this new endeavor. It can be frustrating to get the hang of it for them, so give them time to learn at their own pace.
---
3. How does cutting with scissors help a child's development?
Learning how to cut with scissors is excellent for developing fine motor skills. Cutting helps to build up tiny muscles in the hand, helps to enhance eye-hand coordination, and encourages your child to use bilateral coordination. Bilateral coordination is defined as using both sides of the body at the same time while each hand is performing its own task. For example, when a child is cutting shapes, they must cut with one hand and simultaneously hold and cut the shape with the other hand. Also, cutting skills are known to play an important part in handwriting skills that will come a little further on down the road. Who knew that there were so many amazing benefits from learning how to cut with scissors?
---
4. What are the important safety tips to teach children as they use scissors for the first time?
Safety when introducing scissors to your child is very important! You will want to ensure that the scissors fit your child's hand before they begin. Learning how to hold the scissors properly is essential. Also, teaching your child not to run with scissors and to pass them gently to another person with the handle out will help keep them and others safe.
---
5. What are some fun ideas that your child can use to practice proper scissor techniques?
It can be really beneficial to allow this learning process to be as fun as possible. Depending on the child, beginning with paper could prove to be frustrating. You know your child best! So if that is the case, there are many other places to start in your cutting journey. A few fun suggestions of different textures to cut are Play-doh, cookie dough, yarn, straws, foam, or even felt. Encouraging new growth in a fun environment can be helpful, especially for children who have a shorter attention span or who get frustrated easily.
In conclusion, leaping into the world of cutting with scissors can be a really fun and exciting time for your toddler! There is a whole world of craft time and learning that will open up for your child as they step into new levels of being creative with scissors. Proceeding with caution is always advised, however, you can also move forward with enthusiasm. Remember, learning how to cut with scissors is very beneficial for your toddler and will help them develop many life-long skills that they will carry for the rest of their life.
Conclusion
---
Learning how to carefully cut paper with scissors is an extremely empowering skill for a toddler. Even though it is a little dangerous, it is a skill that must be learned, and once mastered your little one will be so proud. Our son has become a master at cutting out shapes and his favorite Disney characters from coloring pages we print.
You may also like our other reviews…
Skateboards | Motorcycles | Purses | Train Sets | Ball Pits | Laptops | Gyms | Booster Seats for Tables | Baby Dolls That Look Real | Art Supplies | Drawing Boards & Tables | Alarm Clocks | Indoor Playgrounds | Board Games | Music toys | Activity tables | Tricycles | Backpacks | Step stools | Slides | Climbing toys | Puzzles | Wagons | Scooters | Lunch boxes | Block sets | Racing tracks | Bikes | Guitars | Busy boards | Drum sets | Tool sets | Pianos | Pillows | Cameras | Headphones | Remote control cars | Swings | Golf clubs | Push cars |