Updated on by Lyric Fergusson
If your toddlers are anything like mine, they love the great outdoors! We are always on the hunt for things to do outside because sunlight and fresh air always make for a great day and an even greater nights' sleep. We bought our toddler his first scooter after attending a birthday party (he was about 18 months old at the time) and seeing all of the kids ride them around outside. Not too long afterwards guess who was wanting one as well?! Little sis!
Best Toddler Scooters for All Ages
---
(Best safest option — $$)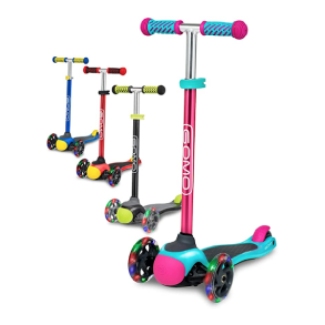 Why it's great: As kids begin to show an interest in learning how to use a scooter, safety is a big priority. You can help them start out right with the GOMO Kids Scooter. It has many great features and is one of the safest scooters for beginners. With three wheels, enough room to balance both feet, and 'lean to turn' steering, this scooter is an amazing option for toddlers who are eager to learn. It's light enough so smaller kids can movie it about easily. It will give them security and safety while they are learning what it takes to ride. One major benefit to this scooter is the easy to use foot brake. It can help smaller kids learn how to slow down without the pressure of touching the ground. Coming in four vibrant colors, this scooter is cool and will boost their confidence.
Keep in mind: The 'lean to turn' steering is a great feature to help children learn to balance and operate a scooter. But it's important to be made aware of this feature so you know what to expect when you pull it out of the box.
Good for: Ages 2 to 5 and up to 110 lbs.
---
(Best non-slip option — $$$)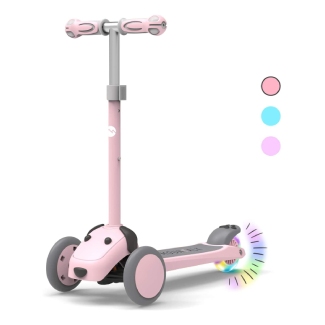 Why it's great: This cute scooter is an award winning toy that received the Hong Kong & Baby Product Award! This scooter features an anti-slip board, which helps our toddlers grip onto the board without their feet sliding off. Watch your toddler ride through the neighborhood as the back wheel lights up (without any batteries required) while they scoot along! This scooter is known for the smooth ride and soft handles for the child to hold on to, which can be helpful in creating a comfortable ride for those baby- soft hands!
Keep in mind: You have to lean to make the scooter turn which can be a bit hard for smaller toddlers to understand how to do. This may make the scooter a better fit for children a bit older and with more body strength.
Good for: Ages 2 to 8 with a height between 33″ to 58″ tall.
---
(Best long term option — $$)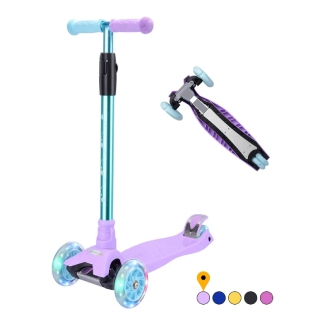 Why it's great: It's a great first scooter that is made to last over time. Created with a unique stainless steel base, it proves to be more durable and stronger as it's built to last. It has a wide deck which means that children can place both feet on it at any given time. This gives them the ability to take the time and space they need to learn balancing skills that are essential to development. The deck also comes with an anti-skid surface which will help your child with foot placement without the worry of slipping. Dual rear wheels help give enhanced security and it also comes with a quick stop brake providing safety for the long haul.
Keep in mind: When this scooter arrives, it comes 100% assembled. Some of the screws can be loose upon arrival. As an easy fix, we highly recommend taking a quick look at the scooter before allowing your child to ride it. With a small wrench, you can easily tighten up anything that needs to be tightened. Then they will be good to go!
Good for: Ages 2 to 14 weighing up to 154 lbs.
---
(Easiest steering option — $$)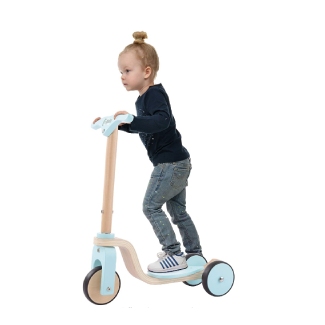 Why it's great: Learning how to steer a scooter is half the battle. When your child begins to learn how to navigate riding, steering can be a challenge. With the Lil' Rider Kids Wooden Scooter, steering is easy to accomplish with handlebars that you only have to push in the direction you'd like to go. Made of wooden construction, this beginner push scooter is comfortable for little hands and looks so cute too! This scooter is wonderful for helping your child to begin to learn how to balance, hand eye coordination, and is great for motor skills of all kinds. Your child will enjoy hours upon hours of outdoor fun with this adorable scooter that is created to last.
Keep in mind: When you order the scooter, it will arrive unassembled. Assembly is quick, easy, and effortless with no problems but it still takes a bit of thought.
Good for: Ages 2 and up, and kiddos up to 55 lbs.
---
(Most adjustable handlebar — $$$)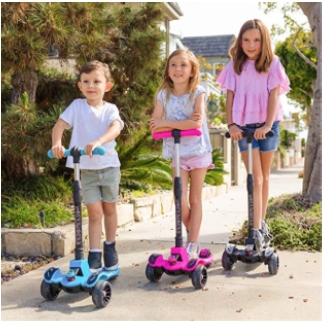 Why it's great: We understand how quickly kids grow in more ways than one. When you're looking to purchase a scooter, you might want to consider one that can grow with them for longevity purposes. The 6KU 'Lean To Steer' Scooter is not only fun and gives them the freedom to learn how to steer, but it is adjustable. The handlebars can be adjusted for children ages 3-8 and can be moved along as your child grows. It's equipped with LED wheels that light up when in use and it features a rear brake for all the safety comforts that come with learning how to ride. There is no assembly required so upon arrival it is ready for a good time right away!
Keep in mind: Learning how to adjust the handlebars can be a little bit of a learning curve. Reviewers have suggested to stick close to the instructions when trying to get them to the right height. It has been said though, that once you figure it out it is very simple to continue to adjust the handlebars going forward. Our tip is to make sure to read and understand the instructions to prevent frustration if you need the handlebars adjusted.
Good for: Ages 3+ and up to 110 lbs.
---
(Best For tiny tots — $$$)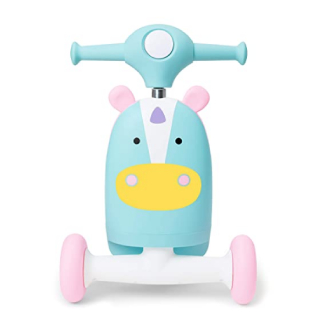 Why it's great: If you have a little one who is ready to explore what it means to be mobile, they will surely love this! The Unicorn Wagon Scooter is designed with tiny tots in mind and is equipped and ready for three stages of growth. The first stage allows brand new walkers to push and pull the unicorn along. This is great for balance, coordination, and learning how to walk. With the second stage, the wagon converts to a seat so your toddler can easily ride on the unicorn. This helps encourage a solid foot-to-floor motion and also provides a new element of fun for your child. In the third and final stage, the unicorn converts to a regular sized scooter as your toddler is ready to take his or her adventures outside! The handle is adjustable for comfort, plus it comes with a headlight, musical melodies and a cute design.
Keep in mind: This scooter has both a comfortable seated option for younger toddlers and a traditional scooter option once they feel comfortable balancing.
Good for: Tots ages 1 to 3 years of age.
---
(Best budget option — $)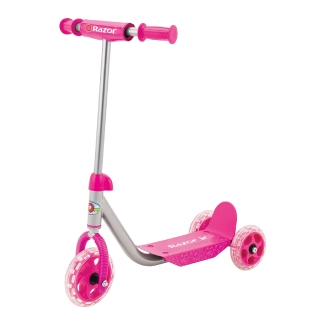 Why it's great: With a low profile and an extra-wide deck this one is great to begin with. It offers padded handlebars for comfortable steering. Parents say it is a smooth ride with it having larger wheels and have had children younger than three ride on it with no trouble as it is easy to steer and maintain balance with.
Keep in mind: Taller kids may have issues with their ankles being hit by the wheels so they will have to adjust their positioning accordingly in those cases.
Good for: Ages 3 and older-supports up to 45 lbs.
---
(Easy storage and repair — $$)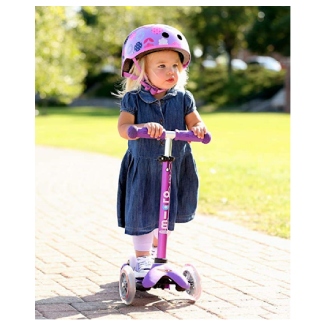 Why it's great: The Micro Kickboard comes with a 2-year manufacturer warranty and no assembly required. It folds up for easy storage when not in use. This scooter comes from the factory with replaceable parts in case anything were to break and all necessary tools to properly tighten any adjustments made. With many color options, this one is a great first stand up scooter as it offers a smooth, stable ride for toddlers who are learning to balance and ride, and is built to be a long lasting option.
Keep in mind: The handlebars can unlock if it is not in the highest setting which is something to keep an eye on if the scooter is being used by younger toddlers.
Good for: Ages 2-5 holding up to 75 pounds
---
(Most versatile — $$)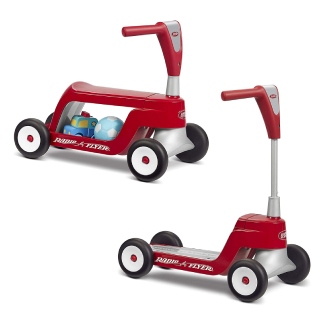 Why it's great: Radio flyer is a highly known brand for great quality and long lasting craftsmanship, this scooter is no different. This one is perfect for our younger toddlers to grow with. This one is for toddlers as young as one year old, while they can tote their toys or drink around under the seat with the storage area underneath. While offering a sit option it can be removed as they get ready for the next stage. When your child is ready to get rid of the seat it is easily converted and requires no tools.
Keep in mind: The handlebars are aligned with the front wheels so if the wheels hit something hard it can cause the scooter to tip forwards. You'll just want to supervise your child, in the beginning, to make sure they have learned how to ride safely.
Good for: Ages 1-4 years old weighing up to 44 lbs.
---
(Smoothest & quietest option — $$)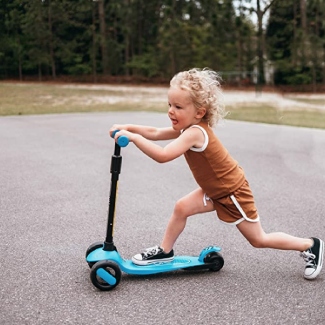 Why it's great: One thing that makes this adorable and fun scooter for kids unique is the wheels! The wheels are created to be durable and extra wide which helps the stability of the scooter as the child learns how to balance. It's easy to ride with it's lightweight design that allows for learning to turn to be simple and easy to navigate. The handlebar is adjustable and can be for children all the way up to 5 years old which makes this scooter a great option that will last. LED lights will flash on the wheels as they ride which makes this a really exciting option to use even as the sun goes down.
Keep in mind: This wonderful scooter features 'learn to steer' handlebars. So similar to a skateboard, you have to lean a little bit to get the scooter to move in the direction you want it to go. This feature is great for teaching kids how to balance in an easy, safe and reliable way. But it is a good thing to keep in mind upfront as you head to purchase it.
Good for: Ages 2 to 5 weighing up to 110 lbs.
---
(Most convenient — $$$)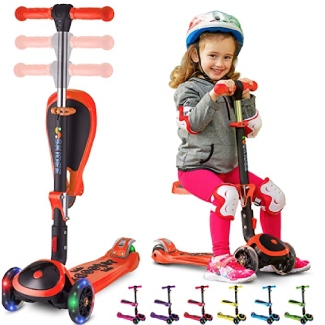 Why it's great: If you're looking for a versatile and convenient option, then this is it! The Skidee Folding Seat Scooter is designed with all scenarios in mind. It features a foldable seat that children can use to safely play, explore, rest and ride. As they grow, the seat can be folded up or removed completely to ensure maximum use. With the strong and sturdy design, this scooter will allow your child to play, learn how to balance, and is hassle free for mom and dad! The scooter folds up for ultimate convenience whenever you're out and about or if you need to put it away. It is easy to store, easy to carry and fun to ride. Win win!
Keep in mind: This scooter has both a seated option for younger toddlers and a traditional scooter option for older kiddos.
Good for: Ages 1 to 5 and up to 110 lbs.
FAQ's about Scooters
---
1. Can a two-year-old ride a scooter?
Absolutely! There are age-appropriate scooters that are good for two-year-olds.
---
2. How do you teach a toddler to ride a scooter?
Teaching a toddler to ride a scooter is no different than anything else, patience, time, and consistency and they will catch on! It's a great idea to walk alongside of, and even help hold the scooter up when a toddler is first learning. Not only does this keep them safe from hard falls (you'll be there to catch them), but it also instills confidence in them until they are strong enough and balanced enough to take full control!
---
3. Are three-wheel scooters safe?
Yes. Three-wheel scooters come pre-balanced which makes it a safer option for children, especially toddlers since they are just beginning to learn motion skills. More often than not, two-wheeled scooters require more balance and are easily flipped if the child hits an obstruction.
---
4. Will my toddler have to balance their scooter?
If it is a two-wheeled scooter, yes. All of the options listed above are 3-wheelers so it balances itself which is a great option for toddlers.
---
5. What is the difference in a 3 wheel scooter and a plasma car?
The plasma car and scooter are very similar in ways, such as they both have three wheels, ride smoothly, and have different age ranges. The age range for the plasma car is 3 years of age and older. The only downfall is the plasma car only features a sitting option so it is not able to transform like some of the scooter options we have listed.
Conclusion
---
Adding a scooter to your collection of outside toys for the summer is a great idea! One of the most encouraging things about 3 wheel scooters is that kids generally learn how to operate them at a younger age since they do not have to balance themselves. As for entertainment purposes, most scooters have wheels that light up, making the scooter a great conversation piece to the rest of the kids in your neighborhood. Parents, always remember to encourage safe scooter riding practice by having your child wear a helmet! Most, if not all of the manufacturers recommended safety equipment anyway.
You may also like our other reviews…
Sleds | Roller Skates | Baseball Gloves | Easels | Rock Climbing Walls | Boy's Snowsuits | Trampolines | Karaoke | Safety Harnesses | Workbenches | Beds | Toothbrushes | Rocking Horses | Scissors | Bath Tubs | Sandals | Paints | Plates | Coloring Books | Skateboards | Motorcycles | Purses | Train Sets | Ball Pits | Laptops | Gyms | Booster Seats for Tables | Baby Dolls That Look Real | Art Supplies | Drawing Boards & Tables | Alarm Clocks | Indoor Playgrounds | Board Games | Music toys | Activity tables | Tricycles | Backpacks | Step stools | Slides |