Updated on by Lyric Fergusson
Skateboarding might not be the first thing you think of when you're trying to figure out how to help your toddler expend energy, but with the right product, it's an excellent choice. Not only is skateboarding a ton of fun, but it also builds motor skills, improves coordination and balance, and teaches perseverance and patience.
Skateboarding has a bit of a learning curve, and at the toddler stages, it needs to be done with adult supervision and the necessary safety equipment. Make sure to also purchase a helmet, knee pads, wrist guards, and elbow pads to keep your little skater safe. Here are my picks for the best skateboards for toddlers in 2020.

Best Toddler Skateboards for All Ages
---
(Best value — $$)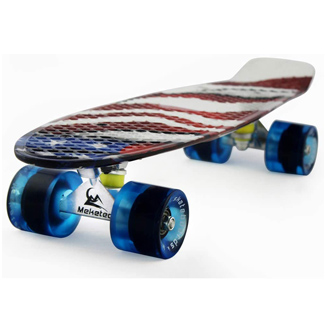 Why it's great: At just 22 inches long and six inches wide, the Meketec Skateboard is a perfect starter board for little feet. The CE certified board is made plastic, which makes it lightweight and easy to carry. The wheels are wider and softer than most wheels, allowing your little one to cruise smoothly. And with almost thirty colors and designs to choose from, you're sure to find one your toddler will love.
Keep in mind: While this skateboard is definitely designed for toddlers, the load capacity is 200lb, so it's a great pick for bigger or older toddlers who need a board that will grow with them.
Good for: Older toddlers who want to be just like the big kids.
---
(Best for beginners — $$)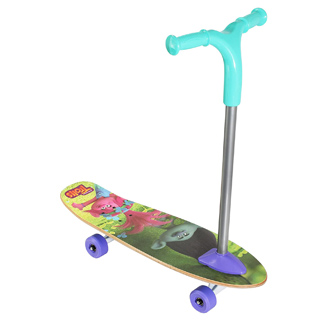 Why it's great: This skateboard is perfect for toddlers just learning how to balance and ride a skateboard. It has a handlebar and can be used as a scooter while your child gains confidence in their abilities. Then, as they get better, the handlebar comes off and it converts into a regular skateboard. Plus, this board comes with a cute, Trolls design, which your child will love.
Keep in mind: This one is made for children and only supports up to 110 pounds.
Good for: Beginning skateboarders that need some extra stability.
---
(Best set — $$$)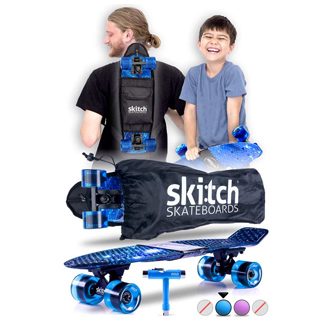 Why it's great: This is a complete beginners set that comes with the mini board, tool, tote bag, and a backpack. It's the perfect size for younger children just starting out, but it can also be used all the way up to adulthood. It even has speed caps, which make it a lot safer for toddler and children just learning how to ride a skateboard. It's small and lightweight and it comes in either blue or purple, which makes it great for boys or girls.
Keep in mind: This one is made for slightly older kids, starting at age 6, but it works great for toddlers too because of the speed caps. They may just need a little extra supervision when they start out.
Good for: Children looking for a great set to get them started on their skateboarding journey.
---
(Best for travel — $$)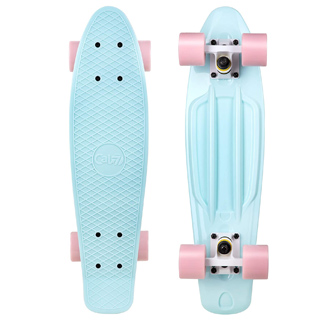 Why it's great: The Cal 7 Mini Cruiser is similar to the Meketec Skateboard, but with a more minimalist style. It's slightly bigger, at 22.5 inches long and 6 inches wide, but still small and light enough to be portable. The Cal 7 has a vintage penny board look to it, with bright pastel single-color deck designs and solid-color, soft cruiser wheels that minimize shock and ensure a smooth ride. The weight limit for the Cal 7 is 176 pounds, so your toddler should have plenty of room to grow with this option.
Keep in mind: Although technically this is a mini-board, reviewers range in age from toddlers to college students and adults, so if your toddler has an older sibling, this might be a great option for them to share!
Good for: Beginners of all ages.
---
(Most colorful — $$)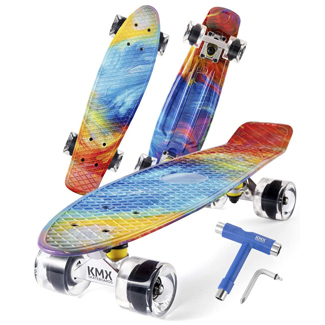 Why it's great: This skateboard comes in multiple, colorful designs, so your child is sure to find one that they love. It is small and lightweight, making it easy for a toddler to use. It comes with everything needed to get your child started and learning how to skateboard. It has large, soft wheels that make for a smooth ride, plus it's easy to turn and steer. It's made of high quality plastic that's strong and durable.
Keep in mind: This is smaller than a standard skateboard, but it can hold up to 220 pounds, which means your child could be using this for many years.
Good for: Kids who like bright, vibrant colors.
---
(Best for superhero lovers — $)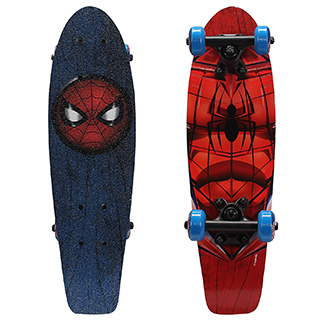 Why it's great: This skateboard is very similar to the PlayWheels Teenage Mutant Ninja Turtle skateboard, but designed for the superhero lover in your life. It is 21 inches long and supports 100 pounds of weight. The coolest thing about it, though, is definitely the design. Your toddler will feel like the coolest skater in town on the navy board that features Spidey's face on the top.
Keep in mind: Once again, this board is rated for ages 5-10, but it only supports up to 100 pounds, so it's a good option for younger toddlers with good coordination, as well.
Good for: Toddlers who love Spiderman!
---
(Best for cartoon lovers — $)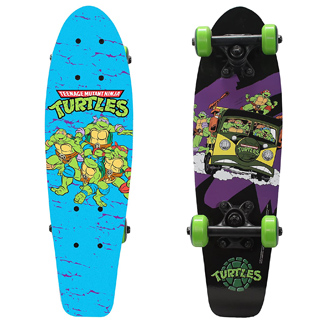 Why it's great: This classic skateboard features the skaters par excellence: Teenage Mutant Ninja Turtles, making it a great pick for kids whose parents have a bit of 90s nostalgia! The board is 21 inches long and 9 inches wide, with a grip surface to help with balance. The board is made of wood, and weighs just 2 pounds. And at just $20, the price can't be beat!
Keep in mind: Amazon rates this board for ages 5-10, but many reviewers report using it for their three- and four-year-olds.It's slightly longer and wider than the Meketec skateboard, so might be a better bet for ages five and up.
Good for: Teenage Mutant Ninja Turtle lovers of all ages!
---
(Best for cruising — $$)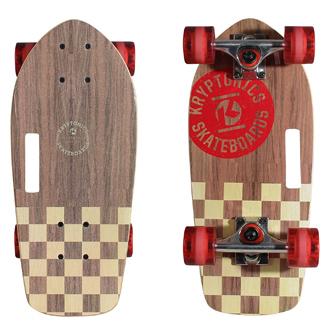 Why it's great: This board has a classic look, but the dimensions are different from any of the other boards on this list. At just 19 inches long and 8 inches wide, it's shorter and stubbier than a typical skateboard. This design allows for smooth cruising, making this a great option for kids who prefer riding fast to fancy tricks. The board is rated for up to 110 pounds, and has a convenient carry handle for easy portability.
Keep in mind: If your child is more advanced and looking for a skateboard to transition into tricks, this one probably isn't the best bet. But it's a great option for cruising around the neighborhood on family walks!
Good for: Speed demons who want a fast ride!
---
(Best for experienced skateboarders — $$)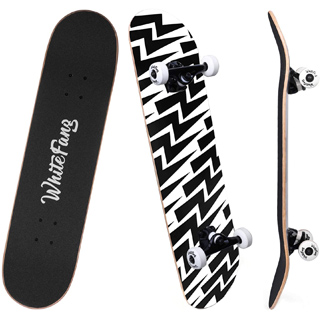 Why it's great: The WhiteFang Complete Beginners Skateboard is a high-quality board that will last well into childhood. The board is made of a 7-layer maple wood deck, with a maximum weight of 330 pounds. The durability and quality of this board make it a great pick for kids who have mastered skateboarding basics and are ready to move on to intermediate and advanced skills. With proper care, it will last into the teenage years.
Keep in mind: This is not a starter toddler skateboard. It's much heavier than the other options on this list and might be frustrating for the youngest of skaters. However, for older toddlers who are ready to transition from a mini-board to the real thing, this is a great option.
Good for: Older, more experienced toddlers who are serious about skateboarding.
---
(Best for night riding — $$$)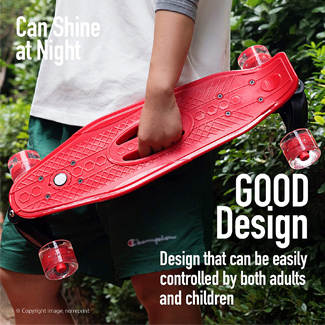 Why it's great: This is another smaller skateboard that's perfect for beginners just learning to ride. The plastic deck is strong, but still lightweight and has a nice handhold built in. The wheels are designed to handle all different road types and still provide a smooth ride for you child. The textured top of the board gives your child a more stable footing, so you don't need to worry about their foot slipping off. Also, the best thing about this board is that the wheels light up and flash as your child is riding. This makes them more visible at night, which means your child can ride this board any time they want.
Keep in mind: The board itself does not light up, only the wheels flash.
Good for: Children and adults of all ages that like to skateboard in dim lighting.
---
(Best for girls — $$)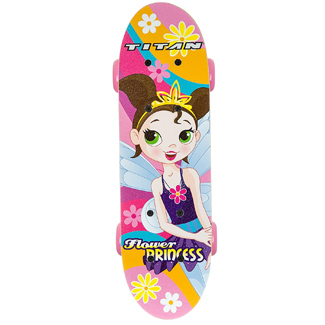 Why it's great: This skateboard has an adorable princess design that will make your little girl feel more comfortable and at home while riding. It comes in a couple different designs, so your child can pick the one they prefer. It's also available in 17" or 24", which allows you to choose the size that's best for younger or older toddlers. You can even purchase a matching helmet and matching elbow and knee pads if you like.
Keep in mind: The weight limit for these is 85 pounds, so your child may outgrow it faster than some of the other options.
Good for: Toddlers that love princesses.
---
FAQs about toddler skateboards
---
1. Are toddler skateboards safe?
Yes! But there are three conditions that need to be met in order for skateboarding to be a safe toddler activity:
Your skater-kid needs a properly fitted helmet, wrist guards, elbow pads, and knee pads (as well as appropriate shoes – no flip flops!)
Skateboarding should only take place in a safe environment – smooth pavement without nearby traffic (for example, a quiet bike trail at a nearby park, or an empty parking lot).
Your skater should be supervised at all times.
There are bound to be spills from time to time, but part of the benefit of skateboarding is building a growth mindset at an early age. Having an adult to provide encouragement and comfort when needed is key.
---
2. What is the best age for my toddler to start skateboarding?
Once your toddler walks and runs with ease, it's safe to get started on a skateboard. At first, your skater might try sitting and scooting on the skateboard. This is a gentle introduction that will help build awareness of the basic skateboard movements. In my experience, three is a good age to get started, but an older, more advanced two-year-old might also enjoy skateboarding as well.
---
3. What are the benefits of skateboarding?
Skateboarding has many physical and neurological benefits. On the physical side, it is a great way to improve coordination, build core and leg strength, and increase balance. On the mental side, skateboarding teaches patience, perseverance, and eventually, confidence. Finally, skateboarding is an excellent way to get your toddler outdoors and expend some of that never-ending energy.
---
4. Any tips for helping my toddler get started?
Here are a few first steps for helping your toddler get started with their new skateboard:
Begin on short grass, if possible. This will mitigate your toddler's fear of falling and give them a safe space to learn the basics.
Help your toddler stand on the board with two legs. Slowly and gently push the skateboard to provide a good feel for what it feels like to move on the board.
Once your toddler is comfortable standing and moving (slowly), they can stand on the board and shift their weight forward and backward. Shifting weight is an important part of safe skateboarding.
When your little one seems balanced on the board, demonstrate how to "push" the board with one foot while keeping the other foot on the board. Once again, make sure to start on grass, preferably with a gentle downward slope so they get a bit of momentum.
---
Conclusion
---
Buyer beware – your toddler's new skateboard might become a new obsession! While it can seem intimidating and difficult at first, it's amazing to see how much progress a young boy or girl can make with patience and effort. Your toddler will learn the value of hard work and will see firsthand that sometimes, learning from failure is the key to success. This carries over to many areas of life, from relationships to motor skills, to learning. Your little one will learn that if he or she perseveres with patience, improvement will come. That's a powerful lesson to learn when you're three!
You may also like our other reviews…
Sleds | Roller Skates | Baseball Gloves | Easels | Rock Climbing Walls | Boy's Snowsuits | Trampolines | Karaoke | Safety Harnesses | Workbenches | Beds | Toothbrushes | Rocking Horses | Scissors | Bath Tubs | Sandals | Paints | Plates | Coloring Books | Motorcycles | Purses | Train Sets | Ball Pits | Laptops | Gyms | Booster Seats for Tables | Baby Dolls That Look Real | Art Supplies | Drawing Boards & Tables | Alarm Clocks | Indoor Playgrounds | Board Games | Music toys | Activity tables | Tricycles | Backpacks | Step stools | Slides |