Updated on by Lyric Fergusson
There is nothing like your child's first pair of skates! It's usually a kid's first taste of freedom as they glide through the house or down the street. For a parent, the experience is usually much different. Although we enjoy witnessing our child's joy, it's usually coupled with a wee bit of anxiety as we watch them head toward sharp corners or the gravel pavement.
Here are my favorite skates to hopefully make, at least this part of the process, stress-free.
Best Toddler Roller Skates For Beginners & More Advanced
---
(Best value and ideal for beginners — $$)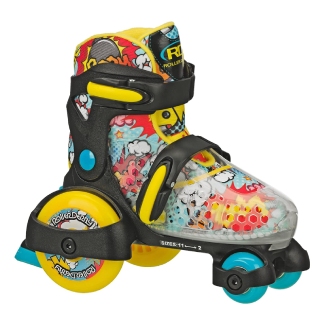 Why it's great: These skates scream fun with their 'action comic' design and bright colors. They adjust up to 4 sizes with just a twist a lever, which makes them excellent for growing feet. The tractor skate design with 2 smaller wheels in front and larger wheels in the back makes this an ideal skate for beginner and younger kids.
Keep in mind: This skate tends to run small, so size up if you are on the cusp.
Good for: Beginner skaters who like the boot style skate.
---
(Best for indoor / outdoor skating — $$$)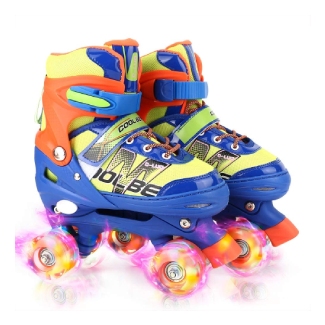 Why it's great: These adjustable skates are perfect for growing children, and kids can easily adjust the size themselves with the touch of a button. The classic high top sneaker style skates are super comfortable with a supportive fit, and no batteries are needed to make all 8 wheels light up while you skate! These skates also come with 100% dedication to your satisfaction. They will replace or refund if not completely satisfied.
Keep in mind: Wheels will need to be tightened for beginners to 'walk' rather than 'roll.'
Good for: Kids who enjoy skating inside and outside.
---
(Best for growing kids who love cool designs — $$)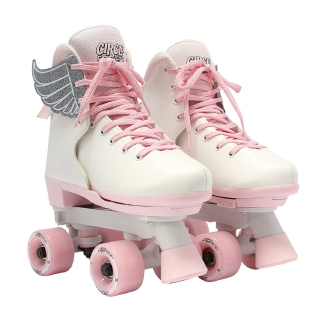 Why it's great: These adjustable boot skates feature an easy button to make sizing a breeze. Made with reinforced leather construction, these skates are made with safety in mind. With dual front brakes for easy stopping, both beginner and pro will enjoy these fantastic skates. Made for Girl sizes 3-7.
Keep in mind: These skates tend to last longer with indoor use.
Good for: Young kids who love pink
---
(Best for little skaters just starting out — $$$)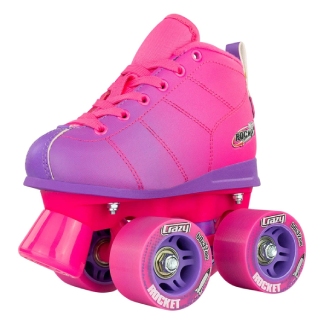 Why it's great: These beginner skates can be tightened or loosened as your child gains experience. Safety comes first with solid urethane toe stops, not plastic, for braking. This high-top sneaker style skates feature soft padded collars and lined boots, ensuring a comfortable ride for the beginning skater.
Keep in mind: These skates are strictly for kid beginners, not adults.
Good for: Little ones just starting out.
---
(Best for kids who like to be noticed — $$$)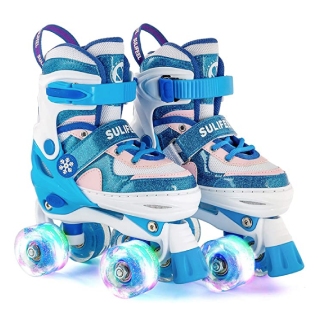 Why it's great: This skate is the perfect choice for growing children. Each size adjusts up to 4 sizes, so you don't have to worry about purchasing new skates anytime soon. The colorful rainbow lights power themselves, so no battery is required. There is a high-quality standard for this skate, which ensures its quality, comfort, and durability. There is 100% customer support and quality assurance with this product. They promise to replace or refund if there are any problems.
Keep in mind: The wheels roll forward and backward, which can be tricky for new skaters.
Good for: Growing kids that love to shine.
---
(Best for fashionistas — $$)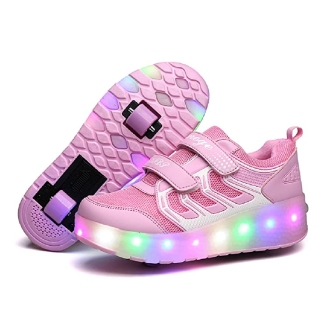 Why it's great: Who doesn't want a light-up shoe that can turn into a roller skate? Yes, please! The inline wheels can pop in or pop right out if you prefer to wear these sneaker skates purely as fashion statements. With a multitude of colors to choose from, these light-up sport shoes are sure to please kids of all ages.
Keep in mind: In order for the lights to work, they need to be charged with a USB cable for 2-4 hours.
Good for: Girls or boys who like to make a bold statement with their shoe choices.
---
(Best for growing kids with a wild side — $$)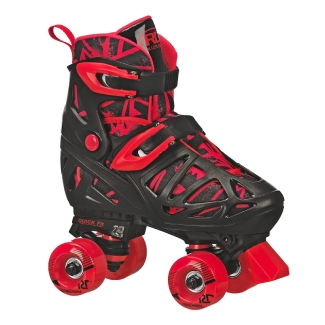 Why it's great: These adjustable skates are ideal for young skaters who want to make a splash. With no laces, these skates are perfect for young skaters ready to skate on their own. Real trucks for controlled turning, these skates provide a great quad skating experience. They also adjust up to 4 sizes to grow along with your kid.
Keep in mind: They tend to run small.
Good for: Growing kids with a wild side.
---
(Best for the beginner who wants a real boot skate — $$)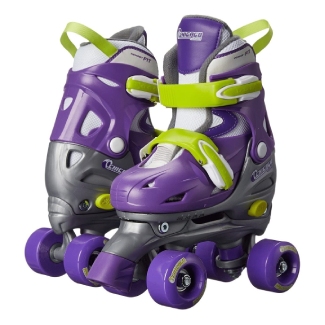 Why it's great: These adjustable quad skates are the most popular on the market.
Designed for the beginner, these skates offer comfort as well as support. With two-piece construction, padded collar, and a mesh inner boot, these boots feel snug and secure on a little one's feet. With built-in toe brakes and 60mm composite wheels, these skates deliver control and stability.
Keep in mind: These skates tend to run small.
Good for: Kids who love skating outdoors
---
(Best for kids learning to skate — $$$)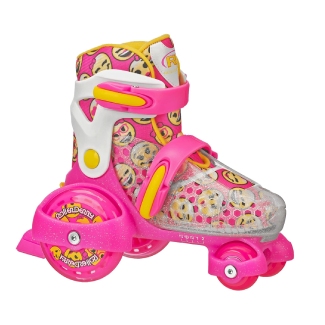 Why it's great: These skates are just right for young kids first learning to skate. With an extra-cushy padded liner and a low center of gravity for more balance, these skates mean less falling and more comfortable skating.
Keep in mind: These skates tend to run small.
Good for: Tiny tots ready to try skating
---
(Best for little disney fans — $)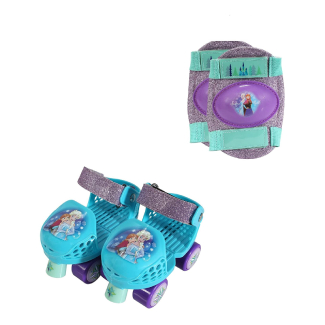 Why it's great: These Frozen roller skates are perfect for the little one in your life who is anxious to get skating but hasn't quite mastered balance yet. These skates fit right over a shoe and come with toe brakes for easy slowing and braking. They are also adjustable and grow with your little Frozen fan as he or she sprouts up. These skates also come with knee pads!
Keep in mind: These skates are for little ones—a weight capacity of 45lbs.
Good for: Little ones just starting to skate.
---
(Best for kids who love rink skating — $$)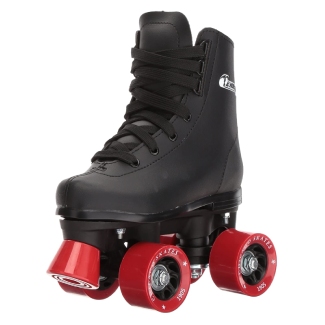 Why it's great: These roller rink style boot skates feature a controlled high top for optimum safety, as well as high-quality laces for maximum protection. The urethane wheels hold up well, plus they provide traction and control. With an aluminum base and adjustable truck, these skates offer power as well as looking super cool. Great for both indoor and outdoor use.
Keep in mind: Check all the connections after shipping. Some may become loose while in transit.
Good for: kids who love the roller rink!
FAQs about Toddler Roller Skates
---
1. What is the best age to learn to skate?
It's all about balance when it comes to learning to skate. Most young toddlers don't have the agility necessary to stay upright on skates. However, once they reach preschool age, their innate sense of balance has improved enough that they should have any problem giving skating a try. If your 4 or 5-year-old shows an interest in roller skating, let them learn.
---
2. What safety accessories do I need to purchase?
Kids falling on skates is no joke. But you don't need to bubble wrap your kid to protect them. Here are some essential rolling skating safety items:
Wrist guards: Wrist guards protect the palm of the hand and the wrist from falling and sliding injuries.
Knee pads: Knee pads are essential during the first learning curve to protect those knees. They come in a variety of sizes.
Elbow pads: A funnybone is not so funny when you come crashing down on it.
Helmet: I saved the most important for last. A helmet is a must. Most states have helmet laws, but even if your state's laws aren't strict on the books, the use of a helmet cannot be stressed enough. Protecting your child's head is #1 priority when learning to skate.
---
3. What kind of skates are best for my child?
There are two types of skates available for a child or beginner skater. There are Quad skates. These are the type of skates you generally associate with roller rinks. There are also inline skates or 'rollerblades.'
In general, Quad skates, 2 wheels in the back, and 2 in the front are better for beginners.
These types of skates provide better balance and a lower center of gravity. Inline skates can be difficult for children because they have less strength in their legs and ankles. Teens can sometimes handle this style better. Still, if your child has had some experience with skating already, an inline skate might be the right choice. Personal preference is always something to consider when buying skates for kids.
---
4. Do I need to do anything to prepare my child for skating?
One thing you can do is teach your child to fall correctly!
Pick a direction and go with it. If you're falling backward, try not to fall directly on your tailbone. Try and pick a side and lean so that you fall more on one side of your bum than flat on your tailbone.
It's natural to want to break your fall with your hands, but instead, you should practice keeping your hands off the floor or making a fist. You don't want your fingers splayed (if someone accidentally skates over them!) Try keeping your hands on your knees, thighs, or in fists.
When falling forward, try and control by going down on one knee and sliding. This can minimize the impact of your fall.
The most essential part of falling down is getting back up. Practice makes perfect.
---
Conclusion
---
Getting your child up on skates for the first time can be such an exciting rite of passage. Children love the freedom that comes with the gliding or 'flying' for the first time. Parents love it too, although the feelings are more complicated as the excitement is often accompanied by feelings of anxiety. We worry about the inevitable bumps and bruises that come with skating.
If your child wants to try skating, you want to first ask some questions. Do they want to skate indoors or outdoors? Will they wear the helmet and pads? What kind of skates do they have in mind? All these questions can give you a sense if your child is ready to try skating. The answers can also let you know if it's something you're prepared to take on. The parent has to be prepared too.
Skating can be an excellent way for a child to not only learn balance and agility but to get exercise and get those muscles moving.
Who knows, maybe you could get a pair yourself and make it the new family activity.
You may also like our other reviews…
Skateboards | Motorcycles | Purses | Train Sets | Ball Pits | Laptops | Gyms | Booster Seats for Tables | Baby Dolls That Look Real | Art Supplies | Drawing Boards & Tables | Alarm Clocks | Indoor Playgrounds | Board Games | Music toys | Activity tables | Tricycles | Backpacks | Step stools | Slides | Climbing toys | Puzzles | Wagons | Scooters | Lunch boxes | Block sets | Racing tracks | Bikes | Guitars | Busy boards | Drum sets | Tool sets | Pianos | Pillows | Cameras | Headphones | Remote control cars | Swings | Golf clubs | Push cars |