Updated on by Lyric Fergusson
When those first snowflakes fall each year, children can't seem to get their snowsuits on fast enough. And while building snowmen and throwing snowballs might be a few of winter's favorite activities, there's nothing more classic than finding a hill, grabbing a sled and letting out a few screams as you slide down the slope.
From traditional to modern, here are our family favorite sleds and tubes for when you want to zoom down a hill with your little daredevil.

Best Toddler Sleds, Tubes, & Wooden Styles
---
(Best budget option — $)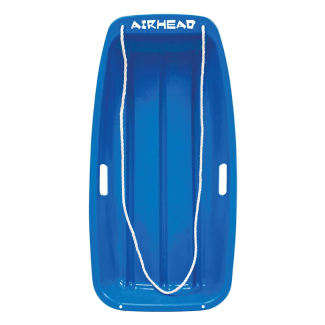 Why it's great: This is probably the image that comes to mind when you think of a sled that can fit both you and your child. And because it's small and plastic, it's not difficult for your children to bring this up the hill by themselves. (Because you definitely want to start them young on that!)
If your kids have a lot of snow toys, they can also use the sled to transport them around the yard. For cleanup, perhaps?
Keep in mind: Because of its size, this is a sled that's geared toward younger children and smaller adults. Think of it as a starter sled.
Good for: More than one toddler. With its long lanyard, you can pull it around and keep an eye on two kids at the same time.
---
(Best classic sled — $$)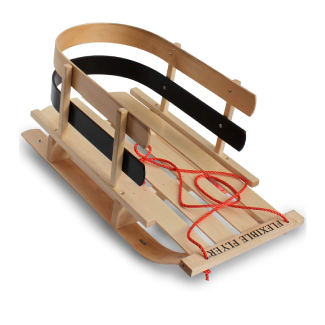 Why it's great: If your toddler prefers a little independence on the sled, this one is a good choice. Children do have to be able to hold themselves up, since there's no belt here. Your child will enjoy the rounded back for support, and you'll love the traditional look of an old-time wooden sled.
Keep in mind: Don't forget the cozy waterproof cushion that's made to tie on to the sled seat.
Good for: Toddlers who want a little more freedom.
---
(Best first sled — $)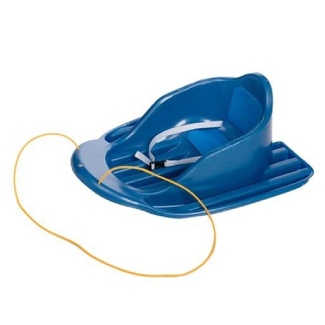 Why it's great: If you can't wait until your toddler asks to go sledding for the first time – and you want to start during their first winter – this is the sled you'll want. You can start your child at 6 months old, since it has a wider base, a belt that keeps them secure, and places to tuck their legs in. The long rope is perfect for pulling the sled down the road after the first snowfall.
If there's one thing you should expect with this sled, it's that you'll need to be prepared for all the baby giggles that will accompany each ride!
Keep in mind: This sled is best for children up to age 3 or around 45 pounds. You'll need to be aware of when your child is both ready for this sled and has outgrown it.
Good for: Baby's very first sled.
---
(Easiest to steer — $)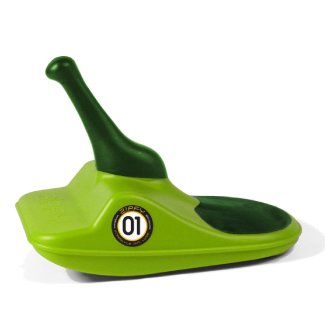 Why it's great: This is a small, compact sled that's light enough for your child to carry up those hills. It has a nice seat and allows the rider to steer the sled by holding the rail and leaning towards one side or the other. The feet first design also allows your child to brake or slow down by putting their feet or heels into the ground. It also comes in a wide variety of colors, so it's easy to find one that your child will love.
It can be used from age 5 all the way up to adulthood. You can have some fun yourself and show your child how it's done!
Keep in mind: The recommended age is 5 and up, so it's not meant for young toddlers.
Good for: Those who want to be able to steer their sled instead of going straight down.
---
(Best speed sled — $$)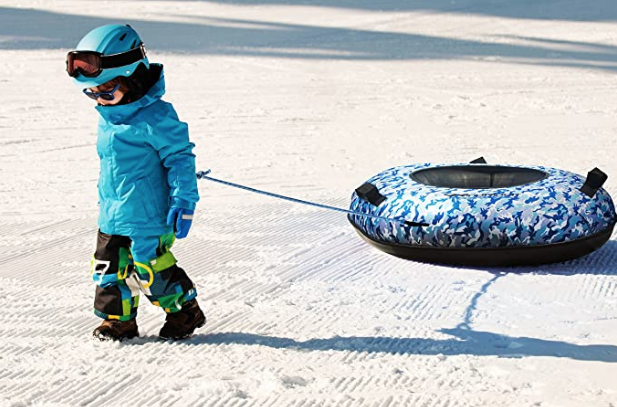 Why it's great: The bottom of this sled is rigid plastic, which makes it very durable and super slick. This means you'll get the fastest sled ride around on this one! It has easy to grip handles and a comfortable seat that makes it feel like you're riding on a cloud. It also has a tow handle to help get it back up the hill.
With plenty of room for two, you and your child can have the time of your life together on this sled.
Keep in mind: The high speeds this sled can reach means you need to make sure there's plenty of room at the bottom of the hill and be careful with younger children.
Good for: Families that love to go fast.
---
(Most versatile — $$)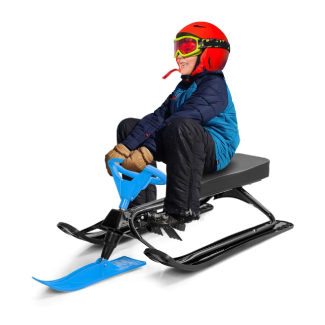 Why it's great: This sled is like a mini-snowmobile. It has a padded seat for extra comfort with skis on either side, which could also let your child practice that too. The steering wheel allows your child to control their direction and there are brake pedals to help them slow down. The design of this sled gives your child the sledding experience, while allowing them to feel more in control than they would on a traditional sled.
This sled is perfect for kids ages 3 and up and can even be used by adults up to 220lbs.
Keep in mind: The directions aren't great, but it's easy to assemble regardless.
Good for: Kids that like to have a little more control.
---
(Most year round fun — $$)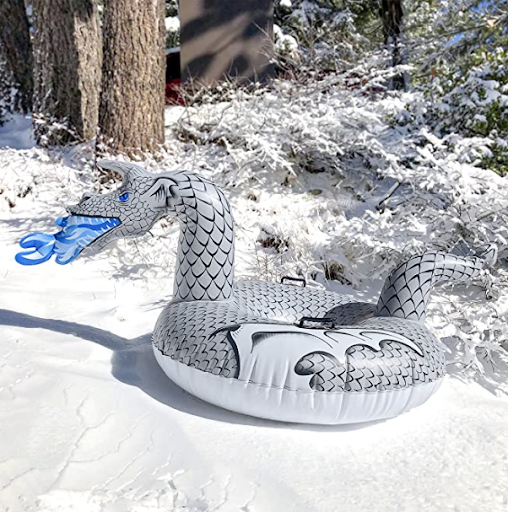 Why it's great: Just look at it! Not only does it come in unicorn, but other options include flamingo, penguin, ice dragon and polar bear. These can move fast, so if you're bringing your toddlers out for the first time, you may want to start on a smaller hill.
Two bonuses: It's impossible to lose your children in a crowd with this sled – and it has more seasonal use than just winter since it can double as a pool float!
Keep in mind: If you don't have one already, you may want to get an air pump at the same time. Another tip: If your car is smaller, you may want to bring the air pump with you, otherwise the tube may be hard to transport.
Good for: All ages – though adults may fight over it when the kids aren't around. It easily fits more than one person.
---
(Best plastic sled — $$)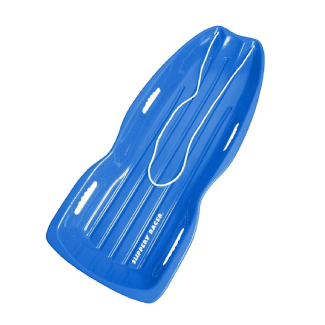 Why it's great: Once you graduate from the Airhead Classic sled, this one could be the next logical step. With a similar make but in a larger size, this toboggan has handles for both riders – for that extra bit of safety.
And what makes it extreme? It's been coated with a treatment for colder temperatures, meaning those kids who never want to come inside during the winter won't have to.
Keep in mind: While it's made of plastic, this toboggan has a flexible shape, helping it reduce the risk of cracking.
Good for: A sledding party. Go down the hill with a different friend each time!
---
(Best alternative — $$)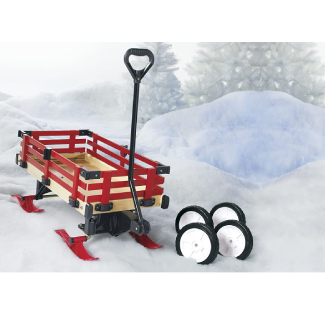 Why it's great: This one is a cute little wagon that you can use year round, but it also converts to a sleigh. The wheels come off and you can add skis so that it will glide over the snow. Your child will love riding in this little sleigh. It can fit up to two small children and has a long handle that makes it easy for parents to tow it around.
It can also easily be used to haul firewood, groceries, toys, or whatever you may need.
Keep in mind: While this isn't a traditional sled, your child will love gliding over the snow in it.
Good for: Children who may be afraid to go down a hill, but still like to ride on the snow.
---
(Fastest sled — $$)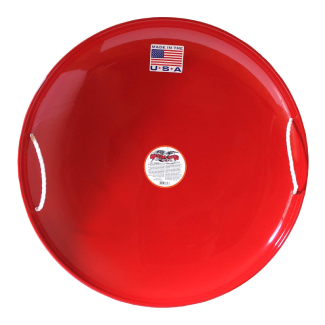 Why it's great: This sled is an excellent upgrade from the lunch trays we used to go down hills years ago. The rope handles on each side give you and your tot something to grab onto. And the saucer doesn't need much of a hill to go fast, as an icier area can make it zip by in a blink.
The size is smaller than a tube at 26 inches, so your child might outgrow a two-person ride more quickly with this option.
Keep in mind: While the metal won't break, it could dent if you hit something. That's because it's so sturdy. And that's a good thing – you'll still be able to use it!
Good for: Spinning. If going fast down a hill isn't enough adventure for your little ones, you can give them a whirl along with a push.
---
(Best quality — $$$)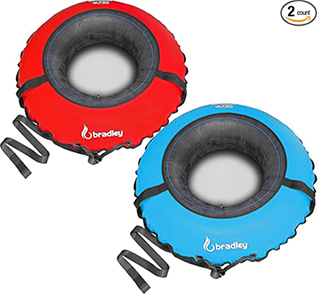 Why it's great: These are big sleds with thick rubber inner tubes with a commercial grade cover. It also has a heavy duty, vinyl bottom that makes for a super fast and smooth ride. . It also has UV and wear protection, so this sled should last a lifetime.
Keep in mind: You'll need an air pump to blow this one up before you can use it.
Good for: Families that want a sled they'll be able to use for years to come.
FAQs about Toddler Sleds
---
1. At what age can a child go sledding?
Children can go sledding at almost any age. That's because, for kids younger than 5, it's recommended that they only go downhill with an adult. Parents may want to invest in a sled that's comfortable enough for both an adult and a child. Then when your little ones are ready to venture off on their own, you can upgrade to a sled that's right for their size.
---
2. What is the best sled for a toddler?
This is up to you! See what's comfortable for both you and your child. You might be able to adjust your position better on an inflatable tube, but a plastic sled could accommodate you better. A sturdy wooden sled has the added benefit of looking great in photos. And a steel disc could prove to be the right choice even past the toddler years.
---
3. What are the fastest sleds?
While some of the faster sleds on the market may not be quite appropriate for toddlers, it's good to know what your little daredevils might want in the future. Though the type of snow can affect speed, studies have shown that flat-bottomed sleds and inner tubes can get them to the bottom of the hill the fastest. (Just watch out if your children are the type to take a running start!)
---
4. How safe are sleds?
Sleds themselves are typically safe – as long as they're in good condition. It's often the environment you're in that can make it unsafe. Watch out for other sledders, make sure the snow is covering solid ground and check to see that there's a safe place for the sled to come to a stop. You may even want to consider purchasing a helmet!
---
5. What should kids wear while they're sledding?
Layers! Though temperatures can be low throughout the day, children are going to get warm after a few runs. They may need to take a coat or a sweatshirt off to be more comfortable. Hats, gloves, snow pants, and boots all make the list – though it's suggested that a scarf shouldn't be worn, in case it gets caught in the sled.
Conclusion
---
When you buy a sled for your child, you instantly begin to create memories. Not only does it help get children out of the house in the winter, but it can even help them develop a love for snow. And that can open up a whole new world of activities that they can pour their heart into throughout their lifetime.
You may also like our other reviews…
Skateboards | Motorcycles | Purses | Train Sets | Ball Pits | Laptops | Gyms | Booster Seats for Tables | Baby Dolls That Look Real | Art Supplies | Drawing Boards & Tables | Alarm Clocks | Indoor Playgrounds | Board Games | Music toys | Activity tables | Tricycles | Backpacks | Step stools | Slides | Climbing toys | Puzzles | Wagons | Scooters | Lunch boxes | Block sets | Racing tracks | Bikes | Guitars | Busy boards | Drum sets | Tool sets | Pianos | Pillows | Cameras | Headphones | Remote control cars | Swings | Golf clubs | Push cars |