Updated on by Lyric Fergusson
Toddler swings are great for your little one, and they help develop a lifetime of learning abilities along with creating fun. Swinging helps to build spatial awareness skills, and it's a fantastic physical activity for children of any age. Problem-solving, pattern techniques, counting, and gross motor skills are some of the concepts that can blossom due to swinging.
Best Swings for Infants, Babies & Toddlers
---
(Best Indoor Swing – $$$)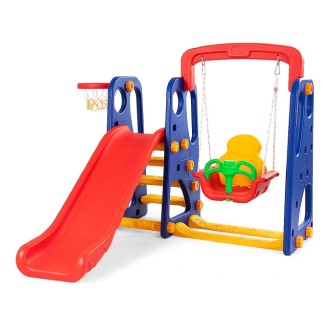 Why it's great: The Costzon Climber and swing set also includes a 4ft. slide and a basketball hoop! Physical activity is definitely one goal of this 3-in-1 swing set climber. The ladder steps are designed with slip-proof grips, and the slide is made extra wide for extra fun. It is very durable and made with eco-friendly materials. A t-bar safety closure is provided to keep children from leaning forward, there are no rough edges on the slide, and assembly is super easy.
The product will be shipped in 2 boxes, it is very sturdy, and has holes near the bottom which you can use to secure it to the ground if needed. It can be used both indoors and outdoors, and as your child grows, the t-bar can be removed for easy access.
Keep in mind: The slide will hold up to 110lbs, but the swing only holds up to 66lbs, so at a certain point, you might run into a few conversations with your kiddo/s about how they've outgrown this swing set. As long as your child is below the weight limits, then this is an amazing purchase that will lead to countless hours of fun whether it's used indoors or outdoors.
Good for: Toddlers 2+ years
---
(Best Sensory Swing — $)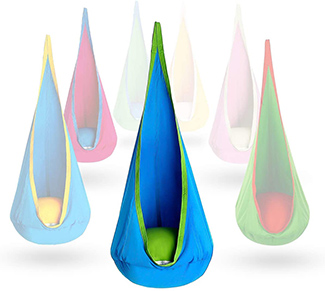 Why it's great: This awesome cotton sensory swing is perfect for kiddos to use both indoors and out. The best part? It can be secured to a hammock stand so that you don't have to drill a hole in your ceiling! It's also safer than many other swings for little ones to use on their own because the cocoon design makes it very unlikely that they will fall when playing unattended. It has a comfy cushion and can be used not only as a swing but as a safe space for your toddler to rest and relax. If you're looking for more neutral color choices try this one made of organic cotton.
Keep in mind: This indoor/outdoor toddler swing is perfect for toddlers as well as pre-teens. It's an awesome investment and will stay with them for many years.
Good for: Toddler self-play time, listening to music, watching TV, or just hanging out.
---
(Most Comfortable – $)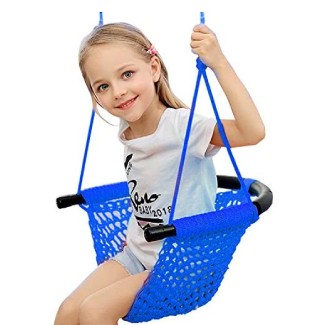 Why it's great: This incredibly comfortable woven swing is critical for anyone with children! We love this swing in our family, and there isn't a day that goes by when it isn't used! It is made of professional climbing rope, hand-knitted, and durable. This swing is great for both indoors and outdoors and is portable. Some days it hangs in our house, other days it's in the tree out back.
The swing has a nice scooped seat that allows your little one to stay in place. The enclosure shape prevents it from flipping backward as well. The set up is quick and painless, it's lightweight, and is remarkably easy to clean.
Keep in mind: After some time in the sun the color can fade on the ropes.
Good for: Children 2-12 years or up to 150 lbs
---
(Most Fashionable — $)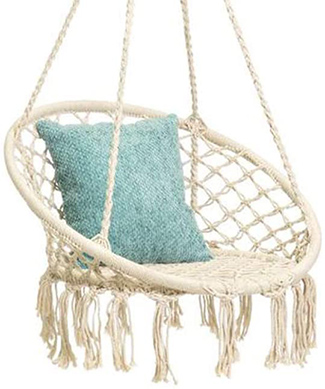 Why it's great: This is for families who love swings but don't like the look of colorful kids' plastic swing sets. This hammock swing is gorgeous in any room, is very comfortable, safe, and can also be used outdoors. The best part is that it holds up to 230 pounds so that mom or dad can use it too! For the price, it's a beautiful purchase and addition to any toddler bedroom. If you are looking for a smaller, more baby-friendly option, try this one. It's not a hammock swing but is super cute and comfortable for littles up to 4years and even includes fun wooden toys.
Keep in mind: It's not your traditional swing but it's very comfortable and toddlers can easily climb into it themselves.
Good for: Stylish parents who value keeping a "non-colorful plastic" aesthetic in their home. 🙂
---
(Best for Balance — $)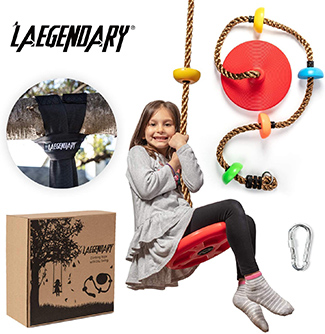 Why it's great: Disc swings help toddlers develop important balance skills as well as build strength and dexterity, all while having a blast. Your little can sit on the disc or stand and climb. The fun knobs are perfect for your little one to grab a hold of and add stability, and the rope is made of materials that won't hurt their fingers as they grip. It comes in three different colors, is super easy to set up, and comes with all necessary accessories for installing.
Keep in mind: This swing is best for toddlers three and up.
Good for: Building coordination skills and strength.
---
(Best Indoor Playground — $$$)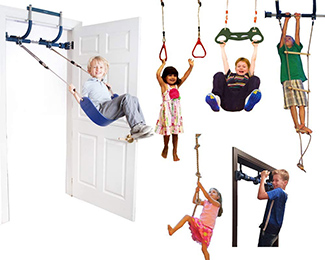 Why it's great: Can I please have an adult version of this?! This is the best way to bring a swing — plus full playground — inside your home without taking up precious floor space. It also secures safely in your child's doorway so there is no drilling into your walls. It comes with swings, plastic rings, a climbing ladder, and a swinging rope. It's the perfect way to keep active toddlers entertained during every season.
Keep in mind: This swing set is best for toddlers 3 and up.
Good for: Tots with loads of energy. Strengthening muscles and building coordination skills. No holes need to be drilled for installation!
---
(Best Combo Deal – $)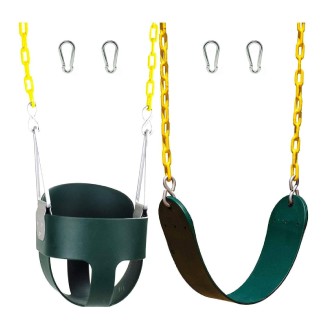 Why it's great: This combo set is beneficial if you have two children who need swings. The bucket swing includes an extra high back for support and nice size leg holes to accommodate any size kiddo. The extra swing seat is the 2nd part of the combo and is great for an older child. Both are made with sturdy chains coated in comfort-grip plastic, and the plastic seat material is commercial grade.
This is a wonderful buy considering you get two really well-made swings. Their rating is 4.9 out of 5 and they are made to hang on most swing set beams.
Keep in mind: This set doesn't come with hardware for hanging. These parts should be easy to find at a local hardware store, and won't take too much extra out of your pocketbook.
Good for: 1 year and up – weight capacity is 250lbs
---
(Best for Siblings — $)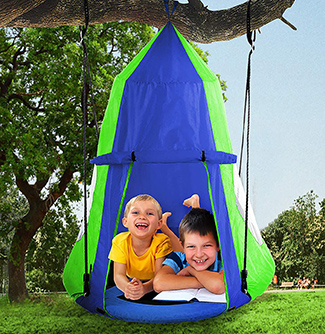 Why it's great: This super affordable, fun, tent swing is the perfect option for parents with multiple children. It won't take up too much space indoors and can be used easily with a hammock stand. Outdoors, it's an awesome place to hide out, even on rainy days! With the tent door shut, your kiddos will feel like they have their own private getaway, and it has a weight capacity of 600 pounds so mom and dad can climb in as well!
Keep in mind: This product uses the highest quality lead-free materials, so you can feel confident it will be both non-toxic and hold up over many years.
Good for: Sibling play, imaginative play. Kids who love tents!
---
(Best Budget Buy – $)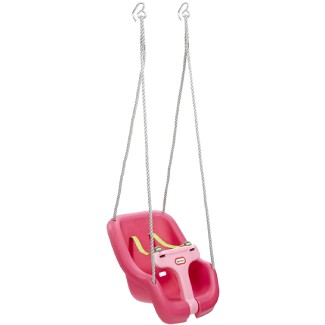 Why it's great: This swing is wonderful and holds a little one in snug and secure. My youngest currently has this swing and we have gotten our money's worth! It has a "t-bar" enclosure and two shoulder straps to keep them tightly restrained. However, once they get too tall for the shoulder straps, you can place the straps under the arms for a still-snug fit. Once they get even older, you can remove the t-bar altogether for more of a "big-kid" feel. The ropes are 35 inches and it can be used indoors or out. Ours has been in the same tree for 3 years and still looks great! It was easy to hang and is very sturdy.
Keep in mind: A few parents have had trouble adjusting the sides to match so that it will hang evenly. We didn't have this problem when setting up ours, however.
Good for: 1 year and older up to 50lbs
---
(Most Sturdy – $$)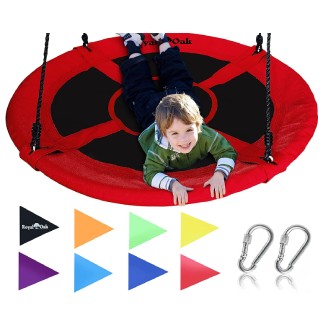 Why it's great: This truly giant, circle-shaped swing will make you feel like you are on a flying saucer! It's amazingly easy to install, comes with a bonus protective cover, and is made with a commercial grade steel frame. The fabric is a 600D oxford material that is weather-resistant due to an industry-leading protective coating.
It is suitable for hanging inside or out and has a 12-month warranty. The item itself only weighs 7.8lbs, but along with the strength from the ropes, it can hold up to 700 pounds!
Keep in mind: The ropes are adjustable, but if you find, at their longest, they still aren't long enough for what you need, nearby hardware stores are sure to have the product you need to easily fix any length issues.
Good for: 1-year and up
---
(Most Snug Fitting – $)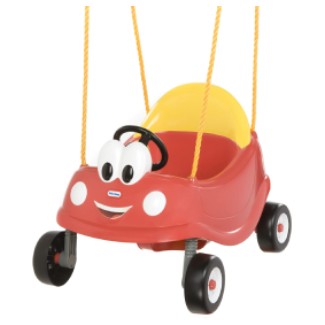 Why it's great: This cute little coupe is exactly what any imaginative toddler needs! The wheels don't really turn, but the steering wheel does, and oh the places they'll go as they fly through the trees! With this swing, the seat belt attaches easily, and the seat has wide leg openings, so it is appropriate for all sizes.
The seat and rope both are weather resistant, and there is some assembly required. The ropes are each 3.3ft in length and are not adjustable. The overall dimensions are L22" x W16" x H17".
Keep in mind: Since the ropes are attached underneath the swing, they sometimes cause the swing to hang unevenly. This problem is easily solved by using a chain to hang it with so you can manually match up the sides with the links.
Good for: Children 1 to 3 years of age
---
FAQ's about Toddler Swings
---
1. Is swinging good for a toddler?
Yes! Swinging is so important in a toddler's life. It promotes balance, teaches spatial awareness, and improves overall mood. It is a fun family activity that can be done indoors or out, and can create a sense of calmness for everyone involved.
---
2. How do you hang a toddler swing indoors?
There are three main ways to hang a toddler swing indoors. You can purchase a small frame that will accommodate most any swing at a very low level. This would be a good choice for the newest of babies. Another option is hanging it from an exposed beam. If you have exposed beams in your ceiling, you would hang it from a chosen beam just as if it were a tree branch. A third choice would be to attach it to the ceiling. This requires a bit of extra effort, but is worthwhile because of the permanency and security. As with all toddler toys, check them for stability before using.
---
3. When should a baby stop using a swing?
Using a baby swing is beneficial to a child up until a certain weight. Each swing is made differently and comes with its own set of instructions, so just follow those while keeping in mind the weight limits. Make sure to stick to the guidelines because ropes will begin to fray and material will give way, and we don't want accidents.
---
4. Are tree swings safe?
Tree swings are most definitely safe and extremely fun if you hang them correctly. As with any swing, make sure the rope or chain you are using is labeled to hold up to the weight you need. Attach your chains with hooks that are just as well certified to suit your needs.
Conclusion
---
No matter the swing, as long as it's attached well, children of all ages will enjoy them until the end of time. Swings have proven their ability to create entertainment for kiddos throughout history, and hold the promise of developing life concepts needed for educational and social skills.
You may also like our other reviews…
Sleds | Roller Skates | Baseball Gloves | Easels | Rock Climbing Walls | Boy's Snowsuits | Trampolines | Karaoke | Safety Harnesses | Workbenches | Beds | Toothbrushes | Rocking Horses | Scissors | Bath Tubs | Sandals | Paints | Plates | Coloring Books | Skateboards | Motorcycles | Purses | Train Sets | Ball Pits | Laptops | Gyms | Booster Seats for Tables | Baby Dolls That Look Real | Art Supplies | Drawing Boards & Tables | Alarm Clocks | Indoor Playgrounds | Board Games | Music toys | Activity tables | Tricycles | Backpacks | Step stools | Slides |