Updated on by Lyric Fergusson
Pop up a toddler tent for instant fun and hours of imagination with your child! With a range of sizes, themes, and accessories, these beloved toys provide countless hours of creativity and pretend play. A tent gives your child a place to call their own, where they get to host teddy bear tea parties, steal away with friends, or adventure through a maze of tunnels.
The best part is that these tents are easy to set up, easy to tear down, and easy to transport, allowing the fun to follow your child wherever he or she goes. Here are my picks for the best toddler tents:
The Best Toddler Tents
---
(Best value — $)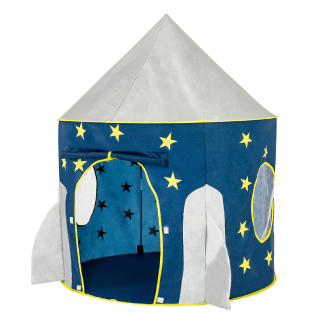 Why it's great: Blast your kids into outer space with this perfectly themed play tent! By simply twisting the material and inserting the included poles, you can quickly pop up and secure a new play space that lets your child's imagination run wild. The water-resistant fabric features an out-of-this-world design with a bright blue backdrop and yellow stars. The fabric panels in the front can be tied up, and mesh panels on the sides allow for safe ventilation.
This award-winning play tent is easy to assemble, easy to take down, and portable in its own carrying case. It also comes with a projector and three discs that feature 24 space-themed images. Up to three mini astronauts—ages 3 and up—can blast off together, as the tent opens to 40.5 inches in diameter and 51 inches in height. Other styles of this tent include an under-the-sea or unicorn theme.
Keep in mind: Some parents had problems with the poles poking through the fabric, but said the customer service and follow up was excellent.
Good for: Someone who wants an out-of-this-world play experience!
---
(Best classic play tent — $$)
Why it's great: This child's pup tent boasts a simple design with an easy setup. The vibrant, durable, color-blocked fabric is great for both indoor play and outdoor adventures. A mesh top allows for a quick peek from parents as well as screened sunshine when playing outside.
Parents can easily set up this private play space for their child in minutes with the fiberglass poles. Once it's complete, the tent stretches to a roomy 4-foot square base, providing a special place for two or three children to play inside. The tent gives kids a place to call their own, whether they choose to imagine a new world, quietly read a book, or reserve a camping spot in the backyard.
The tent is easy to clean, tear down, and store. It comes with its own carry bag.
Keep in mind: This tent is designed with a hole in the back to add a play tunnel, but the tunnel is not included.
Good for: Any child looking for a special space of their own.
---
(Most spacious — $$)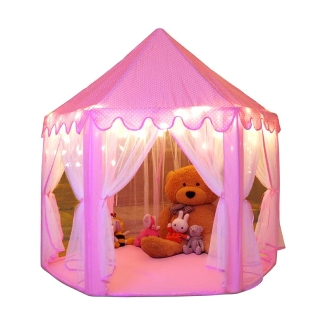 Why it's great: One look, and your little girl will fall in love with this sparkling pink princess tent! Designed to resemble a princess castle, this tent includes all the right features. The durable taffeta fabric comes in a bubble gum pink, with delicate sheer panels that can be pulled down for privacy or tied up. Twinkling star lights hanging from the tent's peak let your little girl walk right into her own dreamy fairytale.
The princess tent comes with poles, star lights, connectors, and a carry bag. Assembly is simple with easy-to-follow instructions and well-labeled pieces, quickly providing a large 55-inch by 53-inch play space for up to three children. The high-quality, environmentally friendly fabric is soft to the touch and easy to clean.
Parents and grandparents said this tent was an instant winner with their young girls who fell in love with their new, private hideaway.
Keep in mind: The starlights are battery operated, but the three AA batteries are not included.
Good for: A child in love with princess fairytales.
---
(Most natural material — $$$)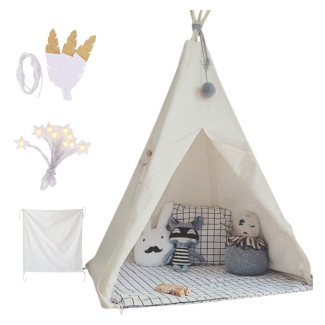 Why it's great: Let your child's imagination run wild while playing in this high-quality play teepee. This adorable, neutral design features lightweight, natural cotton canvas panels and sturdy pine poles. Front panels can be tied back or closed for privacy, and there is a peek-a-boo window on the side. An interior pocket provides space to store small toys or books. Children can easily add their own flair to the tent, which includes a banner, feathers, and a string of lights to decorate. Or, use paint and fabric markers on the natural cotton fabric to create a unique design.
The tent can be quickly assembled, measuring 43 inches square and 59 inches tall when complete. Just as easy to disassemble, it can be stored and transported in its included carry bag. The material cleans easily in the wash. The teepee also includes poles, joints, and a floor mat.
Keep in mind: This is not a pop-up tent and may take a little more time to assemble, but parents say the instructions are clear.
Good for: Parents interested in all-natural, sturdy materials.
---
(Easiest to assemble — $$)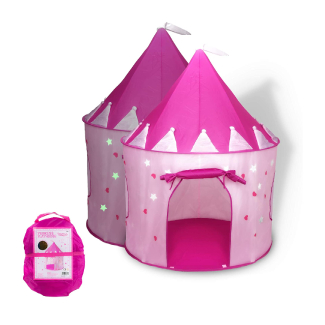 Why it's great: Pop up a world of fun and imagination for your little one in seconds! This Amazon-choice, princess-themed tent easily twists open and is quickly secured with the included poles. Once it's open, the tent measures 41.5 inches in diameter and 54 inches tall, providing a private space for up to three toddlers to create and pretend.
The bright pink design features hearts as well as stars that glow in the dark. Sturdy material makes it fun to play both inside and out, and the fabric is easy to clean with a damp cloth. When your child's castle adventure comes to an end, simply twist the tent down into a 17-inch flat circle and store it in the included carrying case. The tent is just as easy to pack up and take along to the next destination.
Keep in mind: The tent does not include stakes to hold it down outside.
Good for: Kids who love to pretend and play princess.
---
(Most active — $$)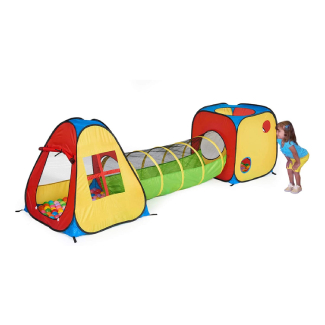 Why it's great: Transform your play room or backyard into a tent wonderland for your toddler! Instead of just one tent, this set includes a square tent, teepee tent, and long tunnel that can be connected into one play space or used separately. When assembled and connected, this pop-up tent provides a max of 31.5 inches by 119 inches by 34 inches of space to play.
The three pieces pop up quickly for instant play. Kids will love racing through the tents, jumping in a ball pit, or playing peek-a-boo with you through the mesh panels. The colorful fabric is made to last and can be used indoors or out. Included stakes allow you to secure the pieces outdoors. When it's time to pack up the tunnel town, the three sections fold down into the included 21-inch flat carrying case.
Keep in mind: This does not come with balls for the ball pit.
Good for: Families who have extra space to fill.
---
(Most versatile — $$$)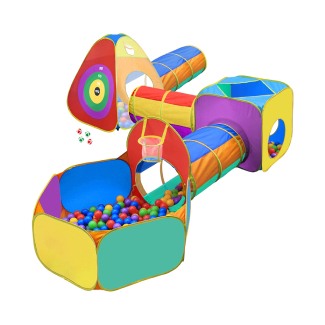 Why it's great: Keep your toddler busy for days with this all-in-one tent city, tunnel, and ball pit combo! With six different colorful pieces—three tunnels, a square tent, a teepee tent, and a ball pit—the possibilities and customization options are endless. This tent combo is designed with built-in games, too, featuring two mini basketball hoops and a panel that has varying sizes of target holes to throw balls through. Kids also will love throwing the included velcro dart balls at a target wall!
As with the other tents, these pieces are easy to assemble, take down, store, and travel with. The pieces connect securely. The material is durable and lightweight, making it great to set up inside or out.
Keep in mind: This does not come with balls for the ball pit. The manufacturer also recommends not using this on concrete or pavement.
Good for: Kids with lots of energy!
---
FAQs about toddler play tents
---
1. How should the play tent be cleaned?
Cleaning the material on our listed play tents is easy. The tents made from polyester fabric can be wiped down with a wet cloth and soap if needed. The natural cotton fabric can be cleaned in the washing machine.
---
2. How many kids can comfortably fit in a play tent?
This answer, of course, is, "it depends." Most manufacturers of the single pop-up play tents recommend two to three toddlers playing at a time. This depends on the size of the children and the size of the tent. The tents that include play tunnels and multiple tents or teepees could accommodate more children.
---
3. What are the recommended ages to play in a tent?
The recommended ages vary by the tent. Some manufacturers go as wide as birth to teen. The most common recommendation is from 3 to 10 years. Depending on the height of your child, he or she might fit in the tent, but be too tall to stand.
---
4. Can these tents be used outdoors?
All of the tents listed above can be used indoors and out, but are not recommended for outdoor camping. These are play tents and are not made with the features of a camping tent. Also, note that the fabric floor of the tent should be placed on a soft surface and not something rough like pavement or cement.
---
5. Is the tent floor padded?
The floors for these tents are typically the same material as the sides—covered, but not padded. We recommend adding blankets or pillows once the tent is assembled and secured.
---
Conclusion
---
Play tents are awesome spaces for little ones to find privacy and create an imaginative world of their own!
When considering which tent is the best match for your child, think about how they might use the tent. If they love princesses or spaceships, deliver on that theme and let them make-believe in a new world. If your child is very active, consider the play tent with a tunnel combo that allows them room to crawl and move around.
These tents are great for pretend play indoors and out. They are easy to assemble and easy to pack up for storage or travel. Think about where you have space for your child to play with the tent. And remember, these are not made for camping or rough weather.
When you decide on a tent and pop it up for playtime, your child will love creating and playing in a space all their own.