Updated on by Lyric Fergusson
Seeing your baby get their first teeth is so exciting! And then the dread sets in. How do we take care of them? We all know that good dental hygiene is important, but as a parent it can be hard to decide what products are right for our little ones. Selecting the right toothbrush and getting your child excited about brushing is important. There are so many toothbrushes on the market, so how do you choose? Here are 11 of the best toothbrushes we found to make brushing fun and easy, from infant to toddler and beyond. All of our choices are BPA free and there is a brush to meet every price point.

Best Toddler Toothbrushes for Learning How to Brush!
---
(Best introduction to brushing — $)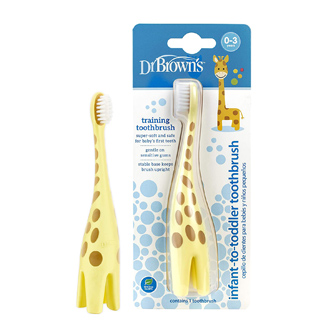 Why it's great: We absolutely love how cute this brush is! Who could resist brushing time with this adorable friend to help get your mouth clean? This giraffe toothbrush would look cute on any bathroom counter, and it comes from a brand most people are familiar with from their fabulous baby bottles. This super-soft bristle brush has a very wide, easy to grip handle for little hands (and their parent helpers). When not in use, this little giraffe stands up on its own so it won't need its own holder.
Keep in mind: As cute as it is, make sure that your baby doesn't sneak this one out of the bathroom to use as a toy.
Good for: Brand new to the brushing game.
---
(Best longevity — $$$)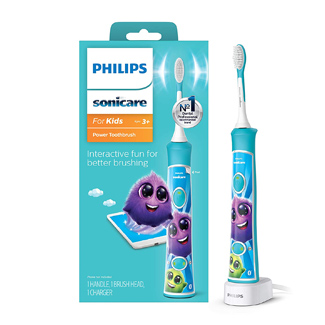 Why it's great: While this might be the most expensive brush on our list, you need to check this one out. If you're looking for an electric brush that's going to last and grow with your kids, then this is a fabulous option. There is a downloadable app that teaches kids all about brushing hygiene, a built-in timer to ensure they brush long enough, and a musical mode that's super fun for the littles brushers. The best part? Your child can customize the brush with included stickers and interchangeable brush heads, which means that they'll be able to use it for years to come.
Keep in mind: Even if your child has been brushing solo, make sure that if they're switching from manual to electric that they don't press too hard.
Good for: A brush that's going to last from toddler well into childhood.
---
(Best for gum care — $)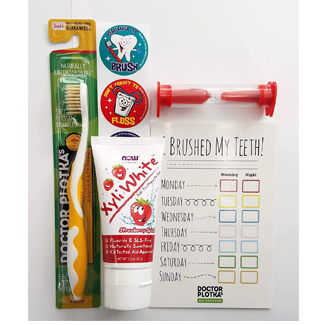 Why it's great: This toothbrush also has soft flossing bristles, to give your child's mouth a complete clean and help keep their gums healthy. It also has silver bristles that are antimicrobial, which means you won't need to replace the toothbrush as often because it kills off the bacteria that usually sticks around on other brushes. Plus, it comes with a timer, stickers, and a chart to teach your child how to take care of their teeth properly.
Keep in mind: With the longer, flossing bristles, you'll need to make sure your child doesn't press down too hard or they may hurt their gums.
Good for: Children that hate flossing and want a toothbrush that can double as floss.
---
(Most fun toothbrush station — $$)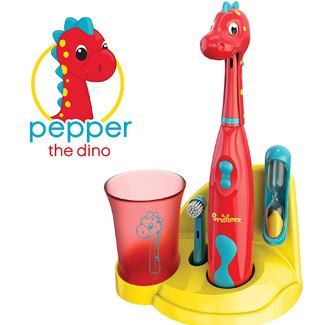 Why it's great: We wish they made this for adults! Especially great if your child has their own bathroom, this electric toothbrush station is perfect for teaching older toddlers all about how long to brush, swishing after brushing, and overall making the experience fun. The brush comes in adorable character designs like Buddy Bear, Pepper the Dragon, or Sparkle the Unicorn. The sand timer attached to the base is great to ensure they're brushing long enough. We love that everything fits neatly back into this one unit to keep everything tidy and in its place. The fact that the brush is battery powered means there are no cords to worry about.
Keep in mind: As fun as this brush is, the brush heads are recommended for ages 3 and up.
Good for: An introduction to brushing with an electric toothbrush.
---
(All in one set — $)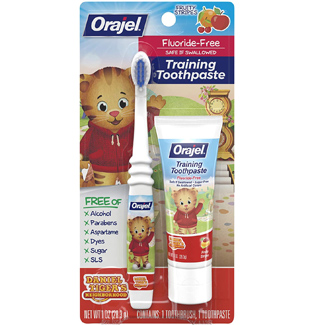 Why it's great: Who doesn't love Daniel Tiger? If your child has an affinity for this lovable tiger cub, then this is a great set for you. Orajel is known for making great products and this is no exception. The fact that their brush is bundled with training toothpaste (free from sugar and dyes!) makes this a great set, especially as a stocking stuffer for the holidays. It has a short handle, perfect to fit independent toddler hands, and soft bristles that we love. The fruit-flavored training toothpaste is sure to be a hit with your little one.
Keep in mind: Training toothpaste is ideal in those early days of learning about dental health, but you'll want something stronger as your child gets older.
Good for: Toddlers that have a favorite TV character.
---
(Most thorough — $)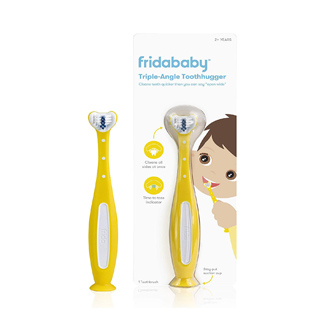 Why it's great: Even if your child isn't the best brusher, this toothbrush will ensure that they get all sides of their teeth. The brush is triple-angled, so it brushes all sides of a tooth at once. With one pass through, as long as they hit all their teeth, they'll have a clean mouth! (Although extra brushing can only help.) It also has a suction cup on the bottom, so it will stick to the bathroom counter and stay upright. The handle is soft and has a grip that's made for little hands to easily hold and manipulate.
Keep in mind: The toothbrush head is a little wider on this one, so it's best for older toddlers.
Good for: Children that have difficulty getting all sides of their teeth clean.
---
(Most unique design — $)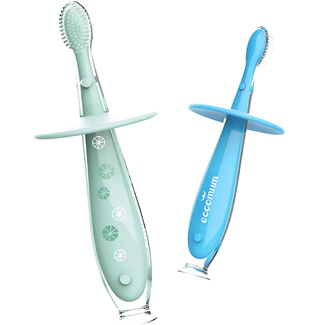 Why it's great: If new teeth are popping in and you're looking to start brushing, these are a great choice. They have an anti-choking collar which we haven't seen in other toothbrushes before, ensuring that your baby can't put the toothbrush too far into their mouth. Babies love grabbing onto handles and helping, so the collar is a super fun addition to this toothbrush. With a smart suction cup bottom that sticks to the countertop and wide handle, your baby can easily grasp this brush and explore brushing on their own.
Keep in mind: Even though they have this unique design, never leave babies and toddlers alone while brushing their teeth.
Good for: Babies that may be prone to choking issues.
---
(Best for learning Independence — $)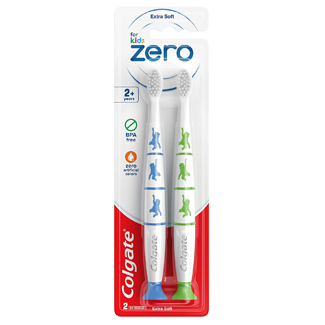 Why it's great: If your child is starting to insist that they can do it themselves, then these Colgate brushes are a fabulous choice. With soft bristles and a suction cup base, they're designed to fit a child's or parents' hands as well, so you can help with the brushing process if necessary. They've paired the toothbrush with their Zero toothpaste, free of artificial flavors and sweeteners which is a bonus if you ask us.
Keep in mind: The toothpaste is designed for children 2 and up, so if your little is still swallowing their toothpaste you may want to hold off on this one.
Good for: Parents who still need to give a helping hand.
---
(Most natural — $$)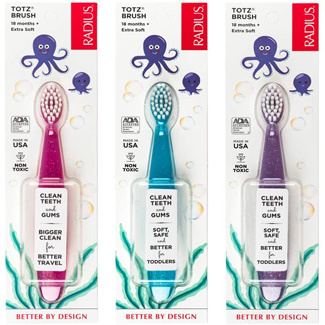 Why it's great: These toothbrushes are truly unique in that their bristles are vegetable derived. Better yet, these brushes are FDA and ADA approved! They're also certified toxin-free and are made from recycled plastic. There are three colors in each pack, which means your little one can choose which brush to use next. We love that these are sold in a multi-pack to make sure that there is always a clean brush waiting, which is important as dentists recommend changing your toothbrush every three months.
Keep in mind: Even though brushes like these are chemical-free, always make sure your little one isn't chomping down so hard that they break bristles off.
Good for: Parents that want a toothbrush made from all natural products.
---
(Most eco friendly — $)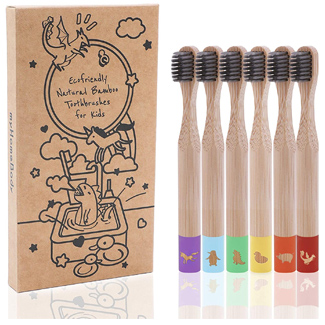 Why it's great: These toothbrushes come in a set of six with all different colored bristles and at the handle base. They are made out of bamboo and both the brushes and packaging are bio-degradable, making them the most eco-friendly set you'll find. The bristles are BPA free and charcoal-infused for a softer, safer feel on your child's teeth and gums. The handles are small and the perfect fit for little hands that want to learn to brush on their own.
Keep in mind: These are for younger children and toddlers, so they do have small heads, which are great for little teeth.
Good for: Parents that want the most eco-friendly toothbrushes for their child.
---
(Best quality — $$$)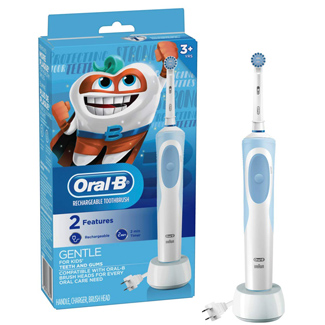 Why it's great: This electric toothbrush is the perfect companion for children and adults alike. Since this one is made for kids, it has soft bristles and a sensitive brush head for a more gentle brushing experience. The round head makes it easier for children to get all sides of their teeth clean. It is fully rechargeable and has a timer for young kids that need to know how long to brush. The best part is that it's compatible with all Oral B heads, which means your child will be able to use this toothbrush for the rest of their life if they want to!
Keep in mind: There are two styles available and only this Super Tooth style has a pressure sensor, so your child will know if they're pressing too hard.
Good for: Children that want a toothbrush that will give them the best quality clean for the rest of their life.
---
FAQs about toddler toothbrushes
---
1. When should you start brushing your child's teeth?
As soon as your child's teeth appear, you should start to brush them gently. As young as six months, when teeth typically start to show, you can even use a soft brush on their gums to get them prepared for the big day those little teeth appear.
---
2. How often do you need to replace your child's toothbrush?
You should replace a toothbrush (or brush heads if you have an electric model) every three months.
---
3. What is the most important thing to look for in a toothbrush?
You want to make sure the bristles are soft for little gums. Too hard a bristle can make little gums very sensitive.
---
4. How do I know what toothbrush is right for my child?
You want to make sure you buy age-appropriate toothbrushes. Always make sure to check the recommended age on the packaging. Too big of a toothbrush head can make your little one's gag.
---
5. Do I have to help my child brush their teeth?
You should never let a young child brush their teeth unsupervised as it can present a choking hazard. You also want to make sure that they're getting all their teeth, especially those molars in the back. It's okay to let them try by themselves, but always make sure you help go over tricky areas.
---
6. How do I make brushing fun?
Brushing doesn't just have to be about hitting that 2-minute timer – you can make it fun! Toothbrushes that have a built-in timer or apps are a great way to encourage the fun side of staying healthy. Try downloading an app or looking for printable certificates (like the ones that come with the Brusheez Electric toothbrush) to reward good habits.
Conclusion
---
Choosing the right toothbrush can be hard but there are plenty of options out there to fit your child's needs and developmental stages. From soft-bristled brushes for tiny new teeth to wide grips for toddlers that are learning, to electric brushes for older toddlers you have plenty of choices to fit your needs and budget.
Manual toothbrushes with wide handles are the best bet for little hands that want to try brushing on their own. Whether you buy a set or just brushes, training toothpaste is a great idea until your little one can brush without swallowing.
Making brushing fun and helping a child learn about the proper way to brush are the most important things to ensure good lifelong dental hygiene habits. Try having your child choose their toothbrush so they'll get excited about brushing.
You may also like our other reviews…
Skateboards | Motorcycles | Purses | Train Sets | Ball Pits | Laptops | Gyms | Booster Seats for Tables | Baby Dolls That Look Real | Art Supplies | Drawing Boards & Tables | Alarm Clocks | Indoor Playgrounds | Board Games | Music toys | Activity tables | Tricycles | Backpacks | Step stools | Slides | Climbing toys | Puzzles | Wagons | Scooters | Lunch boxes | Block sets | Racing tracks | Bikes | Guitars | Busy boards | Drum sets | Tool sets | Pianos | Pillows | Cameras | Headphones | Remote control cars | Swings | Golf clubs | Push cars |