Updated on by Lyric Fergusson
Many toddlers and preschoolers become obsessed with trains! It's great because train sets are engaging, off-screen toys that provide hours of educational learning. They are also a fun way for you as the parent to play alongside your children. You can help build elaborate tracks that will make you their greatest hero. Then, you can guide their train time to be cooperative and peaceful when playing with siblings and friends. Introduce learning concepts such as building, dramatic play, and counting. Then watch how these sets keep your kids entertained for years to come.

Best Toddler Train Sets for All Ages
---
(Best for learning — $)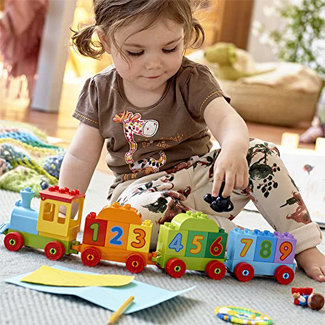 Why it's great: First of all, it's LEGO and trains! If you haven't bought your toddler a DUPLO set yet, this is a great one to try. DUPLO is made for little hands that are just beginning to be able to put pieces together. Building with LEGOS is good for so many developmental skills. Fine motor skills are used for putting blocks together. Cognitive skills such as problem-solving and sorting as they figure out how pieces work together. Social emotional development when they play with characters and create scenes and situations.
This set also provides a fun way to introduce numbers and counting since the blocks used to build the train each have a number 1-9. You can help your little one recognize these numbers, count as they build their train, and eventually be able to put the numbers in order. You can purchase additional DUPLO blocks to add to your set including the letter set truck. It also makes a great travel toy for long plane rides and it is easy to clean.
Keep in mind: This set does not include a track.
Good for: Train-loving kids who are new to LEGO and love to build.
---
(Best portable set — $)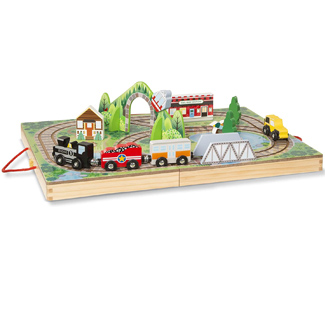 Why it's great: This wooden set is the perfect size for toddlers' little hands. The pieces are all sturdy and well-made, so they'll last through whatever abuse your child can dole out. Plus, the track folds up neatly and it has handles, making it easy to tote around wherever you toddler may go. The train cars have magnetic attachments, which is easier for toddlers who struggle with the usual attachments. Plus, it encourages hand-eye coordination and imaginative play.
This is a cute, little traditional railroad set, but Melissa & Doug offer many other themes for their take-along train sets. You can choose whichever design you think your child will like the best.
Keep in mind: The tracks fold up for easy portability, but you'll need a bag or some sort of storage for the trains and parts.
Good for: Kids that want to take their train set on the go.
---
(Most interactive — $$)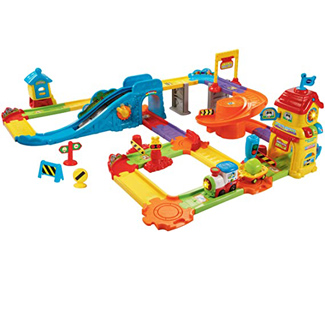 Why it's great: This is a great set with plenty of tracks and fun features. It has a train station, conveyor belt hill, bridge and tunnel, plus more. VTech also uses SmartPoint technology on their sets. This means that there are certain locations throughout the track that will make noise or let your child interact with the set when their train travels over the points. With music, noises, and sound effects, this set is entertaining and interactive for your child.
The tracks can be built in a myriad of different shapes or setups for variety. Plus, it is compatible with other VTech track sets and vehicles.
Keep in mind: Only VTech SmartPoint vehicles will be able to trigger the SmartPoints with sounds. However, other cars and trains can still drive on the set.
Good for: Children that want a whole interactive train experience.
---
(Best indoor/outdoor train set — $$)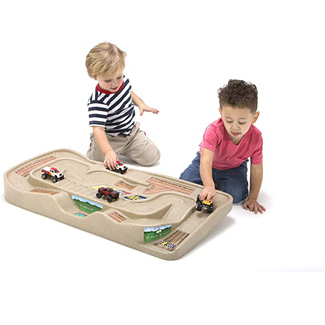 Why it's great: The best feature is right in the name… durable! For your youngest toddlers who aren't ready for more delicate train tracks, this track allows for rougher play. Unlike many other train sets, it is great for both indoor and outdoor play. It's also light enough for your child to carry from place to place. The set travels well and there is no assembly, so it is a good option for kids who struggle with fine motor skills or hand-eye coordination. Plus, it is always ready for play. A wonderful bonus feature, it is double-sided! One side for trains and the other can be used with small cars like Hot Wheels. Play with it on the ground or a table, alone or with a sibling or friend, this set is a great beginning train track!
Keep in mind: This does not include any trains, but it is compatible with Brio, Thomas, Hot Wheels, and many other trains or cars. The Play22 Wooden Train Set featured in the accessories section would work well too!
Good for: Young toddlers, children who have not developed fine motor skills and children who are not ready to be gentle with their toys.
---
(Best electric set — $$$)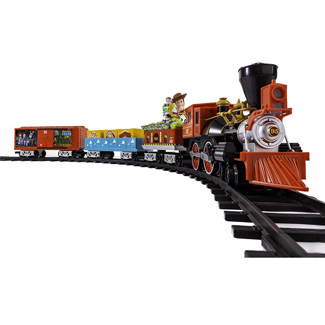 Why it's great: This is a large, fun train set that moves all on its own. It is battery powered and comes with a remote control, so your child can make it go forward or backward. The remote also allows your toddler to blow the whistle and ring the bell. The set makes traditional train noises and has a working headlight. This one has a Toy Story theme with Buzz and Woody riding along and it even plays clips from the movie.
It comes with 34 track pieces and has more than enough to build a large track. The pieces are easy for children to attach all by themselves and the remote is simple enough for them to use. This set also comes in other themes, such as Harry Potter, Disney/Mickey, and Thomas.
Keep in mind: Your child will not be able to drive or push this train on their own, as that can damage the electric function.
Good for: Little ones that want a more realistic train that they can control with a remote.
---
(Best train table — $$$)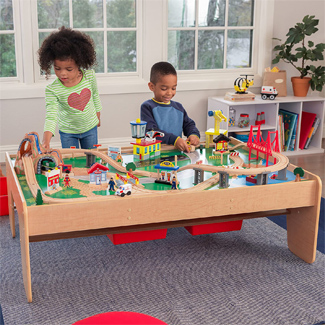 Why it's great: A train table is the equivalent of a dollhouse. Sure, you can play with trains on the floor or coffee table but having a designated space for your track creations to expand and remain undisturbed is a dream come true for your budding engineer or conductor. This table comes with beautifully painted scenery, a lipped edge so trains and accessories do not fall off and fun features like the waterfall, a bridge, helicopter pad, airport runway, and movable crane. It is just the right height for your child to stand at and play comfortably.
The table comes with most everything you need- ample tracks and lots of accessories. It only comes with four trains, but I am guessing that you are looking for a table after you have already started your train collection. One of the best features is the storage bins that slide under the train table and will store your extra tracks, trains, and accessories.
Keep in mind: The table and some of the parts need to be assembled. Measure your space to make sure you have room for the table and space to play around it. It only comes with four trains so you may want to add to that collection.
Good for: Your train enthusiast child who enjoys playing with train sets for hours a day.
---
(Best theme — $$)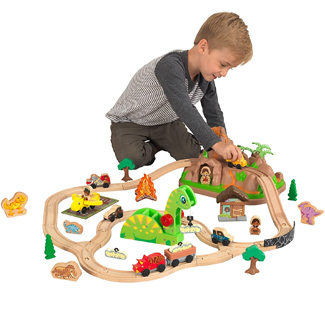 Why it's great: This set has an adorable dinosaur theme, with a volcano, brontosauras crane, and dinosaur pieces. It comes with 9 feet of track, so there's plenty of adventure and fun to be had. Everything except for the volcano is made from solid wood, and is strong and durable. The pieces are all dinosaurs or cavemen for hours of imaginative play.
This set is also compatible with most other wooden train sets, such as Brio and Thomas, as well as other KidKraft models. Plus, it comes with a bucket for easy storage when not in use.
Keep in mind: There are only two train cars that hook together, but there are other cars and vehicles that drive on the track too.
Good for: Kids that love dinosaurs and trains.
---
(Best value — $$$)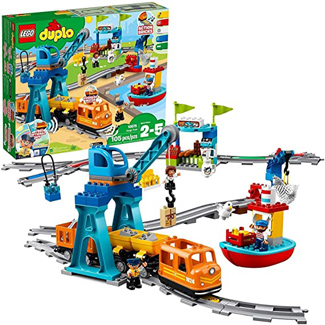 Why it's great: You can't go wrong with any LEGO product and the duplo sets are made just for little toddler hands. This set comes with 105 pieces, which is more than enough to keep your child busy for hours. The tracks and accessories are easy to build and will help improve your toddler's hand-eye coordination and fine motor skills. Plus, the electric train can drive on its own with just a push of a button. It comes with plenty of LEGO characters and other accessories, so your child can create a whole world to play in.
Keep in mind: While this is an electric set, your child can only make it stop and go with the button on the train. There's no remote control and they won't be able to change the speed or make it go backwards.
Good for: Toddlers that are ready to start building more elaborate train tracks.
---
(Best accessories — $$)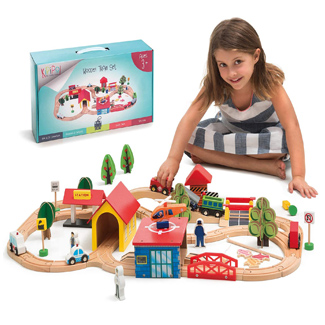 Why it's great: Want a step up from the basic train set? This is the answer! More tracks, more vehicles, and more accessories all for a decent price. Toddlers will love the flying helicopter and cute magnetic fishing pole. Great for hand-eye coordination as well! With an airport and bus station it sets the scene for endless imaginary play.
The stylish and unique 3-d trees are studier than the one-dimensional style that comes with most sets. Tested for quality and safety this set is also compatible with other major brands. It comes in a colorful gift box with a handle making it great for travel.
Keep in mind: It is not big enough to cover a whole train table.
Good for: Adding additional pieces or an upgraded beginner train set.
---
(Best beginning train tracks — $$)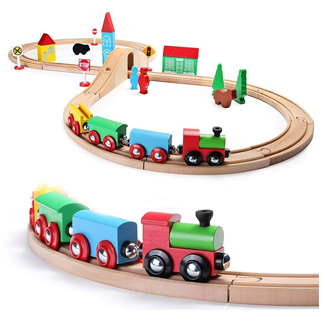 Why it's great: To ignite or fuel your child's love of trains one of the first things you need is a train track. This basic set will teach your child how to put track pieces together and create a basic figure-eight track with a bridge. Pieces can be rearranged to create a few other track designs as well. The included four trains and accessories such as trees, houses, and cows make it a complete set for beginning train fun. You will most likely need to build the track for your youngest toddler and teach older children how the tracks go together. Once they understand the basic idea, they will be able to expand and grow a wide range of track configurations.
It is compatible with tracks and trains from other major brands including Thomas the Train, Brio, and Melissa & Doug so you can use it as a base set to expand on. The natural wood and non-toxic, water-based paint makes it environmentally friendly and child safe. The size also makes it great for smaller homes and to travel with.
Keep in mind: It only comes with four trains. Connector knobs may break if tracks are not handled carefully.
Good for: Basic starter train track.
---
(Best versatile — $$)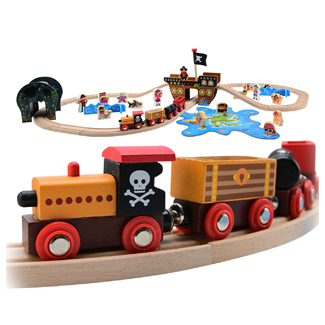 Why it's great: This is a great wooden set with a pirate theme. The pirate ship creates a tunnel and a bridge and the little pirates and creatures make this set a blast for young toddlers. Each piece is made from sturdy wood and handcrafted for extra durability. It comes with 72 pieces and makes the perfect size track for younger children.
On top of that, you'll also get a treasure map puzzle that your child will love putting together. And there's two fishing poles that your toddler can use to catch all the little magnetic accessories. With so many different options for play, your child will be entertained for hours!
Keep in mind: The magnets are not terribly strong, so they may be a little harder to hood the trains together.
Good for: Toddlers that love trains and pirates and need multiple avenues of play.
Additional Accessories
---
(Best beginning trains — $)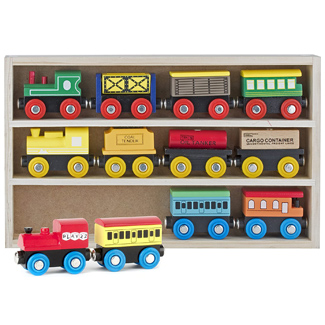 Why it's great: Once you have your train track you will need lots and lots of trains. Trains for siblings, friends and family members who want to join in on the fun! This set has everything you need to get started. It also includes a case for storing the trains. Putting trains back in the box is a bonus learning activity and your child who likes to keep their toys sorted organized will love this.
The set is magnetic allowing trains to be put together easily. Since the magnets are not super strong it will take patience and control to pull or push the trains on the tracks. Your child can create three trainsets each with their own engine and start learning other train car names such as tender, coach, cargo, tanker, and caboose. Time to start educating yourself on train names, Mom and Dad!
Keep in mind: This set does not include a track. Magnets are not very strong so trains will come a part or come off the track if pulled or pushed too hard.
Good for: Starting set of trains to go with your track. Makes a great gift!
---
(Best expansion pack — $$)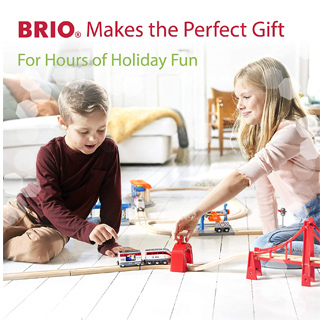 Why it's great: In addition to trains, you will need lots of tracks. The expansion pack includes fantastic pieces for creating longer and more involved tracks. The curved pieces help create circles and figure 8 tracks. Straight pieces expand the length of tracks so your smaller set can now fill a whole train table or room. Splitters like the 3-way ones that come with this set mean that your track can go off in different directions. Maybe one set will go through a farm, another around a zoo, and another over a construction set expanding play opportunities and bringing in other toys.
Keep in mind: This set does not come with trains or accessories.
Good for: Expanding current train track sets.
FAQs about toddler train sets
---
1. Why invest in a train set?
I use the word invest because the world of trains can get expensive when you account for tracks, trains, accessories, and a table. If you have children who love trains, it is 100% worth it because these sets provide hours of entertainment and engage so many learning skills. From fine motor skills of putting together tracks and moving trains along their creations to the social and emotional skills, they gain when playing in the worlds they create train sets can grow with your child and provide years of entertainment.
---
2. What ages are train sets good for?
Children as young as 18 months start showing an interest in trains and other moving vehicles. They will enjoy playing with larger trains they can easily push. Older toddlers and preschoolers will gain the skills needed to put together tracks and push or pull smaller trains. Train sets can be enjoyed by children into their early elementary school years and for some it will become a life-long hobby.
---
3. What are the essentials?
While there is lots of fun to be had simply with a few train engines and cars, there are some other essentials you will want to provide the full train set experience. Having an assortment of train cars will help keep the peace if you have more than one child wanting to build long and elaborate trains. For us, creating different types of train tracks with lots of loops and bridges is the most fun. We work collaboratively to build the tracks, or I build and let my son play. To do this you will need a basic train track set and then additional expansion tracks. Tracks can be built on the floor or coffee tables but having a designated train table is worth the investment if this is one of your child's main play activities. Train tables not only provide a surface at just the right height to play on, but they can also provide storage for those many trains, tracks, and accessories. Accessories help set the scene and expand play to include people, animals, and other engaging aspects like a construction site with a crane or an airport with helicopters landing.
---
4. What features should I consider?
You will want to look for trains, tracks, and tables that are well made. We'd recommend looking for environmental and safety features such as BPA free, lead-free, non-toxic paint, and extensive safety testing.
For your train table, think about whether you want to have the tracks attached to the table. We prefer the flexibility of having the tracks loose so we can make different designs and use the table for other activities as well. Do you want to have a painted-on scenery or blank tabletop? Some train tables, like the KidKraft Waterfall Mountain Train Set and Table, will come with two sides so you have both options.
---
5. Safety
Most train sets are designed to have pieces that are safe and do not pose choking hazards. There is always a risk that small parts such as wheels and connectors can come off so checking pieces and monitoring play is important.
---
6.How else can I expand on my child's love of trains?
Many states have train museums your family can visit, tour inside the trains and sometimes even take a short ride on old and new trains. Longer train rides can also be an exciting adventure and experience. Children's museums and toy stores often have train tables where you can bring your child to play. There are also lots of shows as well as non-fiction books on trains and fictional stories.
---
Conclusion
---
Train sets are a great source of fun, entertainment, and learning. We recommend starting with a basic set of trains and tracks and growing your collection depending on your child's age and interest. Consider the size of your home. Do you have room for a train table, including room around at least two or three sides? Or will you need to be able to easily put tracks away? If that is the case, you may want to think about a train play mat that can be pulled out. If you travel a lot, think about sets that travel well or come with carrying cases.
You may also like our other reviews…
Sleds | Roller Skates | Baseball Gloves | Easels | Rock Climbing Walls | Boy's Snowsuits | Trampolines | Karaoke | Safety Harnesses | Workbenches | Beds | Toothbrushes | Rocking Horses | Scissors | Bath Tubs | Sandals | Paints | Plates | Coloring Books | Skateboards | Slides | Climbing toys | Puzzles | Wagons | Scooters | Lunch boxes | Block sets | Racing tracks | Bikes | Guitars | Busy boards | Drum sets | Tool sets | Pianos | Pillows | Cameras | Headphones | Remote control cars | Swings | Golf clubs | Push cars |