Updated on by Lyric Fergusson
Your growing toddler is bursting with curiosity and creativity which often results in frustration on your part when you find another broken object. Rather than watching their little hands break objects to see how they work, channel that energy toward fixing things with a workbench! Toddlers love nothing more than to copy their caretakers, and a workbench allows them to fix, tinker, and build objects, just like adults! Inspiring independence, creativity, critical-thinking, motor skills, and problem solving skills, workbenches keep the fun going for years! Empower your little one to use imagination and build confidence with each nut and bolt. Allow your child to be a leader by asking questions such as what are you building? What does this tool do? How do you use this?

The Best Toddler Workbenches
---
(Best quality — $$$)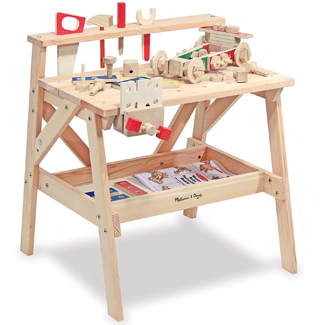 Why it's great: Safety and high-quality are top priorities with this solid wood workbench. It's just the right size, measuring 26″ H × 18.75″ W × 24″ L and weighs 18.8 pounds. This set includes a functioning vise, a tool rack, wooden tools and hardware, and a storage shelf. The simple colors and project ideas are sure to spark your tot's imagination and curiosity. Slide the tools away to use the bench as a desk for crafts and playtime! This bench is recommended for ages 3-6.
Keep in mind: The bench does not come with the chair in the pictures.
Good for: Parents that want the best quality workbench for their child.
---
(Good value — $$)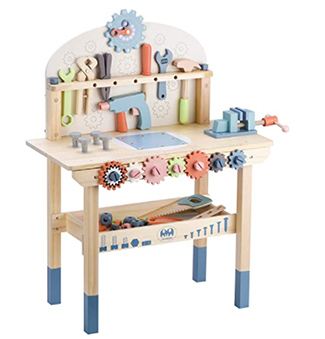 Why it's great: This compact and sturdy workbench encourages imagination and focus from your little tot. Simple tools such as a screwdriver saw, and wrench teaches logical thinking and problem-solving. Nuts and bolts encourage fine motor skills. Its compact size is great for discreet storage, but don't let that fool you––it's construction is solid wood which ensures your toddler can lean on it without falling over. DIY creativity is the name of the game. This workbench offers simple gears and bolts to make whatever your toddler can think up. The pieces are BPA-free. The set itself comes with a wide variety of accessories and you can purchase additional pieces separately.
Keep in mind: This workbench is a bit smaller so your older toddler might need to sit on a small bench (not included) to play comfortably.
Good for: Parents that want a great quality workbench at an affordable price.
---
(Best projects — $$)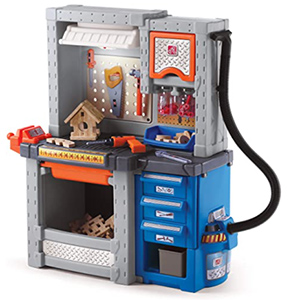 Why it's great: Though it's made of plastic, this workbench looks like a kid's work zone. A battery-powered drill makes realistic sounds. Since that's the only tool of the bench that makes noise, you can ensure that your toddler won't be over-stimulated. The "wooden" pieces are made of Durafoam to prevent injuries and make it easier for small toddlers to handle. The set includes a 50-piece accessory set: A pretend hammer, drill, saw, toy wood pieces, nuts, bolts, and nails.
Keep in mind: Though blueprints are included, they are not so detailed that your toddler will be able to build every project alone. Consider this a great activity to do together with your child.
Good for: Parents that want a workbench with actual projects their child can complete.
---
(Most simple — $$$)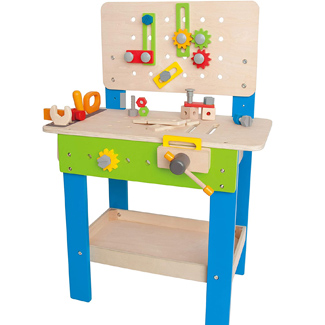 Why it's great: This workbench includes pops of bright primary colors and a beige wooden structure. At first glance, you'll notice it's visually stimulating but not overwhelming. Hape's German engineering offers precision and durability. The master workbench contains 35 pieces including a hammer, saw, screwdriver, wrench, vise, angle, screws, nuts, bolts, gears, links, and more creative parts for building. The adjustable height offers comfort while your toddler is creating at the workbench. Though there are several projects to be made, the table itself has a simple layout which makes it easy for your tot to focus on all of its capabilities.
Keep in mind: Hape focuses on the quality and durability of the product. This is the workbench for you if you're looking for a simple workbench without too many bells and whistles.
Good for: Children who need a simpler and easier workbench.
---
(Most portable — $)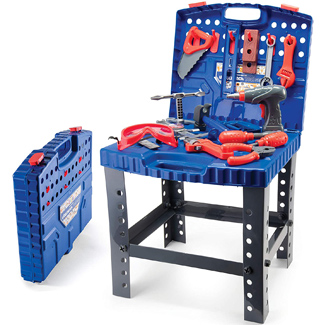 Why it's great: This workbench comes with tons of tools and accessories, so your child can build, repair, or take apart to their heart's delight. Plus, the whole thing folds up into a carrying case, which means your child can take this with them on the go. The 72 tools and accessories are the perfect size for little hands. And they're all pretty realistic. The drill is even electric, as long as you put in some batteries. Overall, this is a great set for young kids that are excited about using tools.
Keep in mind: Batteries are not included, so you'll need to buy those separately.
Good for: Kids that want a workbench that they can bring with them wherever they go.
---
(Most realistic — $$$$)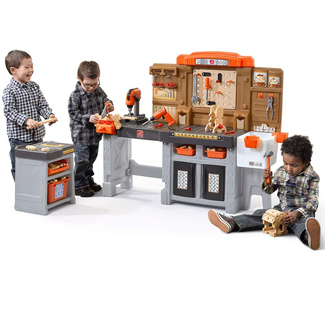 Why it's great: This utility bench is a real beauty with attention to detail in the structure and functionality. A pull-out utility bench helps to expand the fun with a table saw and storage area. There's an attached utility sink which makes cleaning up a project even more fun! Loads of storage bins and built-in cabinet space allow your toddler to keep the workbench neat and tidy! The building projects are made of foam that look just like real wood. The workbench includes a 76 piece accessory set.
Keep in mind: This specific model doesn't contain an overhead light like other Step2 models.
Good for: Families that have more space and want a realistic workbench for their child.
---
(Most educational — $)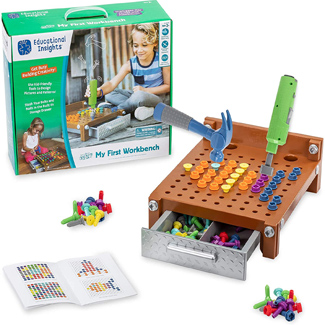 Why it's great: This one comes with a booklet of designs that your child can create by hammering in nails or screwing in screws. The accessories are all different colors, which promotes color recognition and math/counting skills. The hammer and electric screwdriver will help increase your toddler's fine motor skills as they work to attach the parts to the bench. Plus, the drawer is perfect storage for the small parts.
Keep in mind: Some of the patterns may be difficult for younger toddlers, but they'll still have fun playing with this set.
Good for: Kids that are a little more advanced and want something more challenging.
---
(Best machinery — $$$)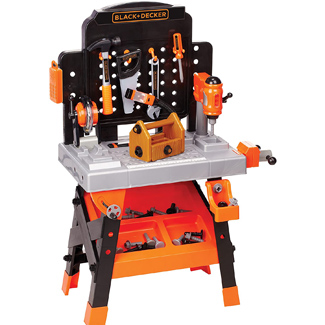 Why it's great: Make some space in your workshop for your little one! This Black + Decker Power Tool Workshop looks like a real workshop at first glance! It provides realistic tools and settings that'll make you want to call your tot "Mr./Ms. Fix It!" With 75 tools and accessories as well as realistic sounds and actions, this workshop will keep your toddler busy for hours. Components include a workbench with storage trays, miter saw, phone, drill press, accessory bin, vise, hand saw, screwdriver, hammer, wrench, 15 screws, 5 nails, 22 nuts, toolbox, and a bonus flashlight.
Keep in mind: If your toddler builds the toolbox faster than you expected, there are other Black + Decker wooden accessories that you can buy separately to keep the fun going.
Good for: Toddlers that want realistic tools and accessories that work just like they should.
---
(Most unique — $$)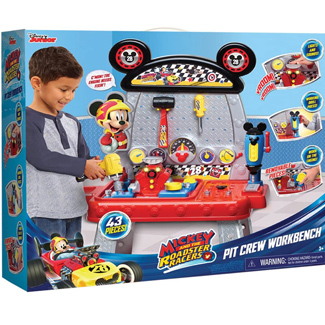 Why it's great: Not only does this workbench feature Mickey Mouse and an adorable design, it's also a little different than the other workbenches. This one focuses on fixing up cars and getting them ready to race. It allows your child to act as a mechanic with an electric impact wrench and drill press. Plus, they can check the air filter, engine, battery, oil cap, and power cables. There's plenty of storage space to hold all the nails, screws, and other smaller accessories. And there's hooks for the bigger tools. Your toddler will love helping Mickey get his race car ready for the track.
Keep in mind: Both the engine and drill press require batteries that are not included.
Good for: Toddlers that are interested in mechanics, as well as building and using tools.
---
(Best first workbench — $)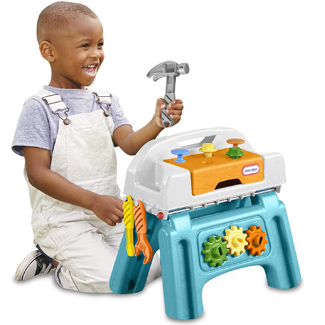 Why it's great: This is a great starter workbench for toddlers that are interested in tools. It has a hammer, wrench, and screwdriver that will help your child develop their fine motor skills. The screws and nails are easy for younger toddlers to navigate and manipulate. Plus, all the accessories fit in the storage compartment and the bench folds up flat when not in use.
Keep in mind: This one is not very realistic and is a very basic workbench, making it great for beginners.
Good for: Toddlers that want to start learning to use tools.
---
(Best for younger toddlers — $)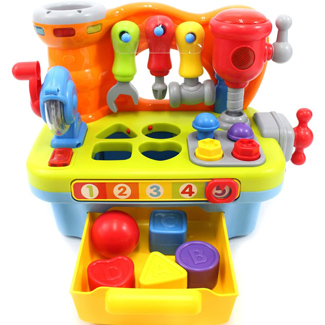 Why it's great: If you thought your toddler is too young for a play workbench due to small pieces, think again! This workbench is targeted toward toddlers as young as 1-year old, and it shows. With colors galore, and larger workstation knobs, your little toddler will feel like a big kid in no time. Shape blocks, numbers, sounds, and machinery, will help your child develop their critical thinking, problem-solving, and hand-eye coordination. Its compact size makes it easy to store and great for small hands to take control and start fixing! If you're worried about the small bolts, hide them away until your toddler is older.
Keep in mind: Though the manufacturer states "suitable for ages 3+," you'll get more use out of this specific workbench with even younger toddlers.
Good for: Young toddlers that need easier tools and accessories to manipulate.
---
FAQs about toddler workbenches
---
1. What Are some unique benefits to workbenches?
Workbenches are excellent for expanding imaginations, language, motor skills, hand-eye coordination, and social skills. Role playing requires kids to engage in storytelling as they create scenarios while experimenting and fixing trinkets. You'll find that your little one will build confidence along with fun projects each time they play at the bench!
---
2. Are workbenches considered educational?
Absolutely! Creating projects and understanding how to use the tools flourishes your child's critical thinking skills. Some benches even focus on shapes, colors, and numbers to expand knowledge. Workbenches establish Science, Technology, Engineering, and Math based play for small toddlers to 10-year-olds!
---
3. Should I focus on the types of projects the workbench includes?
That depends on the age of your child. Some workbenches include projects that are more in-depth and require more focus and attention to detail. This can easily be solved by having a parent or guardian play along to guide the child.
---
4. Does the size of the workbench matter?
It depends on what you're trying to achieve with the workbench. If you're looking for a small toy that offers new scenery while encouraging motor skills, the smaller workbenches will do. If you're hoping to encourage creativity and longevity of the workbench, focus on getting a larger workbench that includes more intricate projects and tools. This will ensure the workbench will serve a purpose in the long-run. Once your toddler is old enough to play pretend, the advanced capabilities will keep the fun going.
---
5. Does it matter if the workbench structure is wood or plastic?
Not necessarily. Some workbenches are plastic and smaller, providing a great option for smaller toddlers to tinker with. It also makes storage easier. Larger, heavier workbenches are great for both toddlers and older children to ensure your growing child won't outgrow it too quickly. The wooden structures are durable but are heavier and more difficult to move.
---
6. Do the workbenches come with expansion packages?
While most workbenches include a specific set, the wooden or larger benches are compatible with other tools and pieces. You can easily find additional compatible pieces if you're unsatisfied with the accessories that come with your workbench.
---
7. I notice all the workbenches say ages 3+. Can I purchase a bench for my 12-18-month-old?
You can! The reason behind this suggestion is for the small pieces that pose a choking hazard. Some workbenches come with larger pieces, while others come with plenty of accessories and tools that your little one can still play with. If you're eager to get your tiny tot on a workbench, focus on the ones that are brighter, colorful, and smaller in size.
---
Conclusion
---
There are many options to purchase the perfect workbench for your toddler. Varying in price and capabilities, you're sure to find a workbench for every stage of childhood. The benefits of workbenches include building language and social skills, establishing critical thinking, enhancing physical and motor skills along with hand-eye coordination. Workbenches that are larger and more intricate encourage creativity and role-playing which expands your child's imagination. Be sure to check out the number of accessories and size as they vary between workbenches.
You may also like our other reviews…
Skateboards | Motorcycles | Purses | Train Sets | Ball Pits | Laptops | Gyms | Booster Seats for Tables | Baby Dolls That Look Real | Art Supplies | Drawing Boards & Tables | Alarm Clocks | Indoor Playgrounds | Board Games | Music toys | Activity tables | Tricycles | Backpacks | Step stools | Slides | Climbing toys | Puzzles | Wagons | Scooters | Lunch boxes | Block sets | Racing tracks | Bikes | Guitars | Busy boards | Drum sets | Tool sets | Pianos | Pillows | Cameras | Headphones | Remote control cars | Swings | Golf clubs | Push cars |