Updated on by Lyric Fergusson
Trail cameras are small photo and video cameras, usually mounted to a tree or other object, which take motion-activated pictures and videos when an animal moves near their sensors. They've been popular for years among hunters who are staking out their game, but with new advances in technology making them improved and more affordable, more and more people are interested in trail cameras. They can be used for monitoring farms and land, home security, or just to check out the wildlife around you.
There are several features to consider when shopping for a trail camera, including the construction, resolution, speed, and connectivity options. It can be a bit overwhelming, but we've researched the best trail cameras at this price point for you. Below is a list of our seven favorite trail cameras under $100:
Best Trail Cameras Under $100
---
(Best quality for low price)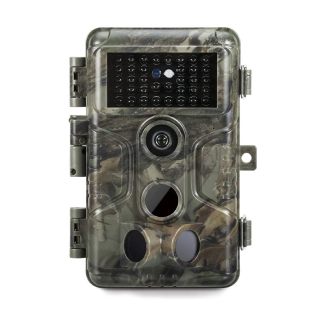 Why it's great: If you're looking for a trail camera that provides fantastic night vision, the GardePro A3 may be the one for you. With an extra-large aperture, infrared night vision, and a Sony Starvis image sensor, this trail cam produces crystal clear images and video, even if it's totally dark. The no-glow technology means that the animals will never detect the camera in day or night. It features a lightning-fast 0.1s trigger speed, so you won't miss a thing. We especially like that the video includes sound, and has options for time-lapse and loop recording as well. The .mp4 files are compressed, making for quicker downloads from the SD card.
Keep in mind: The night vision videos are limited to 30 seconds in length (daytime videos can be longer).
Good for: High-quality, candid, wildlife photos.
---
(Best for home monitoring)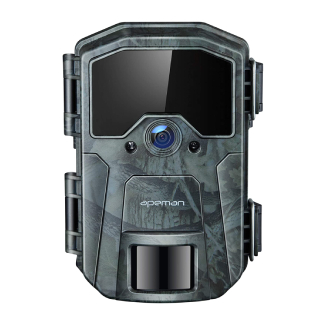 Why it's great: One of the fastest cameras on this list, the Apeman 20MP Wildlife Camera is able to activate its sensors in 0.3 seconds, meaning you can capture the wildlife photo without missing a beat. We like its side-sensors, which capture animals coming into the field of view faster than a front-mounted sensor. With its 20MP resolution, the images will be crystal clear and impressive as well. It can also capture video in stunning 1080p HD mode. It features an LCD screen built-in for previewing photos and can be mounted with a strap or screwed directly to a tree or fencepost. We also appreciate that it includes the temperature on the photo's date and timestamp, which isn't critical, but an interesting bit of data to include.
Keep in mind: This camera does not produce as high-quality night time photos as others on the list.
Good for: Catching the action in the wild.
---
(Best deal for multiple cameras)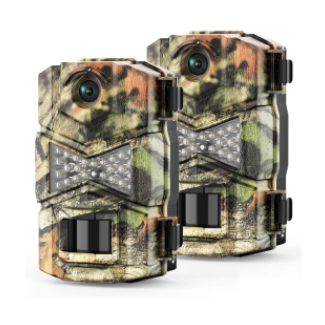 Why it's great: The Wosoda 2-pack Trail Game Camera is a very inexpensive option if you are looking for more than one camera. It's extremely easy to set up the cameras and get them going taking photos of wildlife and your property. The unit features a tight, gasket-sealed housing to prevent dirt, dust, and water from entering. It offers both photo and 1080p video mode, and night vision. We particularly like the battery compartment that slides out for easy access.
Keep in mind: Some customers noted that moving objects came out blurry in photos.
Good for: Monitoring various parts of your property.
---
(Highest resolution)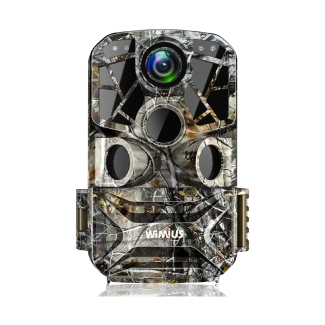 Why it's great: The WiMiUS H8 allows you to connect right to your phone and use the free app (for Android and iOS) to control the camera, turn it on and off, adjust the settings, and download the files. The LCD screen makes it easy to preview photos in the field, and the 24MP and 1296p resolution means you'll get incredibly clear photos and video from this camera. We like that the video includes sound, and the 120° angle lens captures a large area. We appreciate that this model comes with a tripod mounting bracket, which most others do not include. It also comes with an AV cord included, meaning you can easily hook it up to your TV for family viewing
Keep in mind: The high resolution may use more battery life.
Good for: Wildlife buffs who want impeccable-quality photos!
---
(Most connectivity options)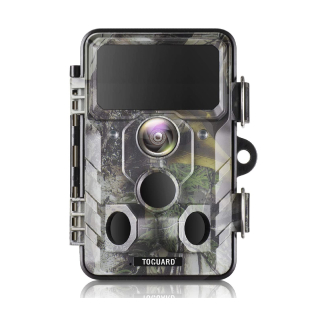 Why it's great: Another great option, the TOGUARD Hunting Game Camera comes with all the accessories and connectivity you'll need. To mount it, you can use the included screws, mounting strap, or threaded tripod. To connect to your image and video files, you can use the USB cord, Bluetooth connection, Wi-Fi connection with a free iOS/Android app, or remove the SD card (not included). We especially recommend the Wi-Fi connection if you mount the camera in a hard-to-reach area – you can still access all of your files without having to unmount it.
Keep in mind: This model uses a "low-glow", rather than "no-glow" LED lighting at night, which means it may be slightly detectable by animals at night.
Good for: Mounting in those hard-to-reach areas.
---
(Great for all around use)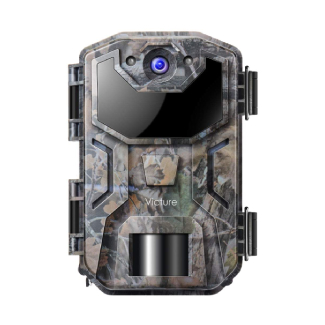 Why it's great: The Victure offers still photo mode, video mode, or a combination, making it a versatile option for the price. The clamshell design is engineered with a rubberized seal to withstand even the toughest rain, and remain totally waterproof without lens fogging. With 0.3 sec activation, it takes 3 continuous shots, so you won't miss even a fraction of a second of the action. With a night-vision video option, it is a great all-around camera that provides pretty much everything you would want. The no-glow LED lights do not light up at all while photographing at night, so animals will never detect it.
Keep in mind: This model does not offer any kind of remote access or Wi-Fi connection.
Good for: Someone who is just getting into using trail cameras.
---
(Most features)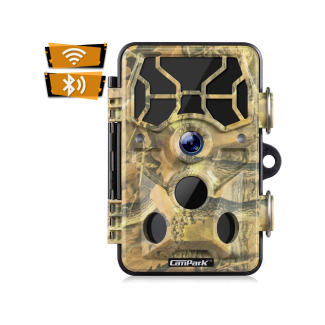 Why it's great: If you're looking for an affordable trail cam with basically all the options on the market, we recommend the Campark Trail Camera. It allows you to connect with Bluetooth, WiFi, or removeable options such as SD cards and USB cords. It offers night vision, photo and video modes, and a long triggering sensor distance. With photo resolution options ranging from 5MP to 20MP, and video resolutions of 1080p and 1296p, you can be assured there is a setting that will work for your needs. We also appreciate the great customer service provided by Campark.
Keep in mind: The newest iOS upgrades may not work well with the app, and additional software updates may be required.
Good for: Great night-time photos, downloaded right to your phone.
---
FAQs about trail cameras
---
1. How do trail cameras work?
Trail cameras are generally mounted to a tree, building, or fencepost, and pointed at an area through which wildlife pass. Sensors on the camera sense when there is motion, and the camera turns on and takes either photo, video, or both. At night, trail cameras use infrared and night-vision technology to take photos and videos, usually in black and white. They can also be used to monitor property, as they will turn on and photograph or video any people moving within their detection zone.
---
2. What is a detection or triggering zone?
A camera's detection zone is the area in which it can sense motion. Some cameras sense only directly in front of their position and some feature side sensors that detect when an animal is approaching from the side. The width of the zone indicates how far side-to-side it will detect motion. The range of the zone indicates how far away from the camera it can detect motion. While a large width and range seem ideal for covering a larger area, it can result in photographs from further away, as animals aren't as close when it is triggered.
---
3. How do I access my photos?
Depending on the capabilities of your camera, you can access them in a number of ways. Typically, the cameras use an SD card, which can be removed and inserted into a computer, where you can view, download, and erase the photos and videos. Many people keep two SD cards and replace the full one with an empty one when they visit the camera. Some of the cameras on our list also offer USB cords, which can plug into many devices to download the photos. Lastly, a few of the cameras listed offer Wi-Fi and/or Bluetooth connectivity. These are great for connecting at a distance, meaning you will not need to physically unmount or touch the camera to access the photos. You can download the photos to your phone or device and clear the camera's card, all hands-free.
---
4. How long do the batteries last?
Good question. The battery life can depend on several factors, including those you can control (photo vs. video mode, operating hours), and those you cannot, such as outside temperature. Most of the cameras on our list take AA batteries, and it is recommended that you select high-quality batteries that are designed for long term use, such as lithium batteries. Some of the cameras also offer a DC-connection option, if you can plug into an electrical outlet. This can be handy if you are using the camera for property monitoring or security and can mount it to a building.
---
5. Are the night photos any good?
Yes, it is surprising how far trail camera technology has come in recent years. Night vision for both photo and video has improved greatly, and many of the cameras on our list provide exceptionally clear night time photos. There are still a few that produce grainy-type photos and videos at night – you'll want to look for IR (infrared) technology for high-quality night photography.
---
Conclusion
---
The options for affordable trail cameras are growing and becoming more accessible to more people. The trigger speed, night vision, and intense resolution have significantly improved the quality of affordable trail cameras. We feel any of the trail cams above would make a great addition to your hobbies, hunting, or home.
You may also like our other product reviews…
Croquet Sets | Gas Grills Under $200 | Gas Grills Under $300 | Pogo Sticks | Zero Gravity Chairs |