Updated on by Lyric Fergusson
No matter your workout regiment, treadmills are a great way of bringing a fun cardio option in your daily life. Whether you like to rock out to music, listen to podcasts, or watch TV during your time burning calories, setting up a treadmill in your space can be a wonderful way of bringing the resources of the gym to you without the time and money commitment of a membership. If you want to add equipment to your at-home gym collection, or begin your at-home fitness journey for under $1000, here are 7 of our favorite treadmills that will make your home into a health oasis!
Best Treadmills Under $1000
---
(Best budget option)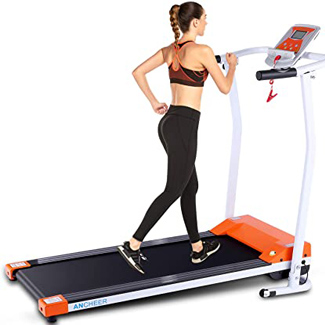 Why it's great: Here's another treadmill that has a couple colors for you to choose from, as well as having only five-star reviews on Amazon! Pick your color: black, blue, orange, gray, or yellow to add some spice to your at-home workout space, and enjoy the plethora of features this 14"-wide treadmill will bring you! Ancheer's treadmill comes with 12 pre-set options, as well as the option for a small incline, which is uncommon for folding treadmills and helps those who want to protect their knees. It's over-delivers with a fantastic price and quality, long-lasting design, and will be sure to keep up with however intense your fitness routine may be!
Keep in mind: Additionally, it's not the most compact, as the display screen takes up a significant amount of vertical space, especially if you're wanting to place it under a couch, table or bed. Also, there is an additional $20.00 shipping cost.
Good for: This treadmill is great for those who love a great deal, and want a treadmill that will last them a long time!
---
(Best features)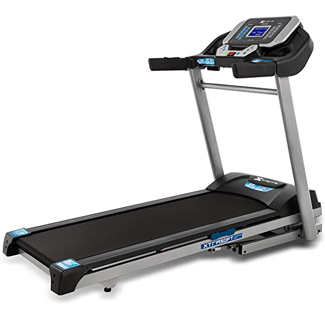 Why it's great: Though XTERRA's TRX4500 Folding Treadmill is on the pricier side, it's not without good reason. This 77-inch treadmill comes fit with a Bluetooth connection, two accessory/cup holders for your water, phone, or remote, a large, clear display for tracking time and level, and handlebar controls for easily customizable workouts. Known to be super quiet and very sturdy, the TRX4500 is a great addition to a larger at-home gym or living space. This model is best known for its great, clear display, and hand pulse grips, so you can track your progress from the inside out. If you're looking for a model that's packed with features and don't mind it taking up some extra space, this one may be the one for you. Installation is required, but it shouldn't take more than 45 minutes to do by yourself by properly following the instructions.
Keep in mind: Since this machine has so many great features, it's on the heavier side, so you'll want to schedule a delivery as close to your "landing location" as possible to minimize the transportation needed. Also, though it has an audio jack, it may be a bit outdated for your phone. Check to make sure it fits your phone, or if you'll need to purchase an adapter before you buy. Lastly, the fan it features doesn't seem to cut it for most users, so if you know you'll be packing on the sweat, position a fan nearby to help cool you off.
Good for: This model is great for those who want a treadmill packed with gym-like features, and don't mind it taking up a little extra room.
---
(Easiest to use)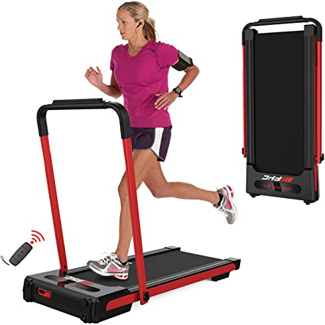 Why it's great: This small but mighty treadmill is great for a small space and for saving your wallet. With a lightweight and easily-moveable design, this FYC's 2-in-1 Folding Treadmill is operable both from the machine itself and from the included remote control in case you want an easier way to operate. It's great for small spaces like apartments or small homes without space for an exercise room, as the arm rail and mini-console system folds down completely, so it can be stored easily under flat surfaces. It also has wheels made for easy-movement, so dragging it across the wood floor doesn't have to become a regular thing. Unlike other foldable treadmills, this model features 12 pre-set training modes so you can have a personalized setting already in place to craft your workout around. It's great for a quick set-up, and break-down, easily stored underneath a table, couch, or bed. Another great perk? Free shipping, and a super simple set-up!
Keep in mind: The handlebars aren't known to be the sturdiest; you may want to ensure you have a table or additional means of stability nearby if you think this may pose a problem. Also, because of its uber-flexible design, it's a bit light on features: it doesn't have a water bottle holder, lacks a pause button, and doesn't have an option for incline.
Good for: This treadmill is great for those who want to trade fancy features for a simple, sleek, and small design that will accommodate your small living space.
---
(Most cost-effective)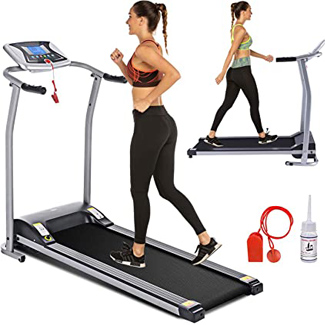 Why it's great: Small space? No problem! Aceshin's folding treadmill may just be the way to go if you're looking for an easily-movable treadmill with the features that you'll find at the gym. Unlike other folding treadmills, Aceshin's Electric Folding Treadmill boasts an LCD console including an LED screen and clear buttons for easy adjustment, a self-lubricating system, and a safety key for emergency stops. The handrails have pulse sensors, and you can access 12 training modes from the console itself, and seven color options including gray, green, orange, purple, silver, white, and yellow.
Keep in mind: The maximum weight is 220 pounds, similar to other foldable models. The belt is also a bit narrow, so be prepared for some transitioning time if you're used to a wider belt. It also lacks some additional features like a water bottle holder and Bluetooth connectivity. Shipping is also $20 extra to factor into the budget, and though it's foldable, it's not as compact as some of the other models. Make sure you have a space to store it, as it might not fit under a couch as easily as some others.
Good for: This treadmill is great for those who want some fun color options while still having some basic treadmill features that they know and love from the gym.
---
(Most sleek and efficient)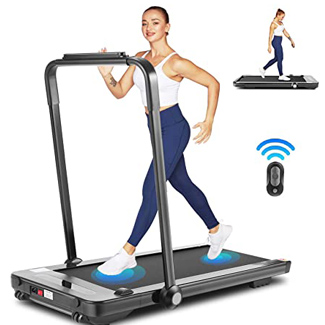 Why it's great: Fioleken's 2-in-1 Under-Desk Treadmill's sleek design is one of its most key features in making it a must-have in your home. It's a great way to add an opportunity for fitness to your home while maintaining a sleek look. It features a folding handrail that goes completely horizontal, making it perfect for storing under the couch. Similar to some other folding treadmills, it has a slower speed feature when the handrail is down, with the ability to go from 0-4 miles per hour, and up to 7.5 miles per hour when the handrails are up to ensure safety. Along with Bluetooth connectivity, a phone holder, a remote control, and 12 exercise programs to choose from, the Fioleken also offers a highly-functional feature of having its display on the bottom instead of on the top, so as not to create extra clunkiness when being stored while still offering a visual representation of your fitness progress.
Keep in mind: Similar to a couple other models, there is an additional $20 shipping cost, and it lacks a water bottle holder.
Good for: Those who want a sleek, simple, but effective design with many of the features you'll find in the gym in a unique style will love this highly-functional and sleek design.
---
(Most classic)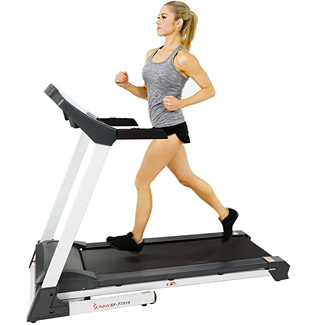 Why it's great: The Sunny Health and Fitness SF-T7515 has a ton of features that make you feel the same upbeat energy that you have in a fitness class. With Bluetooth connectivity, 3 levels of training– one for time, speed, and calorie count– and a pulse grip heart rate monitor, this treadmill may be the perfect one to put into your living space. Along with these features, the SF-T7515 features two water bottle holders, the ability to incline up to 12%, and free shipping! It's also known to be nice and quiet, so your workout won't be too loud for your neighbors or kids. Sunny Health & Fitness is known to have a great customer service team; if anything arrives missing, wrong, or damaged, they will be sure to make it right for you.
Keep in mind: Make sure you keep the barcode handy in case anything shows up wrong or missing, so your customer service rep can help you as best they can. Additionally, unlike some other machines, the SF-T7515 does require some significant installation because of all its great features, so plan out accordingly if you'll need a helper, though the set-up isn't known for taking a very long time. It's also known to be a bit narrow, so smaller users may benefit from the fun-sized design.
Good for: This model is great for those who are looking for a classic, sturdy treadmill that is familiar to those found at the gym.
---
(Best for intervals)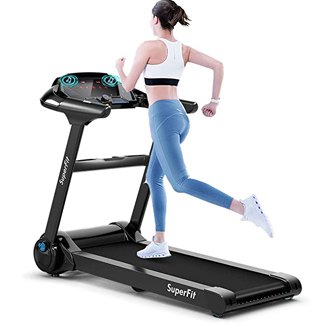 Why it's great: This stable and strong treadmill features a huge display, a 17"-wide belt, Bluetooth connectivity, heart rate grip, and different workout programs like distance, calorie-burning, Plus– it has wheels for transportation, and folds! It has a supporting shelf to hold your phone and water, and a uniquely-designed knob for speed control, instead of the typical buttons, which is great for those of you who love intervals– no more pressing the "up" button ten times over to up your speed. Overall, it features most of what you'll find in your gym's own machine, while also having the capabilities of being folded and stored for later. Plus, it's free shipping!
Keep in mind: Though this is technically a foldable design, it won't fold as cleanly as some of the other foldable ones mentioned. Make sure you measure out your storage area before purchasing to ensure it will fit. Also, though it has connectivity to earphones, make sure it fits with your phone, or that you have the proper adapter, as the adapter it currently uses is a bit dated.
Good for: This is great for those who love working intervals, and don't mind dedicating some extra storage space.
---
FAQs about Best Treadmills Under $1000
---
1. What are different ways to use a treadmill?
Treadmills are used for both running and walking. There are several options for running: intervals, where you spike up the speed in small bursts of energy for a shorter amount of time; long-distance, where you stay slow and steady for a long period of time, or a combination of the two. You can also utilize the features on your treadmill, if it comes with pre-sets, to help guide you to an exercise program that best suits you. For those who can't or choose not to run, you can also use treadmills for walking, whether on an incline or a flat surface. The incline can be used for both walking and running and helps with minimizing the shock on your knees.
---
2. How can I stay safe on a treadmill?
A couple of ways you can ensure you're utilizing your treadmill in the safest way possible is to:
make sure you have access to the handrails, and use them if you feel you're going too fast or need some support.
Straddle the belt before starting your workout so you can manage the beginning of your workout with ease, confidence, and control.
Never start the treadmill's speed too fast. Begin slow, and work your way up.
Don't step off a moving treadmill. Instead, lower the speed, hit stop, or pull the emergency stop chord if you feel the need to stop is more urgent.
---
3. When do I use treadmill lubricant?
It's recommended to use lubricant every 3 months, but depending on how much you use your treadmill, the answer will vary. Also, be sure to check the specific lubricant to purchase, because home and non-specific lubricants could cause damage to your machine's belt. It's best to check the manual of your specific model for the most accurate answer geared towards your machine.
---
4. Do I need a treadmill mat?
Treadmill mats are recommended, as they can help prevent particularly heavy treadmills to cause serious damage to your floors when in use. Treadmill mats also help disrupt carpet build-up and dust to enter into your treadmill's system and disrupt the motor.
Conclusion
---
Treadmills for your home are a great addition to implementing a more regular exercise regimen. With the right model for you, you'll be able to make exercising more fun and accessible, while still enjoying your music, television show, or podcast. If going to the gym seems daunting, bring the gym to you, and find out how you can reap the benefits of creating your own personal fitness oasis right in your living room!
You may also like our other product reviews…
Calf Compression Sleeves | Camping Towels | Compact Home Gyms | Cooling Towel | Diving Watches Under $500 | Electric Bikes Under $1000 | Elliptical Machines Under $500 | Football Towels | Heavy Bag Gloves | Hiking Towels | Hybrid Bikes Under $500 | Smartwatches Under $50 | Sports Towels | Tennis Towels | Treadmills Under $500 | Weighted Vests | Weightlifting Belts |