Updated on by Lyric Fergusson
After years of being vintage collectibles, vinyl records are back in style. Although, if you're reading this, I probably don't need to tell you that. There's a wide variety of turntables out there these days, which can make the buying process confusing. From the needle to the platter to the tonearm, there's a lot you need to think about to get the ideal listening experience.
Choosing the right turntable is essential for a clear and crisp sound, which is why I'm helping make the buying process as easy as possible. While you may find people advocating for spending hundreds of dollars on the perfect machine, you can get some seriously good equipment for under $300. So, get those records ready because these turntables are some of the greatest (and most affordable) on the market.
Best Turntables Under $300
---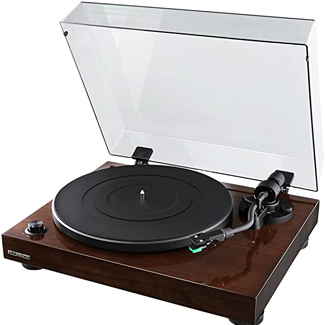 Why it's great: Fluance has been around since 1999, and they've made a name for themselves since the beginning. With six models available, the RT81 is one of the best starter turntables on the market. If you're new to the game, Fluance makes it as easy as possible to set this turntable up with step-by-step Youtube videos.
With a heavy base, the use of isolation feet, and an aluminum platter, you don't have to worry about vibrations ruining your sound. It also has a high-quality stylus and is belt-driven, making for deep, rich music.
Keep in mind: If you plan to use this turntable for extended periods of time, you might experience inconsistent speed. For most users, the distortion will be unnoticeable.
Good for: Turntable beginners
---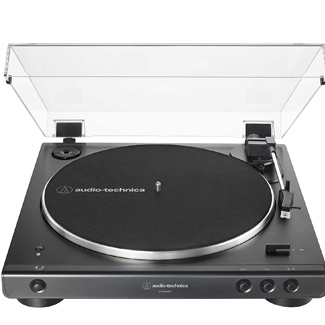 Why it's great: Audio-Technica is one of the most well-known brands in the turntable industry–and for a good reason. This Bluetooth table offers both a switchable phono stage and wireless connectivity, all with the touch of a button. One could even compare it to a large CD player. That's how easy it is to use.
Place the vinyl on the platter and press start, and the table does the rest for you. It produces high-quality sound, especially when connected to a high-end stereo system. Because of its cone-shaped stylus, the turntable fits perfectly into the grooves of your vinyl, making for a seamless listening experience.
Keep in mind: Because it is made out of plastic, it is exceptionally light. Those who have experience with turntables may find this as feeling cheap compared to other equipment. Don't let this deter you, though. It's a sturdy table!
Good for: Budget buyers
---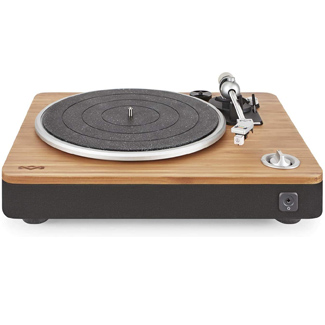 Why it's great: One look at the Stir It Up turntable, and you would think that it costs a lot more than it does. Its base is made of rich bamboo, grey hemp cloth, and recycled plastic, making it aesthetically pleasing and sustainable.
With a built-in preamp, the turntable can be used with headphones or speakers. The headphone jack is located on the front, while the RCA preamp output and USB are located on the back for computer usage. It plays in both 33 RPM and 45 RPM, but there are no pitch controls–though this is a small feature that you most likely do not need. In terms of sound, it performs better than most entry-level turntables on the market.
Keep in mind: There is no dust cover, which some might find frustrating.
Good for: Eco-friendly turntable lovers
---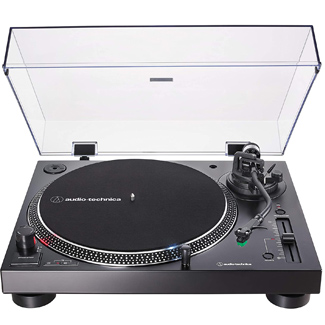 Why it's great: Are we surprised that there are two Audio Technica turntables on this list? They have quality products for a wide variety of budgets. The AT-LP120XUSB-BK can play not only your vinyl records but can digitize your music selection as well.
Once assembled, which takes all of 5-minutes, the turntable is very easy to use. Once you place a record onto the platter, all you have to do is choose the correct speed and hit play. If you do not have a stereo with a dedicated phone line, you're in luck. The AT-LP120XUSB-BK has a built-in preamp. To get the cleanest, most crisp sound, you'll want a quality amp or pair of speakers.
Keep in mind: There is no bass control or Bluetooth connection option, though this is not important for most people.
Good for: Beginning DJs
---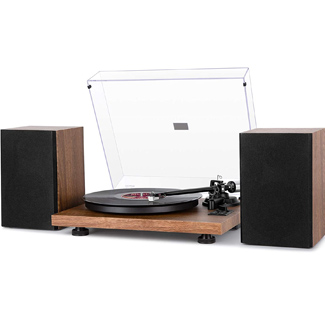 Why it's great: 1byone Wireless turntable HiFi system is one of the most unique out there because, for less than $300, you get a system with built-in speakers. With modern features such as Bluetooth capability and vinyl to MP3 capability, this table is a lot more high-tech than it looks. Not sure what vinyl to MP3 means? If you have an extensive vinyl collection, you can back-up it MP3 for digital storage so you won't ever have to worry about losing the music.
Along with the high-tech features, it is also very user friendly. After setting the record on the platter, the anti-skating weight, tonearm, and Audio-Technica stylus do all of the work for clear sound with no bass disruption.
Keep in mind: While there are built-in speakers, they are low watt. If you care about high-quality sound, you may be inclined to use a separate sound system.
Good for: Those who love vinyl and digital music
---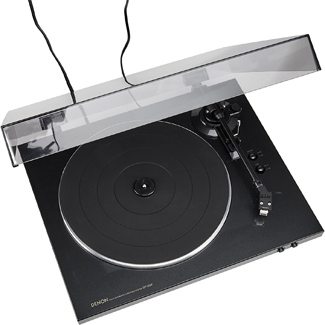 Why it's great: The DP-300F is a two-speed that has a belt-driven motor. Essentially this means that you put on the record of your choice, hit play, and the music begins rather than having to deal with moving the arm. It also lifts the needle off the record once it is done playing, meaning no premature needle wear.
Because it has a built-in phono equalizer, the table offers a wide-open sound that brings your record to life. Denon has been around since 1910, and its high-quality turntables are a worthy investment, as they will last you years–trust me.
Keep in mind: Some users have found that the machine performs better with a new upgraded cartridge.
Good for: Serious music lovers who aren't quite ready to drop $500+ on a turntable
---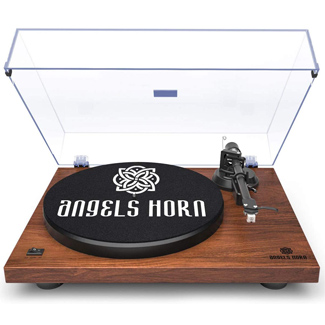 Why it's great: One look at the Angels Horn turntable, and you will fall in love. With a dark mahogany base, the table is sleek, to say the least. But it's far more than a good looking machine. The machine has a high-quality AT-3600L cartridge, a solid iron platter that makes for perfect stability, and an anti-skating weight that prevents scratches on your vinyl.
In terms of sound, this turntable is often compared to much more expensive Auto-Technica machines that hardcore audiophiles love. Except this one is only about a third of the price!
Keep in mind: It does not have automatic shut-off, so when your record is done playing, you will want to remove it to prevent any long-term damage.
Good for: Audiophiles looking for an affordable upgrade
---
FAQs about Turntables
---
1. Does vinyl really sound better?
While it may sound silly to get all new records, vinyl does sound better than digital music. A lot of data is lost when an audio file is compressed, whereas vinyl doesn't lose that data. Thus you get to hear the music the way that artists intended to.
---
2. What makes one turntable sound better than the other?
There are a lot of different factors to think about when purchasing a turntable. The two parts that play the most significant role are the quality of the cartridge and the attached stylus. Tables that have less vibration also tend to have better sound quality as well.
---
3. Which is better – belt-driven or direct driven?
Both types of turntables have their pros and cons. Belt driven tables can easily absorb vibrations, which make for better sound quality. Direct driven tables have more consistent speed and don't get worn down like belt-driven tables. However, the motor can cause unwanted vibrations.
---
4 Is it bad to leave a record on a turntable?
Yes, keeping your record on a turntable raises the chance of exposure to dirt and even damage. Ideally, you want to put records back in their jackets. If you tend to forget this, a turntable with a dust cover is a wise choice.
---
5. Do you need speakers for turntables?
This truly depends on the quality of speakers in your turntable. Most of the time, the speakers are not of excellent quality. If you're looking to use your turntable to entertain or want to get the full listening experience, a set of separate speakers is a must.
---
6. Do you need a preamp for your turntable?
Most of the turntables that you find on the market already include a built-in preamp. However, if this is not the case, you will want to buy one. The preamp is responsible for translating sound signals into something that your turntable can read. If you're truly an audiophile, you may even want to upgrade the preamp that is included.
Conclusion
---
Enjoying music on vinyl has taken the world by storm. If you're yearning for the experience of listening to music the way it was intended to be heard, having the right equipment is a must. There are a ridiculous amount of turntables out there, with a wide variety of price points. You don't have to spend an arm and a leg to get a high-quality piece of equipment.
These seven turntables won't break the bank and will change the way you listen to music forever, trust me.
You may also like our other product reviews…
2 in 1 Laptops Under $300 | 3D Printers Under $300 | Acoustic-Electric Guitars Under $500 | AV Receivers Under $500 | Binoculars under $100 | Binoculars Under $200 | Binoculars Under $300 | Bookshelf Speakers Under $200 | Bookshelf Speakers Under $500 | Bookshelf Speakers Under $1000 | Bluetooth Speakers Under $200 | Beginner Record Players | Cameras Under $200 | Ceiling Speakers | Computer Speakers Under $50 | Computer Speakers Under $100 | Digital Cameras Under $1000 | Gaming Chairs Under $100 | Gaming Keyboards Under $50 | Gaming Keyboards Under $100 | Gaming Mouse Devices Under $50 | Graphics Cards Under $100 | Guitars Under $500 | Headphones Under $200 | Headphones under $300 | Headphones under $500 |