Updated on by Lyric Fergusson
Whether you're new to enjoying vinyl or have spent years building a curated collection, finding the right turntable at a reasonable price can be frustrating.
You are probably hoping to find a lasting, reliable turntable that doesn't require immediate upgrades. But you don't have to spend thousands to get the quality you're looking for.
Here are the 7 best turntables under $500 with the features that consistently earn great reviews from beginners and experienced audiophiles alike.
Best Turntables Under $500
---
(Best USB capability)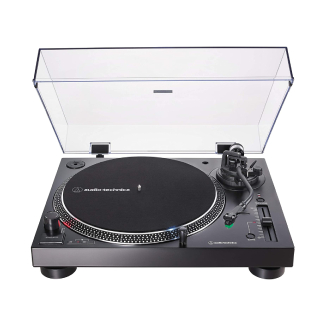 Why it's great: Audio-Technica has proven its commitment to quality products in almost everything they manufacture. This turntable is next-level, offering features that enhance the sound experience you'd have to upgrade in some other models.
An s-shaped tonearm provides excellent accuracy, so you'll hear the recording precisely as it was intended.
It's fully manual, which is a feature worth noting if that is what you're looking for. A USB port allows you to convert your entire record collection to digital format while preserving the best elements of vinyl recordings. Cables and a dust cover are included (not always the case).
Keep in mind: While this turntable does have a built-in preamp, you need to be sure that you are using powered speakers or purchase an amp for use with passive speakers.
Good for: Analogue enthusiasts, converting collections to digital format, and those with records that predate 1955 (you'll need the 3 speed options).
---
(Most versatile)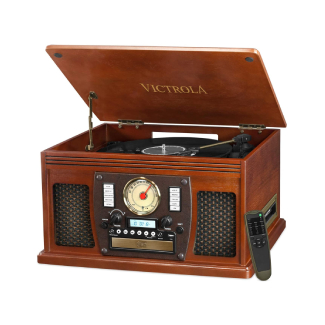 Why it's great: There are many reasons to love this Victrola option. If you want to play music in more formats than just vinyl, this is a great choice. The 8-in-1 turntable also has a cassette and CD player, an FM radio, Bluetooth capability for wireless play, as well as inputs for auxiliary and headphones.
Built-in speakers eliminate the need for additional investment, but you do have the option to connect external speakers if you so choose.
If you have records that are pretty old, it's worth noting that this product has 3 speeds to accommodate every vinyl in your collection.
Keep in mind: The built-in speakers have a decent quality of sound, but if you're a serious audiophile, you'll most likely want to use good external speakers.
Good for: Multiple uses, vinyl beginners, and those with older records that require 3 speeds to play their collection.
---
(Best sound accuracy)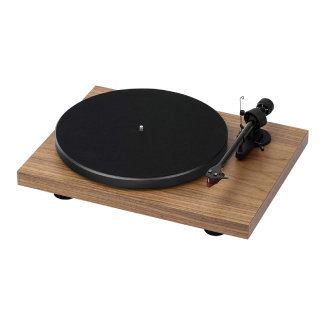 Why it's great: No need for any upgrades right out of the box with this Pro-Ject turntable. It comes with premium components that create sound accuracy sure to please even the most discerning ear.
The cartridge is probably the most notable: an Ortofon 2M Red comes pre-installed. The carbon fiber tonearm helps to reduce vibration and resonance to avoid distortion. Manually adjustable speed and a DC power supply ensure consistency.
Every part of this turntable is designed to give you the most accuracy available without spending more to upgrade.
Keep in mind: Switching between speeds can be a little tricky, especially in the rare event you need to remove and adjust the belt for 78 RPM. However, if you only plan to play standard-sized records pressed after 1955, this isn't an issue.
Good for: Particular audiophiles, those who want the best out-of-box value, collections with mostly 33 and 45 RPM needs.
---
(Most included)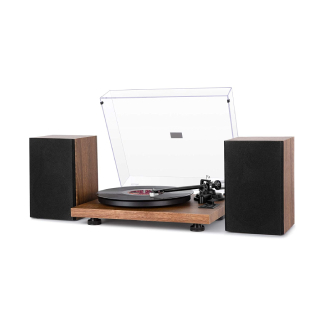 Why it's great: If you want to spend under $500 without having to make an additional investment in speakers, this is a great choice. The attractive, simple design includes two matching 36 watt speakers, and the perks don't end there.
An adjustable counterweight and solid iron platter mean you're guaranteed decent sound accuracy and speed. Want to convert your record collection to digital format and still enjoy the qualities of vinyl sound? Use the USB feature to do just that.
Wireless capability allows you to stream digital music from other devices, so you won't need any other speakers once you're set up.
Keep in mind: If you must have a headphone jack, this product doesn't have that feature. But when included speakers are the game-changer, that might be the least of your concerns.
Good for: Keeping the total cost of a turntable investment under $500 (no need to purchase speakers), converting record collections to digital format, and also using the setup to stream digital music wirelessly.
---
(Best fully automatic)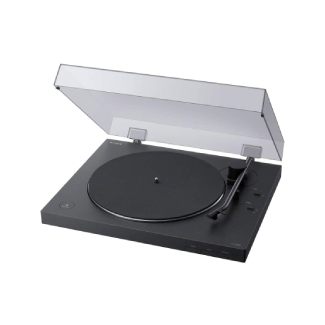 Why it's great: While some people prefer manual features, others want a fully automatic turntable. It's a matter of preference.
Fully automatic turntables start the record automatically with the touch of a button, stop the platter from spinning at the end of a side, and return the tonearm to a ready position.
That's ideal for some vinyl enthusiasts because it prevents damage to the needle and the record itself if you won't be paying close attention, like if you're cooking or socializing.
Included RCA cables allow you to connect speakers that way if you prefer, but wireless capability makes it easy to use a soundbar or other Bluetooth-enabled devices as well.
Keep in mind: Don't let the gain switch be a deciding factor, because many users don't find it to be all that impressive. That being said, the middle setting tends to deliver great sound and really doesn't need to be adjusted anyway.
Good for: Beginners, those who prefer not to mess with the tonearm manually, and wireless connection to multiple kinds of speakers (including headphones).
---
(Best built in preamp)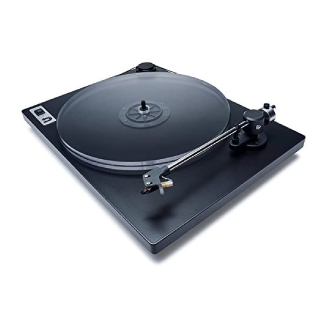 Why it's great: The sleek design of this top-notch turntable isn't a facade for compromise.
The U-Turn Orbit Plus comes standard with an Ortofon OM5E cartridge, which would otherwise be an upgrade. The adjustable counterweight gives you control when you need it.
Connect directly to powered speakers or an amplifier, courtesy of the high-quality built-in preamp that earns this turntable some rave reviews. It makes setup pretty simple, too. If you'd like to bypass the preamp, however, there's an easy switch for that.
U-Turn products are assembled in the USA, so your purchase supports the economy.
Keep in mind: The acrylic platter is good, but is sometimes more vulnerable to vibration and therefore distorted sound. Avoid thinner felt mats and spring for cork, which tends to solve the problem.
Good for: Beginners who want to start with a quality turntable that will last and those who want to spend less than $300 on a turntable but have high expectations.
---
(Best investment)
Why it's great: The Yamaha TT-S303 offers the kind of quality even seasoned, knowledgeable audiophiles agree is an incredible investment at this price point.
The stability is so great that it takes a great deal of vibration disturbance to cause distortion because of the weighted components. The value is mostly in the reduced resonance, without much thought or effort in terms of where or how you place the unit.
This is particularly ideal if you live in a multiple unit building or on a busy street where frequent vibration is common from external sources.
Keep in mind: Be sure to follow instructions and watch the easy-to-follow instructional videos for setup, particularly for the tonearm. When it comes to this caliber of quality, it's worthwhile to do it right.
Good for: Long term investments and resonance reduction without much fuss.
---
FAQs about turntables
---
1. How are turntables in this price range better than less expensive options?
Like many other important buying decisions, opting to pay slightly more than bargain-price actually does get you more.
In fact, turntables that cost less often require upgrades to achieve decent sound quality, which may ultimately result in a higher total price tag in the long run.
That's because better components are more expensive. When it comes to record players, though, it's worth it. A quality cartridge or properly weighted platter can make all the difference in what you hear.
When such things come standard on a turntable, you're likely to get the best experience right out of the box.
---
2. Which features do I really need?
Choosing the right turntable requires that you consider how you as an individual want to use it. For example, if you aren't going to be converting your vinyl collection into digital format, you don't necessarily need a unit that boasts USB connectivity as a key selling point.
If you're really particular, go with a turntable that allows for manual adjustment and prioritizes accuracy by including premium parts. That also applies if you're concerned about resonance from vibrations coming from foot traffic in the room or other external factors.
Some vinyl aficionados also want a setup that plays music in their digital collection, in which case a turntable with either an AUX input or wireless capability is the best choice.
If you have records pressed before 1955 or plan on adding them to your collection, a turntable with 3 speeds is a requirement.
Modern albums play at about 33 RPM or 45 RPM in the case of 7-inch records and singles. Only certain turntables can play older records that spin at 78 RPM, so look into it before making a final decision.
---
3. What's the best way to protect my investment?
Even though you're not spending thousands on a turntable, your investment is still a big deal. Understandably, you'll want to minimize risk and potential damage.
First, opt for purchase protection when you buy (if available). Typically, this guarantees either a replacement or refund in the event of defects for a period of anywhere from 1 to 3 years. It doesn't cost much to have that peace of mind.
Sometimes, you can also register your turntable with the manufacturer to benefit from any warranties they might offer.
Stop and call customer support if you're not sure about something while you're setting up to avoid damage that isn't covered by purchase protection or a manufacturer warranty.
Not optional? A cleaning kit and carbon fiber brush. And if your turntable doesn't include a dust cover, you'll want to invest in that as well. Keeping your turntable clean and free of dust protects the product itself (and your records, too).
---
4. What else do I have to buy?
One major reason to buy a turntable before anything else is that some feature a built-in preamp, while others don't. If the preamp is already there, you won't have to spend that extra money.
Unless the product you choose includes speakers or even has them built into the unit, you'll need to get those too. Again, waiting until you've chosen a turntable first allows you to select speakers that have compatible connectivity components.
Self-powered speakers eliminate the need to buy an amplifier. However, some discerning ears tout the benefits of a separate amplifier and receiver.
---
5. What can I do to get the most out of my turntable?
Placement is key: pick a spot for your turntable with the least possible amount of vibration, because it causes the stylus to jump and distorts the sound. Make sure the furniture it's sitting on is stable, preferably made of solid wood.
For this same reason, set your speakers relatively far from the turntable. As they produce sound, they resonate and could affect how your records sound. If you're looking for more accuracy, this is a great way to optimize that.
It's also a good idea to buy a mat specifically designed to reduce turntable resonance. Some units include them, but if not, it isn't a very expensive addition.
Most importantly, don't cut corners when it comes to the other parts of your setup, such as speakers. It doesn't make much sense to buy a quality turntable if the output ends up being sub-par in translation.
---
Conclusion
---
These days, great turntables are more accessible than ever with the increasing popularity of vinyl records. No longer do you need to compromise on attractive design or quality components if you have budget restrictions.
These are some of the top-rated options, at surprisingly affordable prices. If you want a great vinyl experience, you'll enjoy your record collection and feel confident you've made a wise choice.
You may also like our other product reviews…
2 in 1 Laptops Under $300 | 3D Printers Under $300 | Acoustic-Electric Guitars Under $500 | AV Receivers Under $500 | Binoculars under $100 | Binoculars Under $200 | Binoculars Under $300 | Bookshelf Speakers Under $200 | Bookshelf Speakers Under $500 | Bookshelf Speakers Under $1000 | Bluetooth Speakers Under $200 | Beginner Record Players | Cameras Under $200 | Ceiling Speakers | Computer Speakers Under $50 | Computer Speakers Under $100 | Digital Cameras Under $1000 | Gaming Chairs Under $100 | Gaming Keyboards Under $50 | Gaming Keyboards Under $100 | Gaming Mouse Devices Under $50 | Graphics Cards Under $100 | Guitars Under $500 | Headphones Under $200 | Headphones under $300 | Headphones under $500 |