Updated on by Lyric Fergusson
Many pregnant women struggle with wanting or feeling the need to purchase maternity underwear amongst the many other things they're buying during pregnancy, but there usually comes a time when your pre-pregnancy undies go from feeling okay to "I need maternity undies… like, yesterday".
From under the bump to over with full leggings, and everything in between, here are seven of the best reviewed underwear for during pregnancy and after.

Best Underwear for Pregnancy
---
(Best value — $)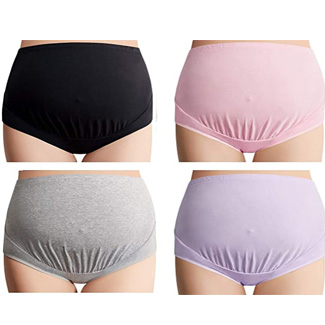 Why it's great: These are a low-cost option that customers love. Mama Cotton's panties come with an adjustable waistband with a button on the side to help achieve a perfect fit on your bump at varying stages of growth! Also, these are breathable and are designed to keep you sweat-free! These also include white lining for easy detection of any abnormal spotting or discharge. Mama Cotton also brags about its strict quality controls and pre-shipment quality checks, ensuring your satisfaction.
Keep in mind: The sizes of this listing range from L-4XL and customers report that they found the sizings written within the customer reviews were more helpful than the size chart included. Also, because these have added fabric under the bump for comfort, they aren't as supportive.
---
(Most variety — $$)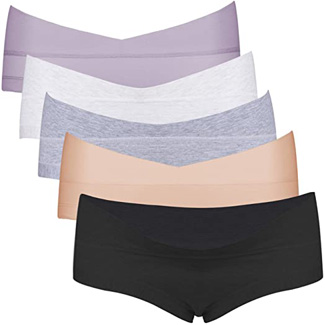 Why it's great: Again, with Intimate Portal, you get a wide variety of colors and neutrals, as well as a guarantee that your undies are made to a higher standard, just like your baby's clothing. This pair is also a low-rise front, but comes with a cradle for the lower belly that stays in place and doesn't ride up or roll down. So, if less fabric feels a bit too "skimpy" on the support, this may be the way to go.
These are form-fitting, perfect for a growing bump. And, for you Mamas with thicker thighs, this pair comes with wide and flat leg bands that allow for a more forgiving and comfortable fit.
Keep in mind: Some reviews suggested that there wasn't quite enough elasticity to hold them up comfortably, so they recommended sizing down if this is a problem you're familiar with.
---
(Highest quality — $$$)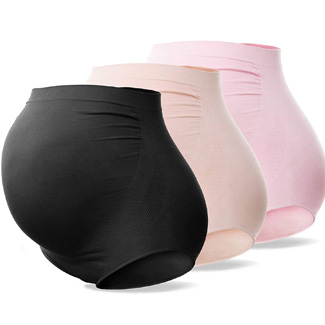 Why it's great: Many Mamas have reached a point in their lives where low-rise feels like a thing of the past. These high-waisted panties offer breathable, belly coverage and support. They are comfortable in the mid-belly and a bit tighter, but not too tight, below the bump for added support (or to shape that belly for the perfect bump shape).
Reviewers loved that this pair has no side seams! With all that laying on your side, the last thing you want to feel is a seam digging in. Also, reviewers loved this company's customer service. So, even if you were to have a problem with fit, this company will work with you to make it right!
Keep in mind: These go all the way up to under the chest and might not be the best option if you're prone to sweating.
---
(More size options — $$)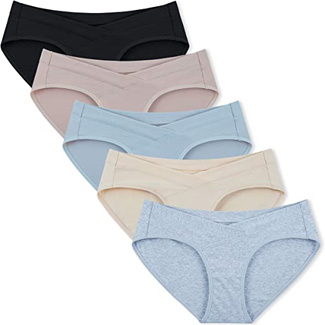 Why it's great: This is a low-rise design perfect for your growing bump and Innersy offers a wide variety of size options. This pair is advertised to have a tagless label that is printed on the outside of the undies, saving your skin from any itching, Also, these can be worn as regular underwear after pregnancy! Just in case of any C-section incision, the low front crossover design is perfect for avoiding irritation. These are full coverage in the back with higher cut in the leg opening for greater ease for your thighs and butt.
Keep in mind: Be sure to follow the washing/drying instructions! Customers reported shrinkage when they didn't follow the suggestions provided.
---
(Thigh savers — $$)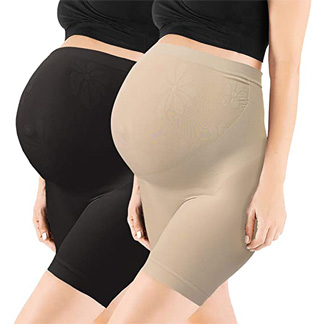 Why it's great: These are perfect if you're a lover of shapewear or a lover of saving your thighs from chafing! This pair is seamless and offers high waist to mid-thigh coverage and support. Perfect for shaping that smooth baby bump, these are soft and comfortable enough for all-day wear. This garment actually serves to hold your thighs apart and shape them, while still allowing for breathable comfort. Not only does this listing offer a helpful size chart, but also a chart of customer wearing experiences.
Keep in mind: Customers report that these can be a bit transparent, which is perfect for wearing under clothes, but not necessarily ideal if you wanted to sport them as pants around the house.
---
(More size options — $$)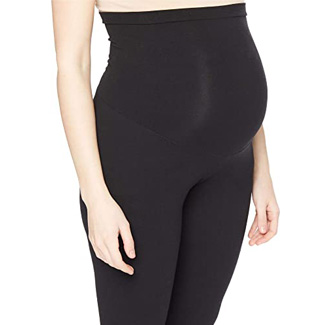 Why it's great: What's more comfortable than leggings pre, during, or post pregnancy? These maternity leggings offer a wide variety of size options for inclusivity and customers love the comfortable, smoothing effect. There is also no waist band bump that we are often accustomed to in regular leggings, so no digging in on the midsection. Motherhood Maternity suggests to buy your pre-maternity size for the best fit.
Keep in mind: These are not leggings designed for keeping you warm in the winter months, though many pregnant women would find that breathability to be a relief in the later months!
---
(Most variety — $$)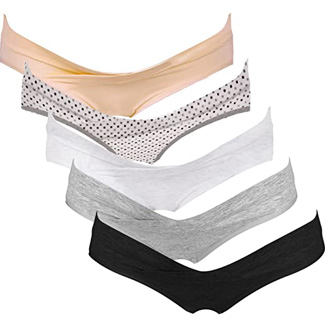 Why it's great: Intimate Portal undies are all free of harsh chemicals and are made to a higher standard, just like your baby's clothes! (Why shouldn't Mom be treated the same way?) These are a low-cut maternity panty that are perfect for under the bump comfort, with no pressure added, even if you're carrying low. And it's full coverage in the back! This listing comes with a size chart and helpful tips and images for how to navigate measuring your changing body. The reviews on Amazon are from women of all shapes and sizes, which is all the more comforting when you're feeling worried about the fit.
These are great for postpartum and, because of the low-front, won't irritate a C-section incision. These come in a variety of colors and neutrals and are complete with a light-colored cotton lining for your wellbeing and easy detection of any unusual spotting or discharge.
Keep in mind: Some reviewers report that they love the panties, but the fabric isn't as breathable as they were hoping. Also, a few reported fraying of the elastic lace after washing, but Intimate Portal says that this bit has been upgraded!
---
FAQs about maternity underwear
---
1. When should I start wearing maternity underwear?
It's all about comfort. Like snowflakes or fingerprints, no two pregnancies are alike. Many women report buying their first pair around weeks 25-26, but it can easily come earlier or later depending on your growing body's needs. Just remember that comfort is key for both your mental health and for the safety of all that's going on down there.
---
2. Do I really need them?
Let's say that your regular pre-pregnancy panties are doing you a solid and still holding true for you. Just remember that as your belly and hips are stretching, so is that fabric. You might want to invest in a few pairs just to save the life and elasticity of your good, regular, pre-pregnancy panties.
---
3. How do I know what size to buy?
Most of the products out there tell you to buy your pre-pregnancy size. However, we all know that the true-to-size description isn't always accurate. Your best bet is to check that size chart and measure yourself accordingly. Also, many reviewers noted that they found digging through the reviews to be helpful for size comparisons. Amazon often has customers who have uploaded photos and many reviewers leave their sizes, weights, and heights for comparison shopping.
---
4. Do they shrink?
Some customers of the above products did leave news of shrinkage in their reviews, but many of them also admitted to not following the wash/dry instructions. When it comes to intimates, following instructions is key. And, when all else fails, remember to air dry!
---
5. Which style/fit is best for me?
Again, the answer to this question has everything to do with comfort. Some women like the feeling of low in the front underwear and feel that it works best with their clothing, while others, who may be used to high-waisted bottoms pre-pregnancy, may feel the need for that added bit of fabric covering the bump.
---
6. What is acceptable to wear post-C-section?
Many of the products above are perfect for post-C-section comfort. I'd recommend sticking with under the bump undies, just to avoid any rubbing or irritation of extra fabric.
Conclusion
---
The struggles and fears associated with buying clothing online are a tale as old as time (or as old as online shopping). However, these stresses can be made all the worse when you add in an ever-changing pregnant and postpartum body.
Pregnancy and postpartum panties may be the last thing you're wanting to invest in at this moment, but with the belly stretching, hip widening, and thigh-chafing that's bound to be in your future, it may be just the thing to ease the way to baby and beyond.
When shopping, remember that your comfort is key. You have enough going on in your changing world and you don't need to be thinking about your underwear. Decide your likes and dislikes. What's missing with the undies you're currently sporting? Once you determine which style is right for you, get to measuring that beautiful bump and check those size charts! Your belly will thank you for finding it the perfect pair to support its growth and changes!
You may also like our other product reviews…
Body Washes for Pregnancy | Breast Pump for Twins | Compression Socks for Pregnancy | Maternity Bras | Maternity Jeans | Maternity Leggings | Maternity Pajamas | Maternity Pants | Maternity Support Belts | Maternity Tights | Maternity Work Pants | Maternity Workout Clothes | Nipple Shields and Balm | Postpartum Pads | Pregnancy Journals | Probiotics for Pregnancy | Shampoo for Pregnancy | Shoes for Pregnancy |