Updated on by Lyric Fergusson
There have been many new innovations in fitness over the past few years. Of them, one of my favorites that I use almost every day is vibration machine. They've become wildly popular for 2 reasons: they make exercising a piece of cake, and when used in tandem with proper diet and other exercises, they get results. These machines are simple, fun to use, and some studies have shown that they can improve your health.
How do they work, you might ask? Well, by forcing your muscles to contract and stabilize your body as you exercise, these machines help optimize the results of your low impact workout. The result? By sticking to a daily fitness routine that includes a vibration machine, you'll become stronger, more trim, and improve your circulation. And you can do this right in the comfort of your own home or office! We've done the research of the top 11 vibration plates, with a breakdown of which features they come with and what to expect.

The Best Vibration Plates
---
(Easiest storage — $)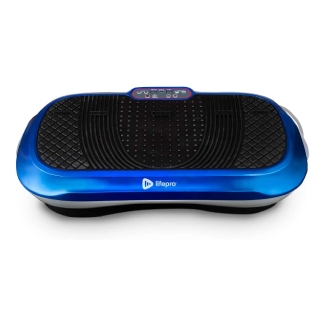 Why it's great: You deserve to feel great after a workout, and that's just what you'll get if you add the LifePro Waver to your routine. The benefits you'll get from this go beyond building muscle; the product states that it will boost metabolism, increase circulation and bone density, and suppress joint stress levels. This vibration plate has 99 speed settings so that you can choose the perfect level for your ability. If you're not sure which exercises to do on the vibration plate, the online professional training manual and e-book will guide you. LifePro had storage in mind when they built this; it's slim enough to fit under many couches and has wheels underneath for transport. This small machine packs a punch. And with the lifetime warranty, how can you go wrong?
Keep in mind: There is a 30 day return policy.
Good for: Those with a small space for storing equipment.
---
(Easiest to use — $$)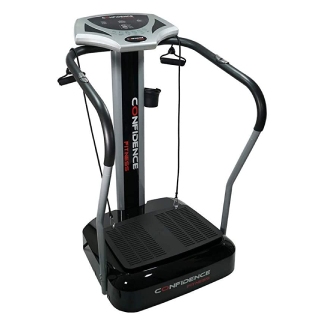 Why it's great: This one has a great display that's simple and easy to use. It comes with examples of exercises that you can do and in only 10 minutes you'll get the same results as you would from 60 minutes of most traditional workouts. You can choose from 50 different speed settings to customize to your specific needs. This machine will help you to reach all your health goals including losing weight, building muscle, improving flexibility, and increasing your circulation and metabolism. The nice thing is that the settings and display are within reach, rather than being on the ground like most normal vibration plates.
Keep in mind: To get the most use out of this, you'll need to buy an exercise guide or look up some other movements on YouTube. The manual only shows a few ways to use it.
Good for: People that like simple, easy to use machines.
---
(Most customizable routines — $$$)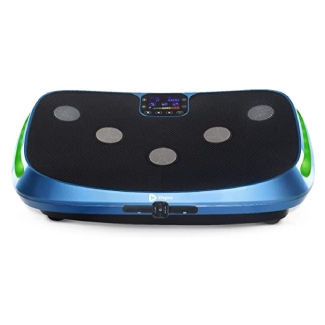 Why it's great: If you're looking for relief after an injury, this Rumblex model comes with everything you need to make your recovery journey a success. Lifepro's Guiding Angel program offers live support (hard to find these days), plus offers a comprehensive library of training videos. There are seven different training modes that utilize 4 dimensions of therapeutic vibrations. You can customize and find the exact workout you're looking for.
Like the 3D Rumbex, this model has built-in Bluetooth speakers that stream your favorite tunes, which you can control from a Bluetooth watch or just use the handy remote for programming. To top it off, you'll get an exercise mat and 4 bonus resistance bands for your routine. I think the most fun feature of this vibration plate is the party lights on the sides of the unit, which flicker with the beat of the music you choose, and it changes colors as the intensity increases. There's never a dull moment when you're using the Rumblex 4D!
Keep in mind: Use the mat it comes with to protect your flooring, especially hard wood.
Good for: People who want to use up-to-date tech to make their workouts even better.
---
(Most durable — $$)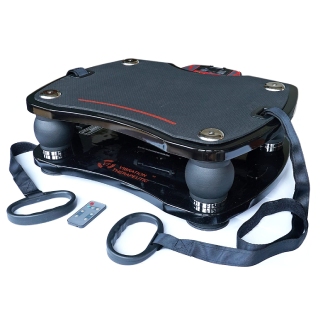 Why it's great: This vibration plate is built to last and made with steel for all the essential parts. It comes with a remote for easy access to the settings, without having to bend down and press buttons on the machine. It also comes with inelastic bands to work out your upper body. You'll be able to work up a sweat in just 5-10 minutes as this plate works your muscles and increases circulation. This machine has adjustable vibration frequencies and operates at a G-Force of 5.82, which is equal to or better than much more expensive plates. Plus, it comes with a 2-year warranty!
Keep in mind: This one needs to be used on carpeted flooring to prevent vibration damage. You could also purchase anti-vibration pads to put under it.
Good for: People looking for a vibration plate that will stand the test of time.
---
(Most portable — $)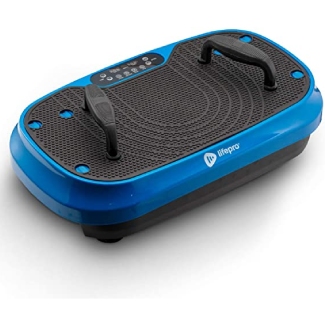 Why it's great: This machine features handles that you can use throughout your workouts, but also to help you carry this around wherever you need it. The handles are even adjustable, making them comfortable and easy to use. It's by far the easiest to move, making it the best portable option out there. This plate also has 99 speed modes and 10 different preset programs that will help you get the most out of your workouts. It even comes with 2 resistance bands and 4 mini bands that will help you to build strength and muscle. On top of that, this plate comes with a LIFETIME warranty! You can't beat that!
Keep in mind: This one has a max weight of 265 lbs, which is less than most of these machines can usually handle.
Good for: Those that travel a lot or like to change the environment where they work out.
---
(Easiest to program — $)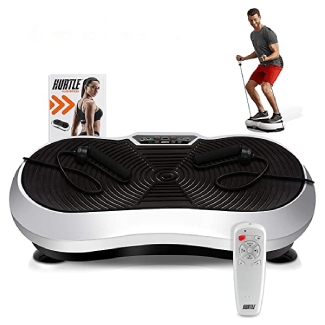 Why it's great: If you're looking for something that you don't have to put a lot of thought or effort into, you've found the best model for you! The Hurtle Fitness Vibration Platform has a fully computerized screen and a remote to let you select 20 varied vibration speeds. It's great for older family members or those who need assistance, who don't want to mess with multiple settings. This machine works well at helping to improve balance as well as all the common benefits of a vibration plate, such as minimizing cellulite, improving circulation, and toning muscles. The Hurtle Fitness works well on any surface and can be used in small spaces very easily. Resistance Bands are included as a bonus for your workout.
Keep in mind: This product is only recommended for use 10 minutes per day.
Good for: Minimalists who enjoy easy-to-program settings.
---
(Most versatile — $$)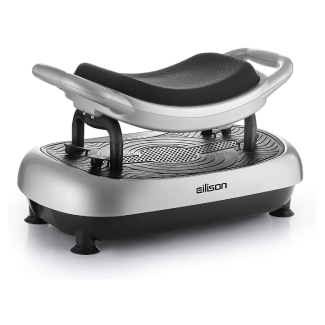 Why it's great: This vibration machine is nice because it comes with a detachable chair, which gives you more options for working out. The seat gives you a more versatile workout, without having to do much of anything. Plus, you can easily remove it and do all the normal movements and exercises you would with a regular vibration plate. This one also comes with bands to work out your arms and upper body. It has 3 different training modes and adjustable speed, so you can customize your workout to your level. It even has noise-canceling, which dampens the vibrational sound, making it a quieter option than most.
Keep in mind: The manual doesn't explain how to use it very well, so you'll have to figure out on your own or check out some online tutorials.
Good for: People that spend a lot of time sitting and want something that will help them to keep their circulation moving.
---
(Most advanced — $$$)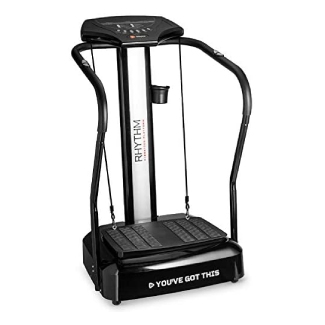 Why it's great: This vibration plate is the most advanced on the list and comes with all the bells and whistles. Even so, it's pretty affordable compared to some of the professional machines out there. This one has arm rails and sensors that will measure your heart rate while you work out. You'll also get access to their online video library with plenty of tutorials and guided workouts, so you know what to do. The display is pretty simple and easy to program. Plus, it comes with resistance bands and 4 mini bands, so you're ready to get started. It even has a cup holder so you can keep hydrated while you sweat!
Keep in mind: This one has a mat to cover the plate, but it's not super padded, so you'll want to wear shoes while using it.
Good for: People that want the most advanced option that doesn't cost thousands of dollars.
---
(Best budget friendly — $)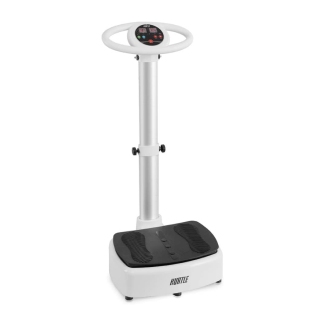 Why it's great: This vibration plate will help you get a full body workout at a budget friendly price. It has adjustable settings for speed and time, making it easy to customize to your needs. The display is touch screen and easy to use. Plus, the rubberized plate is more comfortable than most of the other machines out there. This one is pretty small for the type with handles and has wheels on the bottom, which makes it very easy to store when not in use.
Keep in mind: The handles by the screen aren't meant to be used while running, so they're not super stable.
Good for: People that need a good vibration plate on a budget.
---
(Best pain reliever — $$)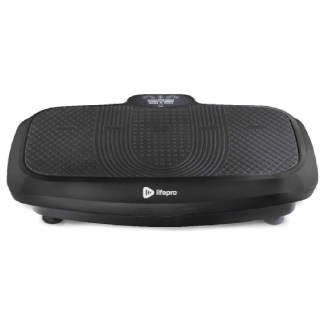 Why it's great: Whether you're combating lower back pain, aching knees, or painful joints, stepping on the LifeProTurbo vibration plate will give you fast and noticeable relief. The vibration stimulates your nerves, which helps block out pain and relieves tension in your joints. This model is an upgrade of earlier models and has two robust motors for more range of motion. According to many customers, the Life Pro Turbo can also help with sleep when used regularly. One of the best features is the live support staff that is available to help, as well as an extensive library of training videos and tools. That can be very helpful when you're using a whole-body vibration machine for the first (or hundredth!) time. If you're looking for a lot of bells and whistles, accompanied by a lot of health benefits, this is the best vibration plate for you.
Keep in mind: The e-book is sent separately by email, so be sure to use a current email address when registering.
Good for: Those who want more foot space for specific exercises.
---
(Most compact — $)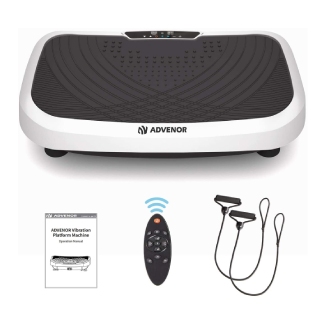 Why it's great: It's easy to set goals but harder to work towards them…but not with the ADVENOR vibration plate! Whether you're looking to burn calories, increase muscle strength, or improve overall health, you'll get all the benefits from the easy ten-minute pre-set workouts. You'll get to your goal faster and feel great every time you use the vibration plate. Improving your balance is another added benefit. The Loop Bands that come with the ADVENOR are meant for doing different exercises and can provide much-needed resistance to your muscles. This vibration plate is easy to store and quite compact, so you can even take it on-the-go. Lots of people are choosing this vibration plate to warm up before a workout or relax after one. Choose the intensity by selecting one of 99 speed levels. Set your goal, achieve it, and then go to the next level with this ADVENOR vibration plate.
Keep in mind: If you are looking to increase your cardio, use the armbands that come with it for increased heart rate and intensity.
Good for: Travelers, people on-the-go.
---
FAQs about vibration plates
---
1. Are these machines good for all fitness levels?
Yes, they work well for beginners and advanced users; just make sure you pick a machine compatible with your level. The adjustable vibration levels can ease you in so that you can see which setting is best for you, and work your way up. Also, before starting any routine, it is best to speak with your doctor or trainer before you start.
---
2. Do they work with any weight class?
Most vibration plates hold up to 300-350 pounds, so they can be used by people of all different weights and sizes. Check the weight limits before purchasing, just to be sure that the one you are buying is the best one for you.
---
3. Will vibration plates make me lose weight?
There is overwhelming proof by users that with regular use, vibration plates can help you shed pounds and become more toned. If you want to see better and quicker results, it is recommended that you combine vibration workouts with a few other exercises. There are many free videos online that can help you with your comprehensive routine.
---
4. How often should I use my vibration plate?
Generally, most vibration plates are used for between 15 and 30 minutes, 2 to 3 times a week. Of course, this can vary from machine to machine, so it's important to follow the manufacturer's guidelines. It's also best to start slow as you add it to your routine, and implement it more once you become used to it over time.
---
5. What are some typical exercises I can do on my vibration machine?
One of the best ways to exercise with the vibration plate is to include squats in your workout. Lunges, pushups (only your upper body is on the machine), and planks are also very popular options. Each vibration machine will come with a manual, e-book, and/or video guide to help you get started. For beginners, some much more simple moves can help you get a kick start.
---
Conclusion
---
Vibration plates are beneficial for those who want to strengthen and build muscle. They are a great addition to a workout routine and can be done from the privacy of your home. It's also amazing that vibration plates can reduce muscle soreness, improve flexibility, enhance blood flow, and reduce back pain. The first several times I used them, I could definitely feel my circulation going crazy. And afterward, I feel so rejuvenated. Now that you've looked over the top 7 vibration plates on the market, it's time for you to consider the type of vibration you're looking for (oscillating or tri-planar), which technology you'll want to take advantage of, and the overall size of the device. Vibration plates can transform your everyday routine and improve how you look and feel, giving you confidence and strength, in addition to helping you maintain your figure.
You may also like our other product reviews…
Acupressure Mats | Back Stretchers | Facial Machines | Grounding Stones | Handheld LED Light Therapy Devices | Infrared Heat Lamps | Infrared Heating Pads | Inversion Tables | Massage Chairs Under $1000 | Negative Ion Bracelets | Outdoor Saunas | Portable Saunas | Small Heating Pads | TENS Units |