Updated on by Lyric Fergusson
When you want to up your workout game, but know you have limited space for equipment in your home, what do you do? You could add some dumbbells, but you'll need a place to store them, and free hands when you're exercising. You could try a jumprope, if there's space for it! Well, contrary to what some people may think, weighted vests aren't just for professional athletes and trainers– they're a great way to add on weight for your already-established workout routine. Check out our top 11 favorite weighted vests– have you tried them?

Best Weighted Vests for Men & Women
---
(Most sturdy — $)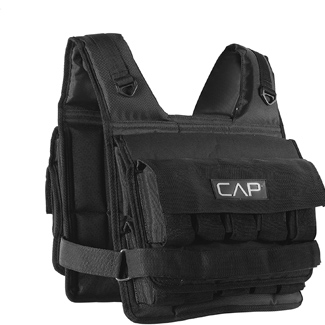 Why it's great: This vest is best known for its sturdiness. It has lots of weighted options you can choose from, including 40, 50, 60, 70, 80, 100, and 150 pounds. It's weighted using several small bricks, with the amount depending on the size vest you choose. The vest is made with reinforced nylon and polyester, has padded shoulder straps for comfort, and reflective strips for safety in the dark. Though it's a pretty simple design, it's affordable, compact, and customizable for a simple but effective workout!
Keep in mind: This is a very sturdy-feeling and sturdy-looking vest. Because of this, there may not be as much airflow if you're exercising (or living) in a hot or humid environment.
Good for: Those who want a sturdy and strong weighted vest, with perhaps a lot of weight on them!
---
(Most form fitting — $)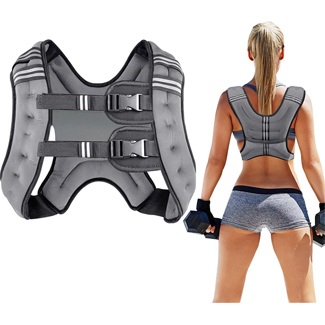 Why it's great: This weighted vest, designed with an H-shape, may just be perfect to add to your fitness routine. It has a mesh storage pocket on the back big enough to carry your cell phone, earbuds, or keys. Plus, it has a reflective band for safety and an adjustable belt in the front to reduce bounce. This vest comes in multiple color options, including black, blue, gray, and purple. You also have the option for 8, 12, 16, or 20 pounds – and while the weight isn't adjustable, the design gives the ability for airflow and circulation, so you don't feel stifled if working out in the heat.
Keep in mind: This one has matching ankle weights, but you'll have to purchase those separately.
Good for: Those who exercise in hot weather and want airflow just as much as they want a good workout!
---
(Most color options — $)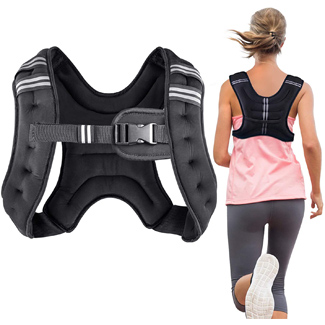 Why it's great: Filled with small iron pellets for a sturdy and form-fitting feel, this weighted vest is both affordable and fun! With colors in black, gray, blue, pink, and purple, you won't have to choose between quality and style. There are pockets in both the front and the back of the vest, an elastic strap for comfort, mesh pockets at the bottom for holding keys or headphone cases, an adjustable buckle, and reflective strips. It's also made out of neoprene material, which is a sweat-resistant synthetic rubber foam. It comes in 4, 6, 8, 12 and 16-pound weight options, along with some fun and bright colors!
Keep in mind: The weight is not adjustable, so you'll have to purchase more than one if you want to challenge yourself with different weights. It also may sit a bit high on smaller bodies, so check the measurements to ensure it will fit!
Good for: The physically fit who aren't afraid of a little color!
---
(Most heavy duty — $$$)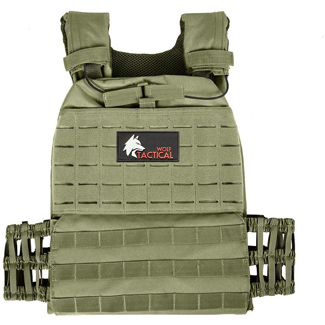 Why it's great: The Wolf Tactical Adjustable Weighted Vest is a simple but durable weighted vest. The top of the vest features an airflow design to keep you cool during your workout. It also has pockets, both in the front and in the back of the vest, allowing convenient storage for your phone and keys. It comes in black, gray, navy blue, green, tan, multi-camouflage, and multi-camouflage black. The weights that you add to it are plates, which come in pairs. You can choose from two 5.75-pound pairs, two 8.75 pound pairs, or two 14.5 pound pairs. It's also fully adjustable, both at the shoulders and at the waist, with straps on the shoulders and elastic on the waist for comfort and fit.
Keep in mind: As opposed to using small weighted pellets, sand, or small weights, Wolf Tactical's model uses plates, which means it's automatically going to be a bit more clunky than others. Also, these plates are not included, so you'll have to purchase those separately, adding to the cost.
Good for: Anyone looking for a heavy duty weighted vest.
---
(Best budget option — $)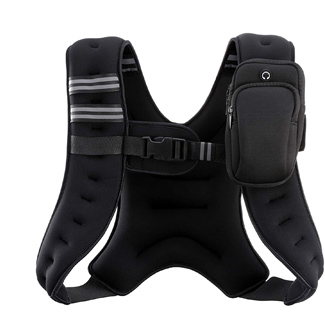 Why it's great: The ZELUS Weighted Vest is a cost-effective option if you want a simple way to increase the output load in your workout. It has weight options of 4, 6, 8, 12, 16, and 20 pounds, so you've got a lot of options. It also has mesh pockets in the back to carry a phone, headphones, and keys, as well as a detachable front zipper pocket for extra storage. Zelus' vest is made with soft and cushy neoprene rubber fabric to ensure you're exercising with comfort. It's made with elastic straps at the bottom for a better fit and reflective tape on the shoulders and in the center for increased visibility if running at night. The insides are stuffed with chemical-free iron pellets, which makes it more comfortable and form-fitting.
Keep in mind: Because it's stuffed with pellets and not weights, it's not adjustable. If you want two different weights, you'll have to purchase two separate vests.
Good for: A quick, easy add-on to your daily workout for extra endurance and challenge.
---
(Most durable — $$)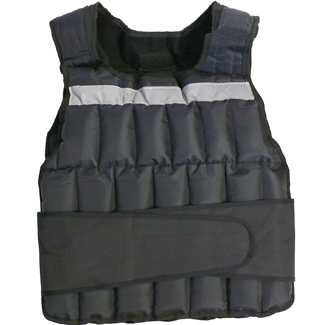 Why it's great: The GoFit company prides themselves on making home fitness gear that is high quality and effective. This weighted vest comes in 10, 20, or 40 pounds and is a one size fits most design. The shoulder straps and waist strap are adjustable to accommodate both men and women. It has reflective strips for added visibility at night, neoprene padding for optimal comfort, and granulated steel shot packets so that you can adjust the weight. This vest is made of a sturdy nylon blend, making it very durable, so it'll last for years to come.
Keep in mind: This one is a little bulkier, so it may be harder to run in than some of the other options.
Good for: People looking for a little more weight in a vest that can handle it.
---
(Best basic option — $$)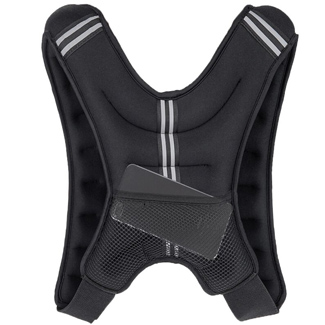 Why it's great: This weighted vest is super slim and form-fitting, making it one of the easiest to wear. It has a mesh pocket on the back to carry the essentials, such as your phone, wallet, or keys. The adjustable buckle allows you to get the perfect fit and the reflective strips keep you visible and safe at night. It's filled with 12lbs of sand, which is sewn in with a double-needle process that keeps it from leaking. Made from premium neoprene, it is super breathable, soft, and flexible for better movement. The thick, padded straps were made to distribute the weight evenly, so you shouldn't end up with sore shoulders when you're done.
Keep in mind: This is one of the lightest weighted vests on the list and the weight isn't adjustable at all, as the sand is sewn into the vest.
Good for: Those that need just a little added weight for their routine.
---
(Sleek design — $$$)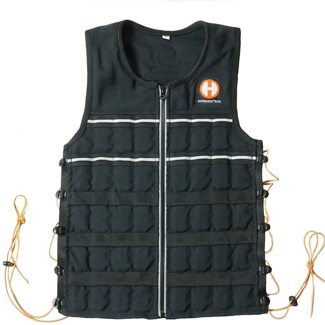 Why it's great: The Hyperwear Weighted Vest has a ton to boast about. With a sleek and simple design, it zips up and is compact enough to fit in with a variety of workout environments. The design also has a nice, thin shape, so you don't feel like you're lugging it around, and an evenly distributed weight meant to alleviate the extra load on your shoulders. It's fit with reflective stripes for night-time exercisers, a unique side-lacing pattern that conforms to different body types, and the capability of adding up to two weights per pocket, so you can easily customize your training to the level that you need.
Keep in mind: Because of its compact design, this vest doesn't have any storage options for your phone and keys.
Good for: Anybody wanting a simple and sleek design for their weight-boosted workout!
---
(Most accessories — $)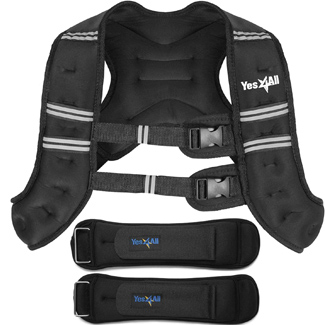 Why it's great: This weighted vest has extra-wide shoulder straps to evenly disperse the weight and save you from sore shoulders. It also has two adjustable chest and waist buckles, ensuring that you'll get the best fit. It's made of neoprene, which is soft against your skin and breathable, which allows you to feel as comfortable as you can while you're working out. One of the best things about this vest is that you can purchase a set that comes with weighted ankle straps too, allowing you to get a little extra resistance. Both the vest and ankle weights are filled with odorless sand and can be washed by hand. The vest also sports a pocket for your essentials and reflective strips for nighttime safety.
Keep in mind: You can choose from 6, 8, 10, or 12 pounds of weight, but the 6lb vest doesn't have the option to add on ankle weights.
Good for: Those that want to add some lower body resistance along with the vest.
---
(Best storage — $$)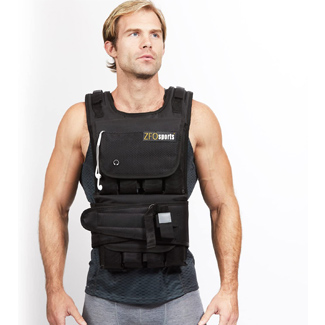 Why it's great: ZFO's Sports Weighted Vest has a ton of storage opportunities for those who love to have long-distance walks, runs, or hikes and want to carry their accessories with them. It has a water holder in the front, a separate phone and headphone holder in the chest area, and plenty of pockets for weights, giving you some serious options. It has a belt attached for easy set-up, weight options for 30 or 40 pounds, and a one size fits most design.
Keep in mind: A couple of customers have noted that it doesn't fit their small frame. Make sure you know the measurements before you purchase – especially if you're a smaller size.
Good for: Those who are going on long walks or hikes and want to bring a couple of things with them.
---
(Most customizable — $)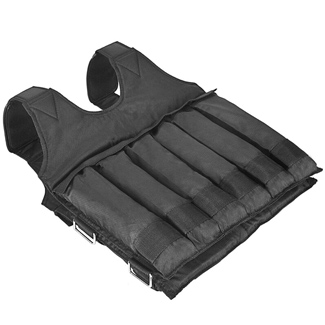 Why it's great: This vest is made of sturdy, durable fabric that's built to last. It also has a foam lining for extra comfort and shock absorption. The shoulders are padded and extra-wide to alleviate some of the pressure on your shoulders. It has two straps on each side of the vest, so it can adjust to fit almost any size comfortably. It has 12 pockets and comes with 12 bags that you can fill with sand or steel, whichever you prefer. This also allows you to adjust the weight to whatever you need at your current fitness level, up to 110 pounds!
Keep in mind: The sand or steel is not included, so you'll have to purchase that separately.
Good for: Those that want a lot of weight options so they can adjust it to different levels based on their fitness level.
---
FAQs about Weighted Vests
---
1. How do weighted vests help?
Weighted vests have a couple purposes, some of which include: helping to develop muscle mass when doing strength training, adding on resistance while running to increase cardio, or just utilizing as an additional add-on to your typical routine.
---
2. Are weighted vests bad for your back?
Certain weighted vests may be tough on your back, especially if you suffer from pre-existing conditions. If you want to continue your search for the perfect vest, look for ones that are lighter and evenly spread the weight, like the Hyperwear Weighted Vest.
---
3. How heavy should my weighted vest be?
According to Healthline, your weighted vest shouldn't be more than 10% of your body weight. For those who have never used a weighted vest before, try using one that gives you the option to add and remove weight so you can start low and go up from there – never exceeding that 10%.
---
4. How long should you wear a weighted vest?
For beginners, it's best to build up the time and weight slowly. Start at 20 minutes to an hour and work up from there. Wearing a weighted vest too long will likely make you feel overtired and cause a lot of muscle soreness. If your muscles start hurting, it's time to take the vest off.
---
5. Will wearing a weighted vest help me lose weight?
It's definitely possible to lose weight by wearing a weighted vest. This is because the added weight makes your body work harder at whatever task you're trying to perform, therefore burning more energy and fat. It also helps you to build more muscle and muscle helps to burn fat as well.
Conclusion
---
Weighted vests are a great option for adding additional weight to an exercise without necessarily needing more equipment. Each style, whether pellets, plates, or weights
come with their own benefits and drawbacks, so pick one that will suit you and fit your workout– it's always best to "weigh" your options! 😉
You may also like our other product reviews…
Calf Compression Sleeves | Camping Towels | Compact Home Gyms | Cooling Towel | Diving Watches Under $500 | Electric Bikes Under $1000 | Elliptical Machines Under $500 | Football Towels | Heavy Bag Gloves | Hiking Towels | Hybrid Bikes Under $500 | Smartwatches Under $50 | Sports Towels | Tennis Towels | Treadmills Under $500 | Treadmills Under $1000 | Weightlifting Belts |