Updated on by Lyric Fergusson
Who doesn't love cranking their favorite song after a long day of work? Sometimes, it's the first thing you want to after a long day of work. Unfortunately, neighbors, significant others, and family members may not be as much in the mood as you are. Wireless headphones are now becoming more and more of a lifestyle staple, and with so many to choose from, it's easy to become overwhelmed with all of the features. EQ options, automatic pauses, noise-cancel, and more are just a couple of great features that we show in our top 7 best wireless headphones under $200, seen below!

Best Wireless Headphones Under $200
---
(Most classic price)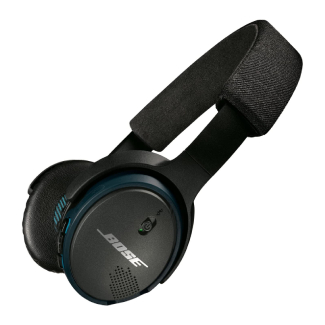 Why it's great: Most people, even those who aren't familiar with wireless headphones, have experience or familiarity with Bose. With a crisp and clean sound, 15 hours of playing time, and voice-dictation for hands-free manipulation, Bose's SoundLink On-Ear Bluetooth Wireless Headphones may be the one for you. It also has a microphone, so you can jam out to your favorite tune, and five minutes later hop on a conference call. They're also a lighter model compared to others, so traveling with these headphones is simple. With a quick charge and a simple design, they are a simple choice if you're a first-timer in the wireless-headphone world.
Keep in mind: Because of its awesome battery life, there are limited volume capabilities while you're listening on Bluetooth. Additionally, the design features comfortable cushions; however be aware that weathering will occur from frequent use, so regular wear-and-tear will cause them to go still after a while.
Good for: A brand-name you trust that will give you the features you want!
---
(Most sleek price)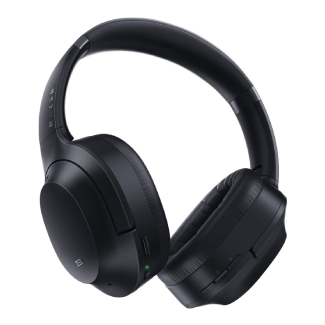 Why it's great: Razer Opus features outstanding noise-cancelling technology along with a background enhancer sound enhancer to cater to your needs. It has a nice auto-pause feature that is getting more and more popular amongst brands, which pauses your music when you take your headphones off so you never miss a thing if you get interrupted. It's crafted with the ability to take it on-the-go, with an airplane adapter included, and has a sleek and sharp design that is simple and functional.
Keep in mind: Some say that the headphones get creaky after use, and that they don't love the plastic-y design. There are also a lot of customer support issues, so you might be on the phone with them just to get your headphones connected, which is a bit of a hassle.
Good for: A basic, quality wireless headphone that gives you features without breaking the bank!
---
(Most affordable price)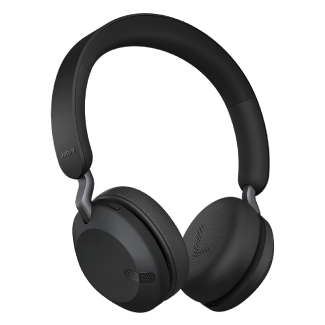 Why it's great: The Jabra is the most affordable choice out of all of our wireless headphones, and packed with features to-boot. It has direct access to Siri, Google Assistant and Alexa, with a built-in microphone for taking calls in between listening to your favorite album. It's rain-resistant, and comes with four sleek color color options including Copper Black, Gold Beige, Navy and Titanium Black. The ear cushions are made of a memory foam-like material, built for comfort that lasts throughout the day.
Keep in mind: Some users have faced trouble with the on-ear detection. Though it's a great feature (when you begin to remove the headphones, your music automatically stops), it only seems to activate about ½ of the time. Additionally, the app is in need of some updates, as it has trouble recognizing the Bluetooth, sometimes forcing the user to have to disconnect and reconnect, which can be time-consuming.
Good for: An affordable option for music-lovers!
---
(Most popular and trusted price)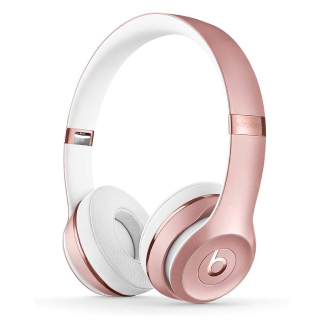 Why it's great: If Beats wasn't the first thing that came to mind when you read "wireless headphones," then you definitely need to check out the Beats Solo3. One of the more popular and highly-rated wireless headphones on the market, these Beats may just be worth the hefty price tag. Compatible with both Apple and Androids, a 5-minute charge for 3 hours of usage, The Beats Solo3 allows you to do just about everything (including taking calls, with the built-in microphone). Along with the headphones, the box comes with a carrying case, USB charging cable, and warranty card for an additional layer of trust. Beats might also be best-known for their popping color-options, including Black, Red, Club Navy, Club Red, Club White, Club Yellow, Rose Gold, Satin Gold, and Satin Silver.
Keep in mind: Most users are extremely happy with their Beats, though some say that it's a little tight for ears.
Good for: A quality, long-lasting, and trusted brand of wireless headphones!
---
(Most simple price)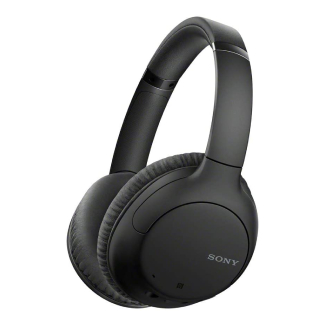 Why it's great:
Keep in mind: While these headphones have some great features, the sound quality is definitely not up to par with some of the more expensive models like the Beats Solo3.
Good for: An affordable option for somebody who puts noise-cancellation as a top-priority!
---
(Most trendy price)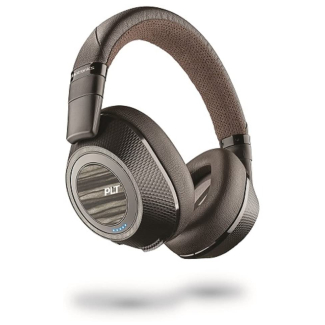 Why it's great: The Plantronics Pro 2 features a high-resolution and powerful sound with the ability to switch Active Noise Cancelling, or ANC, on and off in a snap. Though the price is high, the quality matches the price, with a crisp and clean tone that balances high, mid, and low-end frequencies for the perfect musical experience. It features 24 straight hours of listening without the need for a charge and a comfortable design on both the ear-pieces and on the strap connecting the two (no more plastic cutting into the skin). The unique brown color is unlike any of the other more modern, color-popping headphones, giving it an almost unique, rustic aesthetic.
Keep in mind: These headphones are known to not be 100% noise-cancelling. If this is a concern for you, check out the Sony's we mention here.
Good for: Trendy, stylish headphones with a great battery life!
---
(Best bass sounds price)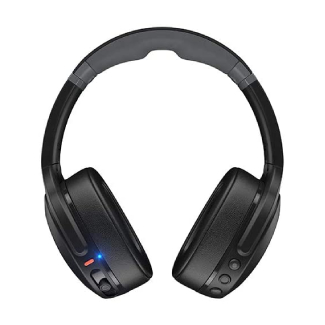 Why it's great: Skullcandy is another brand that most are familiar with if they've ever encountered headphones or speakers. Their Crusher Evo Wireless Over-Ear Headphone features an adjustable sensory bass, a heavy-duty case, volume, call and track controls, and fantastic low-end. The headphones are easily customizable for a variety of musical experiences on their Skullcandy app for smartphones. The Skullcandy brand specializes in sound and is known to bring outstanding products that last and look great. Their sleek design is clean and sharp, and features both "Sleek Black" and "Chill Gray," depending on what type of listener you are!
Keep in mind: Though most love the features of Skullcandy, many say that it's a little too bass focused, with not much attention to mid and high-frequency sounds. You might have to fiddle around with the app to see how you can make your music sound to your liking.
Good for: If you love low-end and bass more than anything!
---
FAQs about wireless headphones
---
1. Can wireless headphones connect to your TV?
It might be easier than you think to connect your wireless headphones to your TV. If you have Apple TV, there is a feature where you can connect a Bluetooth device for listening purposes. If you don't have the direct ability to connect your headphones to your TV, you may be able to use a third-party Bluetooth audio transmitter.
---
2. How do wireless headphones work?
Wireless headphones work simply through Bluetooth, connecting to a device using a radio signal.
---
3. Can you use wireless headphones to work out in?
Yes, you can! There are specific wireless headphones that are built for exercising and modeled in a way that is more functional for movement, i.e. in-ear versus over-ear, with a connecting wire instead of an over-the-head piece. If you're debating on what type to get, be mindful of the next time you exercise, and the types of workouts you do to see if larger models like the ones mentioned above could work in your regiment.
---
4. Can you use wireless headphones on a plane?
Although you cannot use cell phones on an airplane, as well as certain Bluetooth devices, general consensus says that you can use wireless headphones on a plane. It's important to ask the flight attendant before lift-off if and when you can.
---
Conclusion
---
Clearly, all of these headphones have a different purpose built for them, depending on the listener and why you're purchasing these headphones in the first place. If you want the features of a high-end noise-canceling experience while you're watching Netflix on your commute, you might not get the same headphones as a music producer who needs every single sound to be heard. Figure out what your favorite feature is, and get what headphones seem the best for you!
You may also like our other product reviews…
2 in 1 Laptops Under $300 | 3D Printers Under $300 | Acoustic-Electric Guitars Under $500 | AV Receivers Under $500 | Binoculars under $100 | Binoculars Under $200 | Binoculars Under $300 | Bookshelf Speakers Under $200 | Bookshelf Speakers Under $500 | Bookshelf Speakers Under $1000 | Bluetooth Speakers Under $200 | Beginner Record Players | Cameras Under $200 | Ceiling Speakers | Computer Speakers Under $50 | Computer Speakers Under $100 | Digital Cameras Under $1000 | Gaming Chairs Under $100 | Gaming Keyboards Under $50 | Gaming Keyboards Under $100 | Gaming Mouse Devices Under $50 | Graphics Cards Under $100 | Guitars Under $500 | Headphones Under $200 | Headphones under $300 | Headphones under $500 |