Updated on by Lyric Fergusson
Ever feel like your body just needs a break from sitting? Whether you spend more of your time working or watching the kids, you may feel like hours upon hours of sitting is doing some damage to your back. Thankfully, zero-gravity chairs have been created specifically for release and relaxation, and are used both for at-home and on-the-go activities. Whether you're watching the kid's game, reading a book in your backyard, or taking a cat nap, zero-gravity chairs may just be the solution you didn't know you needed for a more comfortable seat. Here are seven of our favorite ones, and where you can find them.
Best Zero Gravity Chairs for Lounging
---
(Best for easy storage — $)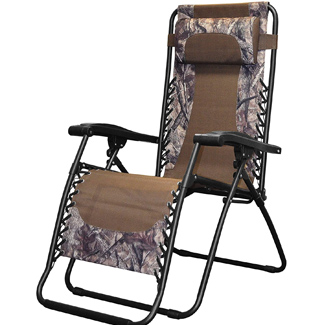 Why it's great: The Caravan Sports Infinity is durable, adjustable, and just plain comfortable to sit on for a multitude of positions. It's built with a double-bungee system for flexible relaxation, a lumbar pillow for adjustable support for the lower back, the neck, or the head, and Textilene fabric, make it a strong choice for any type of usage. It's adjustable enough so you can use it for naps, work, or reading, with a simple-to-use finger-tip locking system to move it in the exact position you need it for, and comes in a variety of different colors including beige, black, blue, burgundy, grey and camouflage. It's easy-to-store, collapsing into a width of under 6.5 inches, so you can bring it into the garage, the basement, or any small storage space without worrying about the additional clutter.
Keep in mind: Though this chair has an additional cup and phone holder, it's not included in your purchase. Make sure to add it to your cart before purchasing if you're interested in the storage.
Good for: Caravan's chair is great for easy storage and for those with small spaces who don't want to add to the clutter, with a simple-to-use adjustable locking system and a small closed width.
---
(Best for outdoor relaxation — $)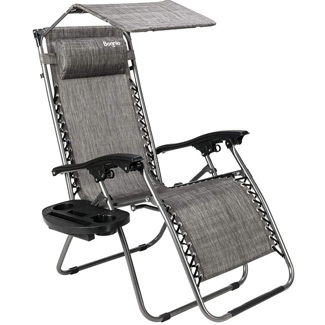 Why it's great: The Bonnlo Zero Gravity Chair is a winner for those who want to plan their day around relaxing in the sunshine. Whether you love to read, use your iPad, or write, the Bonnlo Zero Gravity chair will give you both comfort and ease of use for some of your favorite relaxing activities. One of its most notable features is the attached visor that is connected to the top of the chair in case the bright beams are too much for your eyes to handle. Along with this awesome feature, The Bonnlo chair also includes an adjustable pillow, used either for lumbar, neck, or head support, and an extra-large tray that can hold two drinks, a phone, and even an additional small accessory– easily removable for transport if needed. The chair's material is made of UV-protected mesh, protecting you (and it) from the harmful rays of the sun, while still allowing you to enjoy a bright day.
Keep in mind: This chair has knobs for easy adjusting; however, it doesn't provide a completely flat lying position. It's also not the best to leave out in the rain, as the rainwater tends to get stored in the pipes and may surprise you with a splash if you try to move the chair after a storm.
Good for: This chair is great for sun-lovers and outdoorsy workers and parents, as the UV-protection and visor will work with you to create your most relaxing outdoor experience. Sit it by the pool, in a sunny spot for tanning, or a shady area for napping, if you're planning on staying outdoors for a long period of time, bring some drinks and snacks with you to enjoy the benefits of Bonnlo's Zero Gravity Chair.
---
(Most comfortable — $$)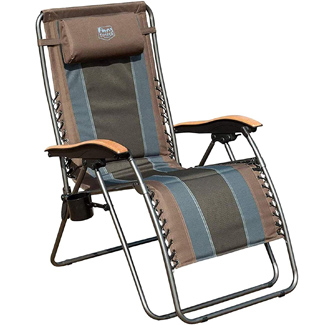 Why it's great: The Timber Rick Padded Recliner is built specifically with comfort in mind. With an adjustable pillow, elastic cords for extra support, a fully-cushion seating space, and an oversized dimension, this chair is great for those who see comfort as the most important element of a chair. The Timber Ridge Padded Recliner boasts an extra-large size, with padding on the entirety of its seating space. With a fully-reclined length of 72 inches and no assembly required, this chair will be your solution for cramped relaxation spaces. It comes with a drink holder and comes in four color options: blue, navy blue, earth, and camouflage. It can also support up to 350 pounds, is built with sturdy construction, and even has nice wooden armrests for an aesthetically-pleasing finish.
Keep in mind: If you plan to use this chair outdoors, be aware of possible weathering outcomes that can occur if you don't bring it inside, as there are metal parts of the chair that can rust when exposed to moisture.
Good for: The Timber Ridge Padded Recliner is good for a multitude of different sized users, especially those who are looking for a full-recline after suffering from back or leg problems. Many who have tried cheaply-built chairs and have collapsed them have found this chair to be their saving grace.
---
(Best size — $$)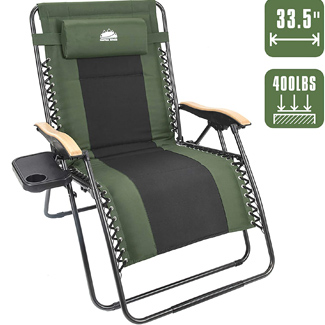 Why it's great: The Coastrail is made as an extra extra large chair, measuring 33 ½ inches wide, and boasting a holding capacity of 400 pounds. With an adjustable lombar support, fully-padded seating, bungee-chord support, and a capacity for either upright or fully-reclined seating, this chair is perfect for those who need the extra space, padding, and durability. The chair colors options come in black, green, blue & brown, and blue & gray, have sleek wooden armrests for a nice visual touch, and even has a detachable cup holder to enjoy long stays outdoors.
Keep in mind: This chair was made with a metal latch pin in case you forget to unlock the chair. Just remember to pull it out before folding it back up and putting it away.
Good for: This chair is great for those who have felt their Zero Gravity chairs have been too small for them in the past– or those who want an additional amount of wiggle (or sitting) room for themselves to relax on!
---
(Best price — $)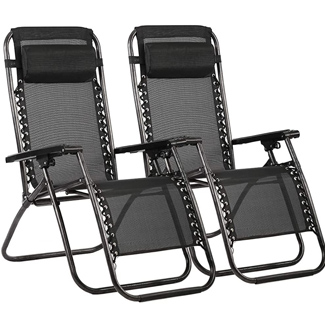 Why it's great: The FDW Zero Gravity Patio Lounge Recliners come in a set of two– so you and your partner (or friend) can have some R&R time side-by-side! Many of the other models are over a hundred dollars for just one chair, but if you order there, you can get two for the price of (less than) one! This chair is made with ventilated material that will make even the hottest day more breathable compared to a chair with a thick cushion. It's easily storable, folding to under 6.5 feet wide so you can put it away after a long day of use or in your car for travel. There's also no assembly required for this chair, so once you receive it in the mail, you can put it straight to work!
Keep in mind: Because this chair is so easy to store, and is priced at a lower value, it doesn't have any storage attachments like cup or phone holders. You'll have to purchase a separate attachment if you want those features. Also, because there are some metal elements, you'll want to think twice before leaving them outside in the rain.
Good for: These chairs are great for transportation, as they're thin, light, and easy to set up and put away. You'll greatly benefit from having these chairs on beach days, during sports games, and on other weekend adventures that require your upright attention!
---
(Most sturdy — $$)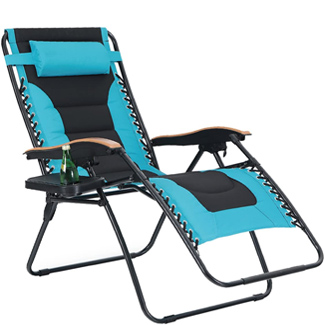 Why it's great: This chair is made of durable oxford fabric, which is a highly durable, breathable, and comfortable material that allows for optimal comfort. This chair is made "oversized" for people around 6'2" in height and can adjust back with the simple push of the adjustable clip. This chair is sturdy enough to keep at home or to bring on a camping trip and equipped with quality materials to keep it working for a long time. This chair comes in a multitude of fun and bright colors, including aqua, blue, camouflage, grey, and red.
Keep in mind: Unlike other zero-gravity chairs, this chair doesn't have the capacity to have a full recline. Additionally, though it's built for taller people, many have complained that their legs are forced to lie on the metal bars, making for an uncomfortable sitting experience. Possible remedies for this include using a pillow, blanket, or purchasing an additional cushion to absorb the metal push. Also, because of some of the deeper-colored options, this chair may not weather well if it's under direct sunlight for a long period of time, so make sure to note where to store it when you're done using it.
Good for: This chair is great for keeping at your home; whether on the deck, the porch, the patio, or by the pool, as it has a thick and sturdy design.
---
(Most trustworthy brand — $$$)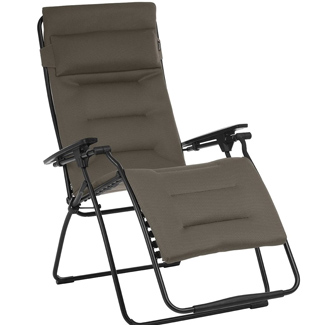 Why it's great: For many, Lafuma isn't an unfamiliar name brand. With its trustworthy name to back it up, this extra large zero gravity chair will be sure not to disappoint. It has many points of adjustments, from the armrest to the footbar, and is held together with a sturdy steel frame. The colors come in Taupe, Aucier Black, and Coral Blue, and according to the paperwork when it's received and as of the writing of this review, offers a 5-year warranty. Many compare the style to that of modern furniture, as its sleek cushion can blend into multiple home environments if chosen to be used indoors. It also has a 3-layer seat pad, an adjustable head cushion, and compact storage options for on-the-go usage.
Keep in mind: This chair weighs over twenty pounds, so you might need some help when receiving the package or if you plan to bring it somewhere. Also, the cushion isn't replaceable, so if some damage happens to it, you might need to bring up that 5-year warranty to check if it can be turned in for a new one.
Good for: This chair is great for those who don't want to risk their money with untrustworthy brands and who have had issues with non-name brands in the past. It's also great for those who want a more modern and sleek look to their backyard or living space, and are willing to pay more now so they don't have to think about paying for a replacement in the future.
---
FAQs about Zero Gravity Chairs
---
1. What is a zero gravity chair?
Zero gravity chairs are used to recline your body in a comfortable and natural position. The design was used initially for astronauts to help them endure the pain and compression that spaceship launches caused their bodies, as spaceship manufacturers created their seats in this exact position. Soon after these chairs were confirmed to yield great results, chair companies began crafting their products with these same qualities meant for those remaining on earth, so they could reap the benefits of relief from the pressures that gravity brings to the back.
---
2. How do zero gravity chairs work?
The main purpose of the zero gravity chair is in elevating the legs over the heart, proven as one of the most healthy ways to lie down. Since the chair's build is to distribute body weight as evenly as possible, it alleviates back pain that is commonly formed from sitting in a regularly-positioned upright-sitting chair.
---
3. Why are zero gravity chairs good for you?
The position of elevating the lower portion of the body slighting higher than the upper portion of the body promotes circulation to the legs, improving circulation from the heart to the lower parts of the body. This position also decompresses the spine, allowing gravity to bring compression into the chair's equal weight distribution instead of to the spine alone, alleviating lower back aches and pains. Zero gravity chairs have worked for those who are suffering from chronic pain, sciatica, torn disks, and other intense back problems.
---
4. Can you use zero gravity chairs for lying on your stomach?
Since these chairs are built specifically to shape your body whilst you're on your back, you'll probably hurt yourself if you try to use them on your stomach! If you are looking for a chair to sunbathe on without necessarily needing the back support, check out some chaise lounge chairs instead.
Conclusion
---
You may not have known exactly what a zero-gravity chair was before, but hopefully, you've found some useful information as to why it may benefit your health in the long run. If you're one who finds themselves sitting for long periods of time– whether because you're watching the kids, studying, or working– you might have already experienced enough pain here and there to note that something has to change. By adding a healthy way body position to your daily life, zero- gravity chairs are sure to help you relieve the pain you've been feeling while doing the things you love and will bring back the joy in seated relaxation.
You may also like our other product reviews…
Croquet Sets | Gas Grills Under $200 | Gas Grills Under $300 | Pogo Sticks | Trail Cameras Under $100 |