Updated on by Lyric Fergusson
Investing in a sectional couch for your living space is a big decision, and will require different needs for each family. There is a lot to take into account, whether it be kids, pets, space, or affordability. Thankfully, we've got you covered on all ends, as we have the 11 best sectional sofas that are under $500, so you can upgrade without hurting your wallet.

Best Sectional Sofas Under $500
---
(Most spunky)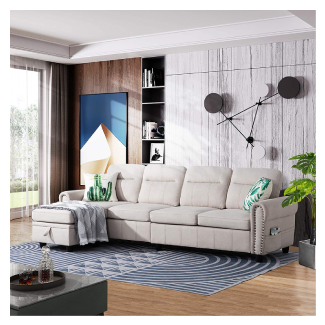 Why it's great: This fashionable, modern, and fun sectional sofa is anything but basic. Its dimensions are 103.14" L x 27.16" W x 36.6" H, which means it can fit four people seated; a bit longer than some of the other models. One of its most unique features is its cute nail-head trim design down the arms of the sofa, as well as the attached side pockets for a sleek but functional design. There are two side pockets on either side of the couch for anything from books to the TV remote and you can assemble this in a multitude of ways, including pulling the long piece out to form into a separate ottoman. Set-up is pretty simple as well, with even, easily-screwed on couch legs!
Keep in mind: There is nothing major to keep in mind for this, other than ensuring your measurements are correct for your particular space.
Good for: Fashion-forward home-dwellers who don't want to risk style for affordability.
---
(Most features)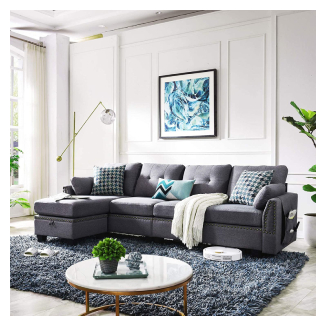 Why it's great: Just like the other HONBAY model lower on this list, this sectional is packed with features that are fun and functional. Dimensions are 36.6" H x 102" W x 50" D and models come in bluish grey, dark grey, and brown leather. This couch is equipped with three storage bags on either side: one large one on top and two smaller ones below it. Along with the instruction manual, the directions also include a video for those who need a step-by-step guide in a more visual format.
Keep in mind: The couch sits a bit low to the ground, which could be great for shorter people, but not so great for taller ones.
Good for: Smaller people who don't want to sacrifice space for features.
---
(Most fun)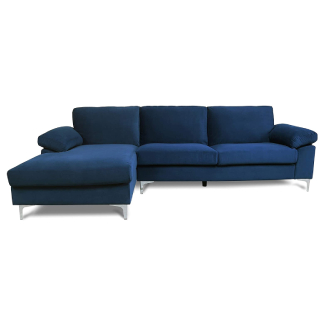 Why it's great: This couch is definitely the most unique of the bunch! With a long, luxurious style, it's a perfect addition to a room that needs a little pop of a color. Its dimensions are 103.5" L x 52" W x 30.3" H and it comes in black, blue, light grey, and purple. It's made out of memory foam, which molds to the body for a comfortable rest. Though it's good for small spaces, the couch looks and feels large, welcoming you and the family in for a comfy night of your favorite indoor activity.
Keep in mind: The shipping cost is a steep $169.99, which brings the total price up to the higher side of the list.
Good for: Those who aren't afraid of a little color pop and want a big comfy place to stretch out!
---
(Most cushiony)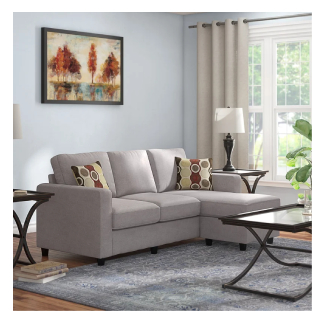 Why it's great: This sectional is a smaller and more simplistic version of the previous two. The chaise is reversible or it can be used as a separate ottoman. Its modern design will look great in any room and it has space for three. Its dimensions are 78.5" L x 53" W x 35" H and it comes in beige, bluish grey, grey, or light grey. The fabric upholstery is soft, breathable, and durable for long-lasting comfort. The back cushions are overstuffed and the seat cushions are foam for maximum comfort.
Keep in mind: This will come in two separate boxes that may arrive on different days, so don't panic if it seems like you're missing something.
Good for: Smaller living rooms or dens like those in an apartment or smaller home.
---
(Most accessories)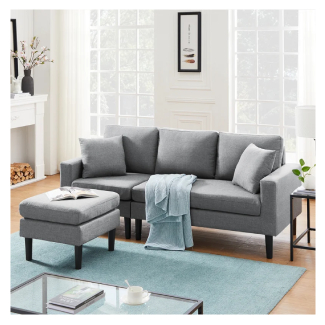 Why it's great: Unlike the majority of the sofas on this list, this one actually comes with the toss pillows! That's a nice feature to have since it makes it more comfortable and adds to the look of the couch. This one is also modular, which means you can put the chaise on either side or use it as an ottoman. The dimensions are 77.16" L x 54.72 W x 35" H and it comes in grey, yellow, or beige. Another great feature of this sofa is that the seat and pillow coverings are removable and machine washable, making this super easy to clean.
Keep in mind: While this does normally come in three colors, only the grey is in stock at the moment, but that could change at any time.
Good for: People that want the complete look, including the toss pillows.
---
(Most affordable)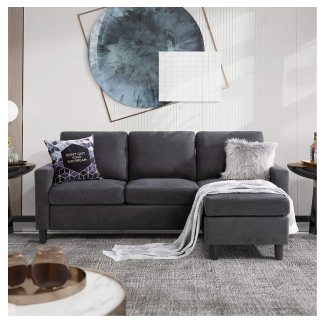 Why it's great: The Walsunny Convertible Sectional is a hugely affordable option for those who need a couch and need it now. It's dimensions are 77.55''L x 27.56''W x 35.43''H and it comes in beige, brown, and dark grey. For the price, this couch is great quality and is a standard and simple design that can be dressed up in just about every way. Like the title says, it's convertible, which means its lounge cushion can lie either on the right or the left-hand side of the couch and it comfortably seats three people.
Keep in mind: The cushions tend to run a bit firm on this one.
Good for: Those who can't afford to drop too much money on a comfy addition.
---
(Most stylish)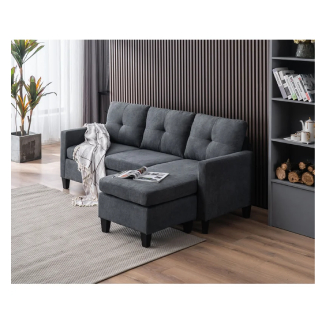 Why it's great: This sofa offers a little extra style with the tufted back cushions that give it some flair. It seats three and the chaise is reversible or can be used as an ottoman, like pretty much all the others on this list. It comes in grey, dark grey, or beige and measures 77" L x 49.5" W x 33" H. The size is perfect for smaller spaces, while still large enough to seat three. Its cushion covers are removable for easy washing and the sofa is simple and easy to put together.
Keep in mind: This one is a couple inches shorter than most, so you may not have as much head support if you're taller.
Good for: Apartments or smaller spaces that need a little style.
---
(Most classic)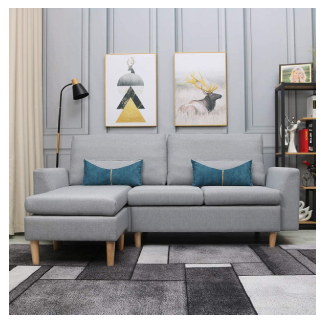 Why it's great: Best-Living Furniture combines quality and affordability with a classic design. This reversible sectional comes in grey and grey-blue, with dimensions of 77.5" L x 31.5" W x 35" H. The installation is super simple, with clear instructions, and they even include pads to attach to the bottom of your couch's legs, so your wood floors stay protected. Best-Living Furniture is known to have great customer service, just in case you have any questions or concerns about your order.
Keep in mind: The back of the couch is a bit lower than the expected height. For those with longer torsos who see themselves sitting on this couch more than lying, you might want to plan to use an extra pillow or two for extra back support.
Good for: Those who want a simple addition to their living space without the crazy price tag!
---
(Longest 3-seater)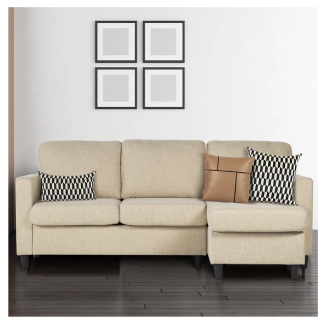 Why it's great: This sectional is a little longer than the other three-seaters on the list, allowing each person to have a little more room to lounge. The dimensions are 78.3" L x 30.3" W x 35" H and it comes in beige or dark grey. The cushion covers are removable for easy washing and the cushions themselves are firm, yet soft. Like the others, it has the reversible chaise or ottoman, allowing you to set it up any way you like. It's easy to assemble in about ten minutes and doesn't require any extra tools, so you'll be lounging in no time.
Keep in mind: This does come in two separate boxes that may arrive on different days.
Good for: Bigger people that want a little extra room on their couch, without buying a much larger, 4-seater.
---
(Best value)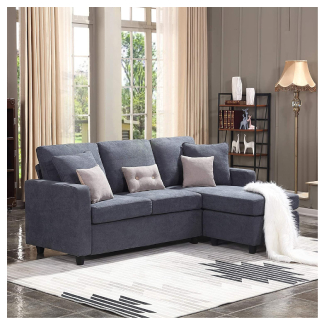 Why it's great: The HONBAY Convertible Sectional is one of the most affordable options of the bunch! With dimensions of 78 ½" L x 30.3" W x 35" H, you can utilize this couch's simplistic design in almost any size space. It can hold 2-3 people sitting upright and has a classic, sturdy, and beautiful design. Set-up is simple and usually takes less than twenty minutes. It also comes in three colors: beige, dark grey, and light grey.
Keep in mind: This sofa is quite shallow, so if you tend to cuddle with your partner or kids, you might want a wider one. However, it's nice that it takes up less space if you have a smaller room.
Good for: An affordable option for those in close quarters.
---
(Easiest to set Up)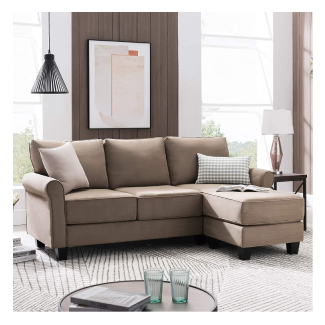 Why it's great: This space-conscious couch may be perfect for those that need a comfortable couch to fit in a small room. Its dimensions are 78.74″ L x 27.95″ W x 35.04″ H and it comes in Dark Khaki, Dusty Grey, Green Grey, and Mahogany Brown. This sofa has a super simple assembly, glowing reviews, and fast and generous customer service. The experience of ordering a couch online might not be as bad as you may imagine if you choose this option.
Keep in mind: The depth is a bit narrow for things like partner-cuddling.
Good for: A simple set-up for an easy and quick turnaround!
FAQs about Sectional Sofas
---
1. Is a sectional good for a small room?
A sectional couch can be great for a small room, especially if you're able to convert it comfortably and compactly in the corner of your living space. If you want a sectional, but are worried about the additional space it takes up, measure your space and notice how you're currently using your couch. Do you lie down on it a lot? Do you have several people piled onto it? The extra space may make up for the lack of capabilities your current one has.
---
2. How can I decorate a sectional couch?
Pillows are always a great start in decorating sectional couches, whether they be for function or decoration. You can also add a throw blanket for an additional design element, especially if you have a couch that's a neutral color and you want to give it some flair.
---
3. What is the best color sectional to get?
Depending on the style you want for your room, it's up to you. If your room is currently a more simple color, maybe take a risk and get a couch that brings some life. If your room already has a lot of colors, perhaps keep your couch simple to greatly emphasize the coloring around it.
---
4. How big of a sectional couch should I get?
It's all dependent on your living space and how you want to use it. If you prize comfort and relaxation, then getting that larger size is well worth it. If your space barely fits a chair as it is, then definitely err on the smaller side.
---
5. Can I fit a sectional couch into my apartment?
Many apartments can have sectional couches that work functionally. It's dependent on how you choose to style your space and what you believe is the best usage of what you have. Check the measurements provided for the models and see if your apartment can cater to your new couch. (By the way, these couches are shipped in pieces in large boxes, so you won't have to worry about physically getting the entire couch through the door.)
---
Conclusion
---
Though we don't think about our couches every day, we probably use them more than we give them credit for. Think about what could make your couch better, and check out the ones we listed above to see if you're ready for an upgrade. Best of all, you don't have to break the bank doing it, while still getting that new, comfortable experience you've been wanting for so long.
You may also like our other product reviews…
Air Purifiers for Smoke Under $100 | American Standard Toilets | Aquarium Test Strips | Dining Room Sets Under $200 | Dryer Vent Hoses for Tight Spaces | Farmhouse Sinks | Portable Closets | Shower Chairs for the Elderly | Steam Mops for Laminate Floors | Undermount Kitchen Sinks | Vacuums Under $100 |