Updated on by Lyric Fergusson
Your wedding day is a day many women dream about for years. You dream about your groom, your first dance, and of course your dress. Your wedding dress is something you will always cherish, but it is no surprise that many dresses break the bank. However, when you are planning a wedding on a budget, it does not mean that you cannot have the wedding dress of your dreams!
Here are 7 beautiful wedding dress options for under $50!
Best Cheap Wedding Dresses Under $50
---
(Most lace)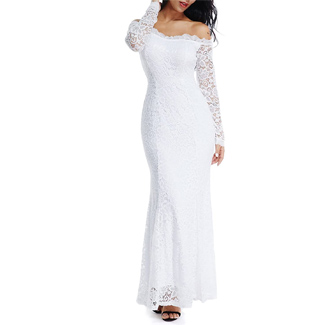 Why it's great: This long sleeve mermaid dress has beautiful lace detailing. It is a snug fitting dress that extends into a sheer, flared mermaid hemline. It also has an off the shoulder design making it great for showing off the perfect necklace. This dress is soft and stretchy and perfect for a curvy body type.
Keep in mind: If you are looking to take this dress to the next level adding a simple petticoat underneath will give it that added flair to make you stand out on your wedding day.
Good for: women with a curvy body type.
---
(Most retro)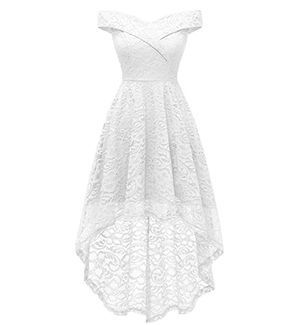 Why it's great: This simple yet elegant dress is perfect if you are looking for an affordable vintage style dress. It is covered in gorgeous lace but is still thick and durable. It is also soft and stretchy. The hi-lo style of the dress makes it great for walking down the aisle because it will have a nice, graceful flow in the back.
Keep in mind: This dress runs big so if you are between sizes, please choose the smaller size! If you are worried about keeping the shoulder sleeves in place some double-sided fashion tape will do the trick!
Good for: women desiring a retro dress and/or themed wedding.
---
(Most hippie style)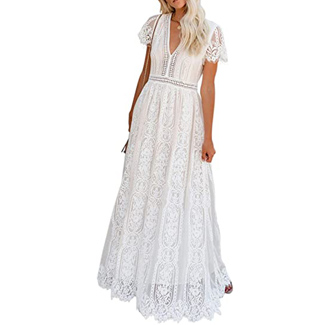 Why it's great: This floor length, bohemian style dress is perfect for any wedding season. It has a deep v-neck, lace sleeves, and a full flowing skirt that will make walking down the aisle feel like a dream. The dress has a lace overlay and a crochet waistband and detailing for an added touch. The dress is bra friendly, but nude coloring is recommended.
Keep in mind: Although the dress has a tulle underlay, you should also wear a nude slip or nude undergarments underneath since the dress is slightly transparent.
Good for: all body types and/or those looking for a bohmenian style dress and/or themed wedding.
---
(Most simple)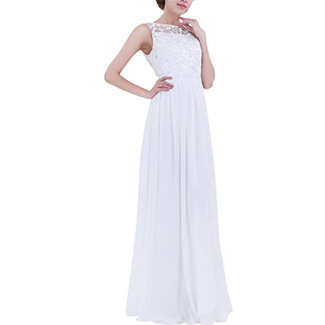 Why it's great: This floor length gown is simple, but has the right amount of detailing to make you stand out on your wedding day. The top is covered in beautiful lace. There is a white ribbon to highlight a high waist line and drapes into a gorgeous pleated chiffon bottom. The fabric is soft and comfortable and has two layers: a top pleated chiffon layer and a satin lining which ensures that it is not see through.
Keep in mind: This dress runs small so order a size or two up!
Good for: all body types and those desiring a simple dress.
---
(Most flare)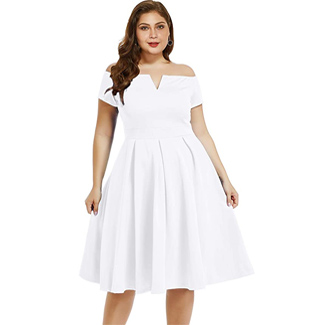 Why it's great: This vintage, 1950s style midi dress is perfect for a summer wedding. It features a thick, soft, and stretchy fabric that will accentuate your curves in all the right places. It is off the shoulder, has a sweetheart neckline, and a pleated flare skirt. The flare style of the dress will make it perfect for dancing the night away! There is also wire/bone structuring in the neckline slit at the opening of the dress which keeps things in place. This dress is perfect as is or can be dazzled up with a sparkly bridal belt.
Keep in mind: The material is very stretchy so make sure you stay true to size when ordering this dress!
Good for: plus size women and those desiring a vintage dress and/or themed wedding.
---
(Most sex appeal)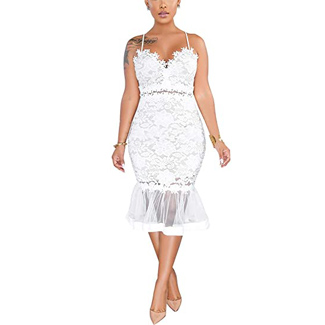 Why it's great: This unique dress is a mermaid pencil dress. It has spaghetti straps and is covered in floral lace. It is made of polyester and lace which makes it very comfortable and breathable. This dress is tight and figure flattering and has a ruffled fish tail bottom. It also has a mesh sheer mid-section which gives it that little bit of extra flare you may be looking for to wow your groom!
Keep in mind: This dress has a sheer back and mid-section so make sure to get either a clear bra or sticky bra. A nude slip is also recommended due to the sheer material.
Good for: petite women who are looking for a very form fitting dress.
---
(Most like cinderella)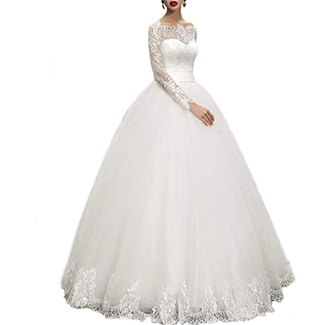 Why it's great: This stunning ball gown will have your guests' jaws dropping. It has lace long sleeves in addition to the lace lining at the bottom of the dress. This beautiful ball gown has 3 layers of tulle under it and it comes with a slip. However, you can add a hoop skirt or a petticoat if you want that extra flare! The dress closes from the back with a gorgeous ribbon that laces up. There are no zippers, but the ribbon can be tightened as much as you would like.
Keep in mind: For an extra $30 this dress can be made to your custom size.
Good for: weddings that will be in the fall or winter.
---
FAQs about wedding dresses
---
1. How far in advance should I shop for my wedding dress?
It is never too early to shop for your wedding dress. If you are purchasing your dress from Amazon you can typically expect to receive your dress anywhere from 2 days to 2 weeks after purchasing. However, holidays, mail issues, etc. could affect this so make sure to shop early if you have a date you need it by.
---
2. What style of wedding dress should I get?
This depends on your personal style and your body type. You can have any dress you want, but certain styles look better on certain body types. A few styles are:
A-Line: This style is universally flattering. It hugs the waist and flows out into an A-shape. This style hugs you in all the right places and can even make a petite bride look taller!
Mermaid: This style emphasized the waist and hips. This style is also known to be very tight so you must ensure that it is still comfortable and easy to move in.
Trumpet: This style is usually chosen by women who want to emphasize their curves. It is best for slender women and hourglass body types.
Ball Gown: This style accentuates the waist and the many layers of the dress hide the lower body. If you are self-conscious of your hips you may not want to choose this style because it can make you look larger than you actually are.
---
3. What color wedding dress should I get?
The color of your wedding dress depends on your style and vision for your wedding. Most people think they want white, but when you put a white dress next to an ivory or off-white dress you find it is much softer on the eyes.
---
4. What type of material should my dress be?
This depends on your budget and your personal preference. When trying to stay under $50 you will most likely be looking at polyester, nylon, and spandex, but that does not mean that you will not be able to find dresses that have beautiful lace detailing or flowy trains as you walk down the aisle.
---
5. How do I know what size I need?
Amazon has a sizing chart however most sellers will have their own custom sizing chart that you should use when ordering your dress. You can also read reviews that others have left because people will leave their measurements and say if the size they ordered was a good fit.
Conclusion
---
If you work in an office or behind a computer for much of the day, then you know the importance of a chair that is supportive, comfortable, breathable, and, perhaps, a bit stylish. You may need more lumbar support or armrests that may be removed- either way, it's important to do a little research and decide the best fit. The above list should help to serve you on your journey to finding the right fit for you in your daily life and routine, all for under $300.