Updated on by Asher Fergusson
P
reparing to go off to college can seem like a daunting task. Packing can be stressful and confusing. My husband and I have collectively spent 12 years living in college dorm rooms including at NYU.
If we had our time again we would have brought more of these items below to be that little bit comfier.
Now you can breathe easier with this handy packing list, clothing guide, and list of
what to wear
, what NOT to bring to college.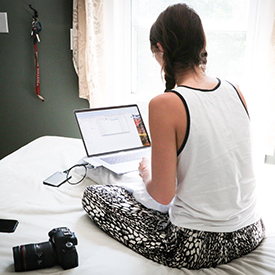 What to Pack for College – 17 Essentials
---

Bed risers are one of the most popular items for dorm rooms for good reason: the beds are very low, and storage space is at a premium in such a small living area. Riders will boost your bed up several inches, which leaves plenty of room for under-bed storage and organizers . They're a great and very affordable investment.
---

College dorm beds are probably the least comfortable beds around. Bringing a mattress topper will dramatically and cheaply help to fix that problem so that you can be sure to get some much needed comfortable sleep while you're in college.
---

Privacy and alone time are pretty hard to come by in college dorms. I'm an introvert, so I took advantage of any way to relax away from prying eyes. This bed tent is ideal for these situations, and will also help block out light for those days when you want to catch some shut-eye and either the sun or your morning-person/night-owl roommate have different ideas. Lastly, if you have a special friend visiting, it'll help you get some intimate time more easily 😉
---

Soft sheets and a washable duvet and cover will go a long way toward making your dorm room and your dorm bed feel more like home. The inexpensive sheets will be easy to care for and you won't feel too bad if you spill coffee or something on them. The duvet and duvet cover give you a comfy way to have the luxury of a comforter while still being extremely easy to clean (duvet covers slip right off to be washed).
---

Dorm water is the best way to avoid having to pay for packs of water bottles throughout the year, but sometimes the taste of the water isn't ideal. A filtered water bottle will clarify the drinking water, and can help get rid of any lingering tastes. It's also ideal for carrying water with you to and from class, where there may or may not be drinking fountains available
---

It's not common for there to be outlets available to charge your phone, iPod, etc. while you're away from the dorms for the day. Carrying a portable charger with you is the perfect way to be sure you'll always have a recharge available for your devices. This one is small, uses standard USB cables, and can easily power your devices while they're tucked away in your backpack, or even while they're sitting next to you in class!
---

You'll want to connect to WiFi wherever possible, including in your dorm room. However, did you know that using unsecured WiFi puts your personal and financial information at risk? It exposes your data to cyber-criminals, who may steal your identity or credit card information.). A VPN will add an extra layer of encryption to your data to protect you while you're growing or doing research. NordVPN offers highly affordable plans (even on a college budget), and is my personal choice for high-quality protection.
---

Not only does aromatherapy help areas smell better (think: stinky dorm rooms and potentially smelly roommates), it also boasts proven health and relaxation benefits that may make your life better while in college. Bring a diffuser like this one so that you can control your relaxation a little more, and don't forget to bring your favorite essential oils!
---

Remember that you'll be walking back and forth from your dorm room to the bathrooms for showering, and it's not usually a good idea to just wear a towel during that journey. Pranks are known to happen to unprepared individuals, so a bathrobe will be the best option for covering up in transit. Plus it gives you a cozy extra layer for when you're lounging around in a dorm room that may be a little drafty.
---

Unfortunately bed bugs can be an issue when you're living in close quarters with a bunch of other students. A bed bug protector can help prevent an infestation in your belongings. Trust me – you don't want to try to get rid of bed bugs. It's much better to prevent them altogether.
---

Dorm showers are typically shared areas, and you almost never have the ability to store your toiletries in the bathroom or shower stalls themselves. A shower tote or shower "caddy" is the best way to make it easy to carry all of your necessary bathing supplies back and forth to the bathroom without dropping or losing items. Plus it's easily washable and will drain water out automatically, which will prevent mold and mildew buildup on your soaps and stuff.
---

A desk fan can keep you much more comfortable during the warm months at the beginning and end of the school year. Keep it on your desk to give yourself a little relief from the heat while you're studying.
---

Storage space is very limited in dorms, so you'll find that you need to get pretty creative sometimes. Hanging organizers like this one give you extra shelf and bin space without taking up too much room in your closet.
---

I can't stress this enough: surge protectors will save your electronics in the event of a power surge. These can happen for any number of reasons, ranging from old electrical systems (common in dorms) to storms. A power strip with built-in surge protection is a super cheap and effective way to protect your devices.
---

Unless you enjoy carrying armloads of loose laundry up and down stairs to the laundry room, I recommend bringing a laundry bag. It'll keep your laundry separate from other students' laundry and makes it immeasurably easier to lug your items to and from your room. Having a fun and unique laundry bag is surprisingly important – I've had someone mistake my bag for theirs and they took a bunch of my clothing for several days until they realized their mistake.
---

You'll need a backpack to haul your books and notebooks back and forth to class, so opt for a fun and stylish one! Not only will it give you a boost of confidence when your backpack game is on point, it will also prevent mixups when you have to leave your bags at the door for certain classes.
---

Towels aren't provided, so you'll need to bring your own. Getting an inexpensive one will save room in your budget for other necessities, and will keep you from worrying so much if something happens to it or it gets stained from being washed with non-like colors (I personally was far too busy and lazy to separate my colors for every wash
Other packing list items for College
---
What to wear in College
---
Going-to-class attire usually consists of casual and comfortable clothing. At universities throughout the US, you'll find students walking through campus in everything from Nike shorts and oversized t-shirts to skinny jeans and sweaters. It really comes down to your personal style, and what you're comfortable in.
As far as hitting the town after class and on weekends, appropriate clothing will vary depending on the scene. Ask around on your Incoming Freshmen Facebook group and find out what the typical night out looks like, then decide what to pack!
Come armed with athletic clothes for the gym, a swimsuit for pool parties, comfortable pajamas, and warm clothes for freezing classrooms.

What NOT to take to College
---
1)

Appliances, toasters or other cooking devices for your dorm room
– You might accidentally set off a smoke alarm in the middle of the night, causing the whole dorm population to give you major side-eye for the rest of the year. Or worse, you could start a fire!
2)

Expensive jewelry – Trust me, you'll lose it at a bar or frat party.
3)

Excessive dorm decor – Definitely make your room comfortable, but don't go overboard and waste your money on too much decoration. Save your money for more useful things, like plane tickets for spring break!
4)

Too many clothes – Bring only what you think you'll actually wear. You'll end up sharing basically everything in your closet with your hall-mates anyway.

5)

A printer
– The library or student center definitely has one.
6)

Bulky luggage – There's not much space in dorm rooms. Pack in boxes, or bring luggage that can fit under your bed or in a closet corner.
7)

Anything shareable that your roommate is already bringing – Get in touch with your future roommate a few months before move-in day so that you don't both show up with a floor size rug!
8)

Anything that the college provides(or that you can rent) – Most schools provide on-campus students with a mini fridge and microwave, or give students a special deal on renting them.

FAQs about packing for College
---
1) What is it like living in a dorm?
Dorm life varies from school to school and even building to building. Definitely expect less privacy than what you get from living at home, and to get frustrated living in such close quarters with strangers. At the same time, in your freshman dorm you'll likely meet your best friends! You'll experience more fun and camaraderie than you ever expected.
2) Is there anything that I'm not allowed to bring to college?
Certain colleges have regulations on appliances, etc. for dorm rooms, so definitely check with your specific school to see what's not allowed on campus.
3) How can I ship my belonging to college if I'm not driving there?
Companies like FedEx and UPS commonly have student discounts to get your stuff halfway across the country without busting your bank account.
4) What if I forget something?
Chances are, you will be within a reasonable distance from anything you need (grocery store, pharmacy, etc.). If you forget something important or have no way to get to where you need to go to get it, talk to your floor RA and he/she will definitely help you figure it out.
5) What questions should I ask my RA when I get there?
Ask your RA about curfews, guest policies, how you'll send and receive mail, and what to do if roommate issues arise. Usually RA's will host an info session for new freshmen during move-in day.
6) What if I get bed bugs?
Most likely, your University will take bed bugs very seriously. If you suspect bed bugs you should contact your RA, your Community Director, and/or the Residential Life Office as soon as possible.
7) What size beds can I expect in a Freshman dormitory?
Nearly all residence halls are furnished with Twin-XL size beds. They are 80″L x 40″W
Other packing lists you may like…
2-Week Trip | 3-Day Trip | Baby Packing List | Baby Travel Gear | Bachelorette | Backpacking | Beach | Birthright | Bonnaroo | Burning Man | Business Trip | Cabin | Camping | Canoe Trip | Car Camping | Carry-On | Castle Trip | Cheerleading Camp | Convention | Cruise | Day Hike | Deer Hunting | Desert Trip | Destination Wedding | Diaper Bag | Digital Nomad | Disney | Disney Cruise | Elk Hunt | Fall | Float Trip | Flight | Girl Scout Camp | Girls | Glamping | Golf Trip | Honeymoon | Hostel | International | Island Vacation | Kids | Lake House | Long-term | Men's Packing List | Minimalist | Motorcycle | Moving Abroad | Music Festival | Overnight | Peace Corps | Resort | Road Trip | Round The World | Ski Trip | Snowboarding | Spring Break | Study Abroad | Summer Camp | Summer Vacation | Teen | Theme Park Trip | Toiletries | Toddler | Tropical Vacation | Ultralight | Wedding | Winter Vacation | Weekend | Zoo Trip
Please note: We have over 200 packing lists covering practically every popular travel destination in the world. Access them all on our packing list overview page ➜