Updated on by Asher Fergusson
W
here is the only place you can you see the sun rise on the Pacific, and set on the Atlantic? Panama, of course! This unique country brings in many travelers each year, and it's no doubt due to the plethora of diverse attractions the central American country has to offer. The Panama Canal is the country's main attraction, and although immense and rich in history, it's not the only thing that Panama has that tempts travelers from all over the world.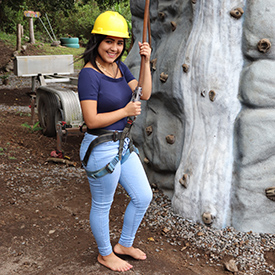 Historic train rides along the canal, visits to indigenous villages, the ruins of the Casco Viejo, hikes to the volcano, exploring the national parks, beachcombing…the list goes on and on. This really means you need to be prepared for anything when you take a trip to this tropical getaway!
Below I've determined 17 essentials you will not want to forget when going to Panama, along with what to wear in Panama , what NOT to bring and FAQs.

What to Pack for Panama – 17 Essentials
---

If you go on a dayhike, you'll most likely have the fortune to not need to carry as much heavy water with you. Instead, bring the LifeStraw Go Water Filter Bottle and you can fill up water from a lake or stream or tap water facucet, and turn questionable (even murky) water into highly filtered potable water. The hollow fiber membrane filter removes 99.9% of bacteria and parasites. On top of that, it reduces pesticides and chlorine that might be present in the unfiltered water. I don't go to any foreign countries without this.
---

The tropics are so beautiful, but also a hotspot for pesky insects. Repel them with a repellent that has DEET for maximum effectiveness. Cutter has a very small spray that only weighs half an ounce! I was pleasantly surprised to find that the smell is light and the feel of it on the skin is not greasy nor sticky. It's quite easy to put into a pant pocket. Use this repellent to create a barrier against irritating insects that can spoil the outdoors.
---

If you're making the journey to Central America, you're probably checking a bag. Living out of a suitcase can be a challenge when you're trying to find items quickly or stay organized. These HERO packing cubes can really help. I normally put my t-shirts and shorts in one cube, pants in another, and accessories in another. No more lost time digging around for the sunscreen! I suggest having a set for each suitcase.
Note: My hubby and I personally designed these packing cubes after having subpar experiences with the low-quality ones available on Amazon. Our packing cubes come with premium YKK zippers, puncture-resistant ripstop Nylon, and quality workmanship backed by our lifetime replacement guarantee. As a fun bonus, they come in a variety of colors so that you can choose your favorite and even color coordinate the family's belongings.
---

If you're out hiking or visiting some native areas, it's doubtful you will find an outlet along the way. However, you will have plenty of sun! Ditch the usual powercord and bring this Blavor Solar Phone charger instead. It doesn't take up much space, has a lower price point than most, and fits most of the newer versions of iPhone and Samsung models. Since your phone can double as a flashlight and compass, as well as contact emergency agencies, you won't want to lose charge. You'll also be helping the environment by going green!
---

Being active and outdoors often in Panama, iGuard hand sanitizing spray by Minteer Formulas is a wonderful option to keep the germs away. I use it before eating, after using the restroom, and anytime in-between. I love how this has a lid that can clip on to the outside of my daypack, which is great for easy access. This product will last quite some time; over 600 sprays! Use iGuard to keep yourself healthy and safe while you're enjoying the city and rainforest of Panama.
---

With Panama only 622 miles away from the Equator, the heat and humidity might be more than you are used to. Bring along this Sukeen cooling towel to regulate temperatures and keep you refreshed. This four pack is likely enough for the whole family and comes in fun colors. The carabineer clip can be attached right onto your daypack for easy access. The best part? The cooling towel can stay chilled for up to 3 hours. Don't leave the hotel without it!
---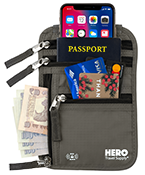 I always want the most important things close to me, so I use this Hero Neck Wallet under my shirt with my identification and emergency information. This would also be a good place to store a dose of prescription medication if necessary. Anything you wouldn't want to lose along the way, and/or want to conceal, use a neck wallet to guard them. The heavy-duty fabric and YKK zippers will endure your excursion without a problem. It also comes with a lifetime replacement guarantee for peace of mind. Not only Panama but no matter where my family goes, I am always wearing this under my shirt for safekeeping.
---

Not just unique to Panama, but in general I've found having a good VPN is essential for any travel. Unfortunately I had my credit card number stolen after using what I assumed was a secure Wifi network while in an Airbnb rental. It made me learn the hard way that whenever you go on someone else's WiFi whether it's at a restaurant, airport, or lodging, you're potentially putting your passwords, credit card, and identity at risk of being hacked. Fortunately, with a VPN like NordVPN you protect yourself on any device with 1-click. I highly recommend you check it out before your next trip in order to guarantee the safety of your important personal data.
---

When I know I'll have to carry my belongings around town all day, I opt for a small daypack instead of a bigger backpack. This Venture Pal daypack is very lightweight (less than one pound!) and folds up into a small carrying pouch. It has a water proof pocket that will come in handy if you end up getting some rain. One of the things that matters most to me is durability, which this daypack has with its extra stitching at the major stress points. Use this if you're looking for something small to assist you in carrying the necessities, and forgo the bulkier bag that will be cumbersome to drag around with you.
---

Those afternoon Panamanian showers are bound to pop up while you're out and about. The Terra Hiker waterproof poncho is an easy item to bring with you because it is very compact and lightweight. It's also large enough to cover a backpack, keeping that dry as well. The material is more durable than the cheaper ones I've used in the past so that it doesn't rip easily nor blow around in the wind as much. Hope for sun, but be prepared for rain by making this poncho an essential in your daypack.
---

It's not just the rainforest that might make you encounter rain; it frequently rains in the city, too. Panama is known for afternoon showers that don't last very long. That's okay; it's what attributes to the lush green foliage and numerous lakes. Since the rain showers are typically short lived, so they won't 'rain' on your vacation, so to speak! By having this travel umbrella and you can save being wet for the beach.
---

Solid shampoo has been one of the best travel buys. It is small, isn't considered a liquid at security checkpoints, can be used for hand washing, and can also be used as shampoo. Plus, it minimizes your use of plastic and liquids. I chose this one from Love Beauty and Planet smells amazing and is infused with coconut water. I suggest putting it into a baggie or reusable shower bar container so that if it's wet, it won't get on other things in your pack.
---

Who knew that towels could be so compact?! The Youphoria towel on Amazon is so much better than packing beach towels, which are bulky and takes up so much space. But these travel towels are quick dry, extra lightweight, soft, and fold up to fit in a mesh carrying bag. It really is quite amazing how quickly they dry! Perfect for multiple dips in the lake, hotel pool, or beach.
---

Panama is most likely far away from home for you, so you'll definitely want to secure proper travel insurance. You never know what can happen before and during a trip, and it's better to be safe than sorry when it comes to protecting your family and belongings. Traveling internationally always comes with more risk of alterations, as well. World Nomads is excellent because they'll cover the costs for lost and stolen items, flight cancellations, and even medical expenses.
---

Some beaches in Panama can be fairly remote, so quick access to your car or hotel room may not be option. Save time and money (buying drinks from tourist tiki bars can be expensive!) by bringing this Aruba Mesh beach bag with you to the beach. It's especially great because it comes with an insulated cooler at the bottom, which is ideal for keeping your snacks and drinks cold in the sun. It also easily fits changes of clothes, sunscreen, and towels, yet isn't big and bulky.
---

Humidity can leave hair frizzy and tangled. I often pack a leave-in conditioner to control the frizz. Honest Conditioning Spray is not only made by a great environmentally friendly company, but the product works well and has a wonderful fresh scent. Its small size makes a negligible impact on suitcase space. I don't find myself having to reapply during the day very often at all. Tame those locks quickly and rock those Panama photos!
---

Anytime I'm going somewhere with water, I pack a waterproof phone case. If you go to one of Panama's many beaches or kayak in one of the large lakes, you'll want to have your phone with you for safe keeping. Hiearcool makes a highly rates phone pouch that will keep your phone dry yet still allow for photo taking. Don't leave your phone on the beach where it can be compromised; bring it into the water with you instead.
Other Panama Packing List Items Not To Forget
---
What to Wear in Panama
---
The beautiful weather in Panama will definitely draw you in. Temperatures are rarely below 74 degrees, and almost never above 93. That makes for a very comfortable time, even when it's frequently overcast in the afternoons. Before you head over to this mini paradise, double check your suitcase to make sure you have the right clothing to reflect this weather. Think about what activities you'll be doing while you're in Panama, and that will help you decide what to wear.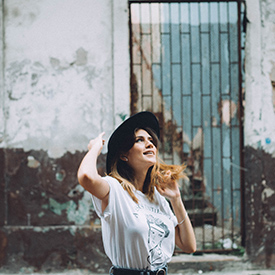 For instance, you'll definitely want long pants and close toed shoes for horse back riding. But if you're mainly sightseeing, you can dress more comfortably. Water activities are another thing to consider when you're packing. Below are some suggestions of what to wear when you're traveling in sunny Panama; mainland or on the shore.
Dressing Appropriately for the Activity – (Click to expand)
Nightlife: jeans/jeggings, blouse, nice shoes
Water sports: quick-drying clothes, lightweight fabrics, snug sandals, water shoes
Hiking: hiking pants, quick-drying long sleeved top, hiking shoes or boots
Horseback riding: jeans, fitted clothing, close-toed shoes, long sleeves, hat
Sightseeing: comfortable clothing, hat, short sleeved clothing in the city, fanny pack
What NOT to Bring to Panama
---
1)

DON'T BRING Books
Bring a Kindle instead; it can store all the stories your heart desires, without taking up extra room. Don't forget a kindle cover, especially if children will be handling it. Books are not only heavy, but can get damaged in luggage.
3)

DON'T BRING Too many clothes If you're going to be in Panama for a week or more, find out if the lodging will have a laundry service. An outfit her day will suffice, but if you have access to laundry, even better! Try packing wearables that can be worn multiple times. You'll save valuable suitcase space this way. Also, one of my favorite things is buying a couple of items of clothing from local vendors as souvenirs, so I can plan on wearing those during my stay, as well.
5)

DON'T BRING Full-sized toiletries You can always buy a few items in Panama and try something new if you run out of a toiletry. But you can't replace clothing that's been leaked on, and you don't want to be held up at the airport for an overweight bag. Stick to trial sized items, and buy a few extra while you're there if needed.
7)

DON'T BRING Fruits Remember, you will be crossing international lines, so things like fruits and seeds will be confiscated at customs. Opt for bringing other snacks from home, such as granola bars or trail mix.

2)

DON'T BRING Unnecessary valuables
Panama is known for outdoor adventures, so don't risk losing your valuables on a lake or in the rainforest. You also don't want to become a target for theft—leave the valuables at home or in the hotel safe.
4)

DON'T BRING Lots of cash Use ATMs for small cash withdrawals instead of bringing enough for the whole trip. Flashing a bunch of cash when you're paying a bill will just make you a target for theft. Have a small amount of cash on you daily for tipping and local artisans' goods, and a credit card for larger purchases (such as meals) in the bigger cities.
6)

DON'T BRING Hats—buy one in Panama! Did you know that the hats that Panama is famous for really originated in Ecuador?! Plan to purchase a hat on day one of your trip, and wear it throughout. Then you won't have to take up suitcase space nor risk it getting damaged on the way there. When packing new your hat for return, wrap it in clothing to preserve its shape.

FAQs about Panama travel
---
1. What is the weather like in Panama?
The temperature during the year doesn't change much, because Panama is pretty close to the equator. It stays between 85-95 degrees very consistently. However, what does change is the humidity. Higher humidity will be in the mid-April to mid-December time, when Panama gets more rain. Short rain showers in the afternoons are common, no matter what time of year. However, they pass quickly and then the sun comes out to dry everything up.
2. When is the best time of year to visit Panama?
Most people prefer to visit Panama during the drier season when there's less humidity. That's January through mid-April. Or, you might want to consider timing your trip with one of the festivals the people of Panama celebrate. There's the Carnaval de las Tablas in January (lower humidity!) when there are parades and beach festivities. Or you might want to go in November when there is the Fiestas Patrias, which is a type of flag day with traditional dress, music, and parades.
3. How can I get around Panama?
There are plenty of well known rental car companies available in Panama, but it won't be necessary if you'll only be staying in Panama City. The metro bus system will definitely suffice. There are also taxis in the metro area. But for those who want to venture out to other areas, you can have more freedom by renting a car. City traffic can be quite maddening though, so keep that in mind when making a decision. The Panama Canal Railway is an excellent way to see a lot of Panama in one go, but remember, you'll have to return on it, too. Some busses can take you back via the roadways; however, the schedules can vary and they do not have reliable information online that is updated. Bottom line: staying in and around Panama City you won't need a rental car. Outside the city, it's best to rent one.
4. What are the best places to go in Panama?
The Guna islands, which are cultural powerhouses of native Panama life, are only reachable by small plane. But very worth it! For a colonial feel, go to Casco Viejo. The restaurant options are expansive and some of the best food I've ever tried. The nightlife in Casco Viejo is also quite vibrant. If you want the beaches and wildlife but don't want the city feel, Bocas is where you want to go.
5. What is the most popular attraction in Panama?
By far, the most visited place is the Panama Canal. The Miraflores visitor center (only a $7 taxi ride)is the best way to view it, and you'll actually get to see ships passing by. You'll also get a lot of the history and facts you're craving. After that, I'd suggest taking the Panama Canal Railway from Panama City to Colon. The total distance is about 50 miles, although it will take you a couple of hours in total. Great views of both the Pacific and Atlantic sides…a must in my book!
6. What are the best restaurants in Panama City?
Hands down, Fonda Lo Que Hay is a place I won't miss if I'm in Panama City. The food is incredible and the menu changes daily. It's in the name: Lo Que Hay= What there is. It's very close to the water, too. Donde Jose is another restaurant choice that won't disappoint. It's definitely pricier, but the food is unique and full of flavor. The presentation is a treat for your eyes. If you're in Panama City, as I'm sure you will be, make time to go to both of these fabulous places.
7. What kinds of wildlife does Panama have?
Being home to a rainforest, Panama sure doesn't have a shortage of wildlife. In fact, 125 species of animals are unique to Panama, and only found there! Some of the most common animals you can find in Panama are the jaguars, green iguanas, two-toed sloths, howler monkeys, capuchins, and various frogs. Yes, there are several kinds of venomous snakes, but it's unlikely to find them in Panama City. When you're out and about, wear closed-toed shoes if you'll be in the forest, as well as long pants. The bird-watching opportunities in Panama are stellar, so bring those binoculars and start observing some of the 950 bird species that have been recorded in Panama!
8. How can I save money when visiting Panama?
There are several ways you can cut down on expenses in Panama. For one, buy fresh fruits and vegetables from street vendors instead of at a grocery store, such as Romero's. It will be fresher, too. Also, since food seems to be a main expenditure, try planning meals in smaller towns, where the price point is lower than in the tourist areas. Lastly, if you're interested in a souvenir from a street vendor or small shop, let your negotiation skills kick in and make a deal. Often if you buy more than one item and ask for a discount, you're more likely to receive it. The cost of living is lower in Panama than in Europe or the US, so overall your trip should be quite affordable.
9. What languages are spoken in Panama?
The official language is Spanish, although many native languages are still spoken in more remote areas. In the metro areas, you will find some locals who can speak a bit of English but don't rely on that. Instead, brush up on your español and have fun! In a pinch. Google Translate has also been quite helpful if you have wifi.